Five Players Who Could Be on the Move Ahead of the 2019 NBA Trade Deadline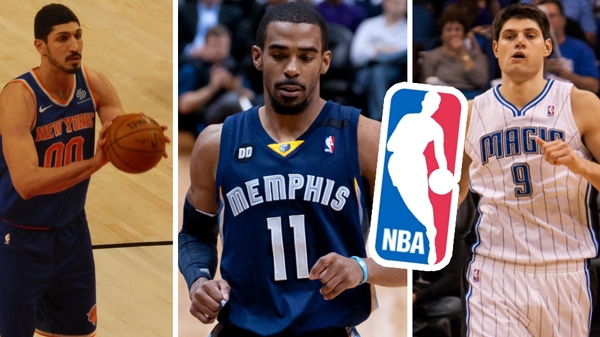 We're just a week away from the 2019 NBA trade deadline.
That means it's now or never for teams in the league to try and bolster their lineup in time to make a run at the 2019 NBA Finals.
Anthony Davis wants to be in Los Angeles, and he made that clear recently by publicly voicing his desire to be traded from the Pelicans.
Although New Orleans seems intent on not parting ways with their prized possession, their hand may be forced if the situation worsens.
But there are a handful of other NBA teams who are committed to being active over the next seven days – for example, the 76ers.
Philadelphia is doing whatever they can to add another piece to their puzzle, as they are aware that they'll need to improve if they plan on contending for an Eastern Conference Championship.
With all the rumors swirling and the potential players who could be involved, let's look at the five guys who are most likely to wind up on a new team by this time next week.
Orlando Should Move Nikola Vucevic for Something
Nikola Vucevic becomes an unrestricted free agent at the end of this season. After Orlando spent the 6th overall pick this past summer on Mo Bamba, a 7-footer who plays the same position (center) as Vucevic, it's clear that the Magic front office isn't planning on committing to Nikola for the long haul.
That's why it is in Orlando's best interest to trade him now while they can still get something in return. And I happen to see a deal out there that is very intriguing for both sides.
Orlando receives Jeremy Lamb and Malik Monk
Charlotte receives Nikola Vucevic
This trade would give Kemba Walker the boost in the frontcourt that he and the Hornets currently lack, and it could ensure that Charlotte solidifies a position in the Eastern Conference Playoffs. On the flip side, the Magic feel good about their rotation of big men thanks to Aaron Gordon, Jonathan Isaac, and up-and-comer Bamba.
Adding an electric wing player like Jeremey Lamb into the fray, along with Malik Monk and his skills as a combo guard, could help balance out the Magic's roster and give them a solid young core to start building around.
Look, if you know you are going to lose out on Nikola Vucevic this summer, you may as well get creative and try something now. If I had Magic's CEO Alex Martins' cell phone number, I'd tell him to give Charlotte a call. Perhaps they'll oblige and work something out.
Has New York Finally Had Enough of Enes Kanter?
The Knicks are a really bad basketball team and seem to be sputtering out of control. Enes Kanter had been one of the bright spots early on, as the 26-year-old Turkish pro is averaging a double-double (14.4 PPG, 10.8 RPG) on the year.
Kanter is even shooting 53.9% from the floor and 81.9% from the free throw line in 2018/2019, so why has he been subjected to "riding the pine" over the last couple weeks?
Entering Wednesday night's tilt against the Mavericks, Kanter had only appeared in one of the Knicks' previous eight games, and that was just a 19-minute showing in a loss against the Thunder.
Now Kanter has all but accused Knicks head coach David Fizdale of cheating the Garden fans by not playing him in a home game versus the Heat on Sunday.
"If it was a road game I understand. But it's a home game, and the fans wanted to see me out there. And they were chanting. I felt bad I couldn't go out there and help my teammates and organization."
It's a bit murky why Fizdale refuses to play Kanter, but it seems as if the working relationship has reached its breaking point, and the dismissal of Enes could be imminent. Let's not forget, Kanter actually could help a number of teams right now make a push toward a postseason run.
The problem is, Kanter is earning a bloated $18.6 million salary this season, and I can't imagine anybody wants to take that on. That's why some sort of structured buyout is almost certainly on the way, which opens the door for a contender to jump in at a bargain.
Watch for the likes of Denver or Philadelphia to try and swoop in to add some depth to their already talented lineups. Even the Celtics or Raptors might want to take a bite, but I can't imagine we'll see Kanter in a Knicks uniform for very much longer.
Will the Pelicans Part Ways with Nikola Mirotic?
Everybody in the Big Easy is "uneasy" now that Anthony Davis has made it clear that he has no intentions of staying in New Orleans long term. While it's entirely possible that Magic Johnson or Danny Ainge could pull something off in the next few days, it remains unlikely that something that blockbuster transpires.
What is much more likely is that the Pels dish Nikola Mirotic to a team who thinks they are just a player or two away from being a serious contender. The Philadelphia 76ers immediately come to mind, as head coach Brett Brown is yearning to get additional help on the floor.
"We feel great. No matter what happens, we feel good about our base. I think what we all recognize is there's a belief that we need more. It doesn't diminish how excited we are about what we have and what we are growing. But we feel that our time is now."
This is Brown's way of politely pleading to general manager Elton Brand to be aggressive now and all the way up until the February 7th 3:00 pm EST deadline.
Nikola Mirotic is a player that would make a lot of sense, as help at the forward position is needed desperately. They could perhaps offer some sort of swap involving Wilson Chandler, or they could even throw Markelle Fultz's name into the ring and make him available for any potential pursuers.
Portland is another team who could benefit from the services of Mirotic stretching opposing power forwards out to the perimeter, and someone like Evan Turner comes to mind as a player they'd be willing to let go.
Along with a future draft pick and either Nik Stauskas or Meyers Leonard, I'm sure they could get the Pelicans on board.
Mike Conley's Days in Memphis Appear to Be Numbered
Mike Conley is a premier point guard in the NBA any way you slice it. He certainly gets paid like one (5-year/$152.6 million deal), but the lefty PG can deliver in the biggest moments and isn't afraid of anything.
There are a host of teams who could use Mike Conley right now, namely the Los Angeles Lakers and the Washington Wizards.
The Lakers might be scared off by the $67 million Conley is owed over the next two years, as we know they are vehemently trying to lure in Anthony Davis and would have to commit to paying him top dollar as well.
But a team like Utah strikes me as the exact type of squad that would relish getting Mike Conley. Ricky Rubio is a nice player, but he isn't enough when you look at the myriad of top-end point guards in the West.
As far as how Utah could possibly excite the Grizz enough to get them comfortable with parting ways with Conley, here's an idea that at least works financially.
Utah receives Mike Conley
Memphis receives Ricky Rubio, Dante Exum, Grayson Allen, future second-round pick
That may seem like a lot to give up for a 31-year-old player who has sustained multiple injuries, but pairing Mike Conley up with Donovan Mitchell and Rudy Gobert would make the Jazz a force to be reckoned with in the conference.
I doubt they could challenge the Warriors, but they could have a first-class ticket to the Western Conference Finals. And that'd be something to cheer about in Salt Lake City.
Cleveland Trading Kevin Love Isn't Out of the Question
Can you imagine if Kevin Love came back healthy and was on the Philadelphia 76ers? Picture a scenario where Philly rolled out a lineup that consisted of Ben Simmons, J.J. Redick, Jimmy Butler, Joel Embiid, and Kevin Love.
Would that scare you if you were an opposing team?
It's actually not entirely out of the realm of possibilities that this could come to fruition over the next few days, and I'll tell you exactly how.
Philadelphia receives Kevin Love
Cleveland receives Markelle Fultz, Wilson Chandler, Furkan Korkmaz, future draft pick (2019 or 2020)
Kevin hasn't played in a game since October 24th, and it's a bit unclear how his left foot will respond from surgery performed in early November. What began as a "bum toe" lingered and turned into a nightmare situation for Love and the Cavs.
With Cleveland sitting at the bottom of the Eastern Conference and showing no signs of being relevant in the near future, Love could really do himself a favor and get out now. He's owed $120 million and locked in through 2023, so trading him will be a lot easier said than done.
But if the 76ers front office is willing to give up the bevy of players I suggested (along with a future pick), I think that Cavs GM David Griffin would at least entertain the offer.
Cleveland knows they aren't going anywhere this season, and it's more than obvious that their current roster (even with Love) is insufficient, to say the least.
The post-LeBron era in Cleveland has ensued, and it's time to really start focusing on the rebuild. If they don't believe that Kevin Love is a part of that future, then trading him now (before he potentially doesn't recover well from this injury) could be their safest move.
I happen to think he'll bounce back just fine and return to being an elite player in this league, and boy, would that be exciting if he landed right in Philly's lap.
From someone who was born in Atlantic City and has plenty of ties to the City of Brotherly Love, I'd be pretty stoked!
Final Thoughts
The week leading up to the NBA trade deadline is one of the most exciting and captivating times of the year for NBA fans like myself.
With plenty of NBA stars potentially being traded over the next few days, we can hardly afford to blink and take our eyes off the prize.
If we do, we might wake up and see a superstar in a new city.
Whether or not a deal gets done for Anthony Davis before February 7th remains to be seen, but you can bet your bottom dollar that a frenzy of NBA transactions is on the horizon!