Hide Bonus Offers
| | | | | |
| --- | --- | --- | --- | --- |
| #1 | Bovada Sports | 50% Up To $250 | Visit Site | Bovada Sports |
| #2 | BetUS | 125% Up To $2,500 | Visit Site | BetUS |
| #3 | MyBookie | 100% Up To $1,000 | Visit Site | MyBookie |
| #4 | Everygame | 100% Up To $500 | Visit Site | Everygame |
| #5 | BetOnline Sports | 60% Up To $1,000 | Visit Site | BetOnline Sports |
First Round Upset Picks for March Madness 2021

March Madness is back in our lives this week, with the First Four tipping off on Thursday, and round one arriving on Friday.
If you want to get in on the madness on Thursday, get the party started with my picks and predictions for the 2021 First Four.
The real stuff comes one day later, of course, when round one of the 2021 NCAA men's basketball tournament gets going.
This is an interesting tournament, but like any rendition of March Madness, it's sure to have its fair share of surprises.
For anyone looking to bet on March Madness, said surprises likely refer to who will get upset early in the tournament.
You can no longer say a #1 seed can't lose the first game, as Virginia did just that three years ago. I don't think it's likely, but bettors have to turn over every stone as they try to project first round upsets to target for 2021 March Madness.
The wild finishes and shocking upsets will come and go, and before you know it, we're at the Final Four.
Before the 2021 tourney gets away from us, let's see where bettors may want to focus their energy with a look at some viable first round March Madness upsets.
UCSB to Beat Creighton (+275)
You can play it much safer and pick UCSB to simply beat the spread at +7.5 (-107), but they feel like a terrific upset pick in the first round of the 2021 March Madness tournament.
The Gauchos didn't face the tough competition Creighton did in the Big East, but they were still a dominant 22-4 on the year and claimed their conference tournament crown.
Jaquori McLaughlin was their best player who created offense the most consistently, leading the team with 16 points and five assists per game.
He didn't back down in the Big West conference tourney title game, either.
They sport a capable offense (76.5 fantasy points per game), but really could have an edge defensively. The University of California Santa Barbara allowed just 62.8 points per game on the year, and they also rack up 7.5 steals per contest.
The biggest reason UCSB is a real threat to win here? Their perimeter defense.
Creighton lives on the perimeter (15th in three-point makes per game), but UCSB allows just a 33.4% conversion rate from long range and ranks inside the top-15 in terms of opposing threes attempted and made.
Creighton's rebounding issues could also come to the forefront here, and there's enough of a contrast on the outside to like UCSB.
Utah State to Beat Texas Tech (+170)
Again, if you're not fully on board with this first round March Madness upset pick, just go with the spread (+4.5).
You must look for the mismatches when betting on March Madness, however, and this could be one of them.
Don't get me wrong, Texas Tech is a tough defensive team, Chris Beard got this team to the national title game just two years ago, and few players are more fun to watch than Mac McClung.
Lived up to the billing.

Big 12 Newcomer of the Year ✅
All-Big 12 Second Team ✅
Big 12 All-Newcomer Team ✅#4To1 | @McclungMac pic.twitter.com/H3qxEAwC1c

— Texas Tech Basketball (@TexasTechMBB) March 8, 2021
That all sounds rather good, and I'm sure it's why the Red Raiders are favored to make it out of the first round. However, this is still a team that went just 9-8 in conference play and had an uninspiring 17-10 record on the year.
Texas Tech hasn't been in amazing form down the stretch, either, going just 3-5 over their last eight games to end the regular season.
Utah State brings a pretty similar opponent, as the Aggies play strong defense, and give up nothing easy inside. Neither team is very reliable from the perimeter, but Utah State has an unspeakable advantage in terms of size and rebounding (6th in the nation).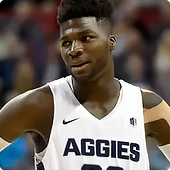 Their heart and soul is star center Neemias Queta, who carries the offense (15 points per game), but also dominates the glass (10 rebounds per game) and crushes souls as a shot-blocker (3.21 blocks per game!).
The Aggies play tight defense inside (also ranked 14th in blocks per game), they rebound ridiculously well, and they share the ball as well as anyone (14th in assists).
Bettors may grow infatuated with the bigger program and their recent success, but the Red Raiders aren't long for March Madness in 2021. Barring a wild performance by Mac McClung – and maybe even if he delivers – I think Utah State could pull off the shocker.
Colgate to Beat Arkansas (+315)
This is easily the riskiest of 2021 March Madness first-round picks worth betting on. As bettors know, no upset pick is a sure thing. No pick, in general, is ever a lock, either.
If you're into leaps of faith and awesome +315 odds, of course, then Colgate might be for you.
There are two major issues preventing anyone from getting excited about the Raiders: lack of competition and a painfully small sample size.
Colgate hails out of the weak Patriot League, but hey, they dominated there in 2020, going 11-1 in the conference and 14-1 overall.
They played about half the games most teams did, but they were positively lights out in those contests. The lone loss to Army should give any daring bettor indigestion, but it was only by two points.
The good? Colgate lit it up to the tune of 86 points per game on offense, ran at a torrid pace, connected on 40% of their three balls (3rd in the nation), and was one of the most efficient teams in college basketball
on offense.
This all came against lower-level competition, they were limited to 15 total games, and their defense wasn't anything special.
Oh, and they're facing a pretty good Arkansas team that also puts up points in bunches.
Still, Colgate has won 13 games in a row, and stylistically, they match up with the Razorbacks extremely well. To top it off, Colgate rebounded the basketball at an elite rate (17th in rebounds per game) and was the best in the country at defending the three-point line (opponents shot 26% from long range).
Maybe it all means nothing against a bigger school that faced far tougher competition, but it also may be the perfect spot to go all-in on Colgate.
Georgetown to Beat Colorado (+180)
I'd admittedly like better odds to take a flier on Georgetown. They're not exactly the Hoyas of old, and Allen Iverson or Patrick Ewing aren't about to take the floor.
If Ewing did, though, I'd hope someone knew who he was.
">"I thought this was my building. … Everybody in this building should know who the hell I am."

Patrick Ewing was upset after he said he got stopped multiple times by security at Madison Square Garden. pic.twitter.com/r6DN9JITG8

— Sporting News (@sportingnews) March 11, 2021
Jokes aside, momentum is the ticket for a Georgetown win. They're a paltry 13-12 on the year, but they forced their way into the 2021 March Madness tourney by winning the Big East conference tournament.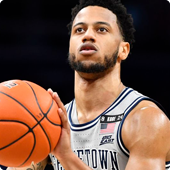 Hats off for the wild ride, which saw the beleaguered Hoyas rip off four wins to end the year. That winning streak was one to behold, too, as it included a dismantling of Marquette, a clutch win over Villanova, and a whipping of Creighton in the title game.
Georgetown has serious momentum, and they've got nothing to lose as a team with the "they shouldn't be here" label stamped across their chest.
But the Hoyas are here, and they're quarterbacked by a solid scorer in Jahvon Blair that puts up over 15 points per game.
He's part of an outside onslaught that can be deadly when they get hot, and rank 52nd in three-point percentage.
There are not many selling points for the Hoyas beyond that, but you shouldn't be enamored with a somewhat middling Colorado team, either.
Other March Madness Upsets to Consider
The first round March Madness upsets touched on above can be broken down in one of two categories; I think it will happen, or the price is too good to pass up.
To be frank, I think both can be applied for those bets, and the upside is pretty good across the board.
There are a few other potential first round upsets you may want to at least consider, though. Here's a quick list to wrap things up.
Liberty over Oklahoma State
+285
Abilene Christian over Texas
+345
Grand Canyon over Iowa
+875
Liberty is lights out from outside (11th in three-point percentage), and they were a good team at 23-5. They're also red hot behind 12 straight wins, and they'll face a bad defensive team in Oklahoma State.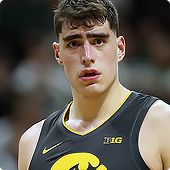 Abilene Christian would have ultimate bragging rights if they upset Texas. The Longhorns haven't been relevant for years, and the pressure head coach Shaka Smart is under is insane.
Lastly, how hilarious would it be if Luka Garza got dominated in a one-and-done performance? It seems a #15 seed gives it a go yearly, and some would-be elite team always topples.
The Antelopes are a tougher out than you'd expect, too. They have two towers in Alessandro Lever and Asbjorn Midtgaard (27 total points per game), and the latter is a menace on the glass (9.8 rebounds) and can disrupt offense (1.3 blocks per game).
More importantly, Grand Canyon has been ferocious defensively. They ranked 22nd in rebounding on the year, allowed just 61.6 points per game, and prevented teams from getting in a groove (14th fewest assists allowed, 29.7% three-point percentage allowed).
Final March Madness Betting Thoughts
Betting on March Madness is a ton of fun and can be quite profitable. Nailing March Madness first-round upsets is perhaps the best experience you can have in sports betting.
Logic suggests at least one of the first-round upset picks above should deliver. The tourney just wouldn't have it any other way.
When searching for which March Madness upsets you should bet on, consider price, matchup, talent, and coaching. The best way to find viable underdog picks, of course, is finding mismatches that could turn games upside down.
That said, I don't suggest just chasing March Madness underdogs exclusively. You should still research every single team, find the top March Madness sites to bet on, locate the best pricing, and make sure you feel good about every single bet you make.
If your string of 2021 March Madness bets happens to include some of the underdog plays above and they hit, all the better.
Excited for March Madness? Get ready with some more content, like a breakdown of the top players to watch below.