First Baseman Rankings for 2021 Fantasy Baseball

The 2021 fantasy baseball season is so close, I can taste it. Spring training literally starts this month, while Opening Day is scheduled for April 1st.
Needless to say, if you're getting ready for a season-long league, you're running out of time to prepare.
Hopefully, I can help you get ready for your draft while fellow fantasy baseball writer Michael Wynn has already gotten the ball rolling.
Part of anyone's draft research is diving into fantasy baseball player rankings, and I'm here with the top-30 first basemen to target for 2021.
Let's dive into the top-10 first basemen and round things out with a look at everyone that cracks the top-30 in my 2021 fantasy baseball 1B rankings.
The 10 Best Fantasy First Basemen in 2021
These are your big boys. The best 1B tend to send the ball out of the park, and the best ones do a little more than that.
Who are the best first basemen that you need to draft early in 2021? Let's break down the top-10 options going into the new season.
1. Freddie Freeman – Braves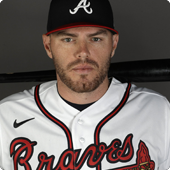 Freeman is the logical choice to be the first 1B selected in 2021 fantasy baseball drafts.
He was the top dog through 60 games last year, and he finished second to Pete Alonso (by a whopping two fantasy points) the year prior.
Not the biggest masher, Freeman still offers plenty of power while approaching a .300 batting average and chipping in plenty of RBI, hits, runs, and walks.
Operating out of a loaded Braves offense, Freeman promises to be as good as ever in 2021.
2. Cody Bellinger – Dodgers
While mostly regarded as an outfielder, numerous fantasy baseball sites will allow 1B eligibility, so you need to consider him right up there with the reliable Freeman.
Had Bellinger been listed as 1B in 2019, he'd have been the top scorer (710 fantasy points), and this guy drops bombs regularly.
He lacks Freeman's efficiency or consistency, but there is a very real argument for Belli as the top-ranked first baseman in 2021.
3. Pete Alonso – Mets
Another masher that demands your respect in 2021 fantasy baseball drafts is Alonso. You may recall he crushed 53 home runs in 2019, breaking the MLB rookie record.
Pete Alonso's record-setting 53 home runs in 2019, visualized:

(MLB x @googlecloud) pic.twitter.com/kejtaUT8jb

— MLB Stats (@MLBStats) August 13, 2020
That helped pave the way to the top spot in the fantasy baseball 1B rankings at the end of 2019, but he regressed a bit in a truncated season last year.
The power and upside are good enough to get him back to #1 overall again, but like Belli, strikeouts and a mediocre batting average hinder his potential.
4. Jose Abreu – White Sox
Chicago is so stacked this year that they are among the top sleepers that could win the 2021 World Series.
They're in such a "win now" spot that the franchise went bold and hired Tony La Russa to manage the team. Seriously, the White Sox are among the best 10 MLB lineups in 2021.
One of the main reasons for the optimism is the heavy bat of Abreu, who ranked 6th and 2nd among first basemen the past two years.
Marrying elite power and efficiency, Abreu could be ready for a massive year after establishing a pace that could have seen him eclipse 51+ dingers a year ago.
5. Paul Goldschmidt – Cardinals
Goldy is notorious for his slow starts, which is partially why it's always impressive to see him go on an epic heater and end the season among the best 1B options in fantasy baseball.
The power (6 HR) was never there in 2020, but even with the drop in the long ball, Goldschmidt's strong peripherals landed him as the 11th best 1B. This, a year after ending as the 7th best option.
The St. Louis offense is only getting nastier with the addition of Nolan Arenado, and I think that eases the pressure on the Cardinals' most complete player. Even at 33, he may have another top-5 finish in him yet.
6. Luke Voit – Yankees
How can Luke Voit possibly provide an encore for the breakout season he enjoyed in 2020? The Yankees masher cranked out 22 long balls in the shortened season, which would have had him on pace for an insane 63 homers in a regular season.
Like most bats from the pinstripes, Voit is heavily reliant on the long ball, and he whiffs more than you'd like. But few can rival his raw power, and it's exciting to gush over what a full year of this rendition of Voit might look like.
7. Matt Olson – Athletics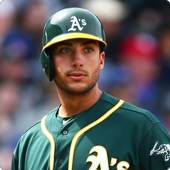 One of my favorite 1B for the 2021 fantasy baseball season is Olson, simply because it doesn't feel like he's scratched the surface of the hitter he can be.
Like most Oakland bats, his upside is mildly held in check due to his ballpark. He still produced a top-6 finish in a prorated season, though, and showed some great form at times.
The consistency and efficiency were lacking, but it only makes his year more impressive.
If Olson can keep things more around where he was in 2019, he could be in for a career year.
8. DJ LeMahieu – Yankees
Mr. Reliable will be higher in other 2021 fantasy baseball first basemen rankings, but I personally expect his random power surge to dip at least a little.
LeMahieu was pretty open about angle changes improving his power in 2019, and it's worth noting he was on pace for over 32 home runs in a normal year last season. This is a guy who had previously never clubbed more than 15 homers while calling Coors Field his home, though.
LaMaheiu is in a great park and operates out of an elite offense, so the power and production should still be rock solid. But you're drafting him for his consistency as a hitter, with the expectation that the power approaches a decline.
9. Max Muncy – Dodgers
Muncy slides into the same spot he ended 2020 in my fantasy baseball 1B rankings, and that's number nine. There isn't anything too damning that suggests he is in for a steep decline, but his efficiency suffered last year, and that's never really been his strong suit.
You're getting plenty of power and endless opportunities in a loaded Dodgers offense, but I feel like we've already seen Muncy's ceiling. It's not bad by any means, but it isn't getting you back into the top-5 in 2021.
10. Vladimir Guerrero Jr. – Blue Jays
There are several guys in my 2021 fantasy baseball first basemen rankings that demand their name be called in the top-10, and others may be more about potential.
Vlad certainly fits the bill in that regard, as he began showing his upside with a 9th place finish among 1B in 2020. This, without showing off the power he teased the year prior.
Ground balls were the problem for Vlad, who undeniably has to focus more attention on getting the ball into the air. Improved fitness has been part of his plight to take the next step.
If he can do that successfully, I may be ranking him far too low.
1B Fantasy Rankings Continued (11-30)
11. Anthony Rizzo – Cubs
12. Rhys Hoskins – Phillies
13. Mike Moustakas – Reds
14. Josh Bell – Nationals
15. Miguel Sano – Twins
16. Brandon Lowe – Rays
17. Ryan Mountcastle – Orioles
18. Alec Bohm – Phillies
19. Christian Walker – Diamondbacks
20. Wil Myers – Padres
21. Jesus Aguilar – Marlins
22. Hunter Dozier – Royals
23. Joc Pederson – Cubs
24. Ryan McMahon – Rockies
25. Jake Cronenworth – Padres
26. Dominic Smith – Mets
27. Carlos Santana – Royals
28. Yasmani Grandal – White Sox
29. Trey Mancini – Orioles
30. Eric Hosmer – Padres
Anthony Rizzo gets things started when looking at the rest of my 2021 fantasy baseball 1B rankings. Even in a down year, he still wormed his way into the top-12 in 2020, and everyone knows the kind of upside he possesses.
He narrowly misses out here, and there are other big names that would be deserving of getting in, with guys like Moose and Josh Bell offering top-7 production as recently as 2019.
Once you get outside of the top-10 fantasy baseball 1B, though, I start looking for value and upside.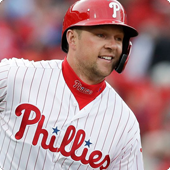 The first name that stands out to me is Rhys Hoskins.
Philadelphia is stacked offensively, but even with Bryce Harper in town, one could argue he offers more upside than anyone.
Hoskins stormed the league with 18 homers as a rookie in just 50 games in 2017 and followed that up with a career-high 34 dingers the following season.
Hoskins has had trouble at the plate in terms of consistency, but the power upside is beyond obvious.
Now that he's recovered from elbow surgery, the hope is that he's 100% and finally ready to realize his potential.
If he does, you're getting a steal with him being taken as the 23rd overall first basemen in most 2021 fantasy baseball drafts.
Ryan Mountcastle is another interesting name right around where Hoskins is being drafted. I don't like him quite as much, but there is no denying he's among the top 2021 MLB breakout candidates.
Seeking more value? Consider Joc Pederson or Jesus Aguilar.
Both of these guys have been spurned by their former teams over the past couple of years, but Aguilar crushed 35 long balls with Milwaukee in 2018 and enjoyed a mild revival with the Marlins last year.
Pederson was the odd man out in L.A. this offseason, but he found a new home with the Cubs as a replacement for the departed Kyle Schwarber.
Just one year removed from a career-high 36 dingers, Pederson could be a major bounce-back candidate in his new setting.
The Best Fantasy 1Bs in 2021
When ranking the best first basemen ahead of 2021 fantasy baseball drafts, the first goal is to point out the most reliable players that either offer an insanely high floor or considerable upside.
Ideally, most of the guys entering the top-10 first basemen rankings do a little bit of both.
This is a position stuffed with power and potential, but it really isn't the best position for consistency or safety. An easy way to remind yourself of that is by checking in on the last full season of play.
There were 22 hitters who topped 600+ fantasy points that year, but just three were listed as 1B at most sites at the time. Bellinger is really the only other one that would make the cut now.
Needless to say, 1B isn't the best spot to obtain value every year, and it pays to go get some of the best options as early as possible.
That said, this is a strange year for 1B average draft position, at least in my opinion. Of course, it all depends on where you have each guy in your fantasy baseball 1B rankings for 2021.
For the moment, I have Pete Alonso, Matt Olson, Max Muncy, Rhys Hoskins, and Miguel Sano ranked well ahead of where they're consistently going in fantasy baseball mock drafts.
Rankings only get you so far, though. You need to hit your early picks and then do some digging to unearth some fantasy baseball sleepers in the later rounds. Hopefully, my 1B fantasy player rankings at least help you decide what to do at this position in 2021.
There are more 2021 fantasy baseball player rankings where this came from. Check out all of our other rankings posts below.
September
Casino of the Month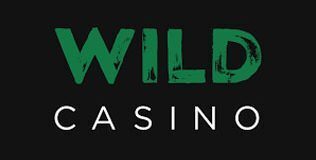 Welcome Bonus
250% up to $5,000