Final Four Sleepers for March Madness 2021

Many are content by simply filling out one bracket. Some fill out several. Others are planning on betting on a whole bunch of the games from start to finish.
No matter which camp you are in, we're all looking for March Madness sleeper picks.
Not the upset picks to target in round one, but who are the teams that can advance beyond the Sweet 16? Which programs seeded outside the top-4 have what it takes to win their region? Who are the Final Four sleepers?
I'll throw out five schools, including at least one from each region.
Texas Tech Red Raiders
Region: South
Seed: #6
Final Four Odds: +750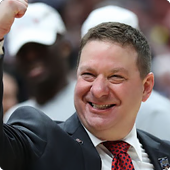 Utah State won't be an easy out in the first round. Texas Tech lacks size in the post, and Neemias Queta is a big-time seven-footer on the radar of lots of NBA scouts. Getting past the Aggies and beating a talented Arkansas team in the next round is undoubtedly a tall order.
Having said that, the Red Raiders are proven come tournament time under the guidance of Chris Beard.
The man rumored to be in the mix to replace Archie Miller in Bloomington Beard led Texas Tech to the Elite 8 in 2018 and the National Championship in 2019. Though the consistency on defense has taken a step back, the team from Lubbock is loaded with playmakers on the perimeter.
Mac McClung has grown since his erratic days at Georgetown and has developed into a lot more than just an explosive two-footed leaper. Compared to last season with the Hoyas, Mac's shooting it better from two, better from three, and better from the charity stripe.
Sophomore Terrance Shannon Jr. is a silky-smooth lefty who used his size (6'6", 210 pounds) to dominate opposing Big 12 guards, while Kevin McCullar and Kyler Edwards chip in with 10 ppg apiece.
The Red Raiders aren't that deep, which is why 6'7" freshman guard Micah Peavy will need to be at his best.
LSU Tigers
Region: East
Seed: #8
Final Four Odds: +1200
It's hard to say any 8-9 matchup is lopsided, but it sure looks like LSU holds a significant advantage over St. Bonaventure on Saturday. The Tigers have a trio of guys averaging at least 15.9 ppg, and Darius Days is a load down low (11.7 ppg, 7.9 rpg).
Anchored by Cameron Thomas, one of the players to watch in March Madness, LSU won't be afraid of a matchup with the Wolverines on Monday should that be what pans out.
When speaking about Michigan's chances in the 2021 NCAA Tournament, Jay Bilas was quick to point out that running into the Tigers in the second round could be a problem.
"That's a really dangerous game because LSU is super talented and they're actually starting to guard people now. They didn't do that earlier in the year. That's an upset alert for Michigan in the second round."
Remember, Juwan Howard's bunch will be without their second-leading scorer after Isaiah Livers suffered a stress fracture in his right foot against Maryland last Friday. The 6'7" 230-pound senior was connecting on 43.1% of his three-point attempts – the third consecutive season Livers shot over 40% from beyond the arc.
San Diego State Aztecs
Region: Midwest
Seed: #6
Final Four Odds: +1000
Syracuse will be among the most popular first-round upset picks in this year's bracket, but I'm not falling victim simply because of the name on the front of the jersey. I agree with what Joe Lunardi said about SDSU's game against the Orange.
"I know Syracuse is tough to play against, but the Aztecs are better."
Syracuse's zone defense can suffocate teams that don't shoot the ball well, and the M.O. on SDSU is that they play great D but aren't a good shooting team. Part of that is true – the Aztecs are tenacious on defense. The myth is that they don't shoot the ball well – that couldn't be further from the reality.
Brian Dutcher has two guys who chuck up a bunch of threes – Jordan Schakel and Terrel Gomez. Well, Schakel shot a blistering 46.7% from downtown. Gomez clocked in at 41.7%. San Diego State led the Mountain West Conference in three-point shooting percentage.
The Aztecs are 10-deep and have serious rim protection in the form of Nathan Mensah. Senior Matt Mitchell (2020-21 MWC Player of the Year) shows up in big games, just as he did when he poured in 35 against BYU.
Don't forget that SDSU would have been a #1 or #2 seed in last year's NCAA Tournament. They're 53-6 since the start of last year; only Gonzaga has a higher winning percentage in all of college basketball over the last two seasons.
USC Trojans
Region: West
Seed: #6
Final Four Odds: +1800
Checking in one spot behind the Aztecs in the BPI and one spot ahead of SDSU in the NET Rankings, the Trojans are rated higher on both platforms than three of the four #3 seeds in the bracket. However, nobody is talking about USC as one of the genuine Final Four sleepers.
A lot of that has to do with being positioned in the same region as Gonzaga but hang on a second. Didn't the Zags just beat BYU by 10 points in the WCC Final?
Gonzaga beat the Cougars by 11 the time before that – the same BYU team that the Trojans dismantled by 26 on a neutral site in December.
For Andy Enfield, it all starts with Evan Mobley.
Evan Mobley has had a historic freshman season at USC ? @brhoops It's just the beginning Season averages: 16.1 PPG, 8.6 RPG, 58.2 FG%March 9, 2021
On his way to becoming a top-3 pick in the upcoming Draft, Evan is a matchup nightmare for opposing bigs. The true frosh from Murrieta possesses a high basketball IQ and terrific footwork in the post, and he's an absolute menace at the rim (3.2 blocks/game).
The cherry on top is that Mobley saunters into the tourney playing his best ball of the season.
Evan Mobley's Last Two Games
Date
Opponent
Points
Rebounds
Blocks
Assists
FG
3PT
3/12
Colorado
26
9
5
3
11-16
1-3
3/11
Utah
26
9
5
2
7-14
1-1
Older brother Isaiah (Mobley) has recorded six double-doubles and helps clog up the paint. Santa Clara transfer Tahj Eaddy has been a huge asset in his first year on campus, contributing 13.7 points in 32.3 minutes/game.
The Trojans led the Pac-12 in rebounding and blocked shots, and they topped the conference in FG% on defense. This team can make a lot of noise if they get hot shooting the rock.
Oregon Ducks
Region: West
Seed: #7
Final Four Odds: +1800
If you want your bracket to be differentiated, picking a team other than Gonzaga to emerge out of the West Region is a great place to start. And if you can't behind USC being the team that can dethrone the Bulldogs, how about rolling with the team that won the Pac-12 regular-season title?
The Ducks season was thrown for a loop with a series of postponements and cancelations in January (Oregon played just one game between January 10th and February 3rd).
An 11-point loss to their in-state rival in the Conference Semifinal is going to make casual fans pause. Nonetheless, Dana Altman's roster is stockpiled with studs who are hungry to make a run.
Oregon's four leading scorers each average at least one steal per game; they all shoot over 37% from deep. Their top-three leading scorers are all seniors.
They say good guard play can carry a team in the NCAA Tournament – Chris Duarte might just be the best two-guard in the country. The Third-Team All-American does a bit of everything for Coach Altman, including shoot over 52% from the floor and 43% from outside.
Those of you penciling in Gonzaga vs. Iowa in an Elite 8 Matchup in Indy, consider this your forewarning.
The top-shooting team from the Pac-12 has just enough potency to throw a wrinkle into those plans. With the top March Madness betting sites slotting Oregon at +1800 to win reach the Final Four, a flier could be warranted.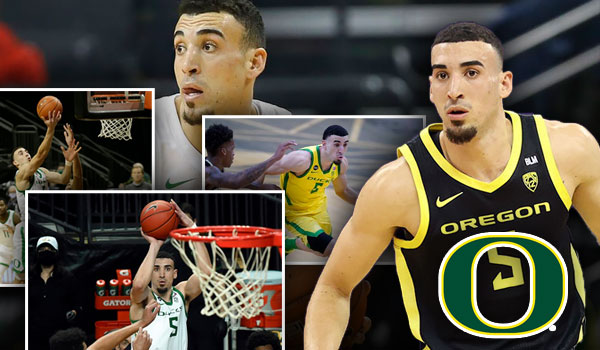 Tips for Filling Out Your 2021 March Madness Bracket
Eating the chalk is fine in certain spots, but you got to go out on a limb if you want a shot at the big prize. That means trying to nail down the March Madness sleepers in 2021.
Keep in mind, you have to go all the way back to 2012 to find the last time the Final Four didn't feature a #5 seed or worse.
Teams Seeded 5th or Higher to Reach the Final Four Since 2012
Year
Final Four Team(s)
Seed
2019
Auburn
#5
2018
Loyola-Chicago
#11
2017
South Carolina
#7
2016
Syracuse
#10
2015
Michigan State
#7
2014
Kentucky, UConn
#8, #9
2013
Wichita State
#9
The moral here is do not be afraid to be bold and target some major upsets in your bracket.
September
Casino of the Month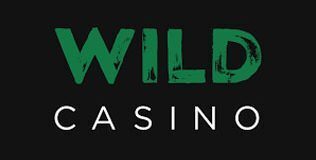 Welcome Bonus
250% up to $5,000