Hide Bonus Offers
| | | | | |
| --- | --- | --- | --- | --- |
| #1 | Bovada Sports | 50% Up To $250 | Visit Site | Bovada Sports |
| #2 | BetUS | 125% Up To $2,500 | Visit Site | BetUS |
| #3 | MyBookie | 100% Up To $1,000 | Visit Site | MyBookie |
| #4 | Everygame | 100% Up To $500 | Visit Site | Everygame |
| #5 | BetOnline Sports | 60% Up To $1,000 | Visit Site | BetOnline Sports |
Final Betting Chances Ahead of the Game of Thrones Season 8 Finale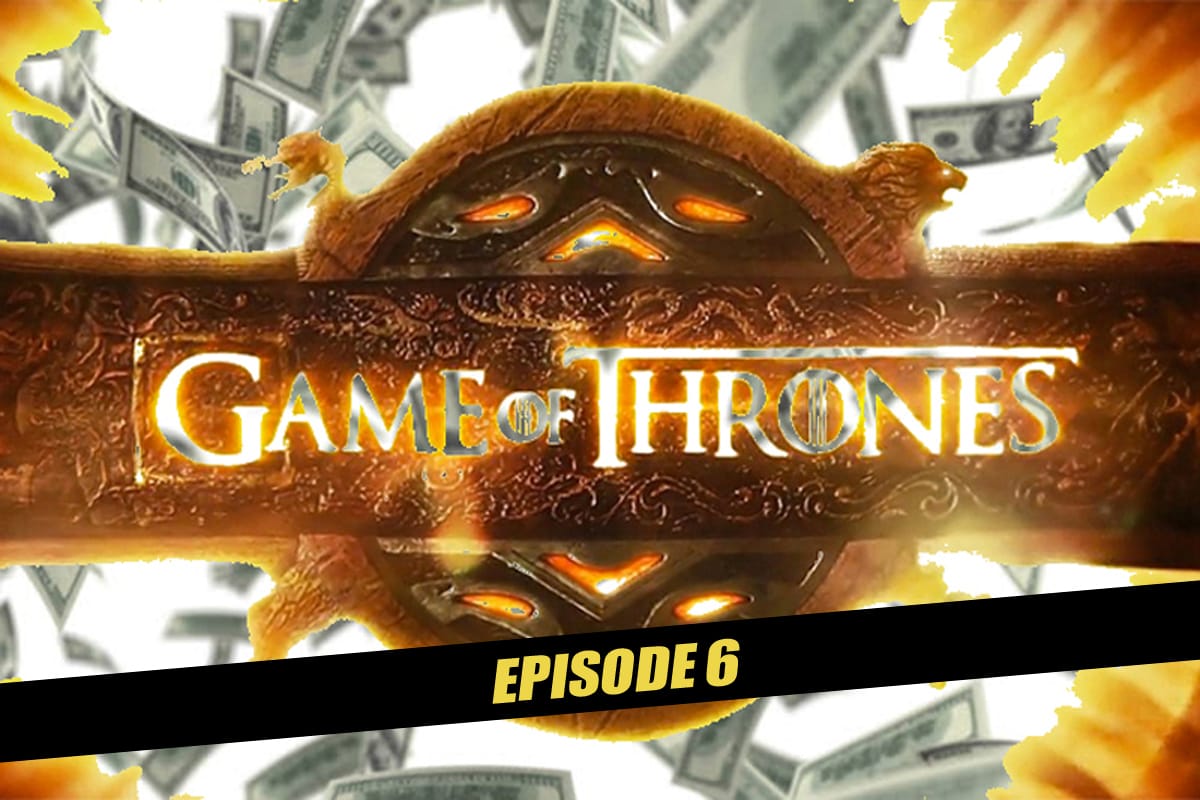 It's at least arguable that the final season of Game of Thrones hasn't gone quite as fans had hoped.
There are debates over how some storylines felt rushed and how a few characters' arcs completely changed.
I'd agree with the latter in a sense, but we're getting dangerously close to nitpicking. I'm also getting dangerously close to some spoilers, so turn away if you haven't gotten fully caught up with season 8 of Game of Thrones.
Unfortunately, I don't have much of a choice but to reference things that already happened in previous seasons or recent episodes, since the goal here is to successfully bet on wagers as the series ends.
And that's the bummer here. Not only is an amazing show drawing to a close, but it also soon kills any opportunity to make money betting on Game of Thrones. Or you could just play the Game of Thrones slot machine game.
The good news is you do have one last chance to soak it all up, and perhaps you can profit. Then we'll all group together once all of those Game of Thrones spin-off shows start pouring out.
To this point, I feel like the show has actually done a pretty good job tying up loose ends and steering the story to one last fateful battle to close things out.
A bunch of smaller characters are dead, Jaime and Cersei Lannister supposedly died under a crumbling building, Daenerys Targaryen went full Mad Queen, and Jon Snow probably finally realizes that he can't back her anymore.
This is going to inevitably lead to some type of Snow vs. Dany battle, which may ultimately deliver that "bittersweet" ending everyone keeps talking about.
There is a lot to digest, but what better way to sort things out than break down the latest Game of Thrones prop bets and how you may want to bet on them? Let's dive in and try gauging how this thing might wrap up.
Game of Thrones Prop Bets
There are no longer as many GoT wagers as there once were. A lot of Game of Thrones betting opportunities revolved around character deaths or various storylines, and many have since been completed.
We finally got a Cleganebowl, Cersei died in a manner nobody really expected, Jaime died, and several other characters met their demise in other ways.
It's gotten to the point where some Game of Thrones betting sites like Bovada have largely closed up shop and are just waiting the finale out to process any winning bets. Some bets have already been honored, too, as Bovada has been really cool about taking on-screen deaths at their word.
There are still some wagers to attack with one more episode left, though. Let's dive into the best ones and see which way you may want to bet.
Which Stark Will Die First?
There aren't a ton of wagers remaining, but SportsBetting.ag has more than any other entertainment betting site and has always been a great spot to place wagers.
I'll roll with that, and the first prop on the table is which Stark family member will perish. Hey, maybe they all survive, but in a show like this with so much death, that may be wishful thinking.
Here are the odds for which Stark will be the first to go.
It's the last episode, so anything goes. That being said, there's little reason for the show to kill off Bran, who is the Three-Eyed Raven and isn't really in harm's way. He's a possible leader down the road, while his immediate storyline doesn't feel very relevant.
Arya is definitely at risk just because she's an assassin and is constantly putting herself in danger. She was ready to sacrifice herself to get to Cersei and at the moment is in major trouble in a scorched King's Landing.
Will the "green eyes" Arya shuts forever end up belonging to Dany? Perhaps, but even if Arya does kill the Mad Queen, it's possible she doesn't live to tell about it.
While true, the Stark I'd be most concerned with is actually Sansa Stark. She and Daenerys clearly don't like each other, and if there ever comes a time where Dany summons her or captures her, she could easily meet her end.
I love how the Sansa character has developed, but she can't really defend herself. If she ends up back in King's Landing, I think this could be a nice price to take advantage of.
Last Character to Speak in the Final Episode
This is an interesting one, and I really hope the show doesn't get lazy and launch us forward into the future.
Either way, I imagine this could go down two ways: either someone is narrating to close the story and telling it to people in the future or it's just a regular conversation that ends the show and maybe even provides a callback to season one.
That leaves the door wide open, so you'll want to consider both the realistic options and some that offer fat price tags.
I get the logic for Samwell Tarly being the last voice we hear on Game of Thrones. He's got a great narrator voice, and whether this just closes the show out or catapults us into the future, he can send us out on a high note.
Tarly actually has a direct tie to the main characters, as he's a good friend to Jon Snow, and Dany killed his father and brother. He also has ties to The Citadel and seems to have gone home. Him closing out the final battle makes sense, as the connections are strong, and he's currently safe enough to actually do it.
If the show just ends with our characters talking, then Jon Snow could make a lot of sense. He may be directly responsible for taking out Dany, and he may end up ruling Westeros. If so, he makes a lot of sense here.
Bran Stark could also take on a similar role as Tarly, but I don't see it. There might not be a better voice to close this thing out than Tyrion's, and if he ends up being the Hand to the new Queen or King, he could easily get the honor.
I also have gotten the weird feeling lately that this entire journey has been about Arya Stark. She was the center of it all from the very beginning. While we certainly got stretched in many different paths, those paths are starting to close up, and we're looking at Dany, Jon, Arya, Sansa, Bran, and Tyrion as the major characters left.
I think it's very possible just one member of each family will remain, and part of the process here (as well as betting on who rules Westeros) may be figuring out who survives.
In terms of logic and value, though, I think Jon Snow makes plenty of sense. This isn't a very reliable prop, though, as we have no clue how things will end. That pertains to characters surviving, the actual ending, and the format the show plans on operating with.
That being said, Jon Snow also has a great voice and might be the biggest character of all. If he lives, it will have been through a bittersweet rise to the throne. Who better to close things out?
How Many Main Characters Will Drogon Kill?
Dany and her last remaining dragon can be seen stepping down in King's Landing in the episode six trailer while ash rains down from the skies.
It's a pretty dark time that sets the stage for Dany's rise to power but also may end abruptly due to the disgusting way she obtained it.
I suspect her reign won't last very long, but before it ends, there will be more bloodshed. The bet here is for at least one main character being killed by Drogon.
The count of big-name characters is running low, but you're getting good value to see one more person experience the same fate Varys did. There are certainly people Dany isn't on good terms with, too.
That could just be everyone, but the list of betrayals starts with Jon Snow, Tyrion, and Sansa, to name a few. If Arya attempts to kill her or if Dany discovers any other outside threats, they could all be at risk of being sacrificial lambs for the show's finale.
Will Drogon Die in the Final Episode?
While Drogon will get plenty of air time as Game of Thrones tries to wrap things up, he probably won't last very long. There is the faint idea that he could live on with another Targaryen, whether it be Jon Snow or the teased possibility of Tyrion being a Targaryen.
But the likelihood might be that Drogon needs to fall in order for Dany's rule to end.
I could go either way on this one, but let's face it; you're not getting to Daenerys unless you take out her best weapon. It will be sad to see the last of the dragons fall, but if the good guys are going to win, Drogon probably can't stick around.
Will Brienne of Tarth Be Seen Again?
The Game of Thrones prop bets scene may be running on fumes a bit, just because most of the engaging bets are gone due to the show nearly being over.
There are some fun ones regarding whether or not we'll see certain characters again, though. Not only will you be delighted to run into these characters, but if you're correct, you could make money off of their appearance on screen, too.
The first one is Brienne of Tarth, who we last saw in the cold in Winterfell as Jaime left her behind to go be with his sister.
Vegas clearly believes Brienne will hit the screen at least one more time, and since she's in Winterfell with two major characters (Sansa and Bran), it makes sense that we'd run into her again.
Brienne is going to be sad when she learns of Jaime's presumed death, but Jon Snow will surely need her in the battle against Daenerys.
Will Gendry Be Seen Again?
This is a tough one, seeing as Dany handed him a new official title, and that could send him elsewhere.
Arya also turned down his marriage request, so it's very possible he's played out his story on the show and will survive in another area.
I am a fan of the Gendry character, and there are two ways we might run into him one last time: either we visit Winterfell and he's not gone just yet or he sticks around to help the girl he loves.
If Gendry is at all stubborn and not ready to allow Arya to die for her family, he could try to help her. It isn't the most logical ending, but Arya fulfilling her destiny and getting her own happily ever after isn't totally impossible.
Something corny like Arya reminding Gendry with "I'm not a lady" and him replying with "but you're my lady" could go down. I know, but hey, it could happen.
Will Tormund Giantsbane Be Seen Again?
This is the one that I'm not so sold on. Tormund would jump at one last chance to convince Brienne he's worth her time, while it's possible Jon Snow could go back and ask him and the other Wildlings to help him one last time.
Vegas thinks that's very possible based on the pricing.
I do think it's still very possible we see such a fun character again, but his ending on the show is already pretty believable. He helped his friend conquer a shared nemesis, and he went back to his home.
Giantsbane could be kept alive for a possible Game of Thrones spin-off show in the future, and putting him at risk for yet another battle arguably wouldn't be very fair.
Besides, if you want some solid betting value, this is probably the wager to target when it comes to the "will we see them again?" props.
Will Grey Worm Die?
Everyone supporting Dany right now is obviously at risk. Well, so is everyone not supporting the Mad Queen.
But the show has about 80 minutes left to complete this story, and after the destructive way she obtained power, it only makes sense that she should fall at some point.
As her top and most loyal soldier, Grey Worm is in trouble.
I get the feeling that the top entertainment betting sites might think it's possible that Dany ends up being the ruler she was born to be — or so she thinks. Otherwise, how do they expect Grey Worm to survive a potential battle?
He's resilient, and you feel for him. Not only has he been loyal to the woman who saved him, but he saw his lover beheaded. You want to root for Grey Worm, but perhaps not at the expense of Jon Snow or the Starks.
My guess is Dany and her army falls before the show is over. Grey Worm is, unfortunately, part of that.
Will Daenerys Targaryen Survive?
Dany has finally reached the promised land, and while it took a total character assassination to make it happen, she now has the ability to rule.
The question is for how long. Nobody in their right mind will be thrilled to see her get away with all of this murder, but can anyone actually stop her?
SportsBetting.ag asks that question with this huge prop bet.
A kingslayer started this story, and a queenslayer shall end it. I was a fan of the Dany story arc for quite some time, but like most people, I can't get on board with flat-out premeditated slaughter.
Dany will go down, and while you won't cash in with this one, it's the only call to make.
Will the Four Remaining Starks Be Shown Together?
Jon Snow is tossed into this prop bet, as there's a decent chance everyone heads back to Winterfell and regroups. The odds are pretty good that the Stark family sees 1-2 more people die before the show ends, so hopefully we get one last reunion before that happens.
The odds aren't terrible for it to come to fruition, either.
This might be asking a lot since the last we saw of Arya and Jon, they were right in the thick of it at King's Landing. I still think they retreat to gather their thoughts and comprehend what just happened.
That should involve them talking to Bran and Stark in Winterfell.
Will There Be Nudity in the Final Episode?
Not everyone is a fan of nudity, but Game of Thrones certainly has been over the years. It has not popped up in every episode, and I'm not sure it's either necessary or very realistic in the final episode.
Vegas seems to agree when you look at the pricing for this wager.
While I don't need the nudity and don't see how it helps the final episode, this is still GoT, and I'm sure there's a chance they find time to flash some nudity at some point.
I mean, this is a show that went out of its way for sex scenes involving Arya and Brienne. So, yeah, it wouldn't surprise me if they flashed some flesh at some point before ending the story.
Who Will Die First in Game of Thrones Episode 6?
A lot of blood has been shed in this final season, and it's come in ways both shocking and disappointing. There was also the death of The Night King, which some hated, but I thought it was awesome (go Arya!).
There are just 80 minutes left, and heads are bound to roll. The question, of course, is which character will die next on Game of Thrones?
Here are the latest Game of Thrones death odds.
It'd be a bit silly to have Dany rise to power and kill her off instantly. Because I think she lasts deep into the final episode, I'm pulling her, Drogon, and Grey Worm out of the running.
Maybe one of them ends up being the first big death, but if bodies are falling early, I wouldn't bet on them being among the first to go.
Jon Snow should also be safe until the end of this one, while a lot of these other characters aren't presently at risk or just wouldn't seem like logical characters to kill off.
Unless he's hanging around to somehow take the throne, the person in Dany's immediate crosshairs figures to be Tyrion. Nobody wants to see him go, but he's betrayed Dany more than once and is actually in King's Landing.
I don't know if things are going to end well for the last living Lannister (or so we think), even though I want them to.
Who Will Sit on the Iron Throne?
Last, but certainly not least, you can bet on who will rule Westeros. I've gone all over the place with this wager over the past few years, but the big characters that have often been on the forefront have been Jon Snow and Dany.
Daenerys is literally the ruler as we enter the final stanza of this glorious show, but logic suggests her reign will be short-lived.
If you disagree, Dany offers killer value at +400. I will be looking elsewhere, though. Here are the latest odds for who will sit on the Iron Throne over at SportsBetting.ag.
Jon Snow and Dany's Baby
+2000
Our options have become limited, as characters like Varys, Jaime, and Cersei are all gone. I don't know if Davos, Tarly, and Arya were ever realistic, either, so it's very arguable it's down to just six options you should be seriously considering.
Gendry still has an argument depending on who dies. He would be a just ruler, and there could even be a nice ending with him taking Arya as his queen.
Tyrion could also be half-Targaryen, so if he has a right to the throne and nobody else challenges him for it, he's a realistic option.
Of all the favorites, Bran makes the least amount of sense to me. He seems so disengaged and prioritizes time travel and historical research over all else.
For me, this comes down to Jon, Dany, Gendry, Tyrion, and Sansa.
I can totally see the show ending with Dany as the ruler. Even though she has been exposed as a bit of a crazy person, we've followed her journey to this point the entire time, and for about seven seasons most of us were okay — if not elated — with the idea of her taking back the throne.
That was until we learned it wasn't really hers to take back, and then she went nuts.
Due to that, I doubt the show goes there. Dany probably has to die, and she certainly won't be the long-term ruler. It's nice that she did get to that point, but it won't stick.
Sansa, Tyrion, and Gendry would all be good leaders and are viable bets that return a nice profit. Bran is the favorite and is a wise person who knows everything that nobody else can hope to know.
But Jon Snow is the true heir, and despite his reluctance to lead, he's actually always been a great leader. He's a proven soldier, he's exceptionally loyal, and he has the most direct claim to rule.
At this point, he's not trying to dethrone Dany because he wants to rule. It will be to save the Seven Kingdoms. But once that happens, I think he ultimately will see there is nobody better to take over than him.
This is just with the given options, though.
There is a very real argument to be made that nobody should rule at all. Instead, my proposal would be to have a board in a sense, with Tyrion, Sansa, and Bran ruling together.
This could be made especially more realistic if both Dany and Jon Snow perish.
I'm only able to work with what the top Game of Thrones betting websites give me, though. Jon Snow still makes perfectly good sense, and his +175 price tag still returns nice value.
Summary
Game of Thrones hit a bit of a speed bump over the last two episodes. It slowly built up the tension going into the battle with The Night King and the White Walkers, and that turned episode three into possibly the greatest episode of any show ever.
That should have served as the ultimate cherry on top of this series, but instead, the show had nowhere to go but down from there. Maybe there is still hope for an amazing ending that makes this entire journey worth it.
If not, maybe you can at least make some money betting on Game of Thrones as the once-proud franchise goes down in flames. In fact, the above GoT wagers are just the tip of the iceberg.
SportsBetting.ag has even more props to work with, and this isn't even touching on the other novelty betting sites out there that will host wagers going into the finale.
Be sure to hunt for the best props and the most appealing prices available at these recommended GoT betting sites. Whatever you do, enjoy the finale, and I wish you luck!