Hide Bonus Offers
| | | | | |
| --- | --- | --- | --- | --- |
| #1 | Bovada Sports | 50% Up To $250 | Visit Site | Bovada Sports |
| #2 | BetUS | 125% Up To $2,500 | Visit Site | BetUS |
| #3 | MyBookie | 100% Up To $1,000 | Visit Site | MyBookie |
| #4 | Everygame | 100% Up To $500 | Visit Site | Everygame |
| #5 | BetOnline Sports | 60% Up To $1,000 | Visit Site | BetOnline Sports |
Fantasy Football Rankings for Defenses in the 2018 NFL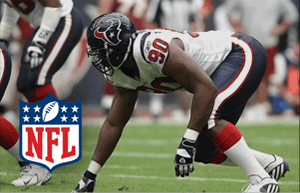 It could be the difference between you winning your fantasy league this season or not even making the playoffs.
I am talking about drafting two stout defenses that pair well together.
Don't get it twisted, as I am not suggesting you spend an early or even a mid-round pick on your defense. I am saying that you need to draft your defenses intelligently so that you don't find yourself in a bind mid-season.
A quick example would be this. If you end up with Jacksonville or Philadelphia as your starting defense, that's terrific. But don't pair them with Green Bay or Detroit as your backup.
While the Eagles and Jags are on a bye in Week 9, the Packers have to travel to New England and take on the Patriots. The Lions don't have it much easier.
They get on a plane and head to Minnesota to take on the high-powered offense of the Vikings.
Instead, the Dolphins or Cowboys make much more sense as your backup (to pair with Jacksonville or Philly). They host the Jets and Titans respectively in Week 9 and will leave you feeling much more confident about your Week 9 matchup.
I pointed out this example because I don't want you to think your job is finished if you wind up with a top-5 defense. Those of you that don't end up with a dominant group like Jacksonville or Philadelphia will want to pay even closer attention to bye weeks and matchups.
Here are my rankings for the top-32 defenses in the National Football League. You'll find them grouped into four different tiers, finding "the men" in tiers 1 and 2 and "the boys" in tiers 3 and 4.
I am a fan of interchanging my defenses on a week-to-week basis, constantly trying to avoid the best offenses in the NFL. Unless, of course, I wind up with one of the top-5 defenses residing in tier 1. Then I'm fine with unleashing them each and every week!
Tier 1
As mentioned above, if you wind up with one of the five defenses listed below, you won't have to pay much attention to who they are playing week-to-week. Just plug them into your starting slot and watch them accumulate points!
1 – Jaguars
Bye Week (9)
Not only were the Jaguars the top-scoring fantasy defense in 2017, but it wasn't really all that close. Their 8 defensive touchdowns were the most in the league. The Jaguars' 55 sacks were second in the NFL, led by the dominant pass rushing duo of Calais Campbell and Yannick Ngakoue.
Their 22 interceptions were also second in the NFL, and they held opponents to an abysmal 169.9 yards/game through the air.
I dare you to find a cornerback tandem as solid as A.J. Bouye and Jalen Ramsey, and I haven't even brought up what linebackers Telvin Smith and Myles Jack can do in the middle of the field.
I anticipate this unit being the same shut-down group it was a year ago, and possibly even better. Draft them as the first defense off the board, and do it with tons of confidence.
2 – Eagles
Bye Week (9)
The defending Super Bowl champs enter 2018 with high hopes of getting back to the big game. The fact that defensive coordinator Jim Schwartz is back calling the shots is a good thing for the fans in Philly because this dude knows how to scheme defensive formations with the best of them.
The fact that Schwartz can lean on Malcolm Jenkins and Jalen Mills in the defensive backfield means that he can be aggressive with blitz packages from his front 7.
The Eagles added Michael Bennett and resigned leading tackler Nigel Bradham, and they still have Fletcher Cox to help stuff the run.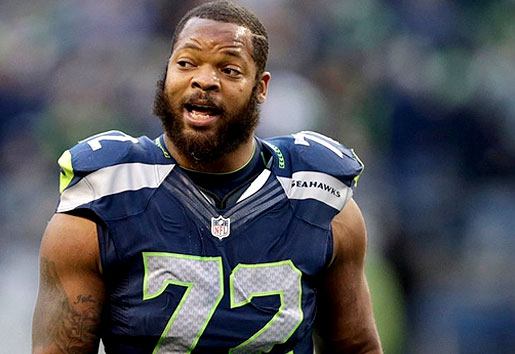 The Eagles should have no problem turning the other team over, not to mention they have Darren Sproles back to handle the punt returns. Look for Philly's D to be near or at the top of the rankings when the season comes to an end, so draft them accordingly.
3 – Rams
Bye Week (12)
Those who rank the Rams defense at the top can certainly make a legitimate case. The fourth-highest-scoring defense from a year ago added a plethora of weapons that could turn this defensive unit into one of the best we've seen in a while.
The Rams already had Aaron Donald plugging holes in the defensive line. Now they'll add a 6'4" 300+ pound beast they call Ndamukong Suh in at the nose tackle position.
All I can say is good luck to any running back trying to run through the interior of LA's defensive line.
Newcomers Marcus Peters and Aqib Talib immediately shore up the back end of the defense, leaving nowhere on the field for opposing offenses to run and pass the ball. This defense should be scary-good in 2018, and they should score a host of points for the fantasy teams they land on.
4 – Chargers
Bye Week (8)
The Los Angeles Chargers defense took a big hit when starting cornerback Jason Verrett tore his Achilles the day before training camp began, leaving a big hole in the Chargers secondary. The saving grace is that the front 7 of this unit is so nasty that DC Gus Bradley should be able to make do.
Joey Bosa and Melvin Ingram on the outside is as fearsome as any pair of defensive ends in the league, and they have some athletes at linebacker who are hungry to get better.
They needed a stud strong safety who isn't afraid to get dirty, and they accomplished that in the first round of the draft with Derwin James.
This team was T-6th in interceptions and T-5th in sacks a year ago. They'll have no problem delivering like a top-end defense once again in 2018.
5 – Vikings
Bye Week (10)
The Minnesota Vikings have a number of playmakers on defense. Mike Zimmer is a defensive-minded head coach who has employed his 4-3 defensive scheme quite favorably during his time in Minnesota. This group got some help over the summer, thanks to a key acquisition on their defensive line.
After stints with the Jets and the Seahawks, defensive tackle Sheldon Richardson signed a deal with the Vikings and will immediately provide a proven run-stopper in the middle of the line.
Xavier Rhodes has elevated himself into one of the elite "shutdown corners" we have in this league, and I can promise you that few free safeties hit harder than Harrison Smith.
This defense was plagued in fantasy by scoring just one defensive/special teams touchdown in 2017.
Assuming they score 3-4 in 2018, I see the Vikings being a top-5 unit.
Tier 2
You don't necessarily need to draft one of the top-5 defenses in the league to have an edge at the position on a weekly basis. As referenced in the introduction, projections for a defense's fantasy output hinge on how effective the opposition is on offense.
These teams in tier 2 will have no problem delivering like #1 defenses, especially when they're facing weaker competition.
6 – Texans
Bye Week (10)
J.J. Watt appears to be on schedule to play in Week 1. Leading tacklers Benardrick McKinney and Zach Cunningham are set to return, and Jadeveon Clowney is still developing into a beast of a linebacker.
Adding free safety Tyrann Mathieu to the fray makes this an extremely formidable defense in Houston, and one that I would feel good about rostering in fantasy football. They'll face the Colts and the Titans twice apiece, two teams that habitually turn the ball over.
Other than a road game at New England to open the season and another one in Philly in Week 16, the Texans defense should be in good shape to put up an abundance of fantasy points all season long.
7 – Ravens
Bye Week (10)
Despite not being impressed with Joe Flacco or the Ravens offense, the defense in Baltimore is actually pretty darn solid. So much so that the Ravens finished ESPN standard leagues as the second-highest-scoring fantasy defense in all of the land in 2017.
They led the league with 22 picks and were 11th in sacks (41). Their 7 defensive touchdowns were topped only by Jacksonville (8), leaving little reason to think that the Ravens defense won't once again be stout in 2018.
Familiar faces Terrell Suggs, C.J. Mosley, and Eric Weddle all return to their roles for new defensive coordinator Don "Wink" Martindale. Considering he was in charge of Baltimore's linebackers for the past 6 seasons, I see "Wink" making a seamless transition.
8 – Lions
Bye Week (6)
There are multiple reasons to like the Lions defense in 2018. For starters, they quietly finished 2017 as D#6 in fantasy scoring. Secondly, their new head coach is Matt Patricia, who knows a thing or two about coaching defense.
Patricia was under the careful watch of Bill Belichick for 14 seasons in New England, including the least 6 as the Pats defensive coordinator. Patricia knows how to mix and match personalities and get the most out of the 11 men he has on the field.
Cornerback Darius Slay led the NFL with 8 interceptions in 2017, and rookie linebacker Jarrad Davis finished the year second on the team with 96 tackles.
I like the Lions as a sneaky-good defense for fantasy purposes in 2018, so don't let them slip too far down the draft.
9 – Patriots
Bye Week (11)
The New England Patriots may have lost their defensive coordinator, but boy, did they gain some nice pieces to plug into their defense.
I'll start with trading a future third-round pick to the Browns in exchange for defensive tackle Danny Shelton. He'll start right away, as will Jason McCourty, another player the Pats acquired via trade with the Browns.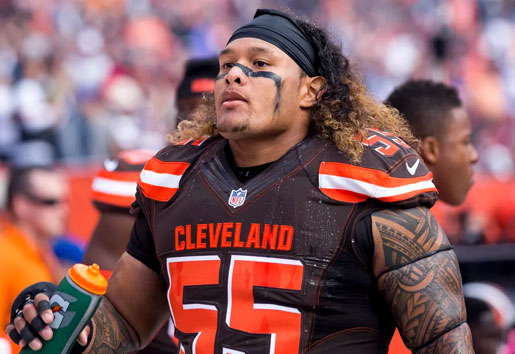 They signed Adrian Clayborn away from Atlanta, but here is the most important part.
Dont'a Hightower will be in action after playing just 5 games last season due to a torn pectoral muscle. They'll also get Derek Rivers back, who missed his entire rookie season in 2017 after tearing his ACL.
Believe it or not, I think Bill Belichick has more than enough on this side of the ball to get after the quarterback and cause turnovers. They might give up some extra yards and points at the back end of games, but hopefully, they've done their fantasy damage by then.
10 – Panthers
Bye Week (4)
The Carolina Panthers were one of only three teams (Jacksonville, Pittsburgh) who recorded 50 or more sacks in 2017. Their middle linebacker and heart and soul of their defense, Luke Kuechly, was able to stay on the field for 15 regular-season games and logged a whopping 125 tackles in the process.
Kuechly heads a group that allowed just 88.1 rushing yards per contest a season ago, which was good enough for 3rd in the National Football League. They lack depth in the secondary and could be susceptible for some big plays downfield.
But the combination of sacks and forced fumbles that this front 7 will create makes them worthy of being a top-12 defense to come off the board during your upcoming draft.
11 – Saints
Bye Week (6)
Talk about a defense that underwent a transformation in 2017. The New Orleans Saints defense had been the laughing stock in the NFL for several seasons before completely turning things around last year.
Left DE Cameron Jordan was out there recording 13 sacks while their first-round pick Marcus Lattimore played terrific at the cornerback position, intercepting 5 passes. This group should continue to grow under the leadership of DC Dennis Allen, and I expect them to take chances.
With Brees on the other side scoring tons of points, the Saints D can afford to be aggressive. This should lead to increased blitzes, allowing them to attack the quarterback with full force.
12 – Titans
Bye Week (8)
The Tennessee Titans had a sneaky-good fantasy defense in 2017. They finished the season ranked in the top 5 in the NFL in both sacks (43) and rushing yards allowed/game (88.8).
The Titans fired their offensive-minded HC and brought in Mike Vrabel, who won three Super Bowls while playing linebacker for the Patriots.
After leading the defense in Houston in 2017, Vrabel's experience and tutelage should add immense value to the members of the Titans defense. Wesley Woodyard is coming off a career-high 124 tackles and should be a perfect voice on the field for Coach Vrabel.
Returning to head the back level of the unit is free safety Kevin Byard, who tied for the league high with 8 interceptions a season ago.
Tennessee added disgruntled New England cornerback Malcolm Butler, who should have a chip on his shoulder to play well after Butler was benched by Coach Belichick in Super Bowl LII.
All in all, the Titans D should be in good shape and be a solid fantasy option.
13 – Bears
Bye Week (5)
After scoring 136 points in ESPN leagues, good enough for the 7th most of any fantasy defense in the NFL, the Bears should feel disrespected by being down at #13 on my rankings.
They drafted Georgia linebacker Roquan Smith, who I believe was the best pure defender of any rookie available in April's Draft.
He'll be running all over the field making plays, as will the Bears' other starting inside linebacker, Danny Trevathan.
Defensive coordinator Vic Fangio has slowly been building a solid foundation, and this could be his best defense in Chicago yet. I like the Bears as a low-end number-one fantasy defense with some serious upside of being even better.
14 – Broncos
Bye Week (10)
If you still think that Denver's defense is the same elite unit it was a few years ago, it's time to wake up. Denver finished as D#13 in standard fantasy leagues last season, after intercepting just 10 passes all year long.
John Elway was less than pleased that the Broncos sacked the opposing QB just 33 times, good for 22nd in the NFL. The organization did draft Bradley Chubb to pair with Von Miller, so the time to start revving up the defensive motor in Denver is now.
Losing cornerback Aqib Talib to the Rams doesn't help, but Chris Harris Jr. is still amongst the best corners in the league. HC Vance Joseph better figure things out and get this defense back to where they are capable of playing, or else his time in Denver might not last too much longer.
Tier 3
Don't feel lost if you miss out on drafting one of the defenses I have listed in tier 1 or tier 2. When the tier 3 defenses are facing turnover-prone quarterbacks, they can be confidently plugged in as your starting defense and be counted on for at least a handful of points.
15 – Seahawks
Bye Week (7)
Before Seattle fans get upset over losing longtime starters Richard Sherman and Michael Bennett, they should realize that these moves could actually mean "addition by subtraction" for their defensive unit.
Let's be real, Richard Sherman is 30 years old and coming off a torn Achilles. He already tweaked his hamstring at camp and will miss time during the preseason. Michael Bennett will turn 33 in November and was beginning to let his emotions get in the way of playing good football.
This defense still has Bobby Wagner and K.J. Wright at linebackers, and newcomer Barkevious Mingo can play all over the field for the Seahawks.
As long as they get Earl Thomas's contract situated and get him back on the field, Pete Carroll should have this group ready to contribute as a solid fantasy defense.
Just don't be fooled into thinking they are in the upper echelon of the league as they were for so many years.
16 – Steelers
Bye Week (7)
In order to consistently score fantasy points on defense, you need players who are continually wreaking havoc. When you take into account the fact that Pittsburgh's defense led the league with 56 sacks in 2017, you quickly realize that the Steelers have some ball hawkers amongst their group.
Of course, having no Ryan Shazier on the field isn't going to help the cause, but his leadership behind the curtains still has a chance to spill over onto the field.
Vince Williams and Jon Bostic take over and will command the inside linebacker positions, while defensive end Cameron Heyward will captain the entire unit.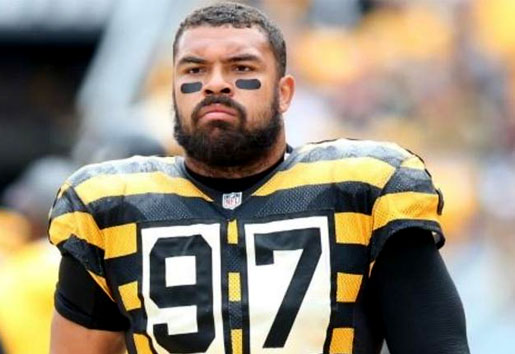 I anticipate the Steelers giving up more points than other defenses in this tier, but their increased number of sacks and interceptions will help balance things out.
17 – Redskins
Bye Week (4)
The Washington Redskins defense gave up an average of 24.3 points per game in 2017, and that's just too much to be a consistent fantasy defense. Despite being in the top 10 in sacks and interceptions, this defense finished as the 20th-best fantasy D.
That tells you they need to get better at getting off the field on third down because they're giving up too many yards and points.
Drafting Crimson Tide nose tackle Da'Ron Payne should have a positive effect for DC Greg Manusky's bunch, as will the return of another University of Alabama player, Jonathan Allen. Zach Brown will be back after recording 127 tackles in 2017, and Josh Norman is still a legitimate pass defender.
The Redskins get their bye out of the way early in Week 4, making them an excellent choice as your backup defense.
18 – Falcons
Bye Week (8)
I have a feeling the Atlanta Falcons defense could have a decent year fantasy-wise, but there are at least a few weeks you won't be able to use them. After opening on the road at Philadelphia, the Falcons have to play the Saints twice, not to mention play at Pittsburgh and at Green Bay.
Throw in their bye during Week 8, and you quickly see why you won't be able to rely on DC Marquand Manuel's group as much as you'd like. But ready for some good news?
Atlanta gets the Bengals, Buccs, Giants, Ravens, and Cardinals, all at home in 2018!
That lines up for some serious fantasy goodness on the defensive side of the ball. That friendly schedule at home makes the Falcons an interesting choice to sub in and out as your starting defense when the matchup is right.
19 – Chiefs
Bye Week (12)
While Kansas City has been known for generally having a terrific defense, it's actually their offense that may shine in 2018. The Chiefs no longer have the services of Tamba Hali and Derrick Johnson to rely on, and their shutdown cornerback Marcus Peters was traded to the Rams in March.
That leaves some big holes to fill, and it will be up to longtime DC Bob Sutton to figure it out and put the pieces of the puzzle back together. Free-agent acquisition Anthony Hitchens will take over as the lead linebacker, and Eric Berry is back after tearing his Achilles during Week 1 last year.
But I don't like their schedule.
They face the Chargers and Raiders twice apiece, plus must travel to play road games at Pittsburgh, New England, and Los Angeles (Rams). That's enough to make me steer clear of relying on the KC defense as anything more than a bye-week replacement.
20 – Cardinals
Bye Week (9)
The Arizona Cardinals might not have a great year in 2018, but their defense has a chance to quietly put up some fantasy points. Chandler Jones is back rushing the QB after logging an NFL-high 17 sacks in 2017. Patrick Peterson is still considered one of the top cornerbacks we have in the entire league.
The problem is, the Cardinals don't have a whole lot to get excited about on defense besides those two players.
Tyrann Mathieu is out, and Karlos Dansby remains unsigned.
That means that Arizona needs to replace two of their top-3 leading tacklers from a season ago.
The Cardinals hired Panthers linebackers coach Al Holcomb to be their new defensive coordinator. I suspect Al will have his hands full trying to find players who can match the intensity of Jones and Peterson.
This leaves AZ as a mid-to-low-end backup defense for the upcoming fantasy season.
21 – Bengals
Bye Week (9)
The Cincinnati Bengals defense wasn't very good in 2017. I don't expect much to change in 2018, as they lack consistency on that side of the ball. Vontaze Burfict is suspended once again, this time for four games for violating the league's policy against PEDs.
Left defensive end Carlos Dunlap can still rush the passer, and Carl Lawson is an emerging talent on the other side of the line. If Geno Atkins can bat a handful of balls down and Dre Kirkpatrick can intercept a few balls, the Bengals could provide some value as a backup fantasy defense.
But I wouldn't count on them for much more than that. Weeks 2, 5, and 8 will be the best time to use the Bengals D. They'll have the Ravens, Dolphins, and Buccaneers coming to Cincy, and those are some pretty "green-light" situations if you ask me.
22 – Packers
Bye Week (7)
The Packers defense is coming off a year in which they were 26th in points allowed/game and 22nd in yards allowed/game. Bringing in Browns ex-coach Mike Pettine to be the Packers' defensive coordinator was the first step to solving this problem.
The Pack will return linebacker Blake Martinez, who tied for the league lead with 144 combined tackles. Ha Ha Clinton-Dix and Josh Jones will lead secondary, while Muhammad Wilkerson was brought in to shore up the defensive line.
I won't be trusting the Packers as a reliable fantasy defense in 2018, although they'll have a few opportunities to be utilized. A home game versus Chicago in Week 1 is a good place to start.
23 – Bills
Bye Week (11)
You can draft the Buffalo Bills defense as your backup in 2018, but make sure your starting defense has good matchups early on in the season. After hosting the Chargers' offensive attack in Week 2, the Bills travel to Minnesota and Green Bay for their Weeks 3 and 4 games.
The Bills lost Preston Brown, who was among the trio tied for the league lead with 144 tackles, to the Bengals. The good news is that they replaced starting corners Shareece Wright and E.J. Gaines with Vontae Davis and Tre'Davious White, which figures to be solid upgrades.
After selecting QB Josh Allen with the 7th pick, Buffalo used its next four selections on defensive help, including the 16th overall pick, Tremaine Edmunds.
The linebacker from Virginia Tech has a chance to make some plays, but it may take some time before you can trust this defense in a 12-team league.
24 – Cowboys
Bye Week (8)
Anthony Hitchens and Orlando Scandrick are out. In comes rookie LB Leighton Vander Esch. Sean Lee will be captaining the defense in Dallas, and I respect him and his abilities. However, I envision this group struggling to stop the opposition consistently enough to be a legitimate fantasy defense.
After finishing as the #14 fantasy defense in 2017, perhaps I'm ranking "America's Team" a bit low on the totem pole.
They led the league with 27 forced fumbles but recovered just 11 of them.
With only 10 interceptions as an entire group in 2017, I'm just not willing to put my faith in DC Rod Marinelli having enough speed to avoid giving up the big plays.
Tier 4
Now we are getting into the bottom tier of fantasy defenses. However, the scoring is so volatile. You don't necessarily need the Jaguars or the Eagles every week to make some hay in your fantasy league.
Don't be afraid to play the waiver wire week to week and pick up the teams that are facing quarterbacks who are vulnerable. Focus on the teams who are more likely to be chucking up passes. They are the ones who create the most fantasy scoring opportunities for the defense.
25 – Raiders
Bye Week (7)
Talk about a team with new faces. The 2018 Oakland Raiders will look nothing like the 2017 version we saw under Jack Del Rio. Jon Gruden is the new head coach, and he's brought in a swarm of new players to don the Silver and Black.
This defense has a lot of work to do if they want to be considered as a force to be reckoned with, and the first step is to get their franchise player under contract and in the building. Khalil Mack has been holding out, and it appears the Raiders could be exploring trade options, rather than paying the man what he's worth.
I don't agree, but let's be honest.
Even with Mack, this defense struggled mightily in 2017. Perhaps a new start with a new leader is the way Gruden will steer this franchise.
Only time will tell, but in either case, the prognosis is that this defense won't be very good in 2018.
26 – Browns
Bye Week (11)
Want to talk about a defense that was horrendously bad in 2018? The Cleveland Browns defense finished dead-last in the NFL last season with just 13 takeaways. They were 31st in points allowed/game (25.6) and scored just one touchdown the entire year.
Despite trading away defensive tackle Danny Shelton and CB Jason McCourty to New England, the Browns have a couple bright spots to lean on.
Linebacker Joe Schobert was one of 3 players to lead the league with 144 tackles, and weakside backer Christian Kirksey was right behind with 138.
Jabrill Peppers is still evolving as an NFL safety, and they have the number-one pick from last year's draft, Myles Garrett, still coming along.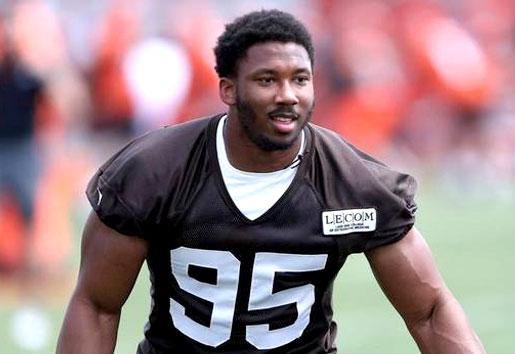 The future could actually be pretty bright for Cleveland's defense, but it's a bit early to rely on them consistently.
27 – Dolphins
Bye Week (11)
Do I expect the Miami Dolphins defense to be a dominant group in 2018? Absolutely not, but hear me out below.
The Dolphins open the season at home against the Tennessee Titans, who turned the ball over 25 times in 2017. In Week 2, the Fins get the Jets. The point is, you could do a lot worse the first two weeks of the season than having to start the Miami Dolphins defense in your fantasy league.
The loss of Ndamukong Suh won't help this team against the run, and they were 28th out of 32 teams with just 9 interceptions all of last year. If they don't improve on their 30 sacks as a team, then the Dolphins will likely wind up as one of the 7 or 8 worst defenses in the league.
Play them the first two weeks, then drop them like a hot potato.
28 – Giants
Bye Week (9)
Here's the good news.
Connor Barwin and Alec Ogletree are talented linebackers who will positively impact this defense from the get-go. James Bettcher was hired to be the defensive coordinator, and the 40-year-old former DC of the Arizona Cardinals has had success running a defense before.
The bad news is that this team accumulated just 27 sacks last season, which was tied for 29th in the NFL. They ended the year ranked 31st against the pass and 27th against the run. That's not a good combination, and it's not going to lead to a defense being successful.
Until something changes in East Rutherford, stay far away from drafting the Giants D.
29 – 49ers
Bye Week (11)
Remember how the Browns had two players who recorded 138 or more tackles in 2017? Well, Dontae Johnson and Reuben Foster led the 49ers with 77 and 72 tackles respectively.
This team brought in Richard Sherman, the 30-year-old Seattle cornerback who is coming off of a ruptured Achilles. Sherman is no longer a shutdown cornerback in the NFL, and he's probably not even a viable starter at that.
Reuben Foster starts the year in street clothes after the NFL suspended him for two games, leaving this group with no real leader to command the 10 other men on the field.
Avoid drafting this unit, and only use them in the direst of situations.
30 – Jets
Bye Week (11)
The Jets lost their leading tackler when Demario Davis signed a deal with the Saints. Their top defensive end bolted for Green Bay back in March. They did bring in linebackers Avery Williamson and Kevin Minter to plug in alongside Darron Lee, but will the Jets defense really be any good in 2018?
I say the answer is a resounding "NO."
Jets defensive coordinator Kacy Rodgers will be back for his fourth season running the show. I imagine that team owner Woody Johnson wants to see some major improvements if this working relationship is going to last beyond 2018.
The Jets finished in the bottom third in almost every relative defensive statistic in 2017, so the time to step on the gas pedal is now, Coach Rodgers!
31 – Buccaneers
Bye Week (5)
It's a good thing the Buccaneers brought in Vinny Curry and Jason Pierre-Paul to take over as their starting defensive ends. For a team who finished at the bottom of the league with a paltry 22 sacks in 2017, something needed to change.
The problem is, this secondary is still in shambles, as it lacks players who can shut down receivers. There's not a lot of positive things to say, but they do get the Browns and Bengals back-to-back during Week 7 and Week 8.
Other than as a modest bye-week replacement, then, don't bother keeping tabs on Tampa Bay's defense.
32 – Colts
Bye Week (9)
There shouldn't be any reason you'll ever have to roster the Colts defense in your fantasy league in 2018. I was trying to find a defensive category that the Colts weren't 25th or worse in from 2017, and I couldn't come up with anything.
The Dallas Cowboys linebackers coach comes over to be the new defensive coordinator, so perhaps that's a sign of turning the page to something better.
Matt Eberflus will insert Darius Leonard and Kemoko Turay into the starting lineup. Both were second-round draft picks by the Colts back in April. It appears that the learning curve might take quite some time in Indy, so there's no need to even consider playing this group in fantasy football leagues.
Lasting Thoughts
If you wind up with one of the five defenses in tier 1, you are off to a great start. But don't be afraid to sit your "more dominant defense" when the time calls for it. If they have a tough matchup and you have a backup who is in a much better spot, pull the trigger.
The most successful fantasy football players are the ones who take the defensive position seriously and spend time projecting how game scripts will play out. If you can latch onto a defense that will be facing a weaker team who likes to throw, then guess what?
That just means more opportunities for the defense to pick up sacks, fumbles, interceptions, and touchdowns.
That's the name of the game for fantasy defense, folks!
Use these rankings loosely, but be keen on who's playing who each and every Sunday. Continually start defenses in the best matchups, and you'll be well on your way to winning your week!