Hide Bonus Offers
| | | | | |
| --- | --- | --- | --- | --- |
| #1 | Bovada Sports | 50% Up To $250 | Visit Site | Bovada Sports |
| #2 | BetUS | 125% Up To $2,500 | Visit Site | BetUS |
| #3 | MyBookie | 100% Up To $1,000 | Visit Site | MyBookie |
| #4 | Everygame | 100% Up To $500 | Visit Site | Everygame |
| #5 | BetOnline Sports | 60% Up To $1,000 | Visit Site | BetOnline Sports |
Fantasy Football Guide for the 2022 USFL Season

If you are missing fantasy football already, you won't have to wait much longer. The 2022 USFL fantasy football season is on its way to rescue diehard football and fantasy fans.
With the revival of the USFL in 2022, fantasy football comes along with it. It will be very similar to the fantasy football you already know and love, with new faces in new places.
To help you get started for the USFL fantasy football season this year, let's look at the best players you should have on your radar for this year.
2022 USFL Fantasy Football Rankings
First, we have to make sure we have our rankings in order. Fantasy sports are a lot about positioning, but they're also about grabbing the right player at the right time. To give ourselves the best chance of winning in fantasy football, we have to build the perfect roster.
With that being said, let's look at the top 5 players for each position for the 2022 USFL.
Top 5 Quarterbacks
Jordan Ta'amu
Kyle Sloter
Clayton Thorson
Alex McGough
Bryan Scott
Quarterbacks will be very important in the USFL, just like your usual fantasy football. They are your main point-getters, and not having a reliable fantasy quarterback can severely hurt your chances of winning.
With that, these five quarterbacks should be some great options to try and get on your 2022 USFL fantasy football team.
Jordan Ta'amu was electric in the XFL, so he will be looking to build off his great performance there into a new league. The Tampa Bay Bandits drafted him at No. 2 overall, so they already think highly of him.
New look Ta'amu ? pic.twitter.com/5jFbJh0qsi

— USFL (@USFL) February 23, 2022
He's got a big arm and could be putting up some serious fantasy points this year.
Kyle Sloter is another quarterback with a high ceiling for the 2022 USFL season. Sloter has experience playing other positions, so that makes him quite the athlete at quarterback. He could be a dual-threat option at QB, where rushing yards boost their value.
Top 5 Running Backs
BJ Emmons
Garrett Groshek
De'Veon Smith
Stevie Scott III
Dalyn Dawkins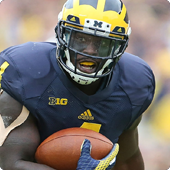 Running backs are another very important position in fantasy football. Some offenses will prefer to run the ball more than pass, so the running back could be the focal point of the offense instead of the usual quarterback.
An offense projected to be that way is the Michigan Panthers, whose head coach is former NFL coach Jeff Fisher. Fisher is a heavy run and defensive-oriented coach, so that the running game will be a target in fantasy football.
That's where Stevie Scott III comes in. Scott might not be the first running back taken off the board, but he should be in a perfect position to put up fantasy points due to his team and their play style.
This year, BJ Emmons is the No. 1 fantasy running back, as the Tampa Bay offense could create many opportunities for him to go with his great talent.
Another running back to look out for is De'Veon Smith of the Pittsburgh Maulers. Smith has NFL experience and played at the University of Michigan. This year he's a big body who can plunge into the end zone for some solid fantasy points.
Top 5 Wide Receivers
Eli Rogers
Shawn Poindexter
Victor Bolden Jr.
Isaiah Zuber
Kavontae Turpin
Sticking to the same theme with the Tampa Bay offense, Eli Rogers is projected to be a big-time playmaker for the Bandits. His big-time speed will be paired with Ta'amu's big arm, which could mean game-breaking plays from this combo.
Rogers could lead the Bandits to many wins this year, so make sure you watch their odds of winning on the best football betting sites.
Shawn Poindexter has the potential to be a star in the USFL as well. He's got a huge frame at 6'5, 213 pounds, so the New Orleans Breakers will be looking to give him looks in the red zone. That could mean a lot of touchdowns could be coming his way, thus making him a great fantasy wide receiver.
Victor Bolden has blazing speed and could be an all-around playmaker for the Birmingham Stallions. Alex McGough is looking like an underrated quarterback for the Stallions, so he could look for Bolden to take their offense over the top with big plays.
Top 5 Tight Ends
Matt Seybert
Cheyenne O'Grady
Bug Howard
Cary Angeline
Sal Cannella
The tight end room is thin in the USFL, so the closed end position will probably be boom or bust here. Matt Seybert is projected to be the leader in the position, so he makes sense as the first tight end off the board here.
The biggest selling point for Seybert was his performance at the 2020 NFL combine. He cranked out 25 bench press reps, tied for first in the whole position group. Seybert also graded well with his speed and agility, so he could look to put it all together for the Pittsburgh Maulers.
Look at their tight end in Cheyenne O'Grady if you can't grab a top option on the Bandits for this year. In college, he played at Arkansas, registering 63 catches, 772 yards, and nine touchdowns in 15 games.
Bug Howard, ladies and gents ? @ThaBugMan | #AllHailATL | @TheAAF pic.twitter.com/WV6VvctyCR

— Atlanta Legends (@AafLegends) March 10, 2019
Bug Howard could be a sneaky draft pick here and one of the later tight ends in fantasy drafts.
Top Picks to Target Early in 2022 USFL Fantasy Drafts
With the top 5 players for each fantasy position broken down, that leads us to the players you should be targeting in the very early rounds of the 2022 USFL fantasy football drafts.
These players will have strong chances to lead your team to a championship in 2022. Let's look at the players you should be looking to draft early for this year.
Eli Rogers, WR, Tampa Bay Bandits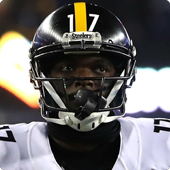 We have a player with a huge chance of being the best playmaker in the USFL. Eli Rogers will be making big plays for the Bandits this year and should be one of the first couple of players taken in your fantasy drafts.
Rogers and the Bandits offensive coordinator connects those dates to their time on the Pittsburgh Steelers of the NFL. That should mean that they will be looking to scheme their offense around him, making for a great fantasy football pick for 2022.
Rogers spent three seasons in Pittsburgh and registered 78 receptions, 822 yards, and 4 touchdowns. That is a significant stat line for a player who was behind many other great wide receivers during his time with the Steelers.
I'm expecting a big year out of Rogers, and he should be a very high draft pick this year.
Stevie Scott III, RB, Michigan Panthers
Next up is Stevie Scott II of the Michigan Panthers. Like I said earlier, Jeff Fisher prefers to be a run-first team, and he should be bringing that over to the Michigan Panthers.
Fisher made sure to draft a solid offensive line with blocking personnel along with it. Shea Patterson isn't going to dominate any defenses regularly, but as long as he keeps defenses honest, Scott should be in for a solid year.
Scott might not be the earliest running back drafted for this year, but you can get a top-tier running back for a slightly discounted price.
I wouldn't count on him falling too low because you might miss your chance for a player in the perfect position to succeed.
Jordan Ta'amu, QB, Tampa Bay Bandits
I am big on Jordan Ta'amu for this year. He might have gone No. 1 overall in the draft if the Panthers didn't want to go with Shea Patterson. Ta'amu's got big-time talent and put that on display during his time in the XFL.
He should be able to translate into the USFL, and he has a ton of weapons to choose from. He has one of if not the best playamerk in Eli Rogers; he's got some other solid players like Derrick Willies, Derrick Dillon, and John Franklin III to throw to as well.
With the quarterbacks for this year a bit hard to predict, Ta'amu might be someone you should be taken as soon as possible in your fantasy draft. Some quarterbacks who are projected to be the starters for this year could be benched earlier than you think.
Ta'amu's got a sky-high ceiling with great weapons around him. It would be unlikely for him to not succeed for the Bandits in 2022.
Best USFL Fantasy Football Sleepers for 2022
Now that we have covered the top 5 players at each position and the early-round draft picks, all that's left are the sleepers.
Sleepers are players who will be underrated in drafts for this year but could be the very best players. Grabbing one of these players in the later rounds can take your team over the top and win your fantasy league.
Jeffrey Thomas, WR, Pittsburgh Maulers
Jeffrey Thomas was the first wide receiver taken for the Maulers. They might have an underrated passing attack by their quarterback Kyle Lauletta, which means Thomas could be his number one target this year.
Thomas played three years at the University of Miami, totaling 34 games. He didn't get a lot of action, but he put up some respectable stats with 83 catches, 1,316 receiving yards, and 8 touchdowns.
Lauletta and Thomas could be a sneaky connection for the USFL this year, so keep them on your radar in your fantasy drafts.
Taywan Taylor, WR, New Orleans Breakers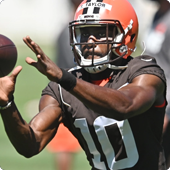 Another potentially great pick in the later rounds of fantasy drafts is Taywan Taylor from the New Orleans Breakers.
In his college years, Taylor played at Western Kentucky, with his last two seasons having huge production. He caught 184 passes, went for 3,197 receiving yards, and had an incredible 34 touchdowns in his previous two seasons in college.
Taylor had a great showing at the NFL combine as well. He ranked first in the three-cone drill, 3rd in the short shuttle, and 6th in the broad jump. Those rankings are incredible, which could mean he's in for some big production for the Breakers this year.
Shawn Poinedexter looks like the WR1 in that offense, but Taylor should get less attention than him. That could mean he's in for another great season, as his last two at Western Kentucky.
2022 USFL Fantasy Football Tips & Strategy
Fantasy football is tricky, but now we are throwing in an entirely new league. I should say renewed league because the USFL hasn't been active in over 35 years. Be sure to check out everything you need to know for this season.
With that said, many unexpected and unpredictable things will happen this year. We have some players that we know should be good for this year, but many players are going to make a name for themselves in the middle of the year.
Here are some tips on how to handle the unpredictable USFL season coming soon.
Waiver Wire Moves
With the USFL going to have a lot of undrafted players in your fantasy league, that means you should be looking at the waiver wire every chance you get. There could be players primed for huge seasons that we don't know yet, so we must make sure we are ready to strike when the opportunity shows itself.

Top Tip
I wouldn't be too hesitant on dropping players to the waiver wire either. It will be hard to tell if a player is coming off a bad game or if they will not be an impactful player overall this year.
You should take a look at your waiver wire settings. The waiver wire could be the thing that saves you this year or wins you a fantasy championship.
Midseason Trades
Another thing you have to be on the lookout for is midseason trades. Trades are always fun in fantasy, and the USFL will be no different.
Trades are a great way to improve your team and maximize your winning chances. You might have drafted an extra wide receiver that you don't necessarily need and could trade him for a spot that you are weak at.
Trading is also a great way of "buying low" on certain players. If Jordan Ta'amu has a mediocre to a bad start to his USFL career, trading a player who has been a bit better for him could be something to risk.
Ta'amu should be a big-time player this year, but fantasy players could be quick to want to move in a different direction if he gets off on the wrong foot.
How to Win Your 2022 USFL Fantasy League
Winning a fantasy football is never easy, and the 2022 USFL fantasy football season will be no different. There are so many factors that go into it, and sometimes it just comes down to your luck.
For example
You could be in a perfect position to win the championship but fall short due to an injury to your top player. Or you can end up winning your season by a penalty in the biggest game of the year.
To try and give ourselves the best chance of winning, we have to be the most prepared fantasy players in our leagues. That will set us apart from the competition and ensure that we have better rosters than them.
Being prepared and staying active is something that people don't give enough credit for. Those could be the things that win you your first USFL fantasy football championship trophy.
If you want more than just USFL fantasy football, check out our 2022 USFL betting guide to see which teams you should be betting on this season.