Examining Emma Raducanu Tennis Odds and Future Bets

Emma Raducanu was only 18 years and 302 days when she won the 2021 US Open. Surely that's just the beginning of a beautiful career?
If you think so, you have a chance to win some money by betting on Emma Raducanu props. Online bookmakers will let you bet on the young Brit winning another Grand Slam title next year.
You can bet on whether she'll win the Wimbledon – the Grand Slam that's taking place in her homeland.
You can also bet on Raducanu to reach WTA no.1 in the future, as well as on many other prop bets.
Sure, some of those bets look more plausible than others. With that in mind, I've decided to analyze those Emma Raducanu props that look certain to win.
Emma Raducanu to Reach WTA No.1 by the End of 2025 (+225)
One way of looking at this prop bet is that it's a long-term investment. However, I think this bet will win much sooner than the end of 2025.
Emma Raducanu is a rising star in the world of tennis. Her rise to stardom has been very steep and I expect it to continue that way.
At the start of the year, she was in 345th place in the WTA Rankings. Just before the start of the US Open, she was sitting in the 150th position.
After winning the US Open, she climbed all the way to the 22nd spot.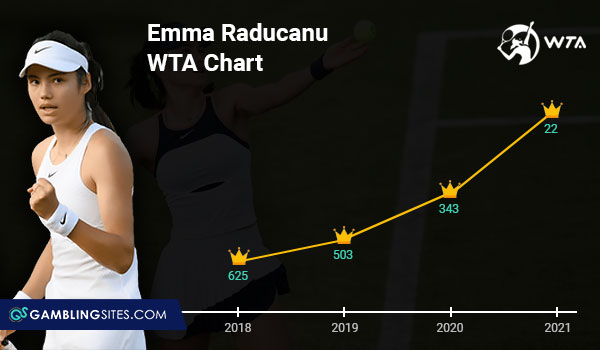 This is where things usually get ugly. Getting to the very summit of the WTA Rankings is a Herculean task, but I think Raducanu is capable of pulling it off.
The thing is that she's already won against two players from the WTA Top 10, namely Belinda Bencic (#4 at the time) and Maria Sakkari (#9).
Knowing all this, it's only logical to assume she will continue her rise to the very top of the WTA Rankings.
The question isn't will she get to the WTA No.1; the real question is when will it happen?
Let me put it this way – I'd be really surprised if she didn't get to the top of the WTA Rankings by 2025.
I also think it wouldn't be crazy to back Emma to get there sooner. In fact, I think there's a decent chance she'll do it by the end of the next year.
If you also believe in Emma, there's some good news for you – oddsmakers are giving +1400 on such a scenario to play out.
Emma Raducanu to Win a Grand Slam Title in 2022 (+163)
She just needs to win one of the four Grand Slams in 2022 for this bet to win. Bookmakers, however, don't think it's very likely to happen.
Several online sportsbooks have already released early odds for the Australian Open, and according to those, Emma Raducanu is not the main favorite.
The odds-on Emma winning are currently somewhere in the ballpark of +800. Pretty much the same goes for all the other Grand Slams in 2022.
However, in Emma's case, odds don't mean much. After all, before the start of the 2021 US Open, the odds on her were as long as +40000.
To be honest, it wasn't the oddsmakers' fault. She entered the tournament through qualifications, eventually becoming the first qualifier in the Open era to win a major title.
Can her fairytale continue in 2022? I think there's a good possibility it will. Her US Open win has certainly given her a major morale boost, as well as made her even hungrier for trophies.
Winning Grand Slams brings along fame, but fortune as well. Thanks to the win in New York, the British teenager is now a millionaire.
Raducanu earned $2,768,191 in America, which is a significant increase in her total career earnings. In 2020, for instance, she earned only $2,351 from playing tennis.
Emma Raducanu to Win Wimbledon by the End of 2025 (+700)
Emma won her first Grand Slam in America, but the US Open wasn't the first major tournament the teenager took part in. A few months before, she played a couple of matches at Wimbledon.
Before the start of the 2021 Wimbledon, she was ranked no.338, which meant that she didn't enter the tournament as a seeded player.
However, despite being a Wild Card entry, Raducanu went on to win three matches before ending her journey in Round 4.
She didn't lose that match either – Raducanu retired in the second set after not feeling very well.
Getting to the last 16 of the Wimbledon instantly made her a fan favorite. Before that, not many fans actually cared about her performances.
Before the start of the 2021 Wimbledon, Emma Raducanu had only about 2,000 followers on Instagram. Right now, there are more than 2 million people following her account.
Fast-forward to fall 2021 and Emma Raducanu is one of the biggest stars in the UK. Imagine just how great of support she's going to have at the next year's Wimbledon.
With the help of her fans, Raducanu is bound to do well at the British Grand Slam, even though the surface used at the All-England Lawn Tennis and Croquet Club isn't her favorite.
Her career record on the grass court is 9-9, but the good news is that five of those wins happened in 2021.
Other Emma Raducanu Prop Bets to Watch Out For
Emma Raducanu to do a Grand Slam before the end of 2025 (+800)
Emma Raducanu to do a Grand Slam in 2022 (+15000)
Raducanu to win all four Grand Slams at least once by the end of 2025 (+1200)
England to win World Cup and Emma Raducanu to win Wimbledon in 2022 (+6600)
These are just some of the many Emma Raducanu props you can find at online tennis sportsbooks. Some of those look reasonable, others not so much.
The bets regarding the Grand Slams are those that I don't particularly fancy.
Doing a Grand Slam – winning all four majors in a calendar year – is something only three women have achieved in history. I'm not sure Emma Raducanu will become the fourth, at least not within the next couple of years.
A bet I like more is that she's going to win all four Grand Slams at least once by the end of 2025. What this means is that she'll have four shots at each of those.
Another bet I like is the one that makes a crossover between soccer and tennis. For this bet to win, England would need to win the World Cup in Qatar, with Emma Raducanu winning the Wimbledon title a few months earlier.
Sure, it sounds risky, but the odds of +6600 just look too good to sleep on this prop bet.