Everything You Need to Know to Bet on Baseball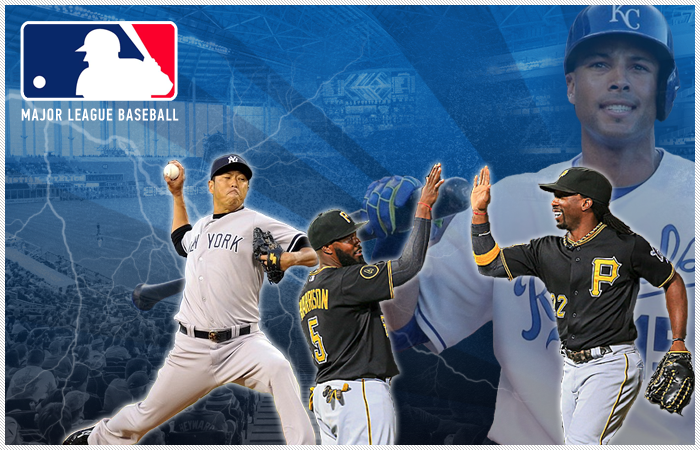 Another year of professional baseball has arrived, which means it is time to bust out the hot dogs and beer. That, and brush up on our MLB news, rosters and matchups. That's especially the case if you plan on throwing down any bets on baseball, as you'll want to be as well versed with as much of the latest news and data as possible.
There is a lot more to worry about than forgetting a pitcher hurt his shoulder or that Team A is playing Team B on the road. To dive a little deeper and get yourself ready for another fun, exciting MLB season, let's touch on the key things you'll want to remember when it comes to baseball betting:
Know Baseball
Knowledge is power in all things, and it certainly doesn't stop short with baseball betting. It's never wise to bet whimsically on any sport, so soaking up all of the knowledge you possibly can to better your brain game is crucial if you want to win with regularity.
The game itself is a good starting point: the positions, how it's played and strategies teams use to attack and counter the opposition. The more you know in that regard, the more informative you'll be when you start dissecting all 30 MLB teams to try to get a good grasp on which teams are better or worse than previous seasons have shown.
One of the tricky aspects in pro baseball is teams with pedestrian looking rosters can out-perform themselves and what a team's record was the year before (or even during the preseason) can often mean absolutely nothing. A closer look at the latest roster subtractions, additions and role changes is needed, as is a scouting eye toward the young talent that could help you better assess a team on the rise.
This happens from time to time, as a young, talented team probably shouldn't win much, but one or two pitchers suddenly come out of nowhere to anchor an improved defense and a slew of young hitters start their careers off on torrid runs to turn a weak team into a contender. That can happen in the blink of an eye, while an MLB season is also a constant roller coaster, so you'll need to be on the lookout for extreme highs and extreme lows.
The list goes on and we'll dive specifically into some things here, but the basic idea to get you started is you can't know too much. You don't want to over-think baseball betting, but you also don't want to show up with zero ammunition. Do your research, know the game and know the teams and players you're placing bets on. You'll only learn more and round out your own baseball betting strategy from there.
Slow Play Betting
This isn't what you want to hear necessarily just as the season starts, but it's often best to slow play your baseball betting. In other words, you can bet a little here and there in the early portion of the season, but be careful as to how much you're betting and how frequently.
The harsh reality is we just have no clue about some of these teams when the year first gets started and injuries and rotations can really mess with our heads. That, and teams can often get off to freakish hot/cold starts that even the experts don't understand. Bet a little bit to get going, maybe test out some new wager types and keep yourself updated with injury and roster news. Before long, you'll be ready to place bigger bets and take down upsets no one else sees coming.
Bankroll 101
Slow playing your betting early in the year plays into how you're going to manage your bankroll. While slow playing the amount of betting you're going to do only really pertains to the start of the MLB year, that idea should be one you reflect on or even put to use throughout the season.
A great starting point is assessing what your bankroll is for the entire year. Baseball betting can be lucrative, but it's also entertainment. Ideally, you should be able to look at any potential losses as "entertainment costs" and if you lose, it's really no big deal. The more successful you are, the bigger this bankroll can grow, and from there you can adjust.
Let's say you start out at $1,000 for the year. You'll want to break it down from there, as you won't want to bet it all on one wager and you will even want to cut it down considerably from that point. How you do that is up to you, but a pretty good first step is to divide your initial number by months and weeks. Hypothetically, you'd start off the new MLB season with $1,000 for the year, which would be roughly $83 per month or $20 per week.
Again, this is a small amount, but if you're just starting out, it's a good idea to go lighter with your wagers. As you start winning, you can always reassess and rise that number from $83 per month to $100 or $200 per month (or much more). The idea is to come out on top as much as possible, and certainly for the year. To do that, you'll want to plan ahead and stick to your guns. Doing so on a monthly basis is at least encouraged to get yourself going.
In general, your goal when minding the bankroll is:
Starting Bankroll point
Avoid spending what you can't lose
End in the green
You can 100% control the first two aspects, and if all goes well, the third part will work out in your favor, too. Your end goal can be different, too. Some people want to win big money and bet on baseball for a living, and if they can, that's awesome. Others just want an extra bit of fun to enjoy the MLB games or they look at some cash from baseball betting as a mild piece of extra income.
However you look at it, budgeting yourself to start and then as you go is very important, both to ensure positive results and to keep baseball betting from becoming a negative experience.
This is a very conservative example, though, and it's also with an eye more on the long game. Something that may project more accurately when starting out could be setting a budget of $300 for the month with no clear goal in betting every single day.
With that plan, you could place down a $10 bet every single day of a normal month or pick your spots and place a bet of $20 or $25. In an effort to keep that bankroll intact, however, it's usually a good rule of thumb to do two things:
Mix your betting
Never exceed 15% of your bankroll
Betting on favorites does not yield a huge reward when you're right, but it should help you grind out successful bets on a daily, weekly and monthly basis. That should be your ongoing base for betting, as you usually are going to feel pretty confident in any bet involving someone like the Dodgers (with Clayton Kershaw on the mound) against a team like the Phillies or Brewers. The reward will be small, but it's positive movement and you can combine it with an upset pick or two that can potentially land you much bigger payouts.
In addition to playing it safe with the majority of your betting, you'll also want to play it safe when it comes to how much you're putting down on each individual bet. Betting too much can quickly cut into your bankroll if you're not successful and even leave you chasing to recoup your losses. This can dive you into dangerous ground, so definitely always be aware of how much you want to spend at all times and be very strict with your own process.
Baseball Wagers
There are a ton of ways to bet on baseball games, but the three most popular methods are Moneylines, Totals and Runlines.
Moneylines
Moneylines are the same with every sport when betting, and basically you're picking the winner of the contest, straight up. The only trick here is that teams are assigned specific odds based on who is expected to win, according to Vegas.
An example MLB Moneyline may look something like this:
New York Mets -160
Chicago Cubs +140
The odds in the example aren't crazy either way, but using them, you'd need to bet $160 on the favored Mets just to win $100 back. The underdog Cubs (in this case) would return $140 on a $100 bet.
It's more advantageous to attack bigger Moneylines for underdogs that have a very distinct edge going into a game. Perhaps the Rays are -260 underdogs going up against the Dodgers on the road, but Clayton Kershaw is dealing with an elbow injury and isn't 100%. If Tampa Bay is also hitting well entering the game, you have a nice combination of reasons to support a bet on an underdog that typically would look like a bad pick.
Totals
Some bettors don't like betting on the Moneylines, which pushes the Total to the forefront for some. It needn't replace the Moneylines bet, but both can be a lot of fun and after a while you can get a feel for how teams play individually, as well as how they operate in certain stadiums and in certain matchups.
The Total, of course, refers to the combined runs the two MLB teams will combine to score in any said game. The idea is to gauge whether the two teams playing will score Over or Under the set Total amount Vegas provides. Here's an example of a Total you could bet on:
New York Mets/Chicago Cubs – Over 7.5 (-110)
New York Mets/Chicago Cubs – Under 7.5 (-110)
Basically Vegas thinks this game is going to be somewhere around the 4-3 range and you need to decide if it will be more or less. Studying pitchers, team offenses and how they play in specific settings should do a lot to help you figure this out, as well as knowing the players and keeping an eye on the injury report.
The -110 represents a $110 bet to win back $100 on either bet. If you think the Mets and Cubs have good offenses and neither are overly likely to stifle either other, betting the Over makes good sense. If they both have good offenses but also are sporting elite pitching, you may want to consider betting on the Under.
Runlines
You can bet straight up or on the Total, or you can throw the spread into the equation. This is the other really popular wager type when it comes to MLB betting, although it can be pretty risky due to the volatility of pro baseball.
Using the Cubs and Mets again, we can take a look at a possible Runline scenario:
New York Mets -1.5 (-110)
Chicago Cubs +1.5 (-110)
The bet needed to get back the $100 can be different, but we'll stick with the -110 as an obvious example. Here you have a 1.5 runline (or spread) and you can either bet on the Mets to win by -1.5 (or two runs) or you can bet on Chicago to stay within 1.5 runs (either win or lose by one run). The tough way to win these bets routinely is picking the upset. If you want safe wins, picking obvious favorites is a good way to tally up wins on a regular basis and save your underdog betting for the Moneyline.
Futures
Okay, here is another extremely popular wager in baseball, but it has nothing to do with the day to day sports betting scene. Instead, you're looking ahead to division titles, pennants, MVP awards and the World Series winner. Betting on futures lets you take your knowledge and insight to a different level, where you can play the long game and bet on underdogs to take over their division, make deep playoff runs or even win the World Series. It's pretty ambitious and a little riskier, but if you nail an underdog pick, it can pay for months of baseball betting.
Injury Report Fiasco
We touched on keeping up with injuries before, but it really does deserve your full attention, so we created a section for it. That's because this isn't just about checking to see if someone is playing with an injury or that a good player might sit out. It's because of the entire spectrum.
You need to know the entire roster of both teams and make sure you know exactly who is starting at each spot and what their potential impact is. Starting pitchers is where it starts, as pitchers can be moved around and scratched at the last second. A pitcher dealing with a sickness or what some deem to be a minor ailment can struggle early and be pulled right away, giving way to a bad matchup for either side and dramatically changing the game.
A good example of this is if a team of mostly left-handed hitters is on the road in a hitter's park against a southpaw. That's typically a very bad matchup for the offense and should dramatically reduce the impact of the stadium being a good place for the long ball. If that pitcher suffers an injury, can't make it out of the second inning or is even a late scratch, suddenly their right hander could be forced into action against a righty-stacked offense. Suddenly the makeup of that showdown could change completely and your bet could no longer be as safe as you thought.
The same goes for hitting injuries across the board, especially when you're dealing with designated hitters. If the door is open to hitters being changed or rotated out in any situation, it can really shake things up on both sides.
Data Dive
Knowing the players and teams works right into paying close attention to the important data at your fingertips. This includes, but certainly is not limited to pitching stats like ERA, strikeouts, walks, average innings pitched and WHIP. It also applies to hitting stats like batting average, home runs, RBI, runs, slugging percentage and on base percentage.
There is even more complex data you can take advantage of, but knowing the basic stats of all of the players in any given game is very key in correctly assessing the matchup. Of course, one of the biggest things to monitor, we already touched on, is the hand of the pitcher and batter. Left handed pitchers can struggle against right handed pitchers, and vice versa. In other words, anytime the majority of a hitting lineup is the opposite hand of a pitcher, it makes the matchup potentially extremely difficult for the pitcher.
Data that is borderline useless, of course, are pitcher wins and losses, individual matchup averages and individual team averages. You don't want to completely dismiss a batter routinely working a pitcher or a pitcher usually mowing down a specific team's batters, but these are extremely unreliable stats. Instead, you'll want to lean on the data that stays constant the most and if at all possible, you want to stretch those averages out as far back as they go. You still want to see how those numbers compare to the current and past seasons, but the key is to immerse yourself in the data and leave no stone unturned.
It's also not always about getting the right data or having a correct bet handed to you, but more about not missing the obvious data that can prevent you from making a poor bet. All of the data research ultimately is not what is going to make your bets successful, but they're a big piece of the puzzle.
Check the Park
Right along with that data dive is knowing every single MLB stadium. Which parks give up the most home runs and hits, which are more conducive for offense and which are good spots to project low run totals? Gauging the park won't tell you the whole story every time, but generally if you put two shaky offenses in a pitcher's park with two good pitcher's on the mound, you're probably not going to see a ton of offense.
It works both ways, too. You can have two elite pitchers going up against each other and assume you're headed for a pitching duel, but if you toss them in a hitter's park like Yankee Stadium, you could be asking for trouble. Betting on the Under is one bet that in that specific situation could backfire horribly.
Weather Impact
Weather is huge in baseball and this is something that can work right along with checking the park. For one, stadiums located on the coast or down south are more prone to getting rain delays or even game postponements. If the game is delayed it can dramatically impact your bet and if it's PPD, it might kill it completely.
This doesn't apply normally to stadiums that have a dome or retractable roof, so betting on these games can eliminate that annoying weather factor. Still, all stadiums can be subject to weather issues, whether it be rain and/or lightning, snow and ice or the threat of a tornado or hurricane. Be sure to always look at the weather reports for each game ahead of your bet and if you're concerned, just refrain from betting on the games that appear to be at risk of being delayed or PPD.
Even if the game goes live, it's still important to consider weather, as something as simple as wind can hurt and help teams greatly. If the wind is blowing out toward the back wall of a pitcher's park, a park normally not overly conducive for elite offense could see both teams blowing up. It can also work against an elite pitcher or make a so-so offense look amazing. Even light rain can also impact how pitchers throw the ball, how the ball is hit and how players catch and run, as well.
Side With Elite Pitchers
Unless it's the playoffs (I'm looking at you, Clayton Kershaw), you typically can trust in the stud pitchers in the league. Any ace can have an off day from time to time, and we obviously want to factor in everything else that makes sense (stats, home/away, matchup, etc) but a stud is a stud.
The trick here is to not overthink it. If an ace pitcher has a good matchup, is in a groove and is playing in a stadium he's fared well in before, that's a pretty good spot to place your trust. This can play into betting on the favorite to get easy money, but as with all sports betting, we always want to consider all variables.
Of course, you also don't want to blindly roll with a team because of their name, record or star players. That's really the main idea behind most sports betting; to be aware of all possibilities and consider how certain aspects can affect the players and teams involved.
Summary
Generally speaking, if you know baseball, stay on top of stats and injuries and pay mind to weather, the park and the matchups, you're going to be in a good spot. Most importantly, you'll want to keep baseball betting fun. Don't make it a chore and always be sure to monitor your bankroll and betting habits so it doesn't develop into a dangerous addiction.
Spending (or losing) money in baseball betting isn't a bad thing. It's no worse than renting movies or going out to eat, provided you do it in moderation and put in the time to avoid lazy losses. Go in prepared, gradually build up your confidence and bankroll and enjoy a successful baseball season.