Hide Bonus Offers
| | | | | |
| --- | --- | --- | --- | --- |
| #1 | Bovada Sports | 50% Up To $250 | Visit Site | Bovada Sports |
| #2 | BetUS | 125% Up To $2,500 | Visit Site | BetUS |
| #3 | MyBookie | 100% Up To $1,000 | Visit Site | MyBookie |
| #4 | Everygame | 100% Up To $500 | Visit Site | Everygame |
| #5 | BetOnline Sports | 60% Up To $1,000 | Visit Site | BetOnline Sports |
Everything You Need to Know About the 2018 Ryder Cup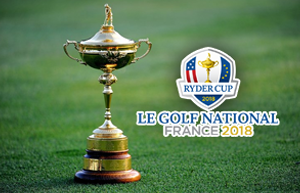 By this time next week, we'll be watching the Ryder Cup wind down.
But which team will be celebrating in Paris at Le Golf National?
Is it going to be Jim Furyk and the Americans, who seem to have a roster full of distinguished and determined players?
Or will it be Thomas Bjorn and Team Europe who hoist the Cup, as their lineup is loaded with world-class talent everywhere you look?
The way the top stars in the game are playing right now, the upcoming week in France promises to be electrifying, to say the least.
If you have been following my Ryder Cup blog posts, then you have seen me break down the rosters and offer some perspective on how I think things could play out.
Next week, I'll be releasing an in-depth betting preview with tips and advice on how to best attack the 2018 Ryder Cup, but this week's article will be a little different.
With all the intriguing storylines heading into the festivities, I want to focus on 6 questions that fans in and around the golf industry have been asking and give you my thoughts.
I know the TOUR Championship is still coming to a close, but thinking about the Ryder Cup action next week can't be a bad thing!
Which Rookie Will Earn the Most Points?
Before I answer this question, let's take a look at who the rookies even are so that we know exactly who our pool of players to choose from is.
| European Rookies | American Rookies |
| --- | --- |
| Tyrrell Hatton | Justin Thomas |
| Tommy Fleetwood | Bryson DeChambeau |
| Jon Rahm | Tony Finau |
| Alex Noren | |
| Thorbjorn Olesen | |
As you can see, exactly 1/3 of the of the players will actually be teeing it up in the Ryder Cup for the first time. However, when you see names like Justin Thomas, Tommy Fleetwood, and Jon Rahm, it's hard to really call some of these guys "rookies."
As far as who will earn the most points, I'd have to lean toward Tommy Fleetwood.The 27-year-old Englishman has been playing lights-out all year and enters the Ryder Cup in terrific form. The fact that he's so consistent and has no flaws makes me think he's a candidate to play all 5 matches if he starts out hot.
Given that Captain Furyk has already made it clear that it's unlikely that any of his men play in all 5, it makes sense to take one of the Europeans here.
What Is the Exact Format for Each Day?
There is a total of 28 points up for grabs, as the Europeans will have to reach 14.5 points on the scoreboard if they plan on taking the Cup home.
There will be 8 points on the line Friday with 8 additional points available on Saturday. The 12 singles matches on Sunday will represent the final 12 points of the event.
The event schedule is as follows.
Friday
Morning – 4 foursome matches (alternate shot)
Afternoon – 4 fourball matches (better ball)
Saturday
Morning – 4 foursome matches (alternate shot)
Afternoon – 4 fourball matches (better ball)
Sunday
As you can see, each captain will have to sit 4 of his 12 players in each of the first four sessions, as Sunday's play is the only time we'll see all 24 men on the course competing at the same time.
What Is the Hardest Hole at Le Golf National's Albatros Course?
I'd say that without question, the 18th hole is the most difficult at the Albatros course at Le Golf National.
Typically played as a par 5, the finishing hole has been converted into a demanding par 4 for the Ryder Cup next week. Depending on where they put the pin, this hole will play around 475 yards, and players must find the fairway off the tee if they want a legitimate look at a birdie.
Right-handed players will need to work some sort of power fade off the tee because anything hit hard and just left of center will wind up in the "drink."
A massive body of water guards the entire left side of this fairway, but it doesn't end there. The hazard wraps its way up in front of the green, as well as guards the right side and rear of the putting surface.
Did I mention that right of the fairway features a series of four bunkers and tangled-up rough?
The 18th will be especially interesting to watch, as it's the culminating hole on the golf course, meaning any match that reaches this point will have a lot riding on the outcome of this hole.
We could see teams win it with a birdie, and I'm sure we'll see teams giving away a point by making a bogey at the last.
In either case, it's smelling like a lot of drama to me!
Which Vice-Captain Will Play the Biggest Role?
Just like with the question about which rookie will perform the best, let's first identify all 10 of the vice-captains.
| European Vice-Captains | American Vice-Captains |
| --- | --- |
| Graeme McDowell | David Duval |
| Lee Westwood | Davis Love III |
| Luke Donald | Matt Kuchar |
| Padraig Harrington | Steve Stricker |
| Robert Karlsson | Zach Johnson |
All 10 of these men know what it's like to compete in a Ryder Cup, so understanding the pressure that's involved won't be an issue.
What I'm looking at is who can relate to the players and help give them the confidence they need to go out and perform at their best.
Right away, I look at Matt Kuchar as a calming and relaxing voice but also as someone who knows all of the competitors and understands the situation very well. Being that "Kuch" has participated in each of the last four Ryder Cups as a player tells me he can provide a wealth of positive influences on some of the younger Americans who haven't been here before.
For the Euros, the same thing with Lee Westwood.
Perhaps his best golf is behind him, but few Europeans know what Ryder Cup success is like as much as Westwood. Look for him to help calm the nerves of some of the youngsters, especially fellow countryman Tyrrell Hatton.
What Are Three Things That Need to Happen for the US to Win?
You want three things that need to happen for Phil Mickelson to be cracking jokes the entire plane ride home?
I'll give you three things, and I'll even start with "Lefty" himself.
1 – Mickelson Holds His Own
Despite playing some really solid golf early in the year, Phil really slowed down during the summer and into the fall, as his last top-10 came at the Wells Fargo Championship back in May.
I expect Phil's wayward driving to keep him off Jim Furyk's lineup card for both foursomes sessions, but count on Phil playing in both fourball matches and the singles session on Sunday. If he fails to help out his partner and goes 0-3, it could be tough for the Americans to make up enough ground elsewhere.
2 – Americans Break Even in Foursome Play
This will be much easier said than done, but if the Americans get lapped in the alternate shot format, it could be too much too overcome.
Traditionally, the foursome sessions are where the Europeans have gotten the better of the Americans, although the tide finally turned at Hazeltine in 2016 when the Americans won 5.5 of the 8 points available (in foursomes).
I think that Furyk's squad will need to again win, or at the very least break even, when it comes to the alternate shot format. The fourball matches and singles sessions look to be so evenly matched on paper that it could very well be the first session out of the gates on Friday morning that ends up being the deciding factor.
3- Tiger Woods Plays Like Tiger Woods
While Tiger Woods isn't the same player he was during his heyday in the early 2000s, he's playing some incredibly stellar golf at the moment.
I know he won't carry that same intimidation factor he used to stroll into these team events with, but I can promise you this.
If Tiger can get the putter rolling, he won't have to worry about his persona intimidating anyone. His golf clubs and outstanding play can do it for him.
If we start seeing the good old-fashioned Tiger fist bumps, it could be a long week for the Europeans.
What Are Three Things That Need to Happen for the Euros to Win?
Now that I've told you three things that would go a long way in helping the United States bring the Cup back to their homeland, it's time to looking at the other side.
What has to go right for Thomas Bjorn if he wants to be the first Danish captain to win the Ryder Cup?
1 – The Rookies Need to Show Up
The fact of the matter is that 5 of the 12 men Thomas Bjorn is bringing with him to Paris are first-time "Ryder Cuppers."
This means that by default and simple math, at least most if not all of these men will need to perform favorably if Europe is going to have a chance. Tommy Fleetwood is rock solid, and Alex Noren seems to be unaffected by whatever is going on around him.
But it's no secret that Tyrrell Hatton and Jon Rahm wear their hearts on their sleeves and have a tendency to become negative while out on the course.
If Rahm and Hatton let their emotions get the best of them in this environment, it could put Team Europe behind the 8-ball quickly.
2 – Sergio Garcia Needs to Be the "Ryder Cup Version" of Himself
It doesn't take a genius or someone who follows golf intently to know that Sergio Garcia has had a down year on the golf course. It's almost impossible to think that the 2017 Masters champ could miss the cut in all four majors in 2018, but the new father has seemed disinterested when competing for the most part.
Thomas Bjorn has defended his selection of Garcia vehemently, stating that the team room just wouldn't be the same without having Garcia in it.
Frankly, I think being a captain's pick is all the motivation Sergio needs to kick things back into gear, as I would never question this man's ability with a golf club in his hands.
If Sergio plays like Sergio can and reenergizes his 11 teammates, it'll likely be the Europeans who are spritzing the champagne around on Sunday evening.
3 – Ian Poulter Ignites the Team
The European roster is utterly stacked, no matter how you look at it.
You know what you are going to get from guys like Justin Rose and Rory McIlroy.
But if Ian Poulter plays as he has played in some past Ryder Cups, then this team will go to a whole new level. Most of the time, Ian Poulter is a solid player, as he currently sits at the 34th slot in the Official World Golf Rankings.
But for whatever reason, Ian plays like a top-5 player in the world at the Ryder Cup, as he has evidenced on numerous occasions in the past. If you don't remember, take a look below.
All I can say is that the Americans had better hope they don't see "that guy" when they step on the links next week, or Europe will likely be sitting pretty.
Going Away
I really can't wait for the 2018 Ryder Cup to begin, and fortunately, I don't have to wait much longer.
Friday morning, the play will get underway, and something tells me it's going to be a Ryder Cup for the ages.
Next week, I will be spending time scoping the betting sheets, as I can't wait to see all the props and matchups that will become available on all the top golf betting sites.
I'll be releasing my betting plans for the event right here, so don't miss out on all the free information!