Everything You Need to Know About Conor and Khabib Prior to Their Fight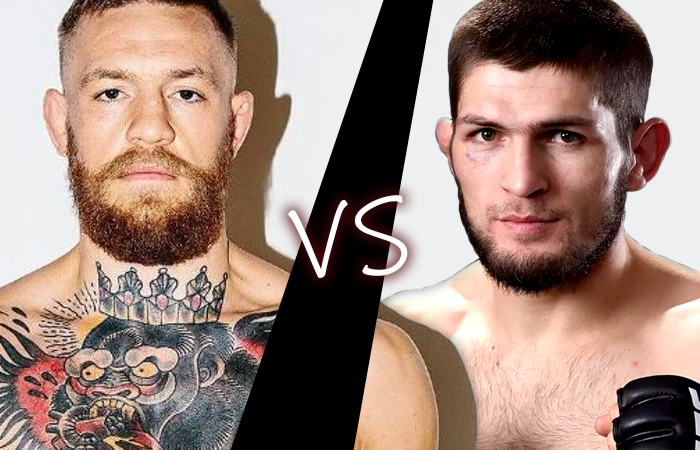 Conor McGregor will be making his UFC comeback in the grandest manner possible. After a two-year hiatus away from the octagon, the Irishman has agreed to fight Khabib Nurmagomedov, although Conor has not exactly been keeping quiet during this period.
After dethroning reigning champion Eddie Alvarez back in 2016, McGregor has been in the center of several controversies, and of course, the record-breaking boxing match against Floyd Mayweather.
Come October, Conor will undoubtedly be facing one of the toughest tests he has ever had.
Khabib has an absolutely immaculate UFC record. The Russian has won all 26 of his fights, which means he is the fighter with the longest undefeated streak in MMA history.
Eight of those wins have been claimed with a knockout, just as many have been submissions, and ten have been awarded with a decision. By all accounts, this is a very impressive feat, and Nurmagomedov will definitely be looking to keep it going.
The UFC has a practice of hosting its big events in Las Vegas, and this one will be no different. The T-Mobile Arena is familiar to both of the fighters. Khabib fought Edson Barbosa at the same venue in December 2017, whereas Conor's last appearance there was the mega showdown he lost to Floyd Mayweather.
As the 6th of October nears, the fighters have been relatively silent on the subject, bar the usual McGregor pre-match taunts, but there have been some insights coming from their entourage.
Javier Mendez, who is Khabib's striking coach, spoke out quite confidently of the abilities of his pupil.
There are indeed valid reasons for Nurmagomedov's camp to be enthusiastic, although Mendez himself recognized the fact that Conor's striking can be a major problem. Overall, Khabib can certainly take comfort in his recent performances, but no one is disputing that this fight will be his biggest test to date.
There were, of course, similar statements coming from McGregor's side. Owen Roddy, the Irishman's striking coach, expressed belief that the two-year-long break from the octagon will in no way impact his fighter's performance.
These sorts of comments are to be expected with one of Conor's biggest fights fast approaching. However, it has to be said that this hiatus could certainly mess with his endurance and speed. It remains to be seen whether "The Notorious" will be able to refute that and bring his top-level game.
With all the history and beef these two superstars have had in the past few years, there is no doubt fans all around the world can't wait for the fight.
I will be looking at how their early life and upbringing have helped them shape the characters needed to be on top of the fighting world and how this will reflect in the biggest contest of their careers.
The Making of an Irish Legend
McGregor was born in a small Dublin suburb. In his early childhood, he took a great interest in playing football. He even featured for one of the local teams for a time, but he soon started turning his attention to boxing.
At age 15, living with his family in Lucan at the time, Conor joined the local gym and started discovering kickboxing and jiu-jitsu. Since his parents were by no means well-off financially, McGregor had to work as a plumber and help out.
However, he was rapidly stepping up his interest in training, so he decided to quit his job and focus on becoming a fighter. That is when the future UFC star met Tom Egan and started training mixed martial arts with him.
On February 17th, 2007, Conor had his first amateur fight in a promotion in Dublin and came out victorious. Following this, he turned professional and signed for the Irish Cage of Truth promotion.
In 2008, he became a member of a Dublin gym and started training under the tutelage of John Kavanagh, an Irish martial arts coach with a background in jiu-jitsu.
Conor made his professional MMA debut on March 9th, 2008, as a lightweight, beating Gary Morris with a second-round technical knockout.
As McGregor managed to rack up a few more impressive wins, word about him began to spread, and soon president Dana White came calling to sign the Irishman for the UFC.
His Ultimate Fighting Championship debut came in April 2013. He defeated his opponent in 67 seconds and earned himself his first "Knockout of the Night" award. It was a sign of things to come for the Irish fighter.
During the next few years, McGregor was able to forge a reputation as one of UFC's best ever. Particular highlights were winning his title bout with Jose Aldo in 2015 in just 13 seconds and the two highly-contested matches against Nate Diaz.
Undoubtedly, Conor McGregor should be viewed as a major success story given the rough start to life he had in Dublin. Life in the suburbs forced his father to grow up fast and later provide for his family to the best of his abilities.
Surely some of this has rubbed off on Conor, who has learned the importance and benefits of hard work. His media persona may sometimes disguise it, but there is no doubt McGregor is a very focused, talented, and ambitious fighter who will give everything to achieve his goals.
Going into the fight against Nurmagomedov, Conor boasts a record of 21 wins, 18 of which were knockouts. His natural tenacity coming from the rough life in Ireland and his phenomenal striking power will definitely be his best weapons when the time comes.
A Dagestani Warrior
Khabib Nurmagomedov was born in modern-day Dagestan, Russia, in 1988. His father used the second floor of their house to build a gym, and Khabib started training there very early in his life. As most young boys in his village, he took an interest in wrestling.
Under the tutelage of his father, Abdulmanap Nurmagomedov, Khabib started frequent wrestling training and slowly shifted to judo and sambo when he was a teenager. As was the case with his opponent Conor McGregor, the Nurmagomedov family lived a rough, working-class life.
From a young age, Khabib often got into street fights before being able to shrug that off and focus on becoming a mixed martial arts fighter.
His professional MMA debut came in 2008 when he was able to win several fights in under a month. Khabib went undefeated the next three years, and inevitably as the word of his feats spread, he signed for UFC in late 2011.
With his aggressive grappling and ground-and-pound tactics, Nurmagomedov dominated most of his fights easily. After winning his match with Al Iaquinta in April, he became the current lightweight champion, and his undefeated record speaks for itself.
It is not hard to find the similarities between Conor and Khabib in the way they were brought up and how their adulthood was fast-tracked. Both fighters are really close to their fathers and had to sweat and grind a lot to get where they are now.
Whereas Conor has developed his own personality in a way, Nurmagomedov is still pretty much closely mentored by his father. The Russian has this raw feeling about him and the belief that he cannot be beaten.
He has had to endure a childhood in very bleak and violent surroundings, and he has been able to pull through and forge an extraordinary career as a professional fighter.
There is no doubt that Khabib will be raring to go against McGregor. His father, who is also his coach, has expressed a belief in his son, saying that he is the superior fighter. This is a subject of great debate among people close to the UFC, and there is only one way to settle it.
What Can We Expect on October 6th?
Surely enough, the interest in the fight will be enormous. A lot has been said and written in the wake of it by pundits and fighters alike. The opinions are very much polarized with the two camps unsurprisingly backing their respective contender.
Jon Jones, a UFC legend also coming from a wrestling background, has been vocal about weaknesses he sees in Khabib's game, whereas another formidable fighter in Georges St-Pierre, who has previously been hailed by Nurmagomedov as "the best athlete" in the business, has returned the compliment.
Conor arguably possesses a much more diverse striking arsenal, and this has been pointed out as the main threat to Khabib. The Russian, on the other hand, can be deadly if given the chance and boasts almost inhuman endurance levels.
The outcome will very much depend on which fighter will be able to push the contest onto his strengths. Despite the growing personal resentment between the two, I don't believe emotions will get the better of them.
This showdown is a cornerstone moment in both these fighters' careers, so their camps and supporters will be expecting nothing but focus and professionalism in the octagon. And it comes as no surprise that they are held to such high standards given their respective UFC track records.
When all is said and done, I'm finding this contest is proving too tight to call in advance.
Both fighters possess exceptional talent and work rate, and it will be the small details that are going to tip the scales to one side or the other.
Whether Conor's two-year hiatus will prove to be his weak point or Khabib's defense will falter on the night, one thing is certain – the fighting world is anxiously counting the days until the fight.
The Betting Angle
Being one of the most anticipated bouts in UFC history, it is no surprise that there are plenty of betting options. If you want to get the inside track, there is plenty of content on our website to help you place a wager.
For example, you can check our early betting preview of the fight and some recommended prop bets that offer great value.
We'll be adding some posts about the fight as it draws closer, too.
You should also take a look at our list of the top UFC betting sites. When the time comes for you to put your money down on this fight, these are the sites you want to bet with. Let's hope they'll be paying you some winnings after the fight!