Euro 2016 Betting: Round of 16 Preview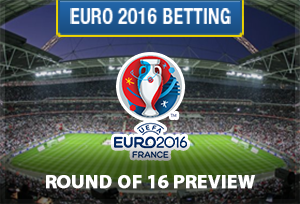 So here we are two weeks into Euro 2016. The group stages are complete and it's time for the knockout rounds. We've already seen some great games and there's sure to be more to come. We've had a few upsets too. Will we see any more?
I wouldn't be at all shocked if there's at least a couple of unexpected results in the round of 16. Some of the teams here in France have surprised everyone with their performances. Who could possibly have expected Croatia to have topped Group D ahead of Spain? Or Hungary to win Group F?
Interestingly, we head into the round of 16 without an obvious favorite. France lead the way in the betting at around 4/1, but they're closely followed by Germany at 5/1. Then there's Spain at 11/2 and Belgium at 6/1. All of these teams have a realistic chance of winning, and there are others in contention as well. It's all shaping up to be a very interesting finish.
In this post I'm going to do a quick preview of each of the 8 games in the first knockout round. If we've learned anything so far it's that anything can happen, but I'll try to find some winning bets for you.
Please note that all the odds on this page are courtesy of Betway. They're our #1 recommended betting site for Euro 2016.
Switzerland vs Poland
When: 15:00, 25th
Where: Stade Geoffroy Guichard
Odds to Progress: Switerland 11/10, Poland 8/11
Switzerland
Switzerland qualified automatically from Group A in second place behind France. They played solidly, but not spectacularly. They beat Albania, as they were expected to, and drew with Romania. A goalless draw with France in their third match was enough to see them through.
The Swiss have proved that they're not an easy team to beat. But I identified their forward line as a potential weakness before the tournament, and that's proved to be the case. They've scored just two goals so far. This lack of goals could prove to be their undoing against Poland.
Poland
Poland also qualified automatically. They finished second in Group C, behind Germany. Two wins and a draw is a good return from their three games. Impressively they didn't concede a single goal. The only disappointment for them was their star striker Lewandowski failing to register a single shot on goal.
Still, you'd expect Lewandowski to find his form sooner rather than later. Players of his quality always do. And if he does it in this match, I can't see Switzerland surviving. Even if he continues to disappoint, I still expect Poland to make it to the next round.
Prediction: Switzerland 0-2 Poland
Recommended Bet: Poland to win in 90 minutes at 8/5
Wales vs Northern Ireland
When: 18:00, 25th June
Where: Parc des Princes
Odds to Progress: Wales 4/9, Northern Ireland 7/4
Wales
The United Kingdom has just voted to leave Europe, but their soccer teams are in no hurry to leave this tournament. All three UK teams made it through the group stages, with Wales winning their group. Although I recommended backing them to qualify in my Group B preview, I didn't expect them to do quite so well. They started with a win against Slovakia, and were then a little unlucky to lose to a late goal against England. They finished in style, with a comprehensive victory against Russia.
With star man Gareth Bale already showing his quality, Wales could end up being the surprise package here in France. I really can't imagine they'll go the whole way, but they've definitely got another win or two in them yet.
Northern Ireland
The second of the UK teams to qualify for the knockout stages, Northern Ireland was widely expected to finish bottom of Group C. They defied those expectations, and finished in third place with three points. This was enough to see them progress as one of the best third place finishers.
Northern Ireland showed their incredible work rate when earning a draw against Germany. They had their goalkeeper to thank for some great saves, but the whole team deserves praise. They'll be looking forward to their game against Wales, but I expect this is where their tournament ends.
Prediction: Wales 2-1 Northern Ireland
Recommended Bet: Wales to win in 90 minutes at 11/10
Croatia vs Portugal
When: 21:00, 25th June
Where: Stade Bolleart-Delelis
Odds to Progress: Croatia 37/20, Portugal 19/20
Croatia
I predicted Croatia to finish 3rd in Group D. I was comprehensively wrong. They won the group with two wins and a draw. One of those wins came against Spain, which was a very impressive result. I did point out that they have two top class players in central midfield, but I felt the rest of the team was not up to the same high standards. However, the whole team has performed very well.
If Croatia can maintain their level of performances, then they could easily make it to the quarter finals or beyond. But they'll have to get past Portugal first.
Portugal
Portugal has not impressed so far. They finished third in Group F when they were widely expected to win it. I mentioned in my Group F preview that this was a tough group to call, but I don't think anyone would have predicted Hungary in first, Iceland in second and Portugal in third. Nevertheless, that's exactly what happened.
The Portugal team is not great defensively, but there are goals in the team. That's not surprising seeing as they've got Cristiano Ronaldo. I think it will be Ronaldo who ultimately decides this game. If he's at his very best, Portugal might just make it though. If he's not, they'll struggle. This is a hard result to predict, but I am confident that it will be a high scoring game.
Prediction: Croatia 3-2 Portugal
Recommended Bet: Over 2.5 goals at 8/5
France vs Republic of Ireland
When: 15:00, 26th June
Where: Stade de Lyon
Odds to Progress: France 1/6, Republic of Ireland 4/1
France
France will probably be disappointed with their performances so far. They won Group A as expected, but it's fair to say that they haven't been as good as many people thought they would be. Still, they've got the job done and they'll be pretty happy with the draw here. They should be confident of beating the Republic of Ireland.
The biggest problem for France now might be the pressure. They're the hosts, they're still the favorites for the tournament in the betting, and there are big expectations on them. That kind of pressure can have a negative effect. Will the players respond to it? We'll have to wait and see.
Republic of Ireland
The Republic of Ireland registered a famous victory over Italy on Wednesday. That meant they finished third in Group E, and duly qualified for the knockout stages. Italy did rest a few players, as they were already assured of going through, but that shouldn't detract from Ireland's achievement.
It's a big task for this team to pull off another shock against France though. I can't rule it out completely, as Ireland's passion alone will drive them on. I think this will be a step too far for them though.
Prediction: France 3-1 Republic of Ireland
Recommended Bet: France to win in 90 minutes at 4/9
Germany vs Slovakia
When: 18:00, 26th June
Where: Stade Pierre Mauroy
Odds to Progress: Germany 1/7, Slovakia 8/1
Germany
It's no surprise to see Germany in the round of sixteen. They started with two wins, before being held to a draw by Northern Ireland. This was enough for them to win Group C. Ironically, the game against Northern Ireland was probably their best performance so far in the tournament. They could have won by several goals had Northern Ireland not been so impressively resolute.
Germany usually get better and better as a tournament progresses. If they continue that trend here in France, they're going to be the team to beat in my opinion. I certainly don't see them having any problems getting past Slovakia.
Slovakia
Slovakia qualified from Group B in third place. They'll be pleased with that, as they were expected to finish bottom. No-one would have been surprised if they had failed to pick up a single point. They actually got four. Three of those were from a win against a very disappointing Russian team, but let's take nothing away from what Slovakia have achieved here in France.
I fully expect Slovakia to play against Germany in the same way they did against England. They'll set up to defend all match, hoping to either steal a goal on the counterattack or take the game all the way to penalties. They probably will frustrate Germany and keep the goal count down, but Germany will have enough to win this game.
Prediction: Germany 2-0 Slovakia
Recommended Bet: Germany to win in 90 minutes at 4/9
Hungary vs Belgium
When: 21:00, 26th June
Where: Stadium du Toulouse
Odds to Progress: Hungary 100/30, Belgium 2/9
Hungary
What can I say about Hungary? They've been arguably the biggest surprise of the tournament so far. They're in the round of 16 having won Group F, when nobody would have been shocked to see them finish at the bottom. Can they keep it going?
Unfortunately for them, I don't really think so. They'll be coming up against a Belgium team who have demonstrated exactly what they're capable of over the last two games, and I just don't think Hungary have the quality to go any further now. I'd love to see them prove me wrong though.
Belgium
Belgium started Euro 2016 really badly. They just didn't show up for their opening game against Italy. What a turnaround they've had since then though. They were much, much better in their next two group games, winning them both, and they qualified by coming second in the group.
The attacking players in this team have started to show just how good they are, and they're hitting form at the right time. I think they'll win this match with relative ease, and Belgium is definitely a contender for the whole tournament.
Prediction: Belgium 3-0 Hungary
Recommended Bet: Belgium to win with -1 handicap at 19/10
Italy vs Spain
When: 18:00, 27th June
Where: Stade de France
Odds to Progress: Italy 6/4, Spain 1/2
Italy
This is not the greatest Italian team ever. But they won their group with two wins and a loss, and their loss came in a game where they rested a number of first choice players. So we've got to give this side some credit. They've shown how well they can play, and they'll give Spain a good game for sure.
They'll probably be quite disappointed that they got Spain actually. To win their group and still end up playing one of the favorites is a bit of tough luck. You've got to beat the best sides at some point if you want to lift the trophy though. They'll need to get over their disappointment and focus on the task ahead.
Spain
Spain started well enough with two wins in their first two games. They were looking like one of the best teams here in France at that point. And then they went and lost to Croatia. This left them second in Group D, and it's why they're facing such a difficult draw in the round of 16.
Honestly, this game is really hard to call. It could go either way. Italy will try to control the pace of the game and keep everything tight, while Spain will try to open things up and play more expansively. I can't be sure what will happen, but my instinct is that Italy's defense will be the winner here. I certainly don't expect many goals!
Prediction: Italy 1-0 Spain
Recommended Bet: Under 2.5 goals at 4/11
England vs Iceland
When: 21:00, 27th June
Where: Stade de Nice
Odds to Progress: England 1/9, Iceland 6/4
England
England will be disappointed to have only finished second in the group. Especially when that meant finishing behind Wales! But they're through to the knockout stages and they've got a favorable draw against Iceland. The question is whether they can take advantage of it.
The performances from England have been mixed so far. They played well enough against Russia in their first game, but they only scored the one goal and then conceded later on for a draw. An improved performance against Wales saw them win 2-1, before an uninspiring 0-0 against Slovakia. They should have enough to beat Iceland, but they'll need to improve if they're going to go much further.
Iceland
Another surprise package in the tournament, Iceland did very well to qualify from Group F. They only got the one win, but two draws in their other two matches was enough for five points and second place. This is their first appearance at a European Championship, and they'll be delighted to have made it to the round of 16.
Sadly for them, I expect this is where the journey ends. They're not incapable of pulling off a shock result against England, and England themselves have not been great of course. But I think the most likely outcome is an English victory here.
Prediction: England 2-1 Iceland
Recommended Bet: England to win in 90 minutes at 8/15