Hide Bonus Offers
| | | | | |
| --- | --- | --- | --- | --- |
| #1 | Bovada Sports | 50% Up To $250 | Visit Site | Bovada Sports |
| #2 | BetUS | 125% Up To $2,500 | Visit Site | BetUS |
| #3 | MyBookie | 100% Up To $1,000 | Visit Site | MyBookie |
| #4 | Everygame | 100% Up To $500 | Visit Site | Everygame |
| #5 | BetOnline Sports | 60% Up To $1,000 | Visit Site | BetOnline Sports |
Euro 2016 Betting: Group D Preview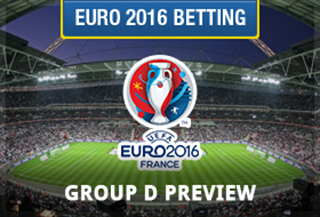 Group D is arguably one of the strongest groups in the tournament, in terms of overall quality. You've got the reigning champions (Spain) for a start, and there's no obviously weak team here.
So, unlike some of the groups I've already looked at, Group D is one that's hard to predict. I'm confident I know who's going to win it, but it gets a bit trickier after that. Any of the other three teams could qualify, and predicting which order they're all going to finish in is no easy task.
Nonetheless, I've done exactly that in this preview. Hopefully my predictions will prove correct, but we'll have to wait and see. You can read the reasoning for my predictions below, and I've also recommended two Group D bets which I think represent good value.
Before any of that, though, I've outlined all the key details you need to know about Group D.
Group Overview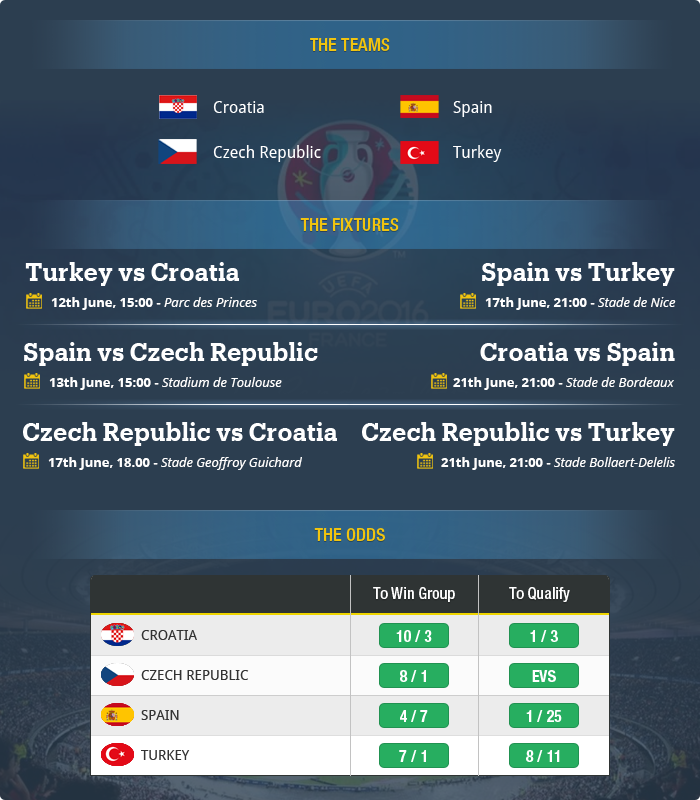 Croatia
Qualifying Record: Qualified as group runners-up
European Championship Appearances: 5
Best Finish: Quarter-finals (1996 & 2008)
Current World Ranking: 27
Manager/Head Coach: Ante Čačić
Captain: Darijo Srna
Key Player: Luka Modric
The manager of Croatia, Ante Cacic, has been in charge for just nine months. He took over in September 2015, when the team was in danger of not qualifying for Euro 2016. He won both qualifying matches in the following month, ensuring Croatia made it into their fifth European Championships.
Those two matches are the only competitive matches that Cacic has overseen. He's managed Croatia in five subsequent friendlies, but doesn't yet seem to have settled on a preferred formation. This could prove troublesome for Croatia here in France.
What might save this team is the outstanding quality they have in central midfield. Luka Modric, who I've selected as the key player, and Ivan Rakitic are both very talented players. Together, they have the ability to dictate a game.
There are definitely some question marks in other areas of the team though. In attack they have Mario Mandzukic, who is undoubtedly a great striker. But he doesn't seem to perform as well at international level as he does at club level, and none of the other forward players could be considered top class. The defense is a little lacking too.
So, overall, I think Croatia might have a hard time in Group D. I expect them to beat Turkey, but they're likely to struggle against the Czech Republic. Spain will be clear favorites to beat them. With all that in mind, I'm predicting them to finish third.
Predicted Group Finish 3rd
Czech Republic
Qualifying Record: Qualified as group winners
European Championship Appearances: 9
Best Finish: Runners-up (1996)
Current World Ranking: 30
Manager/Head Coach: Pavel Vrba
Captain: Tomáš Rosický
Key Player: Vladimír Darida
20 years after finishing runners up to Germany, the Czech Republic is making is ninth appearance at a European Championship. It would take a monumental performance for this team to match the achievement from 1996, but it's certainly capable of doing well. Qualification from Group D would be no shock at all.
On paper, the Czech Republic is not an amazing team. But it's very, very well organized. It's flexible too, and the players appear equally comfortable when taking the game to weaker opponents as they do when sitting back against stronger opposition. This flexibility could be pivotal in just how well they do.
I've named Darida as the key player. This is primarily because of how hard he works in midfield. The captain, Rosciky, will also have a big role to play. He's the most talented player in this team, and the team will be relying on him to use his talents to maximum effect. If he does so, I think the Czechs might be one of the surprises of the tournament.
The bookmakers have the Czech Republic has third favorites to qualify from this group. It's a reasonable assessment, but not one I agree with. On balance, I think they're going to take second spot.
Predicted Group Finish 2nd
Spain
Qualifying Record: Won Qualifying Group
European Championship Appearances: 12
Best Finish: Winners (1964, 2008 & 2012)
Current World Ranking: 6
Manager/Head Coach: Vicente Del Bosque
Captain: Iker Casillas
Key Player: Andres Iniesta
Up until 2014, Spain had been a dominant force in international soccer for several years. They won the European Championship in 2008, the World Cup in 2010, and then the European Championship again in 2012. They appeared to be an almost unstoppable force.
Their reputation suffered at the 2014 World Cup though, when they put in a very disappointing performance. In the two years since, many people have been the asking same question. Was that simply a one-off, or a sign that Spain is no longer a team to be feared?
The most accurate answer probably lies somewhere in between. There can be little doubt that Spain is no longer the force that it was. But there is equally little doubt that it still has plenty to offer on the international stage. They qualified for this tournament by winning their group after all, with some good performances along the way.
Only France and Germany are considered more likely than Spain to win Euro 2016. So they clearly enter this tournament with a realistic chance of winning it. First they must progress from the group stages though, which I think they'll do by topping Group D with relative ease.
Predicted Group Finish 1st
Turkey
Qualifying Record: Qualified as best 3rd placed team
European Championship Appearances: 4
Best Finish: Semi-finals (2008)
Current World Ranking: 18
Manager/Head Coach: Fatih Terim
Captain: Arda Turan
Key Player: Buruk Yilmaz
Turkey was not a team playing well early in the early stages of the qualification process for Euro 2016. But their coach, the respected Fatih Terim, was not about to change his beliefs. He kept his team playing his preferred style, and they duly qualified as the best third placed team.
So what can we expect from them in France?
Honestly, it's hard to say.
Turkey has an attack minded midfield, and there's some quality among their forwards, so they should score goals. They're a bit limited in the defensive areas though, so they're equally likely to concede goals. It's therefore really difficult to know how well they'll perform overall.
I don't think Turkey is a bad team at all. They're certainly not the weakest side at the tournament. They might just prove to be the weakest in Group D though, which is why I'm predicting them to finish in last place.
Predicted Group Finish 4th
Recommended Group D Bets
In my introduction to this post, I explained that I think this group is difficult to predict. Despite that, I still feel there are two good bets in this group. These are as follows.
Spain to win the group 4/7
Czech Republic to qualify Evens
I know that Spain are not the team they once were, but 4/7 to win this group is a good price in my opinion. I don't think they should be that short. They face some tough opposition for sure, but they're clearly the best side in the group.
Backing the Czech Republic to qualify is a bit riskier. But, at even money, I think there's value here too. I've predicted them to finish second, but even if they only make third I think they might still go through. Remember, the best four third placed teams progress to the knockout rounds.
I've one more recommendation to make too. If you decide to follow my suggested bets, or even select your own bets to make, I'd suggest placing them at Betway. This is a first class betting site, and GamblingSites.com top recommendation for betting on Euro 2016.