Hide Bonus Offers
| | | | | |
| --- | --- | --- | --- | --- |
| #1 | Bovada Sports | 50% Up To $250 | Visit Site | Bovada Sports |
| #2 | BetUS | 125% Up To $2,500 | Visit Site | BetUS |
| #3 | MyBookie | 100% Up To $1,000 | Visit Site | MyBookie |
| #4 | Everygame | 100% Up To $500 | Visit Site | Everygame |
| #5 | BetOnline Sports | 60% Up To $1,000 | Visit Site | BetOnline Sports |
Euro 2016 Betting: Group A Preview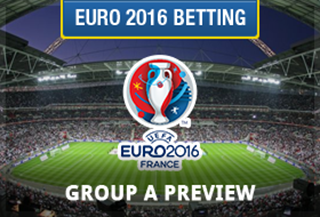 My next few posts on Euro 2016 are going to be previewing each of the groups in the tournament. There are six groups this year, up from the usual four. Naturally, I'll be starting with Group A.
Group A features the hosts, France, who are also the favorites for the tournament. They're expected to qualify from the group without too much difficulty. But will that be the case? As both the hosts and the favorites, it's likely that their opponents will be especially motivated to beat them. So they may face a tougher challenge than many are anticipating.
In this preview I'll be addressing the relative strengths and weaknesses of each team in the group. I'll also make some predictions for where I think each team will finish, and see if there are any Group A bets worth making.
I'll start with an overview of all the key details you need to know about this group.
Group Overview
The Teams
Albania
France
Romania
Switzerland
The Fixtures
France vs Romania: 10th June, 21:00. Stade De France.
Albania vs Switzerland: 11th June, 15:00. Stade Bollard-Delelis.
Romania vs Switzerland: 15th June, 18.00. Parc de Princes.
France vs Albania: 15th June, 21:00. Stade Velodrome.
Switzerland vs France: 19th June, 21:00. Stade Pierre Mauroy.
Romania vs Albania: 19th June, 21:00. Stade De Lyon.
The Odds
Albania: 20/1 to win group, 13/8 to qualify.
France: 1/3 to win group, 1/50 to qualify.
Romania: 9/1 to win group, 8/11 to qualify.
Switzerland: 4/1 to win group, 2/7 to qualify.
Albania
Qualifying Record: Qualified as group runners-up
European Championship Appearances: 1
Best Finish: N/A
Current World Ranking: 42
Manager/Head Coach: Gianni De Biasi
Captain: Lorik Cana
Key Player: Sokol Çikalleshi
Albania is playing in their first ever major tournament. This is an achievement in itself. Particularly when you consider that they had Portugal, Denmark and Serbia in their qualifying group. To finish second behind Portugal, beating the group winners along the way, was very impressive.
So can they make their mark in their debut tournament? Realistically, no they can't. This is a very hard working side, built on a solid defense, but they don't score a lot of goals. That simple fact alone is likely to cost them any chance of getting the results that they need.
That's why I've named Çikalleshi as their key player. If Albania is to stand any chance at all of progressing further, they're going to need him to be at his very best. The responsibility for scoring goals will ultimately rest on his shoulders, and Albania can't rely on hard work alone in this tournament. If Çikalleshi can find a moment or two of magic, then just maybe this side can cause an upset.
I love to see the underdogs do well in the big tournaments, so I'm actually hoping my prediction here is wrong. But I have to go with what I truly believe will happen, and sadly I fully expect Albania to finish bottom of this group.
Predicted Group Finish – 4th
France
Qualifying Record: Qualified as hosts
European Championship Appearances: 8
Best Finish: Winners (1984 & 2000)
Current World Ranking: 17
Manager/Head Coach: Didier Deschamps
Captain: Hugo Lloris
Key Player: Antoine Griezmann
The favorites to win the tournament. Playing on home soil. And a very talented team. All signs are pointing to France winning Group A without too much trouble at all. But, as I mentioned earlier, their opponents are not going to want to make it easy for them.
On paper, France absolutely should be topping this group. You could combine the best players from all three of the other teams in this group and you still wouldn't have a better side than the French have. The simple fact is that they have a squad full of players ranging from very good to truly excellent. I've picked Griezmann as their key player, but there are half a dozen others I could legitimately have chosen.
They must have some weakness though, right? Actually they do. Well, one at least. As I mentioned in my post assessing the three favorites for Euro 2016, France's two starting full backs are likely to be Patrice Evra and Bacary Sagna. Both of these players are well into their thirties, and they might struggle when up against fast players. This is something that their opponents could well look to exploit.
The big question is whether France's opponents actually have enough quality to hurt them. I've already pointed out that Albania doesn't score many goals, so I've got to assume that France will beat them easily enough. Romania and Switzerland will both be bigger tests, but I can't really see either of those teams actually beating France.
So there'll be no controversial prediction from me here. I fully expect France to win this group, and wouldn't be surprised if they do so by winning all three games.
Predicted Group Finish – 1st
Romania
Qualifying Record: Qualified as group runners-up
European Championship Appearances: 5
Best Finish: Quarterfinals (2000)
Current World Ranking: 22
Manager/Head Coach: Anghel Iordănescu
Captain: Răzvan Dincă Raț
Key Player: Dragoș Grigore
This Romanian team has some notable strengths. It's hard working, well organized, and has a very tight defense. These all combine to make Romania hard to beat. Impressively, they conceded only two goals in ten games during their qualifying campaign.
Their most glaring weakness is the lack of variety in their play. They're good on the counterattack, but that's the only way they seem to able to score. Their ability to create chances from midfield is decidedly lacking. That could well prove to be their undoing.
The fact that I've picked Grigore, a defender, as their key player tells a story. It's difficult to pick out any of their midfield or forward players who are likely to have a big impact here in France. So I think that Romania's success, or otherwise, will come down primarily to how well their defense holds up.
If they can maintain their excellent defensive record, and manage to counterattack effectively in their games, then they might just get some good results. In fact, I'm having a hard time deciding whether it will be Romania or Switzerland who finish behind France. I think it will be close for sure. I'm going to go with third for Romania, but I wouldn't be hugely surprised if they go one better.
Predicted Group Finish – 3rd
Switzerland
Qualifying Record: Qualified as group runners-up
European Championship Appearances: 4
Best Finish: Group stages
Current World Ranking: 15
Manager/Head Coach: Vladimir Petkovic
Captain: Stephan Lichsteiner
Key Player: Xherdan Shaqiri
The Swiss squad is nicely balanced. It features a good combination of youth and experience, a solid defense and a creative midfield that's good at both keeping and winning the ball. Their forward line is perhaps Switzerland's biggest weakness, but even that is far from being poor.
I went for Shaqiri as the key player, as I think he'll be instrumental in determining how effective Switzerland is when attacking. He's an excellent playmaker, and he will surely create chances for his teammates. The question will be whether his teammates are able to make the most of those chances.
I very nearly went for Xhaka though. I think he'll have a big role to play too. Specifically, he'll be key to just how much possession Switzerland is likely to have. He's strong in the tackle and can pass the ball nicely too. If he performs well, it will help the rest of the team enormously.
Switzerland are probably the team most likely to get a result against France. I don't expect them to win that game, but I wouldn't be shocked if they managed a draw. There isn't a huge gap between Romania and Switzerland as I've mentioned, but it's the Swiss that I'm expecting to take second spot in Group A.
Predicted Group Finish – 2nd
Recommended Group A Bets
With my predictions out of the way, it's now time to assess whether there is any value in betting on Group A. The safest bet of all is on France to qualify, but at 1/50 there's simply no point in my opinion. Even though I can't see that there's any way they WON'T qualify, I can rarely make a case for betting at such low odds.
Switzerland to qualify is an interesting proposition. I've already explained that I think they'll take second place. And, even if they don't, there's a very good chance they'll still qualify as one of the highest scoring third placed teams. At 2/7 they're not a bad bet all. But the odds are probably just a bit too short for me to recommend this wager.
So I'm going with the following as my recommended bet.
France to win the group – 1/3
Obviously this is not exactly a brave wager. But I think the odds here are more than fair, and actually represent a bit of value. I just don't see any of the other teams getting ahead of them in this group.
Please note that these odds, and all the others in this post, are the odds available at Betway at the time of writing. Betway is our #1 recommendation for betting on Euro 2016.