Hide Bonus Offers
| | | | | |
| --- | --- | --- | --- | --- |
| #1 | Bovada Sports | 50% Up To $250 | Visit Site | Bovada Sports |
| #2 | BetUS | 125% Up To $2,500 | Visit Site | BetUS |
| #3 | MyBookie | 100% Up To $1,000 | Visit Site | MyBookie |
| #4 | Everygame | 100% Up To $500 | Visit Site | Everygame |
| #5 | BetOnline Sports | 60% Up To $1,000 | Visit Site | BetOnline Sports |
Why Las Vegas is Quickly Becoming the New Esports Destination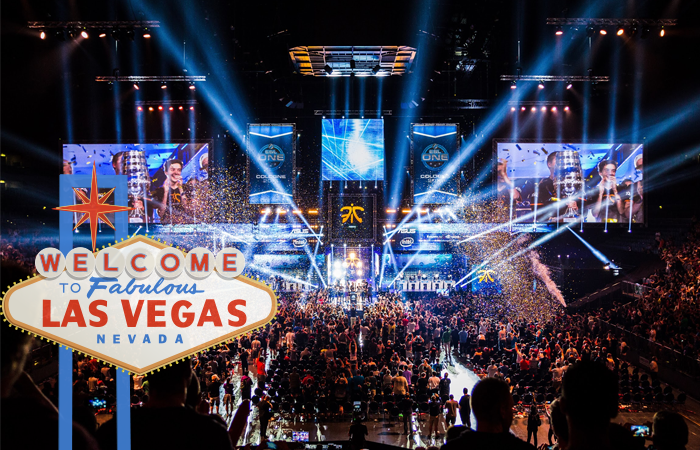 Las Vegas has a rocky history with esports. While the relatively new form of competition was kept away from Sin City for quite some time, the doors broke open not long ago. With Vegas now embracing competitive esports, the city is now abuzz with gamers.
Popularity is rising quickly, and a lucky venue in Las Vegas may be set to become the new Madison Square Garden. While esports have been a touring act for the most part so far, they may have finally found a home.
The History of Esports in Las Vegas
While the law had long outlawed betting on esports, Las Vegas has never cared much for the law. Despite some cracking down on betting, a few hungry casinos didn't shy away from taking bets on esports events. The Downtown Grand Hotel & Casino is the largest amongst them, having opened up an entire venue devoted to esports.
As they were one of the few venues that truly embraced esports in America, the Downtown Grand Hotel & Casino saw a huge influx of tourists as a result. Of course, this began to attract attention. People who previously hadn't cared about the world of esports began to pour in, and other venues followed suit.
Pro Gaming League Incorporated, with funding from Canadian start-up Stratton Capital, opened Millennial Esports, which brought world-class esports events to Vegas. This quickly became the center of what is now known as the "Esports District" of Las Vegas, an area that is home to many esports venues and esports-centered casinos.
With the Esports District cemented in Las Vegas, the doors were open for esports betting to be legalized.
The Nevada Esports Alliance, or NVEA for short, was formed in February 2017 and campaigned for esports betting to be legalized. They were a huge success, with esports betting being legalized in Nevada only a few months after their formation. Of course, the NVEA hasn't gone anywhere.
Now working to make Las Vegas a "global esports hub," the Nevada Esports Alliance has partnered up with several well-known casinos and other companies. The Downtown Grand and Millennial Esports have both contributed to the non-profit, alongside MGM Resorts International, the Las Vegas Convention and Visitors Authority, and LEET.
One of the biggest partners, though, is Caesars. The company behind one of the most famous hotels in all of Las Vegas, Caesars partnered with Sidekick Productions to create Caesars Entertainment . This giant production studio aims to become a global force, producing movies on the same scale as Hollywood and putting on some of the biggest productions in esports.
Despite being announced in 2017, we have yet to see Caesars Entertainment Studios make a huge splash, but they're certainly set to. With the ability to produce huge esports events, Twitch streams, and much more, Caesars Entertainment Studios may be the biggest thing in the history of esports.
Esports Events in Las Vegas
With 2017 setting the stage for Las Vegas to take over the world of esports, the city is moving into 2018 full steam ahead. Governor Brian Sandoval has announced that he is fully committed to making Las Vegas the esports capital of the world, and with the NVEA in his corner, he's making good on his promise.
While Vegas has always been full of bars and other venues that cater to sports fans, gamers are now finding homes all over the city.
UNLV has been making headway in esports, with 8-bit Esports quickly becoming one of the premier collegiate esports organizations. The organization currently supports competitive Minecraft, Starcraft II, League of Legends, Dota 2, Counter-Strike, and Super Smash Bros, and is constantly adding more to the roster.
Downtown Underground has their doors open to LAN parties every weekend, letting in players always and spectators on occasion. They play games of all kinds and will soon be opening a kitchen and full stage.
Game Nest, a pay-by-the-hour arcade, is now hosting Super Smash Bros tournaments, and offers a wide selection of games that will appeal to gamers of any kind. GameWorks offers a similar business model, allowing esports competitors to play on a pay-by-the-hour basis.
They also offer events for several games at several times throughout the week. Grow A Pear Gaming has events of all kinds, as well.
Power Up Gaming is the home of many local community tournaments and offers viewing for all of them. They're quickly becoming a favorite of the community and are picking up steam fast.
Offering more than 70 games across all major consoles, as well as VR, Power Up Gaming is a great place for non-gamers, as well. Press Start Gaming Center and PvP Zone are much the same with frequent LAN parties, though their tournaments are less frequent.
Reboot Game Lounge is another favorite, especially amongst older gamers. This lounge may be new, but its games are not. From NES to GameCube, all your favorite games from the classic days of video gaming are available. When they say PlayStation, it's not short for PlayStation 4.
Some games are receiving venues of their own. Super Smash Bros Melee, Project M, and Wii have their own respective groups that meet up frequently to host tournaments.
Overwatch has also seen love in Las Vegas, with the Overwatch group ever-growing and now branching out into in-person events. The Las Vegas Hearthstone Club is also gaining traction and frequently meets up.
Things go bigger than that, though. Millennial Esports has developed a full-on arena able to fit hundreds of players.
This arena hosts premier-level events for all games and is an amazing site to see. Their tournaments are infrequent, but there is almost always a party at their LAN center.
Of course, the Las Vegas Strip is now trying to join in on the fun. The former Luxor Hotel and Casino has been purchased by Allied Esports and Esports Arena and is being converted into an esports arena. They will launch with a multiple-day event that will surely be one for the ages.
Las Vegas has set their sights on becoming the global center for esports, and it looks like they'll achieve it. While nowhere in America has fully embraced esports yet, Vegas is opening their arms.
When esports come home, they'll be met with warmth and a huge sum of cash. It will be very interesting to see how the attention of the government and upper class of Las Vegas shapes the future of esports.