Hide Bonus Offers
| | | | | |
| --- | --- | --- | --- | --- |
| #1 | Bovada Sports | 50% Up To $250 | Visit Site | Bovada Sports |
| #2 | BetUS | 125% Up To $2,500 | Visit Site | BetUS |
| #3 | MyBookie | 100% Up To $1,000 | Visit Site | MyBookie |
| #4 | Everygame | 100% Up To $500 | Visit Site | Everygame |
| #5 | BetOnline Sports | 60% Up To $1,000 | Visit Site | BetOnline Sports |
esports Betting – EU LCS Preview and Prediction for July 20th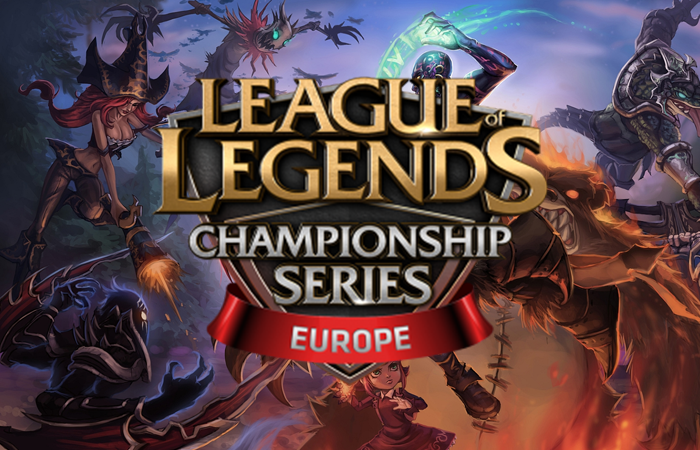 Today we have 2 great games on our hands. In the EU LCS, we currently have first-place team Unicorns of Love going against the second to last Team Roccat. In the second game of the day, G2 eSports will take on H2K gaming. Both teams need a victory in order to move up on the table.
EU LCS has a unique style when it comes to playoffs. Other regions usually play classic single elimination style brackets. Team seeding depends on where they finished in the regular part of the season. However, EU LCS doesn't use that format. EU LCS has 2 groups – A and B. In the group stage teams play against each other in best-of-three. In the end of the season, teams get to pick their opponents from the opposite group. For example, the first placed team in group A picks first and they can choose whoever they want from group B. The second placed team picks second and so on.
In this format, every victory counts. The higher you are, the better the odds that you'll get a team that suits your playstyle. Also, the lower you are, the better odds you will get picked by the first placed team and that's bad for a number of reasons. In my opinion, this is the best format. First of all, there is no calculation "should I win or should I lose in order to get/avoid that team". The second reason is that it's far more entertaining. There is nothing EU LCS fans love more than when a team picks their rivals and loses.
Roccat vs Unicorns of Love
Roccat is in a bit of trouble right now. They are not playing very well and they lost the last 4 games against the teams they were not supposed to lose. They lost against Mysterious Monkeys, H2K, Splyce, and Team Vitality. I would only consider H2K a good team and the rest of them are mid-tier at best.
But that's not their only problem. In the next 4 games, they are playing against Unicorns of Love, G2 eSports, Ninjas in Pajamas, and Fnatic. G2, UoL, and Fnatic are without a shadow of a doubt the best teams in Europe. If they managed to lose all the games until this point, I don't think they'll start winning now. Ninjas in Pajamas aside, these teams are the cream of the crop in the world of League of Legends, and Roccat is just not up to the task.
Unicorns of Love came back from the Rift Rivals and looked pretty solid against the Misfits. The first game was a bit shaky but they pulled their thought together in game 2 and 3 in order to make a comeback. I think they have a shot at winning the title if they keep performing at the top level. They do not lose often but when they do, they lose without firing a single bullet. Is it possible that team that good can't make a single comeback? It's not a problem to make a come back against the teams from the lower part of the bracket but it's a huge problem against teams like G2, TSM, etc. You can come back from 1 game deficit against teams like Ninjas in Pajamas but it's a whole different ball game against the teams like G2.
Roccat can win this game but they need to get an early lead in both games. They should watch the games between the TSM against Unicorns of Love and take some notes.

Past Performances:
The last time this two teams met it was 2-0 for Unicorns of Love. Roccat did not play as bad as result suggests they did. In the first game, both teams started out with a pretty similar tactics. They forced their opponents into 2v1 and 3v2 situations hoping that they can make something happen before the backup arrives. Unicorns and Roccat were pretty even in term of kills but Unicorns had a better sense of macro and objective control. After the laning phase, Roccat tried to split their team and get a few objectives at once, meanwhile the Unicorns of Love played as a team. Roccat's roaming strategy didn't pay off. They didn't get any objectives and Unicorns of Love were simply too good at controlling the map. They did lose the game but somehow I feel that win wasn't that far away.
The second game was over in about 5 minutes. Roccat was over aggressive and made horrible turret dive. Unicorns ran a mid game focused composition with Gangplank in the top lane and Cassiopeia in the mid lane. Both Gangplank and Cassiopeia have huge power spikes after they get their first item. Basically, Roccat donated them 1.5k gold each and they reached their power spikes 5 minutes earlier resulting in a crushing defeat for Roccat.
What can Roccat learn from this? Being aggressive is good but on the other hand being too aggressive can cost you the game. It's better to get 2 kills and stay ahead than trying to get 5 kills and fail miserably.

Player(s) to Watch:
Last time this 2 teams played, it almost seemed that two players are playing 1 on 1 – UoL Vizicsacsi and Roccat Maxlore. Vizicsasci was dominating the top lane and applying pressure in order to catch Maxlore's attention. It was really fun to watch how far will Vizicsasci go to draw his attention in order to stop him from ganking other lanes.
However, Maxlore decided that it's time to change the team, and he joined the Misfits. This leaves us with only Vizicsachi and I truly believe that he'll do exactly the same thing he did last time they played, but this time there is no one to stop him. Roccat's Pridestalker is nowhere near as good as Maxlore.
Pridestalker is not a bad jungler per se. He is a different kind of jungler. He is focused on getting his creep score up and he is less focused on ganking the lanes. Vizicsasci will have more than enough space and time to show his real worth.

Playstyles:
Unicorns of Love usually prefer playing safe in the early game because their late game is so good. In the late game, they tend to draw the line and focus pushing the lanes in order to prevent other teams from taking any objectives. The last time these two teams played everything was relatively even until Unicorns decided to group up. After that, you could see the difference in quality between the two teams.
It's pretty hard to say how to win as Roccat. I would recommend going for an early kill but nothing crazy like they did the last time. Just focus on playing safe and getting a kill or two, if possible.
Our prediction: -1.5/UOL@1.66 (Bet365)
I think Unicorns of Love got this. Unicorns have a weak spot in the early game but I don't think that Roccat is good enough to take advantage of that.
H2K gaming vs G2 eSports
G2 eSports is one of those team who you love to hate. They are cocky, they are loud, but they play sure know how to play. Lately, G2 didn't look so good. Their performance on The Rift Rivals 2017 was just awful. They went 0-4 in the tournament, and it was hard to believe that these guys were unbeatable just a few months ago.
After an apology to their fans, they went straight to practice. The first team on their schedule was Team Splyce. The first game was one of the biggest clown fiestas I have ever seen, and it was super fun to watch. Teams were trading blows one after another. In the end, both teams tried to end the game by base trade. G2 had a little bit more luck and they managed to win. After the game, G2's players looked so happy, almost like they won the World Championship and not just another the LCS game.
The second game was all about G2 Perkz. He carried his team to the victory with Le Blanc. In the end of the game, he could pretty much just one shot everyone how far ahead he was. G2's talent is undeniable but they lack the discipline. Even though it's entertaining for the viewers, it's bad for their results.
H2K did not attend The Rift Rivals 2017 so they had time to relax a little bit and recuperate their thought. At the moment, they are the second-placed team in group B with a 6-2 score. So far they looked great. I can honestly say that I didn't expect them to perform that good. They don't have a single player that stands out. They are all playing equally good and that's great for the team. This way their opponent can't focus on a single target which gives them a huge advantage.
In this split, they lost 2 games. The first game they lost was against the Fnatic, and the second game was against the Unicorns of Love. Even though G2 has a score they shouldn't be proud of, they are still a top tier team who is just as good as Fnatic or Unicorns of Love. Let's just hope that H2K has something special up their sleeve to defeat G2.

Past Performances:
This two teams met 2 months ago and G2 won with a 2-1 score. The first game was pretty slow. H2K didn't want to take any risks so there were only 12 kills in the first 40 minutes. Every time G2 moved forward, H2K would move back to avoid an engagement. With 42 minutes into the game, H2K made a mistake and it cost them the game. G2 moved forward but this time H2K failed to disengage and G2 finished the game with an ace.
The second game was the polar opposite of the first game. H2K started super aggressive and it paid off. They caught G2 off guard and managed to secure few early kills. The game was over in just 10 minutes. G2 made their peace with it and started to think about the next game.
The final game was filled with mistakes from both sides. H2K was ahead in every possible way. They had a 9-1 advantage and they somehow managed to lose that game. G2 didn't give up despite being in a very tuff spot. They stalled the game as much as possible in order to catch up on gold with H2K. They forced H2K to roam around the map looking for their players and killing them one by one, while other teammates focused on getting as much gold as possible. After 40 minutes the gold difference dropped to just 2k in favor of the H2K and it was the beginning of the end for them. G2 did what they do best and managed to beat H2K with a single 5v5 team fight.

Player to Watch:
G2 Trick is the most volatile player on the G2 roster, maybe in the EU LCS in general. If he keeps his cool and manages not to screw up than I think G2 will take this. In the last 3 games between the G2 and H2K, he was great in the game 1 and 3, but he was completely invisible in game 2. The best way to stop this guy is to ban burst champions like Kha'Zix or Rumble.

Playstyles:
H2K prefers a slow and safer style. That's great if you plan is to get your team into the late game but is it really something you want to do against the G2? Last time they played, they won a game with an early aggression. They should stick to the recipe and hope that it works out because there is no way they could beat G2 in the late game.
Our prediction: G2@1.57 (Bet365)
G2 is and always will be G2. They will play around for a bit, but in the end, they will win because they need to. At the moment, they have a 5-3 score and they need a victory to get back to the top where they belong.