Hide Bonus Offers
| | | | | |
| --- | --- | --- | --- | --- |
| #1 | Bovada Sports | 50% Up To $250 | Visit Site | Bovada Sports |
| #2 | BetUS | 125% Up To $2,500 | Visit Site | BetUS |
| #3 | MyBookie | 100% Up To $1,000 | Visit Site | MyBookie |
| #4 | Everygame | 100% Up To $500 | Visit Site | Everygame |
| #5 | BetOnline Sports | 60% Up To $1,000 | Visit Site | BetOnline Sports |
Errol Spence Jr. vs. Mikey Garcia Betting Preview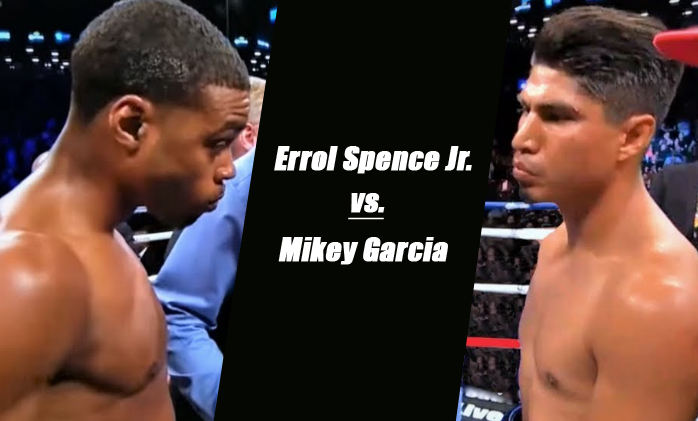 In terms of a pure boxing spectacle, Errol Spence vs. Mikey Garcia promises to be a classic.
Make no mistake, this is one of the biggest fights of the year in boxing and a spectator-friendly bout between two of boxing's best pound-for-pound fighters.
The pinpoint accuracy and hard-hitting welterweight style of Spence against the solid, textbook boxing skills of Garcia should certainly make for an intriguing matchup.
It will undoubtedly attract a lot of betting action, too.
Garcia is competing for the first time at 147 pounds against one of the elite welterweights on the planet and will be truly tested by the Long Island-born southpaw.
The Californian can make it 40-0 and become a five-division world champion with a win on the night.
Spence is 24-0 and will be making the third defense of the IBF title he won against Britain's Kell Brook in the former champion's home town of Sheffield, England, in May 2017. Spence proved his power against Brook that night, knocking his opponent out in the 11th round in a dominating performance.
It's that power that many pundits, fans, and boxing betting sites believe will be too much for Garcia. In 24 fights, Spence has only gone the distance three times. The last time he awaited the judges' scorecards was back in 2014 against Puerto Rico's Ronald Cruz.
Garcia, however, is not going to even entertain the thought of being beaten, never mind being knocked out by Spence.
The 31-year-old may not have carried the power he possessed at featherweight, junior lightweight, and lightweight, but he will be far from a pillow-fisted human punching bag on the night.
There are a number of technical advantages in Spence's favor, but this fight is far from a foregone conclusion.
In boxing, placing wagers on the bigger and harder-hitting man does not always guarantee a winning bet. It is often the smarter fighter on the night that leaves the ring with the win.
Here's my full Errol Spence Jr. vs. Mikey Garcia betting preview, starting with the latest odds.
Latest Spence vs. Garcia Odds
Errol Spence Jr. to Win
-450
Odds were provided by Bovada sports and are accurate as of February 28, 2019.
Looking to make money betting on Spence vs. Garcia? If you are backing the former, the price of -450 is a little short, in my opinion. I will get into why that is further down the page.
Garcia's odds of +325 indicate that he is a considerable underdog going into this fight, which is something that he has rarely been throughout the course of his career. Nonetheless, those wagering on Garcia will be delighted with this price.
Understandably, Spence's size advantage and experience of fighting bigger men — and knocking seven shades of sunshine out of them — count towards his shorter odds.
Garcia, the smaller man, is making his debut at welterweight. Can he handle the size difference? Will the power be too much to take? Is Spence simply too good for him?
Let's take a look at the "tale of the tape."
The Tale of the Tape
As you will see from the tale of the tape, Spence is the bigger man in many departments.
With 24 fights, he is currently 13 behind Garcia at 39, making the challenger a more experienced fighter at a professional level.
Spence has a higher knockout rate, which may also play a part in this fight.
Errol Spence Jr.
Age – 29
Weight – 147 lbs (66.82 kg)
Height – 5'9½" (1.77 m)
Reach – 72″ (183 cm)
Stance – Southpaw
Record – 24-0-0
KOs – 21 (88%)
Mikey Garcia
Age – 31
Weight – 147 lbs (66.82 kg)
Height – 5'6″ (1.68 m)
Reach – 68″ (173 cm)
Stance – Orthodox
Record – 39-0-0
KOs – 30 (77%)
Does Size Matter?
You will hear a lot said about the size difference between Spence and Garcia in the run-up to what is one of the biggest fights of the year.
Naturally, you have to factor in a number of these physical advantages in Spence's favor before placing your bets. After all, it's always difficult for a fighter to move up in weight, just as Garcia is doing.
Yes, he has experience moving up through the divisions, having fought and won titles at featherweight, junior lightweight, lightweight, and junior welterweight.
Sometimes, there is a limit to how high you can climb up the ranks.
Adrien Broner, who Garcia beat to a unanimous decision in July 2017, is the perfect proof of this. Broner, also a four-division world champion, struggled at welterweight, having looked impressive from super featherweight to junior welterweight.
Evidently, three of Broner's four losses were at 147, with the loss to Garcia at 140 pounds the only exception.
Of course, other fighters have followed a similar trajectory up through the lighter divisions before dominating at welterweight. The two greatest fighters of their era, Floyd Mayweather Jr. and Manny Pacquiao, were five-division and eight-division champions, respectively.
Yet, I haven't heard too many comparisons being made between Garcia and these two all-time greats.
Spence is the bigger, stronger man heading into this bout. We have established that. But will this be the dominating factor in this particular bout?
Let's take a look at the form of these fighters to see if we can identify a couple of clues.
Spence vs. Garcia – Recent Form
Both Spence and Garcia are in good form heading into this intriguing matchup.
Neither man has ever lost a professional bout, although it looks very likely that this will change on March 16.
Garcia, as mentioned earlier, is making his first appearance in the welterweight division.
Spence has adjusted well to life as a champion and will not be too keen on giving up his IBF welterweight title.
Let's break down the recent form of Spence and Garcia.
Errol Spence Jr.
In his last outing against the overmatched Carlos Ocampo in June 2018, Spence seemingly wanted to get the job done as soon as possible.
Ocampo, who was not a legitimate top 20 contender at the time, having fought mainly in Mexico, looked to control the distance against the champion but looked out of his depth from the first bell.
Whether "The Truth" had left the oven on at home or wanted an early shower is anyone's guess. However, he certainly made light work of the Mexican challenger, knocking him out with a thunderous body shot to stop the contest at the 3:00 mark of the first round.
Following the fight, Spence went against the narrative, claiming that he had wanted to go at least five rounds with Ocampo.
If the second defense of his world title was over in the blink of an eye, his first defense, against Lamont Peterson in January 2018, lasted a little longer (seven rounds, to be precise).
Spence claimed before the bout that Peterson was one of his favorite fighters and someone that he had "looked up to" in the amateurs.
Spence didn't really demonstrate this sentiment against Peterson, beating his body from the first bell before dominating him throughout the course of the bout.
The trainer of the visibly swollen Peterson, who looked mentally broken by the never-ending barrage of punches, stopped the fight.
These last two bouts were not major tests for Spence. Yes, he looked impressive in the title win over the former champion, Brook, in 2017. But come on. The Englishman had looked a shadow of the fighter he was before suffering severe damage against Gennady Golovkin the year before.
Prior to the title win, Spence knocked out Leonard Bundu and Chris Algieri, in the sixth and fifth rounds, respectively.
Although Spence is 5-0 in his last five, the only real test came against Brook, who didn't look anywhere near his best. That being said, Brook still dragged Spence to the 11th round.
His resume, in general, is nothing special. There is no doubt he is an excellent fighter, but Spence does need to step up and show the world what he can do against truly elite fighters in the prime of their careers.
Mikey Garcia
One of the big talking points in Spence vs. Garcia is the height difference between the two.
If Garcia has proved anything, it's that he can handle tall opponents. Even taller than Spence. In his last outing, the 5'6″ Garcia fought the 5'11″ Robert Easter in a lightweight unification contest in July 2018.
The height difference didn't affect Garcia, who quickly found his range and worked his way into a position where he could get his shots off. Despite Easter's 76″ reach dwarfing Garcia's at 68″, he found it hard to assert any dominance on the smaller man.
Garcia dropped Easter down with a left hook to the head in the third round, and from here, he didn't look to be bothered by his opponent's height and reach advantage at all.
From the midway point in the bout, Garcia was clearly the more dominant fighter and was leading in the punch stats.
By the end of the fight, Garcia had undoubtedly outboxed the taller, rangier man.
Prior to this bout, in March 2018, Garcia beat Sergey Lipinets by unanimous decision to become a four weight world champion. The Kazakhstani-Russian threw some heavy shots but was ultimately outclassed by Garcia.
The fight against Broner in May 2017 showed just how technically gifted Garcia can be, as he utterly dominated four-division world champion Adrien Broner with vastly superior punch stats. Broner did manage to land a lot of shots when Garcia was coming forward, but there was only one winner.
Further back, in January 2017, Garcia won the WBC lightweight title with an impressive knockout of title holder Dejan Zlatičanin of Montenegro.
This was preceded by a routine KO win over the relatively unknown Elio Rojas in June 2016.
Garcia is also 5-0 in his last five outings. His biggest test of these five was arguably against Easter, especially due to his height and reach disadvantages. Although Broner is the better-known fighter of these five, that was a bout Garcia was probably expected to win.
Who Has Looked Better Overall?
When comparing recent form, there doesn't seem to be much difference between that of Spence and Garcia.
That said, I think Garcia, having fought at both lightweight and junior welterweight, has shown more variety in different challenges. I think his caliber of opponents in Easter and Broner just about make his efforts more impressive.
In reality, the boxing world hasn't learned a great deal about either fighter in their last five bouts. Yes, you can only fight the opponents in front of you, but I haven't been greatly impressed by the matchmaking skills of those overseeing Spence's fights.
Even against Garcia, a man that is clearly smaller and not an established welterweight, Spence seems to be looking to capitalize on advantages, while avoiding some of the best talents at welterweight.
Spence vs. Garcia – Analysis
Would Mikey Garcia, a truly excellent boxer, take a fight he didn't believe he could win?
Well, that's just one of the big questions that those betting on Spence vs. Garcia will ask themselves. One thing is for sure — Garcia deserves a lot of respect for taking this fight against a bigger and more powerful man.
At the fighters' face-off in November, it was clear to see just how much of a difference in size there is between both men. It's understandable that this has been the major talking point of the fight.
You'll remember that I mentioned that Garcia has experience in fighting taller opponents with longer reaches — Easter is much taller and has a longer reach than Spence — but where Garcia does not have such experience is in dealing with the power that Spence can unleash.
As Garcia will have to find range early against Spence in order to stay in the fight, he must devise the right strategy to stand a chance.
Spence is not just a power puncher; he has excellent boxing fundamentals, and his mechanics are among the best in the welterweight division.
Although the IBF welterweight champion has power in both hands and is a patient and calculated puncher, he does tend to leave himself open when throwing shots. Especially hooks and body shots.
Garcia, as a smaller fighter, can certainly take advantage of this. The only problem for Garcia is timing. If he mistimes his movement, then he will run the risk of being knocked out.
Spence has the ability to flatten him. As such, I wouldn't completely rule out betting that this fight ends in a knockout for Spence, although it's not really something I personally believe will happen.
Spence's Best Chance of Beating Garcia
At the risk of exhausting the obvious, the size factor is in Spence's favor.
Additionally, he has more power than Garcia, who will likely have even less power at 147 pounds than he did in the lower weight divisions he is used to.
Weight classes exist in boxing for a reason, after all. Spence knows this and will certainly be confident of having a number of opportunities to showcase his supreme power.
As such, Spence will do what Spence does best — he will look to wear Garcia down with solid shots and combinations when he has him on the back foot. Keeping Garcia at bay with his strong jab will be key to building the momentum he needs to unleash the big shots.
Spence is a southpaw, too, which can cause Garcia issues. I believe we will see Spence switching from southpaw to orthodox throughout the fight to further challenge Garcia's ability to find range.
Errol Spence Jr. is a world-class talent that needs more exposure if he is to establish himself among the pay-per-view elite in the sport. Garcia is a big-name fighter, and a knockout or stoppage victory would be the ticket to a big surge in popularity.
His best chance of winning this fight is by finding rhythm with his jab and being ruthless yet controlled with that power. His sharp fight IQ and ability to cut the ring off could compound his advantages over Garcia come fight night.
Garcia's Best Chance of Beating Spence
Garcia got hit a lot against Adrien Broner when trying to find a way inside, and I believe he will have to do the same against Spence (take hits).
The first test for Garcia will be if he can stand up to Spence's power. He has never competed against a boxer who hits as hard; that is a certainty.
The second test will be finding range against a boxer that has an excellent sense of distance and a good defense. Although, as previously mentioned, Spence does have the habit of leaving himself vulnerable to counters at times.
Garcia is a patient boxer with a great ring IQ of his own. Fundamentally, he is a textbook fighter with a varied skillset. He is tough and durable, too. All of these attributes will need to be sharp and ready against a fighter like Spence.
One area I believe will be crucial in this fight is how successful Garcia can be with his jab.
Against Spence, he has a lot of work to do in order to penetrate his opponent's defense and find a way of establishing his rhythm against a taller and rangier southpaw.
Speed, timing, anticipation, and great footwork are nothing but crucial to Garcia's chances of winning this fight.
Is Garcia biting off a little more than he can chew? We will know on March 16.
Does he have a chance of winning this fight? Absolutely.
Spence vs. Garcia – Prediction
Errol Spence Jr. and Mikey Garcia are two outstanding fighters.
As such, we are in for a treat when that first bell rings at the AT&T Stadium in Arlington, Texas, on March 2016.
I have heard some ridiculous predictions online claiming that this fight won't go past a couple of rounds. While anything can happen in boxing, I can't see this fight ending in a brutal knockout for either fighter.
Garcia is, in my opinion, one of the purest boxers on the planet.
I have been a big fan of his for years and was delighted when his contract dispute with Top Rank was settled, which saw him return to the sport following years in the wilderness.
Spence, on the other hand, has the skills to establish himself as the best welterweight in boxing.
This matchup is so intriguing on account of each fighter's individual skill sets, but I can't help but err on the side of caution when it comes to betting on the outcome of the fight — Spence is just bigger and more powerful.
Boxing is a sport full of axioms and clichés. One of these sayings that I believe will ring true in this bout is "a great big man always beats a great small man."
Realistically, we don't have a welterweight fighting a light heavyweight here. Garcia will easily make the weight and look convincing at 147 pounds, I believe. It's just that boxing is a sport that comes down to inches, and Spence has them in his favor.
Although my heart says Mikey Garcia, my head says Errol Spence Jr.
I believe this one will go the distance, with Spence taking the decision by a few rounds. It's questionable as to whether there's much value in backing Spence at -450, but it's the best bet to make in my view.
PICK
Errol Spence Jr. to Win
-450