Entertainment Betting: Kardashian Baby Prop Bets You Need to Bet On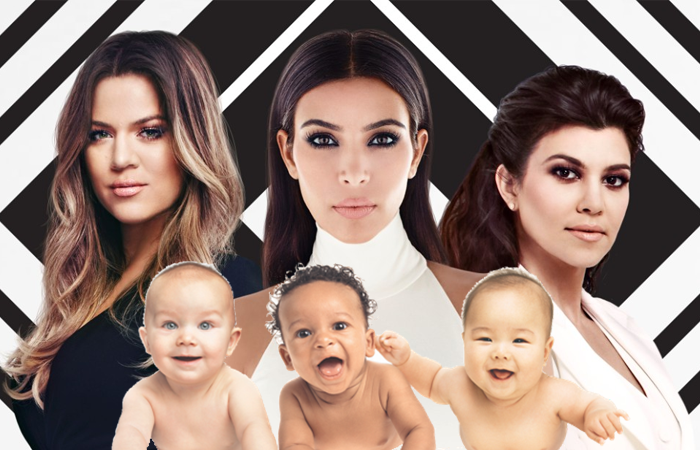 What is in the water in Los Angeles these days? Kidding aside, it's getting awfully difficult to "keep up" with the Kardashians lately, as three of the sisters in the family are slated to have babies.
Kourtney Kardashian and Kim Kardashian have long been submerged in motherhood (Kourtney has 3 children, Kim has 2), but fellow Kardashian Khloe and sister Kylie Jenner will also soon be adding to the family.
Kim Kardashian is having a third child via surrogacy, Khloe Kardashian will be having her first child with NBA boyfriend Tristan Thompson and Kylie Jenner is set to have her first baby with rapper boyfriend Travis Scott.
Needless to say, the baby betting floodgates have opened.
Kardashian Baby Prop Bets
I know, it's a crazy world we live in when we can hit up a sports betting site and find prop bets dealing with the Kardashian family. But while some people may scoff at it, we probably should actually be embracing it.
After all, do we actually care about the elite Hollywood fodder? No, but we still watch the shows and read about them in magazines. If we're going to live vicariously through their lives (even to a very small degree), we might as well profit from it, too.
I see you're with me so far. That, of course, doesn't mean we should be placing wagers on everything to do with these pregnancies, but it does crack the door open to a big payday if we make the right bets.
BetOnline is offering a slew of fun Kardashian baby prop bets and while they're all interesting, you may want to pick your spots. Regardless, let's walk through them all and see where our bets should be leaning:
Combined Sex of Babies
The first Kardashian/Jenner baby prop bet we can take advantage of at BetOnline is the sex of the babies, combined:
2 Boys, 1 Girl +225
2 Girls, 1 Boy +100
All Boys +3300
All Girls +300
It's worth noting that in all of the Kardashian and Jenner adults, just one (Rob) isn't female. Of the Kardashian kids, three are boys and two are girls.
If we're looking only at the Kardashian family, girls seem to be prominent. Kris Jenner, the mother of all of them, has six kids and five of them are female. With that in mind, an "all girl" bet at +300 is somewhat in play, but the 2 "2 girls, 1 boy" wager makes the most sense.
Pick: 2 Girls, 1 Boy +100
Whose Baby Will Be the Tallest?
It's tough to know how tall a baby is going to be when born, but logic suggests the Kardashian that's dating an NBA player wins out:
Kylie's +350
Khloe's -200
Kim's +425
That fact understandably puts Khloe and Tristan's baby as the leader here at -200 and considering the logic, the value isn't even that bad. Khloe herself is the tallest of her sisters and Tristan Thompson is almost 7 feet tall.
While that's a logical bet, we could always just aim high here and take the big money at +425 with Kim. It's not the safe bet, but it returns a lot of value.
Whose Baby Will Weigh the Most at Birth?
Again, we hate to take the easy route here, but Khloe is the tallest/biggest of her sisters and the father of her child trumps the other dads in size, as well:
Kylie's +400
Khloe's -200
Kim's +300
The odds reflect the logic here and there's little reason to go outside the box. We're Team Khloe on this bet, too.
Kylie Baby Gender – Boy or Girl
Gender reveal parties can be a ton of fun but it'll be even more exciting if we lay down some cash and get it right. We can wager on Kylie's baby being a boy or a girl:
We don't have much to go on here, other than Kardashian history probably favors it being a girl. Things can also balance out, though, while the obvious value is with betting on Kylie having a boy.
I'm either going "boy" here or just bypassing this particular Kardashian prop bet, altogether.
Kylie Baby Name – With a K?
Kris Jenner has named all of her girls a name that starts with the letter K, while son Rob is the only kid in the family with a name that doesn't have a K at the beginning. Will Kylie buck the trend?
Considering Kylie Jenner isn't even a Kardashian and sisters Kim and Khloe have already given their children names without "K", it's fair to assume the younger generation is doing their own thing.
We can't completely rule it out and that's obviously where the betting value lies, but our bet is on the "no" side. Ultimately, we're going "no" or avoiding this wager.
Tyga Will Tweet Congrats to Kylie
Kylie Jenner's split with rapper Tyga has been quite public and per Tyga, the baby isn't his. That remains to be determined, but it's still worth wondering if her ex-boyfriend will at least be civil and extend a congratulations on Twitter:
Tyga isn't really manning up here if the child is indeed his, but either way, we wouldn't rule out him at least reaching out with a congrats. It's the least he could do, right? With the value here, we'll aim high.
Kylie Jenner Baby Weight
The Khloe baby prop bets are a little easier, but with Kylie, we have very little to work with:
Over 7.5 lbs +105
Under 7.5 lbs -135
Kylie is smaller and Tyga is as well, should he, in fact, be the father. Either way, with such a tight line, we'll bet the Under.
Kim Baby Gender – Boy or Girl
Kim has already given birth to a boy and a girl and she will be trying for a third baby via surrogacy. The big question is, after having one of each, which side will baby number three fall on?
Again, the Kardashian family has been largely girls, so if we're going to get such tight money here, we'll stay the course.
Kim Baby Name – With a K?
Its possible mother Kris Jenner will finally harp enough to get Kim to name one of her kids with the family "K", but she hasn't through two birthings:
There is serious upside with the "yes" bet, but the Kardashians are becoming known for their weird baby names. I'm doubting we're getting anywhere with this wager.
Kim Baby Weight
Unlike Kylie, we can at least look back at Kim's first two babies and try to gauge the weight of baby number three:
Over 7.5 lbs -110
Under 7.5 lbs -120
North West weighed in under 5 pounds when born and her boy was also light after Kim gave birth well ahead of the due date. We can probably again roll with the Under here.
Khloe Baby Gender – Boy or Girl
Lastly, we're on to Khloe Kardashian baby prop bets and we can kick off the wagers with a boy or girl special:
We get even odds here so given the family history, we'll opt on the safe side and bet she's having a girl.
Lamar Odom Tweets Congrats
We love the value with Tyga tweeting out congratulations, but Lamar Odom seems like he has a better connection with his ex-wife. Clearly, Vegas agrees, as the same wager is much tighter when it comes to Lamar:
We're still getting solid value here and Lamar seems to have a better rapport with his ex than Tyga does. If we're down for the Tyga bet, we're certainly chasing the upside with Odom, as well.
Khloe Baby Name – With a K?
This one is a total toss-up, but if any of the Kardashians are going to keep the "K" trend going, I think it could be Khloe:
We really have no way of knowing, but I love the value here and unlike trendsetters like Kim and Kylie, I can see Khloe rolling with the naming logic her mother has in the past.
Khloe Baby Weight
Lastly, we get the baby weight bet for Khloe and Tristan. Vegas notes their size and obviously likes the Over here:
Over 7.5 lbs -300
Under 7.5 lbs +240
We can't deny the odds or logic. There is more value with the Under, but unless this baby is born prematurely, we don't see that happening.
We wish Kim, Kylie and Khloe nothing but the best during the pregnancies. Hopefully, everything goes well and they give birth to happy and healthy babies. We just hope we can all make a little extra cash in the process.