Odds and Predictions for England's 2022 World Cup Team

With just months until England's World Cup team lines up against Iran, the bookies are offering odds on who will star for the Three Lions in their opening match.
The English are blessed with an embarrassment of riches, with one of the strongest squads in soccer today. Not everyone will make the plane to Qatar, however. And for those that do, manager Gareth Southgate has a few selection headaches that must be addressed before their Group B opener against Iran on November 21.
The best soccer betting sites are offering odds on the England World Cup team to line out in that match. This allows fans to potentially make some money from England team predictions if they can accurately pindown who will play against Iran.
I'll make betting picks for the England team that plays against the Iranians and put together the likeliest team to line out at the Khalifa International Stadium in Doha.
If you're up for seeing my predicted England lineup for Iran at the 2022 FIFA World Cup and would like to bet on it, remember only to use the most trusted sites out there. The ones below are worth a look!
How We Rate

Safety & Security
You should be able to gamble online without fear. So we only recommend licensed sites that use the latest security and encryption techniques.

Bonuses
Maximize your bankroll with fantastic bonuses. Our recommended sites offer valuable bonuses with fair terms and conditions, including manageable wagering requirements.

Games & Betting
The best sites have the best wagering options. That's why you will find extensive games and betting opportunities on our recommended sites.

Banking
Getting your money to and from your account shouldn't be a hassle. We only recommend sites with a variety of convenient banking methods, including cryptocurrency and e-wallets.
Predicting England's World Cup Team Goalkeeper for Iran
Jordan Pickford (-300)
Aaron Ramsdale (+250)
Nick Pope (+500)
Dean Henderson (+2000)
Sam Johnstone (+2000)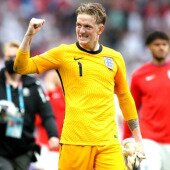 Betting on the England World Cup lineup? If so, starting with the man between the posts makes sense. As the bookies see it, Everton's Jordan Pickford is likeliest to get the nod. And I agree.
The 2022 England World Cup team to play Iran should feature the 28-year-old, who has amassed 45 appearances for the Three Lions since making his debut in a 0-0 friendly draw with Germany at Wembley.
Since then, the Washington-born stopper has become a staple of Gareth Southgate's side. He was selected to represent his country at both the 2018 FIFA World Cup in Russia and Euro 2020 in England, finishing in 4th and 2nd place in the tournament, respectively.
Pickford hopes to contain some of the best strikers on the planet in Qatar, with England expected to get through their group as winners.
However, it all started on November 21, and Southgate's talented side should not underestimate the Iranians. The same can be said for the United States and Wales. While none of those three feature players who could realistically win the FIFA Golden Boot, there is some class within all their Group B neighbors.
So, what does Pickford give us over any of the other keepers on this list? Is there something to be said for thinking outside of the box, pun unintended, before betting on England's World Cup side to play Iran?
Well, for a start, Southgate is a big fan of the former Sunderland man. Although Arsenal's Aaron Ramsdale is worth a look at odds of +250, it's tough to build a case for him usurping the number one choice in goals.
It would take something remarkable for any of the other men on this list to make England's starting XI for the 2022 FIFA World Cup opening game against Iran. The odds for Newcastle United's Nick Pope (+500), Nottingham Forrest's Dean Henderson (+2000), and Crystal Palace's Sam Johnstone (+2000) reflect this.
Should Pickford enter Qatar fit, healthy, and in form, the shirt is his.
Pick: Jordan Pickford (-300)
Betting on Who Starts for England in Defense Against Iran
John Stones (-800)
Harry Maguire (-500)
Reece James (-120)
Kyle Walker (-110)
Ben Chilwell (EVEN)
Trent Alexander-Arnold (+110)
Kieran Trippier (+188)
Ben White (+300)
Luke Shaw (+330)
Fikayo Tomori (+500)
Conor Coady (+1200)
Marc Guehi (+1400)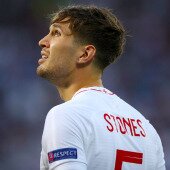 So, it's time to predict the England team to play Iran in the 2022 FIFA World Cup, where the defenders are concerned.
Again, the English are blessed in this department, with some top-class talent and in-depth enviable strength. But as you should be able to tell from the odds for England's World Cup defenders to start the first match on November 21, the center-back pairing of John Stones and Harry Maguire is nailed on.
Barring injuries, or anything wild that could legitimately be predicted, the Manchester City and Manchester United pair should cover the center-halve positions. Assuming Southgate will play a 4-3-3 formation against the Iranians — who fired head coach Dragan Skocic just four months out from the England match — it makes sense for a Stones-Maguire wall at the back.
I believe that we will see Southgate employ this formation against Iran. Most of the English defense is well-versed in this arrangement, making sense from a tactical perspective.
Southgate will indeed look to press the Iranians with four at the back, unlocking three world-class midfielders in the center of the park. This shape should make it more conducive when pressing the Iranians back from the get-go, ensuring that England controls the ball and, more importantly, use the formation as a platform to launch their attack.
Who Starts at Fullback for England Against Iran?
We've covered the center halves. So, let's make some betting picks for the 2022 England World Cup team's fullbacks.
It's a little tougher to nail these down. But what you must consider is that Southgate tends to gravitate to players he has trust in. He's a conservative manager and will likely be looking to play things safe so the English lads can get off to a positive start. Although fans might not want to hear this, I reckon the 57-cap defender-turned-manager would be happy with a 1-0 win in their opening game.
Will he play for that? I doubt that this team, up there with the betting favorites to win the 2022 FIFA World Cup, will be satisfied with that. But Iran has currently rated ahead of the likes of Japan, Serbia, Poland, Ukraine, South Korea, and Chile at 19th in the official FIFA rankings, and it is no joke.
England has been in a position of strength before in World Cups and has blown it. 2010 against the USA is a case in point. So reliability in defense is going to be paramount for Southgate's plans.
Even if that is the case, I'm expecting Kyle Walker and Ben Chilwell to get the fullback slots in a 4-3-3 formation. That means my defense predictions for the England team to play Iran are as follows.
John Stones (-800)
Harry Maguire (-500)
Kyle Walker (-110)
Ben Chilwell (EVEN)
Of those bets, I think Walker and Chilwell make for excellent picks.
Odds for England's Team to Face Iran – The Midfielders
Mason Mount (-450)
Declan Rice (-450)
Kalvin Phillips (-188)
Jude Bellingham (+150)
Jordan Henderson (+750)
James Ward-Prowse (+900)
Conor Gallagher (+900)
Emile Smith Rowe (+2000)
Harvey Elliott (+2000)
Curtis Jones (+2500)
Oliver Skipp (+3300)
Kiernan Dewsbury-Hall (+3300)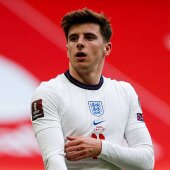 The midfield options are exciting to consider when making betting picks for England's team to start the 2022 FIFA World Cup.
There is so much talent to consider here. However, England fans might argue that the side's real source of strength is attack. Of course, star names will be absent under the midfield options here. That is because the likes of Phil Foden and Jack Grealish are considered attackers in these 2022 FIFA World Cup betting odds for England.
Anyway, who will grab those three spots in the center of the park on November 21? As you can see, the oddsmakers are leaning toward a somewhat predictable line-up here. But predictable doesn't have to come with a negative connotation. Within the contest of my England World Cup team predictions, it's a good thing. Some of the guys with shorter odds are among the first names on the list.
So, if you are building a team to beat Iran, some names stand out above others. With the odds for England vs. Iran available to gamble on with Betway, it's worth considering who will stand up and be counted when the first whistle is blown.
The first name the bookies see on the list is Chelsea's, Mason Mount. One of the standout players of the 2021-22 season, Mount could be a crucial ingredient in the success the English team could have this winter. No well-considered predictions for England to win the 2022 FIFA World Cup would be posed without a mention of him working some magic in midfield.
Assuming England's World Cup team to start against Iran lines out in a 4-3-3 shape, there are two more slots to fill with Mount taking one jersey. Without West Ham's Declan Rice's presence, I don't think we will see any 2022 World Cup squad for England. If he is fit, he should make the opener, too.
Finally, I'm going to look past Man City's Kalvin Philips to Borussia Dortmund's wunderkind, Jude Bellingham. I'm not contradicting what I said earlier about Southgate looking to employ a conservative approach and pick players he trusts to deliver. I genuinely believe Bellingham is one of the best in the squad, and I think he can do a better job for the English against Iran than Phillips.
My prediction and betting pick for the England team to face Iran, where the midfielders are concerned, can be seen below.
Mason Mount (-450)
Declan Rice (-450)
Jude Bellingham (+150)
Of all these choices, Declan Rice is probably the most likely to get the nod. Mount should also be in there, but Bellingham is a little more of a gamble.
All said, he's a good betting value at that price!
Predictions for England's Attack in the World Cup Opener
Harry Kane (-1400)
Raheem Sterling (-275)
Phil Foden (-120)
Bukayo Saka (+175)
Jack Grealish (+450)
Jarrod Bowen (+700)
Tammy Abraham (+1000)
Jadon Sancho (+1200)
Marcus Rashford (+1400)
Ollie Watkins (+2000)
Danny Ings (+5000)
Harvey Barnes (+5000)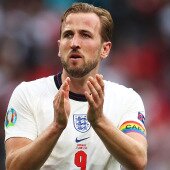 Finally, we move to picks for England's World Cup team in the attacking department.
I think the first name on the team sheet is captain Harry Kane. England's odds to win the World Cup in Qatar would spin out in any event of the Spurs legend not featuring in the tournament. Fans will hope they see the best out of their main man.
Kane failed to hit 18 goals in a season for just the second time, following a less than prolific campaign for Spurs in the 2021-22 window. Seventeen goals marked his worst return since 2018-19; it's worth noting that the Londoner played nine fewer games that year.
There's certainly no panic. Kane is a big game player and will be focused on serving the team with some vital goals in Qatar. As far as 2022 England World Cup team predictions and betting picks go, he's an absolute lock, if fit. However, I wouldn't be majorly keen on paying that price!
Alongside Kane, you can expect to see Raheem Sterling start as the second of three attackers in a tried and tested frontline.
Sterling, who recently joined Chelsea for upwards of £50m ($59m), will be another key cog in Southgate's machine in the Middle East. His speed will pose a problem and could help England create the chances to put him into contention for their first ever World Cup victory since 1966.
It certainly appears obvious that Kane and Sterling will have their jerseys under lock and key. But who will get the nod in the final slot? I've made some strong England World Cup team predictions for the first game against Iran, so let's finish with a bang.
Phil Foden is the last of my betting picks for England's team in the World Cup opening match. Again, this is not out of the left field. As you can see, the Man City youngster is ahead of Bukayo Saka (+175), Jack Grealish (+450), and Jarrod Bowen (+700) with the oddsmakers.
I can't see any of the top UK gambling sites or sportsbooks anywhere disputing his chances. Foden is another of Southgate's favorites, and he will be hoping to see his gaffer give him the game time he needs to become one of his country's most crucial stars.
A start against Iran would allow him to show that he can do it at a World Cup.
So, here are my England soccer team betting picks for the attackers who should start at the 2022 FIFA World Cup.
Harry Kane (-1400)
Raheem Sterling (-275)
Phil Foden (-120)
Predicted England World Cup Team to Play Against Iran
So, that's my picks for the England side to play Iran at the 2022 FIFA World Cup done and dusted. But before we move on, here's what I'm expecting the full lineup to look like.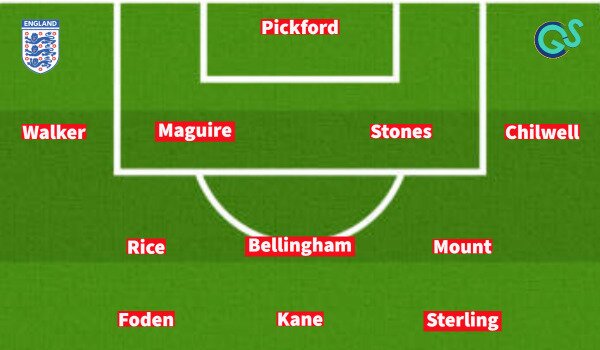 As you can see, we have Pickford starting in goal with Kyle Walker and Ben Chilwell taking the fullback jerseys. Harry Maguire and John Stones partner in defense, with a midfield trio of Declan Rice, Jude Bellingham, and Mason Mount in midfield.
Upfront is Harry Kane in the central role, with Phil Foden and Raheem Sterling offering support in the attack.
Would you call this potential England World Cup team for the opening match one that could lift the trophy? They are certainly considered one of the game's strongest sides right now. It would hardly be a shock if they went all the way, regardless of what your English mates would tell you!
None to rival the following upsets at the FIFA World Cup, for sure!
Can England's World Cup Team Go All the Way?
The England team to play Iran at the 2022 FIFA World Cup has a chance to make a mark on the tournament.
Whoever gets selected will have the golden opportunity to make an impression that could see them secure the jersey for as long as the English remain in Qatar. I'm confident that the team on November 21 will include many of my England picks for the opening match. But that depends on a clean bill of health and no sudden surprises interfering with the expected line-up.
Can England win the FIFA World Cup in 2022? Absolutely. I reckon they have an excellent chance of doing just that, given they can beat any team on their day. Results have been suspect as of late, but I wouldn't invest too much energy in those. You will see a much hungrier and more effective team hit the pitch in the opening game of Group B.
Due to this World Cup being unusually late in the calendar year, players still have the chance to force their way into the team via the domestic front.
That means that we should see a hyper-focused bunch of players desperate to make the plane to Qatar. That means more opportunities to bet on games that could really impress coaches and fans alike.
There will be plenty of action between now and November, of course. Alongside odds for the 2022 FIFA World Cup markets on the apps for betting on soccer, you will also find tons of other wagering opportunities to keep you going.
Ben has done a great job of previewing the 2022-23 EPL season and has even provided odds and insight to help you place some bets. I'd recommend checking out his piece if you want to get involved!
August
Casino of the Month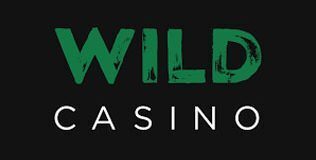 Welcome Bonus
250% up to $5,000