Eight of the Oldest Athletes in the Tokyo Olympics

Believe it or not, Oscar Swahn was 72 years and 281 days when he became the oldest Olympian of all time. After claiming three gold medals between 1908 and 1912, the Swedish shooter made history by winning silver in the 1920 Olympics.
Although Swahn's record isn't likely to be broken anytime soon, a host of veteran athletes will compete at Tokyo 2020 – some of whom are in their sixties!
In this piece, I look at eight of the oldest athletes in the Tokyo Olympics.
I haven't included all the veteran athletes at Tokyo 2020, as there are far too many to mention. Instead, I have chosen to feature a selection of notable athletes that look set to make an impact at this summer's Games.
Let's begin by checking out a 58-year-old table tennis legend.
Ni Xialian
Age: 58
Nation: Luxembourg
Sport: Table Tennis
All the way back in 1983, a 20-year-old Ni Xialian won gold in both the team and mixed doubles at the World Table Tennis Championships in Tokyo.
Just shy of three decades later, she will return to Japan's capital city to compete in her fifth Olympic Games.
Born in Shanghai, the vastly experienced paddler has represented Luxembourg since 1991, having moved to Europe in the late 1980s. Although she has yet to win an Olympic medal, her remarkable longevity must be admired.
Xialian is set to become the oldest table tennis player in the history of the Games. Even if she misses out on a podium spot this year, she can be proud of her achievements.
Nino Salukvadze
Age: 52
Nation: Georgia
Sport: Shooting
Nino is competing in her ninth Olympic Games; it is hardly surprising that Nino Salukvadze is one of the oldest athletes at Tokyo 2020.
The shooting veteran claimed gold in the 25-meter pistol event at her very first Olympics back in 1988. On top of that, she also picked up a silver medal in the 10-meter air pistol event in Seoul.
Between Barcelona 1992 and Athens 2004, Salukvadze went four Games without clinching a medal. However, she returned to the podium in 2008, securing bronze in the 10-meter air pistol event in Beijing.
Following a sixth-place finish at Rio 2016, the legendary Georgian will be eager to get back among the medals in Japan.
Carl Hester
Age: 54
Nation: Great Britain
Sport: Equestrian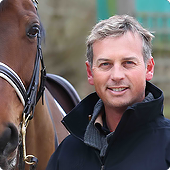 In 1992, Carl Hester became the youngest British equestrian rider ever to compete in the Games. Fast-forward to today, and the 54-year-old will be one of the oldest athletes at the Tokyo Olympics.
Hester was part of the Team GB outfit that sealed gold in the team dressage event at London 2012. Four years later, he won a silver medal in the same event.
Can he get back on the podium this year?
Well, Great Britain has won medals at both the Equestrian World Cup and World Equestrian Games since the last Olympics, meaning Hester stands a genuine chance of bolstering his silverware cabinet this summer.
Oksana Chusovitina
Age: 46
Nation: Uzbekistan
Sport: Gymnastics
At the ripe old age of 46, Uzbekistan's Oksana Chusovitina will make history as the oldest Olympic gymnast of all time when she touches down in Japan.
Thanks to a career spanning more than a quarter of a century, the ageless virtuoso is the only female gymnast to compete in seven Olympics. Oh, and she will take her tally to eight Games this year.
Chusovitina has also competed in an outrageous 16 World Championships, four Asian Games, and three Goodwill Games over the years, picking up countless medals along the way.
To this day, she holds the record for most individual medals in a single World Championship event, having scooped a whopping nine medals on the vault.
Chusovitina currently has two Olympic medals to her name. After winning gold at Barcelona 1992 and silver at Beijing 2008, she is far from finished.
Andrew Hoy
Age: 62
Nation: Australia
Sport: Equestrian
It seems crazy that one of the oldest athletes at the Tokyo Olympics was born in the 1950s, doesn't it?
Okay, Andrew Hoy isn't running the 100m sprint. Instead, he will compete in eventing (horse trials). But whatever the 62-year-old does in Japan, he should be recognized for his efforts.
Hoy isn't just heading to Tokyo to make up the numbers, though. With three Olympic golds under his belt, he will be confident of adding to his medal haul this summer.
The timeless Australian won team eventing gold at three straight Games between 1992 and 2000, triumphing in Barcelona, Atlanta, and Sydney. He also added an individual eventing silver to his record on home soil.
Pretty impressive for an old-timer, right?
ANDREW HOY – OLYMPIC GAMES RECORD
Olympics
Medals
Barcelona 1992
1 gold
Atlanta 1996
1 gold
Sydney 2000
1 gold, 1 silver
Mary Hanna
Age: 66
Nation: Australia
Sport: Equestrian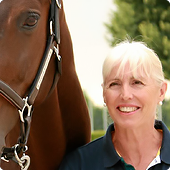 If you think Hoy is old, wait until you hear about one of his teammates! At 66, Mary Hanna will set a new record for Australia's oldest-ever Olympian this year.
Competing in her sixth Games, the dressage stalwart will be hoping to break even more records when she takes to the saddle in Japan.
Despite being born in 1954, Hanna didn't make her Olympic debut until 1996 – at the age of 42. Many Olympic athletes retire well before reaching their forties, but Hanna was just getting started.
If she makes her way to the top of the podium in Tokyo, she will be the oldest woman to win an Olympic gold medal.
Sinead Diver
Age: 44
Nation: Australia
Sport: Marathon
When Sinead Diver missed the 2016 Games through injury, she must have thought that she would never compete in the Olympics again. However, she has been given another chance to shine on the biggest stage of all.
Now, I know what you're thinking – Diver is only 44. The oldest Olympians at Tokyo 2020 are more than 20 years her senior, so what makes her so special?
Well, Diver won't be riding a horse in Japan; she's a marathon runner!
The Irish-born Australian only took up running in her thirties to get in shape post-pregnancy. But when she won the 2018 Melbourne Marathon, her dreams of competing at the Tokyo Olympics became very real.
Having shone at the past two London Marathons, Diver will fancy her chances of achieving something special this summer.
SINEAD DIVER – LONDON MARATHON STATS
Year
Time
Finish
2019
2:24:11
7th
2020
2:27:07
8th
Laurel Hubbard
Age: 43
Nation: New Zealand
Sport: Weightlifting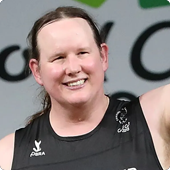 Not only will Laurel Hubbard be one of the oldest athletes at the Tokyo Olympics, but she will also become the first transgender athlete to compete in the Games.
The Kiwi weightlifter won silver in the +90kg category at the 2017 World Championships, notching a 124kg snatch and a 151kg clean and jerk in Anaheim. Two years later, she clinched gold at the Apia Pacific Games in the +87kg category.
Although question marks have been raised over Hubbard's participation at Tokyo 2020, the International Olympic Committee (IOC) changed its rules in 2015, allowing transgender athletes to compete as a woman if their testosterone levels are below a certain level.
The 43-year-old is now one of the favorites to win gold in the +87kg event at Tokyo 2020.
Final Word on the Oldest Athletes at Tokyo 2020
Ultimately, it is difficult to imagine Swahn's long-standing record ever being broken. I mean, the oldest Olympian of all time was 72 when he claimed shooting silver back in 1920.
Even if 66-year-old Hanna qualified for the 2024 Olympic Games in Paris, she wouldn't surpass Swahn as the oldest Olympian in history.
Still, you can't help but admire the oldest athletes at the Tokyo Olympics. They may not be in their prime, but they still have what it takes to compete at the very highest level.
At the opposite end of the spectrum, there are several seriously young athletes competing at Tokyo 2020. If you enjoyed this piece, make sure you check out the post below to learn about the youngest athletes at the Tokyo Olympics.