Hide Bonus Offers
| | | | | |
| --- | --- | --- | --- | --- |
| #1 | Bovada Sports | 50% Up To $250 | Visit Site | Bovada Sports |
| #2 | BetUS | 125% Up To $2,500 | Visit Site | BetUS |
| #3 | MyBookie | 100% Up To $1,000 | Visit Site | MyBookie |
| #4 | Everygame | 100% Up To $500 | Visit Site | Everygame |
| #5 | BetOnline Sports | 60% Up To $1,000 | Visit Site | BetOnline Sports |
Eight of the Best UFC Fights to Bet on in April 2021

If we're talking about the best sports promotion on the planet right now, it must be the UFC.
Dana White and co. continue to provide fans with elite action, and the menu over the next four weeks or so proves that the company is untouchable in the world of MMA.
If it's top-quality fights in the UFC to gamble on in April you are seeking, you won't need to look far to find them. Not far at all. In fact, I have handpicked the crème de la crème of bouts in the promotion and will be sharing them with you today.
Included in the top UFC fights to bet on in April 2021 is a triple-header of world title fights featuring Kamaru Usman, Valentina Shevchenko, and Zhang Weili, as well as an unofficial 'European middleweight championship' scrap.
Let's kick off the best UFC fights to wager on in April with the first card of the new month.
UFC on ABC: Till vs. Vettori
When: Apr 10, 2021
Where: UFC APEX, Las Vegas
Main Event: Darren Till vs. Marvin Vettori
There will be no real title on the line at UFC on ABC: Till vs. Vettori, also known as UFC Fight Night: Till vs. Vettori.
Well, no official strap, anyway. However, one of these men could bag themselves the unofficial European title and something even more attractive with the win.
There are three fights in total you should add to your list of best bets for April 2021.
Darren Till vs. Marvin Vettori
The first of the best UFC fights in April to bet on is the main event of Till vs. Vettori.
This middleweight clash features the #4 and #5 ranked 185-pounders in Till and Vettori, respectively, and could be an absolute barn burner. England's Till, a striker, meets Italy's wrestling maestro Vettori in a stylistic matchup that doesn't feel like it will let down.
Both are competing to face middleweight champ Israel Adesanya at some point, with Whittaker (#1), Costa (#2), and Cannonier (#3) either tied up in different fights or coming off recent losses to Izzy. That means that you can almost certainly call this a title eliminator.
There is no question that this one of the best MMA fights to wager on in April.
Nina Ansaroff vs. Mackenzie Dern
Let's coin this the "Battle of the Moms."
Ansaroff takes on Dern in a massive women's strawweight scrap on the Till vs. Vettori undercard. Both ladies are keen to fight for the title, and it should be competitive.
Not content with watching her wife Amanda Nunes beating the crap out of anyone in her path, Ansaroff clearly wants a piece of the action. And who could blame her?
Just six months on from giving birth to her and Nunes' daughter, "The Strina" is getting back into the cage. This will be her first bout since June 2019, when Tatiana Suarez brought her four-fight streak to a halt with a victory on the cards at UFC 238.
Dern is regarded among the best BJJ practitioners in the UFC. But recent performances have shown that it is more than her accent evolving over the past couple of years, with more focus clearly being paid to her striking output.
Despite giving birth to a daughter in June 2019, Dern returned to the Octagon that September and has won her last two in a row.
Dern vs. Ansaroff is a must for anyone looking to bet on UFC bouts in April.
Mike Perry vs. Daniel Rodriguez
Another new parent on the card is Mike Perry, who had a son with Latory Gonzalez in January.
Hopefully, the arrival of Perry Jr. will see more consistency from "Platinum" both inside and outside of the cage. Recent legal troubles and controversies involving the UFC welterweight haven't exactly warmed him to fans, but there is always hope that he can get himself on track for himself and his family.
So, Perry takes on Daniel Rodriguez, which could see some of the top UFC bets for April.
Like Perry, Rodriguez is coming off a loss in his last fight. There is no way he will want to drop an L to Perry, so he will be coming into the cage in stupid shape.
Expect a war.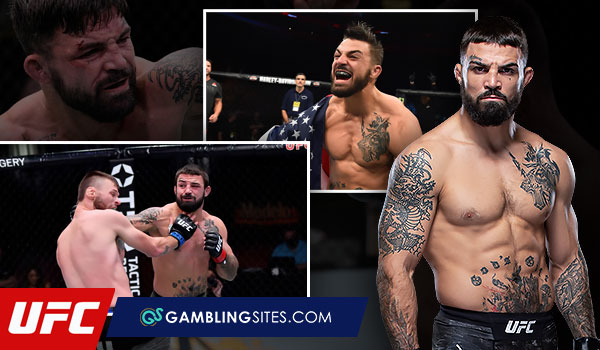 UFC on ESPN: Whittaker vs. Gastelum
When: April 17, 2021
Where: UFC APEX
Main Event: Robert Whittaker vs. Kelvin Gastelum
While this is not the most stacked event of all time, it does have a killer main event as well as a few other major bouts.
Let's start with the top of the bill scrap between two very hungry middleweights.
Robert Whittaker vs. Kelvin Gastelum
Sent back to 185-pounds with his tail between his legs, UFC middleweight king Israel Adesanya is now looking for future opponents.
As mentioned earlier, I would bet on the winner of Till vs. Vettori getting the next shot at "The Last Stylebender." As is standard with the UFC, that is no given. But logically, it makes the most sense.
However, if I were to pick the next title challenger at 185, it would be Robert Whittaker. If the Aussie can dispatch the tricky Kelvin Gastelum, he will be back at the top of the line of contenders. Whittaker lost the strap to Adesanya and has a right to push for a rematch with a win.
Although this fight is not part of the huge UFC 261 card, it will be very popular with bettors. Thus, it makes my list of the top UFC fights to gamble on in April 2021.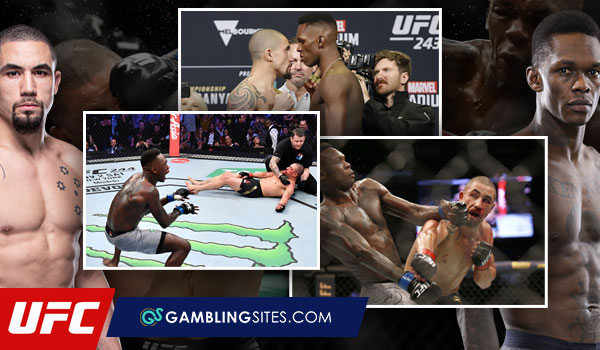 Drakkar Klose vs. Jeremy Stephens
Klose takes on Stephens in what should be an interesting fight.
Stephens embarked on 4a three-fight win streak between 2017 and 2018 that looked set to push him into title contention. That was until Jose Aldo TKO'd him on the undercard of Alvarez vs. Poirier 2 in July 2018. Since then, Stephens has a record that reads 0-4-1 NC.
Not ideal.
Still, we know that Stephens can bang. More than this, his other three losses came to Zabit Magomedsharipov, Yair Rodriguez, and Calvin Kattar, who are top-level guys. Is Klose on the same level? No, but he is no joke either.
Regardless, I'll be paying close attention to this one, as it is definitely among the best fights to bet on in the UFC this April.
UFC 261
When: April 24, 2021
Where: VyStar Veterans Memorial Arena
Main Event: Kamaru Usman vs. Jorge Masvidal 2
Prepare for UFC 261, because it's going to be monstrously good.
Regardless of you are new to wagering on the fights and are just learning how to bet on UFC matches, or are a seasoned MMA betting veteran, there is money to be made on this card.
Let's kick it off with the big 'un.
Kamaru Usman vs. Jorge Masvidal 2
Forget about this being one of April's best UFC fights to bet on. This is one of the best fights in the UFC to bet on this year.
Although I wasn't exactly buzzing to hear about the Usman vs. Masvidal rematch being made, I have started to come around to the idea. Betting on Usman fights in the UFC can be a profitable business, and the fight will undoubtedly be fun, too.
I'll be providing my predictions and pick for Usman vs. Masvidal 2 at a later date, so I won't get into anything too deep yet. But let's just say that I think this one could be the top UFC fight in April to bet on.
If I'm @GamebredFighter I'm waking up and starting each day by watching this incredible promo from the legend @TeddyAtlasReal. Goosebumps. 39 days until #UFC261 ?March 16, 2021
Valentina Shevchenko vs. Jessica Andrade
At this point, Valentina Shevchenko's strengths and weaknesses are well known.
But can Jessica Andrade find a way to overcome the challenges that the Kyrgyzstan-born technician will present to her at UFC 261 on April 24? Well, if there is a fighter that can topple Shevchenko at flyweight, the champion is yet to meet her.
If you are betting on MMA fights in April, make sure to get on this one. Whether you are gambling on Shevchenko to beat Andrade or vice versa, there will be plenty of wagers to place on the UFC's women's flyweight title scrap that will keep you entertained.
Will Shevchenko beat Andrade? As previously mentioned, I won't be making my picks today. But you can check out the odds for Shevchenko vs. Andrade and some early analysis.
Zhang Weili vs. Rose Namajunas
The third of three title fights at UFC 261 sees the indomitable Zhang clash with former strawweight champ Namajunas.
This was the fight to make at 125-pounds, and the promotion got it done. Contrast that with the world of boxing, where super fights are pie in the sky for the most part. But that's a discussion for another day.
China's Zhang last fought against former dominant strawweight titlist Joanna Jedrzejczyk. That fight goes down as the greatest in women's MMA and one of the best fights the UFC has ever staged. It had everything a fan would want and will likely be run back, if China's pride beats Namajunas.
The stylistic matchup makes this one a candidate for the UFC's best fights to bet on in April 2021. It should be an awesome fight that features two of combat sports' most accomplished female fighters.
If you're looking for UFC fights to wager on in April, this is another you cannot miss.
More Advice for Betting on UFC Fights in April 2021
You now know the best UFC fights to bet on this April. But what about where to bet on the fights?
I have you covered there, too. You can simply head over to our recommended UFC betting sites and get your bets down on the bouts. You will have access to plenty of appealing markets and bets, making a superb month for the fights!
As always, you can visit the UFC blog and UFC picks sections of our site for odds, best bets, predictions, picks, and more for the big scraps on the horizon. Check out what we have in store for you by visiting both sections.
That's just about it for now. But I'll leave you with some additional content to read that could help you win your bets on the UFC this April!
Enjoy the fights!