Hide Bonus Offers
| | | | | |
| --- | --- | --- | --- | --- |
| #1 | BetOnline Sports | 60% Up To $1,000 | Visit Site | BetOnline Sports |
| #2 | Bovada Sports | 50% Up To $250 | Visit Site | Bovada Sports |
| #3 | BetUS | 125% Up To $2,500 | Visit Site | BetUS |
| #4 | Everygame | 100% Up To $500 | Visit Site | Everygame |
| #5 | MyBookie | 100% Up To $1,000 | Visit Site | MyBookie |
Easy Super Bowl 2021 Prop Bets for Beginners

You have your foam finger at the ready, there are wings are marinating in the fridge, and you have enough beer on hand to keep an army unit satisfied through month's end.
There is only one thing left to do before the Super Bowl gets started…place your bets on the game!
However, you might not know how to do this, or which "lines," (various wagers available) to bet on.
This how to bet on Super Bowl 55 guide will help you get started, and I'm here with some more useful advice for beginners.
I highlight the easiest Super Bowl props bets for 2021 and explain what you need to know.
How a Prop Bet Differs from a Standard Bet
A standard bet—which team won, which team lost—is based on the outcome of the game (or boxing match, or Olympic fencing bout, etc.).
A prop bet is one that is based on various aspects of the game but is not dependent on the game's outcome.
Examples of Super Bowl prop bets include the color of a quarterback's headband, the team that is first to score a touchdown, the first buzzword said by newscasters, and how often Tom Brady's wife will be shown in the first quarter.
There is currently a prop bet regarding what color Miley Cyrus' hair will be on Sunday at the NFL pre-game TikTok event!
It's no surprise, given the varied and often whimsical nature of prop bets, that they have taken over the world of sports betting in terms of popularity and money laid down on wagers.
Here is a selection of Super Bowl prop bets that are simple to understand and easy to put money on.
Note: Just because these bets are simple and often self-explanatory does not mean they are only for newbie sports bettors. These are among the most frequently made bets of the Super Bowl, precisely because they are straightforward.
The Super Bowl Coin Toss
This may be the simplest bet you can make on the Super Bowl. Everyone is familiar with a coin toss (it's been used in football since the late 1800s), and of course you already know the two options: heads or tails.
You also know that every Super Bowl begins with a coin toss, in which the winner of the toss gets to decide if his team will kick or receive to begin the game.
But you don't even need to know that much information to make this bet. Just log onto a reputable online sportsbook and put some money down on heads or tails.
Then, when the game starts, keep a close eye on the coin toss and you'll have your answer within seconds.
This is one of my favorite bets to make, out of the hundreds of prop bets available, because if I make the bet, I know I'll be locked into the action on the screen from minute one.
Now that I make this bet consistently, I am never late—not even by a few minutes—to turn on the game or arrive at the watch party.
First Team to Score in the Super Bowl
This bet pulls you right into the on-field action. Every initial play will keep you focused, excited, and potentially richer.
Typically, the team that wins the toss chooses to receive, since the team that begins the game with a kick essentially just hands possession of the ball over to the other team.
Thus, the team that wins the coin toss has the best chance to score first. However, knowing this doesn't help you, because you can't know beforehand who will win the toss.
But if you bet on the coin toss to go to a specific team, such as the Chiefs, and then you can double down on that bet by also choosing them to be the first to score.
Alternatively, you can "hedge" your coin toss bet by betting on the opposite team to score first!
The Race to 15 Points
This simple Super Bowl prop bet could not be easier to understand. You can bet on either the Kansas City Chiefs or the Tampa Bay Buccaneers to be the first team to reach 15 points.
There are also bets on "first team to 20 points," "25 points," and a few more options. By the time you get to 40 points the odds become outrageous because those scores are far less likely to be achieved by either team.
Here is how the various "race to" odds look right now.
| | | |
| --- | --- | --- |
| Bet | Chiefs | Bucs |
| Race to 10 points | -140 | +105 |
| Race to 15 points | -150 | +115 |
| Race to 25 points | -110 | +180 |
| Race to 30 points | +120 | *250 |
| Race to 40 points | +385 | +760 |
Here is how to read these odds. Let's say you want to bet on a team to be the first to reach 25 points. If you bet $110 on the Chiefs, and they reach the score first, you'll win $100, which means $210 will be deposited into your account (your initial bet plus your winnings).
Because the minus sign is before the "110," it means your win will be 10% less than your bet. You'll almost double your money.
If you choose to bet on the Buccaneers to be the first to 25, you can bet $100 and you'll receive $180 in winnings, should they make that score first. Because there is a plus sign in front of the "180," you will win more than your bet…substantially more.
This bet can nearly triple your money—if you win.
Of course, you don't have to bet exactly $100. I am using this as an example. You can bet any amount over the sportsbook's minimum (usually $10 or $20).
Now that you know how to read the odds, here is an example of something so unlikely to happen that you can win massive money if you bet and it occurs!
| | | | |
| --- | --- | --- | --- |
| Bet | TD | Field Goal | Any Other Method |
| How the 1st Score Will be Made | -230 | +150 | +4500 |
As you can see, the experts are expecting the first score to be a touchdown. There is a smaller chance that it will be a field goal. But if it turns out to be a safety, then $100 can win you $4500!
Another way to points-related bet that's also one of the easiest Super Bowl prop bets to understand is the tea, with the most points at the end of first half.
Again, a pretty obvious wager. You can keep it simple and go with the experts' belief that you should bet on Chiefs, or you can bet on the underdog, which can gain you larger winnings.
Color of Gatorade Poured on Winning Coach
Believe it or not, there is big speculation around this every year. Orange tends to be the most common color of Gatorade served on the sidelines at the Super Bowl, and purple is the least frequently served.
If you think that scrutinizing the drinks being sipped by players on the sidelines sounds like a great time, by all means, place your wager!
If, like me, you become thirsty making your selection and would like a cocktail, there are several concoctions created especially for the Super Bowl.
Why Super Bowl Props are So Popular
If you haven't noticed, all of the above bets have one thing in common. They're fun!
How could these bets not be popular? Yes, we all care who wins the game, but we also want to wager on the color of the halftime singer's outfit.
It's all part of the wild excitement and offbeat thrill of this very special day.
(FYI: there is a movement to make the day after Super Bowl—now known as Super Bowl Monday–a national holiday. Apparently, so many school bus drivers call in sick with hangovers that day that it throws the system into disarray.)
How and Where to Place Super Bowl Bets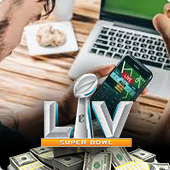 You have two options for sports betting. You can walk into an in-person sportsbook, if there is one in your town, or you can bet from home using online sportsbooks.
Although in-person sportsbooks are popping up around the US, millions are flocking to online sportsbooks for one simple reason.
Betting online, from home or on the go, is the easiest way to make a sports bet.
Sports betting in any significant way used to be very difficult to do. Of course, you could always wager a few dollars among your buddies in a casual setting (unless you were in Utah, Texas, or Georgia, where all gambling is deemed unsavory), but you would have to fly to Vegas if you wanted to put down any significant money.
That changed in 2018 when the US Supreme Court lifted the federal ban on sports betting. (Nevada was allowed to have sportsbooks because they were grandfathered in, existing before the federal ban was levied.)
Now, however, the sportsbook scene has changed dramatically. Fans who have wanted to bet on sports—including college ball, which used to be a big no-no—can now simply log on and place a wager at online sportsbooks.
And yes, you can now bet on college football and basketball, to the delight of college sports enthusiasts.
Some Encouragement and Advice in Closing
If you are new to sports betting, allow me to suggest you make several small bets, rather than one large one.
This way, you will have more moments in the game that are meaningful to you, personally. Furthermore, you can try out different odds, different types of wagers (betting on the play versus betting on the halftime show), and can spread the points of interest throughout the game.
Once you get a feel for which types of wagers you most enjoy, then you have your game plan going forward. And, since you will have already created accounts at one or more online sportsbooks or betting apps, wagering will take only seconds.
Now, you have a lifetime of sports excitement ahead of you.