Early Week 5 NFL Betting Lines (2021) – Odds and Analysis for Every Game

It's going to be difficult to top what we saw in week four of the NFL. Tom Brady's return to New England probably took the cake, but an overtime Jets win and an epic performance from Tyreek Hill had everyone entertained, just as well.
Come week five, there are still plenty of key matchups, as well as some compelling narratives.
The action gets started on Thursday Night Football, as NFC West rivals square off when the Seahawks and Rams wage war. Then the season's first NFL clash in London goes down, while a massive tilt on SNF between the Bills and Chiefs awaits.
And what about everything else in between? There is a lot to go over, and week five NFL odds may even change due to injuries and betting trends.
For now, join me for a head start as I break down the early NFL betting lines for week five.
Early NFL Odds for Week 5
Rams (-1) -112 vs. Seahawks (+1) -108
Jets (+3.5) -113 vs. Falcons (-3.5) -107
Eagles (+4) -110 vs. Panthers (-4) -110
Saints (-1) -110 vs. Washington (+1) -110
Titans (-4) -110 vs. Jaguars (+4) -110
Lions (+8) -110 vs. Vikings (-8) -110
Packers (-3.5) -105 vs. Bengals (+3.5) -115
Giants (+7.5) -114 vs. Cowboys (-7.5) -106
49ers (+4.5) -101 vs. Cardinals (-4.5) -119
Bills (+3) -110 vs. Chiefs (-3) -110
Colts (+7) -110 vs. Ravens (-7) -110
You may notice not all the week five NFL betting lines are included above. That's due to some NFL betting sites opting to wait to price games, but also due to lingering injuries.
Luckily, Nick Sterling covers all the bases in our week five NFL betting guide, so be sure to check that out.
For now, you can gauge which games are worth betting on right now based on early week five NFL odds.
Nothing is too egregious as far as huge lines, which could make for a competitive week. That also may make betting on the NFL successfully a bit more difficult than usual.
I'll do my best to get you headed in the right direction with this NFL odds breakdown. Join me as I go over the games currently boasting week five NFL odds and offer my insight.
Los Angeles Rams vs. Seattle Seahawks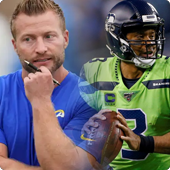 Rams (-1) -112
Seahawks (+1)
Over 54 (-105)
Under 54 (-115)
These NFC West rivals are heading in slightly different directions, as the Rams tasted defeat in 2021 for the first-time last week, and Seattle edged out the Niners in a must-win game.
Now we get a rivalry clash on a short week in Seattle.
The Seahawks showed a lot of heart last week, and now they have a chance to get to 3-2 and put themselves back in the NFC West conversation.
The week five NFL betting lines for this one are interesting, as the Rams started off at 3-0, and are undeniably the more star-studded squad.
Still, does anyone ever feel great about betting against Russell Wilson? The Seahawks stand out as the light home dogs, while the offensive firepower is enough to tempt me when it comes to the Over.
New York Jets vs. Atlanta Falcons
Jets (+3.5) -113
Falcons (-3.5)
Jets to Win (+160)
Falcons to Win (-180)
Over 43 (-110)
Under 43 (-110)
I don't think anyone expected the Jets to upset the Titans last week. Doing it in overtime as Tennessee missed a field goal is even wilder.
Here we are, though. Zach Wilson had easily his best game of the year, and you can't say his head coach didn't warn you.
"He's suffering every scar you can possibly imagine, but it's a good thing. It really is. When it clicks, everyone's going to see why he was the second overall pick. And it's just a matter of it clicking."
There is serious room for continued growth for Wilson, especially as he takes on a beatable Falcons defense in the league's first 2021 trip to London.
Atlanta showed signs of life offensively last week, but gave up 34 points to Washington in a brutal home collapse.
All things considered, this game total feels very light, and the Jets at +160 screams to me.
Green Bay Packers vs. Cincinnati Bengals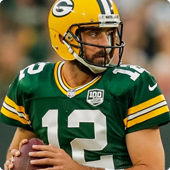 Packers (-3.5) -105
Bengals (+3.5) -115
Packers to Win (-175)
Bengals to Win (+155)
Green Bay suffered yet another key injury with star cornerback Jaire Alexander (shoulder) going down late in week four. The Packers won and got to 3-1, but at what cost?
The Packers will now possibly be without their top two offensive linemen, their best pass rusher, their offensive deep threat, and their best cover man.
Eventually, the burden will be too great.
Cincy seems to be a fun team on the rise, they're at home, and nobody gives them much of a chance. I love them ATS and as a ML upset here, and it'd only be more appealing if the price thickened.
Detroit Lions vs. Minnesota Vikings
Lions (+8) -110
Vikings (-8) -110
Lions to Win (+290)
Vikings to Win (-360)
Over 49 (-110)
Under 49 (-110)
The Detroit Lions are staring an 0-5 start in the face. Nobody is too shocked about that, but they have shown a rallying spirit at times this year, and they did nearly upset the Ravens in week three.
Minnesota lost a tough one at home against the Browns in week four, but unlike the Lions, they've been in every game so far in 2021.
The Vikings' superior talent and home field edge shine through here, but eight points for a divisional foe is still a lot to stomach. Minnesota should win, but the spread worries me a bit here.
New Orleans Saints vs. Washington Football Team
Saints (-1) -110
Washington (+1) -110
Over 44 (-112)
Under 44 (-108)
You just never know which version of the Saints you're going to get. In week one they smoked the Packers 38-3, but they're now 2-2 after losing at home in OT to the Giants.
New Orleans has the coaching and foundation of a playoff threat, but they seem to badly miss Michael Thomas.
They're a good pick to win here, though, and the price looks good on paper.
Washington looked great offensively in a win over the Falcons, but this is a much tougher matchup. I'd expect them to regress a bit, although the offensive upside does make this total feel a bit light.
Philadelphia Eagles vs. Carolina Panthers
Eagles (+4) -110
Panthers (-4) -110
Eagles to Win (+170)
Panthers to Win (-195)
Over 45.5 (-115)
Under 45.5 (-105)
The Eagles tricked us, as their defense looked pretty good through the first two weeks of the season. It's gone off the rails, though, giving up a combined 83 points in back-to-back losses.
Carolina suffered their first defeat of the year last week, but it was an understandable road loss against a red-hot Cowboys squad.
I am starting to trust Sam Darnold, although it's fair to wonder what the Panthers will be as they continue to play without stud rusher, Christian McCaffrey.
Things do appear to be trending in the right direction, of course.
Panthers running back Christian McCaffrey (hamstring) is out today, but he made the trip to Dallas. There's a chance he could return next week but maybe more likely in two weeks. He's on the field going through his stretching routine. https://t.co/exrodVpsUE

— David Newton (@DNewtonespn) October 3, 2021
Carolina is back at home, so they should be in a good spot to lick their wounds and get a win.
Philly could keep it close and mess with the spread, but the best bet at first glance is the Over.
Both offenses have explosive playmakers, and neither defense has impressed lately. Getting to 46 points doesn't seem like a stretch in this one.
Tennessee Titans vs. Jacksonville Jaguars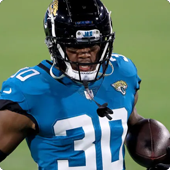 Titans (-4) -110
Jaguars (+4) -110
Titans to Win (-195)
Jaguars to Win (+170)
Over 49 (-110)
Under 49 (-110)
This is another spot where the game total stands out immediately. Tennessee's defense remains bad in 2021, and Jacksonville's isn't much better.
Jacksonville is off to a winless start, but they're undoubtedly hungry for a win, and their offense is really starting to come around.
James Robinson is specifically blossoming with the coaching staff committing to getting him the ball, and it's only aiding Trevor Lawrence's development.
Tennessee is still the better team here, so they do stand out at -4 and -195. They offer solid value for a team that could be getting healthier with their top two wide receivers hopefully working their way back to the field here.
New York Giants vs. Dallas Cowboys
Giants (+7.5) -114
Cowboys (-7.5) -106
Giants to Win (+280)
Cowboys to Win (-350)
Over 51 (-110)
Under 51 (-110)
Jason Garrett gets a crack at revenge in week five, as the New York offensive coordinator faces the team he used to coach in Dallas.
I don't think that narrative will matter much, but the Giants just knocked off the Saints in a clutch road win for their first win of the season.
That's no small feat, but it's especially worth noting for a talented team that has been pretty competitive all season long.
If you're a believer in New York's upside, you may want to hop on the Giants at +7.5. It isn't that the Cowboys aren't legit (they are). Division games can just be wonky, and the 1-3 Giants might be a little better than their record.
Of course, the 51-game total feels rather palatable given the 'Boys offensive upside. This could easily turn into a bit of a shootout, potentially giving bettors two viable routes to a win.
San Francisco 49ers vs. Arizona Cardinals
49ers (+4.5) -101
Cardinals (-4.5) -119
49ers to Win (+195)
Cardinals to Win (-225)
Over 53 (-110)
Under 53 (-110)
This is easily one of the toughest week five NFL betting lines to wrap my head around.
It probably was already going to be tough to gauge as an NFC West battle, but now the undefeated Cardinals face the Niners without their starting quarterback.
#49ers Jimmy Garoppolo gets emotional saying "it's old" getting injured again.
Anticipates being out couple weeks with calf issue, doesn't think it's a ruptured Achilles pic.twitter.com/ktyKqeo42t

— Cam Inman (@CamInman) October 4, 2021
San Francisco faithful probably don't mind, but with Trey Lance there are uncertainties.
The athletic Lance offers big-play upside, but he's still a raw rookie that doesn't have much experience. This is probably a good spot to hammer Arizona across the board, but the Cardinals put a lot of points on the board, and the 49ers will be tasked with keeping up.
I'd jump on the Over early in the week before it inflates, but the Cardinals should also be able to cover this spread.
Buffalo Bills vs. Kansas City Chiefs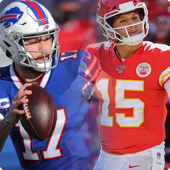 Bills (+3) -110
Chiefs (-3) -110
Bills to Win (+135)
Chiefs to Win (-155)
Over 57 (-110)
Under 57 (-110)
This is easily the biggest game of the week. It's also possibly one of the toughest to figure out. Obviously based on the star power and offensive ability, the Over feels like a home run.
Of course, bettors need to consider that this Buffalo defense has pitched two shutouts on the year.
The Bills won't shut the Chiefs down, though. Patrick Mahomes and co. got creative while they lit up the Eagles to get back to .500, too, and they know they can't let their guard down against a potent Buffalo offense.
The Over has appeal right off the bat, as both offenses are top-5 in scoring right now.
You can go that route, but the Bills are also very attractive ATS and as straight up dogs.
They're simply the more balanced and more dominant team right now, and that isn't something bettors should swipe to the side just because the Chiefs are the Chiefs.
Indianapolis Colts vs. Baltimore Ravens
Colts (+7) -110
Ravens (-7) -110
Colts to Win (+265)
Ravens to Win (-315)
Over 48 (-105)
Under 48 (-115)
The last set of week five NFL betting lines comes from this week's Monday Night Football tilt. It was supposed to be a fun matchup, but Indy is just 1-3 through four games.
Carson Wentz hasn't been great for the Colts, but they did win last week. They also finally got Jonathan Taylor going.
Jonathan Taylor: Eclipses century mark in win https://t.co/89lKLNFnvs

— RotoWire⚡ (@RotoWire) October 3, 2021
The Colts stepped it up defensively, too, but this complete effort came against a 1-3 Miami team that is without their starting quarterback.
Baltimore is a much tougher assignment. Lamar Jackson is coming off of an efficient win against a seemingly stout Broncos defense, and this team is on fire with three straight wins.
I tend to think they keep it rolling under the bright lights at home, but I will admit the 7.5-point spread feels a bit steep against a hungry Colts team that knows how to defend.
Betting on the NFL in Week 5
Most weeks you can take a lot away from the early NFL betting odds. Going into week five, things are priced rather tightly.
Most situations I'd label as advantageous for bettors still don't have overly appealing prices.
That said, Arizona feels a tad disrespected despite likely going up against a rookie quarterback, the Jets could be steals in London against an equally suspect team, and the Bills feel like really fun underdogs in a tense setting.
I am sure there are other spots to target, but those are probably my favorites after looking at the early week five NFL betting lines.
Be sure to check out our week five NFL betting guide when it goes live, and also hit up our picks and blog.
September
Casino of the Month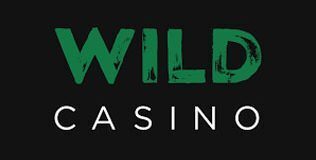 Welcome Bonus
250% up to $5,000