Early Week 4 NFL Betting Lines (2021) – Odds and Analysis for Every Game

Another week of NFL action is in the books. Last week was a bit problematic for sports bettors, seeing as a slew of big names dealt with injuries.
Tua Tagovailoa and a few others ended up sitting out, Christian McCaffrey got hurt, and other players played at less than 100%.
Player health can really impact how you bet, and it also can impact early NFL betting lines. That's why it can be helpful to inspect the early NFL odds and assess whether or not it's advantageous to bet on games right away.
Whether you're ready to place bets or not, this early NFL odds breakdown hopefully gets you headed in the right direction each week. Let's dive right into it, assessing the early week four NFL betting lines.
Early NFL Odds for Week 4
Jaguars (+7.5) -115 vs. Bengals (-7.5) -105
Washington (+1) vs. Falcons (-1) -108
Lions (+3.5)-125 vs. Bears (-3.5) +105
Titans (-7.5) -110 vs. Jets (+7.5) -110
Browns (-1) -110 vs. Vikings (+1) -110
Colts (+1.5) -110 vs. Dolphins (-1.5) -110
Panthers (+4) -115 vs. Cowboys (-4) -105
Giants (+8) -110 vs. Saints (-8) -110
Chiefs (-6) -110 vs. Eagles (+6) -110
Texans (+17) -120 vs. Bills (-17) +100
Cardinals (+6) -110 vs. Rams (-6) -110)
Ravens (+1) -105 vs. Broncos (-1) -115
Buccaneers (-6) -115 vs. Patriots (+6) -105
Raiders (+3) -101 vs. Chargers (-3) -119
BetOnline has odds out earlier than anyone, and with week four of the 2021 NFL season starting in a matter of days on TNF, the clock is ticking.
Jacksonville goes into Cincy as touchdown underdogs, but that line feels appealing right off the bat. The Bengals are at home and are 2-1, but the Jags nearly took down Arizona for a second there, and this is still the Bengals we're talking about, right?
Other notable week four NFL betting lines that stand out are the Bucs at -6 and the Texans at +17.
Tom Brady returns home in what is undeniably one of the best NFL games to bet on in week four, but who knows Tom Terrific better than his old coach? And I get the Texans are bad and the Bills seem to be back to form, but 17 points is about as outlandish as point spreads can get.
This is just my knee-jerk reaction, of course. Let's go over all the early week four NFL odds and assess how you may want to approach these games at the top NFL betting sites.
Note: Odds were not out for the Packers and 49ers at the time of this writing.
Jacksonville Jaguars vs. Cincinnati Bengals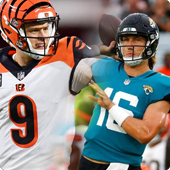 Jaguars (+7.5) -115
Bengals (-7.5) -105
Jaguars to Win (+280)
Bengals to Win (-350)
Over 45 (-110)
Under 45 (-110)
The first game of the week could go either way as far as entertainment offerings. Cincy is off to a surprising 2-1 start and should be the rightful favorites at home, but just how good are they?
Jacksonville, meanwhile, were quite competitive with a good Cardinals team last week. They probably can't be trusted to pull off the road upset on a short week, but +7.5 against a Bengals team that isn't elite is a bit of a head scratcher.
You're not betting on the Bengals' -350 moneyline, either. My guess is this line ends up tightening a tad, so if you're going to bet on the Jags to keep it close, now is the time.
Washington Football Team vs. Atlanta Falcons
Washington (+1) -112
Falcons (-1) -108
Over 48 (-110)
Under 48 (-110)
This honestly feels like a great game to avoid. Washington was supposed to field an elite defense, but it's looked rough through three weeks.
It's quite possible a date with Matt Ryan and the Falcons cure what ails the Football Team, of course. Matty Ice looks rather washed, and the Dirty Birds have struggled offensively so far in 2021.
Atlanta is notoriously bad in would-be explosive shootouts, as well. This game total feels trappy, and my first inclination is to hammer the Under.
That said, it's tough to feel great about either side, and this game is basically priced as a pick'em. I side with Washington just because their rushing and defense offer more upside, but I'd likely just leave this game be if I can help it.
Houston Texans @ Buffalo Bills
Texans (+17) -120
Bills (-17) +100
Over 48 (-110)
Under 48 (-110)
Houston isn't worth broaching here. Yes, the moneyline (once it ultimately drops) will be mouth-watering, but I don't trust Davis Mills and his long neck to stage the upset.
The Texans have been surprisingly competitive in 2021, but their coaching has been abysmal in spots, and they just don't have the talent to hang with the Bills.
Buffalo's defense has been lights out this year, and Josh Allen finally got his mojo back.
358 passing yards
4 TDs
0 INT
1 rush TD
Am I in love with the Bills as 17-point favorites? No, but this offense is crazy explosive, so the Over isn't the worst play. Sadly, like a couple of other games to start off my week four NFL odds breakdown, this game is likely one best left avoided.
Detroit Lions vs. Chicago Bears
Lions (+3.5) -125
Bears (-3.5) +105
Lions to Win (+150)
Bears to Win (-170)
Over 43.5 (-112)
Under 43.5 (-108)
Oh, my. Where does one begin? Do I start by pointing out that Justin Fields had one of the worst rookie quarterback debuts of all-time, or that the Lions are officially the unluckiest team in existence?
JUSTIN TUCKER ARE YOU KIDDING ME.

NFL-RECORD 66-YARD KICK FOR THE WIN ???

(via @NFL)
pic.twitter.com/J01TL9DPNc

— Bleacher Report (@BleacherReport) September 26, 2021
Nobody would blame the Lions or Justin Fields if both crawled into a hole and never emerged. Their week threes were collectively that bad.
Still, the Bears are at home, they'll hopefully game plan better, and Detroit has the "we almost beat the Ravens" feather they can stick in their cap.
I think both teams can make you regret even considering putting money on them, but the Lions at +3.5 does stand out. I also don't hate them as a +150 underdog, because both teams are bad, and somebody has to win.
Carolina Panthers vs. Dallas Cowboys
Panthers (+4) -115
Cowboys (-4) -105
Panthers to Win (+175)
Cowboys to Win (-205)
Over 50 (-110)
Under 50 (-110)
I push out my look at the early NFL betting lines before MNF each week, so keep in mind we don't yet know what will happen between the Cowboys and Eagles.
That could be important, seeing as Dallas will be playing host against an undefeated Panthers team. Carolina's defense seems fairly legit, and they seem to have a rather dynamic offense.
What they don't have – at least for now – of course, is a healthy Christian McCaffrey.
Carolina won't stay undefeated forever. They're a fine try with this spread, but Dallas is very explosive, and they're tough to beat in Texas. I like the Cowboys and the Over when looking at the early week four lines for this one.
Indianapolis Colts vs. Miami Dolphins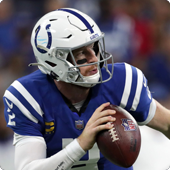 Colts (+1.5) -110
Dolphins (-1.5) -110
Colts to Win (+105)
Dolphins to Win (-125)
Over 43.5 (-105)
Under 43.5 (-115)
Carson Wentz gets a tip of the cap for gutting out two sprained ankles, but he and his Colts couldn't get the job done against the Titans in week three.
Indy may already be looking at a lost season after an 0-3 start, which means this road tilt against the Dolphins is a must-win spot.
The Colts still have enough talent to potentially right the ship, but they'll face a former scorned teammate in Jacoby Brissett.
This one will probably be ugly (I like the Under), but the Dolphins should take care of business at home to get back to .500.
Cleveland Browns vs. Minnesota Vikings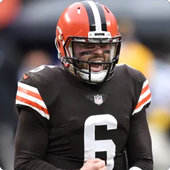 Browns (-1) -110
Vikings (+1) -110
Browns to Win (-119)
Vikings to Win (-101)
Over 52.5 (-112
Under 52.5 (-108)
The Browns haven't done it in pretty fashion, but they're 2-1 and are tied for first place in the AFC North.
If Baker Mayfield can bring his A-game in a plus matchup with the Vikings, they could be all by themselves atop the division by week's end.
Cleveland head coach Kevin Stefanski knows the Vikings better than anyone, and his offense is perfectly capable of dominating this matchup.
On the flip side, the Vikes could again be without Dalvin Cook, who sat out their week three win.
The Browns at -119 pops here, while the total also feels a bit high given the style Cleveland tends to play.
New York Giants vs. New Orleans Saints
Giants (+8) -110
Saints (-8) -110
Giants to Win (+295)
Saints to Win (-365)
Over 43.5 (-110)
Under 43.5 (-110)
The Giants couldn't beat Washington or Atlanta, so it's probably official (once again) that they're just not any good.
Daniel Jones face planted in a winnable spot last week, and it gets immensely more difficult on the road against a good Saints defense.
Sean Payton has outclassed two elite coaching minds in three weeks, and his only loss is to a Panthers team nobody has beaten yet.
New York is likely in trouble here, but I'll admit the spread is tricky. Despite their limitations, the G-Men have at least been competitive, and when you're 0-3, you enter desperation mode.
I don't doubt the Saints win at home, but the spread feels a tad thick. The game total is stuck in no man's land, too. This may be a spot to avoid in week four.
Tennessee Titans vs. New York Jets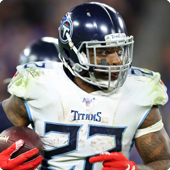 Titans (-7.5) -110
Jets (+7.5) -110
Titans to Win (-350)
Jets to Win (+280)
Over 45.5 (-107)
Under 45.5 (-113)
The Jets appear to be totally lost. I liked the hire of Robert Saleh as their head coach, but he inherited a dysfunctional franchise, and they're not helping rookie quarterback Zach Wilson enough.
New York isn't doing much right these days, and now they need to stop Derrick Henry.
That probably won't go well.
Based on everything we've seen; the Titans are a smash play for bettors in week four. It'd take something wild for New York to beat this spread, but given Tennessee's shaky defense, I think the Over is a very close secondary bet.
Kansas City Chiefs vs. Philadelphia Eagles
Chiefs (-6) -110
Eagles (+6) -110
Chiefs to Win (-260)
Eagles to Win (+220)
Over 54.5 (-108)
Under 54.5 (-112)
This is going to be a weird game to project, just because we don't even know who will or won't be on the sidelines. I'm referencing the status of Andy Reid, who had a health scare after KC's loss to the Chargers in week three.
Chiefs' coach Andy Reid was transported by ambulance to a local hospital following Sunday's game. A source close to Reid told @espn and @JeffDarlington that the Chiefs' HC was in good spirits when he departed for precautionary observation after he felt ill.

— Adam Schefter (@AdamSchefter) September 26, 2021
I don't doubt the Chiefs can win without Reid, but he is the heart and soul of this team. Betting against an emotionally charged Kansas City squad is likely ill-advised, of course.
Suddenly 1-2, the Chiefs are in must-win territory, so I like anything to do with them. I also love the Over, as the Chiefs can put up points and their defense has been horrendous to start 2021.
Arizona Cardinals vs. Los Angeles Rams
Cardinals (+6) -110
Rams (-6) -110
Cardinals to Win (+227)
Rams to Win (-267)
Over 53.5 (-110)
Under 53.5 (-110)
Hammer the Over before the price goes up. That's the first thing to get out of the way, as both of these offenses are churning out 30+ point efforts in their sleeper.
Matthew Stafford was on another level last week, but look at the heater Cooper Kupp is on.
Week 3: 9-96-2
Week 2: 9-163-2
Week 1: 7-108-1
Kupp is just one guy on a loaded Rams offense, too. I really like the upside with Arizona, regardless, as they're a nice ATS play thanks to a thick spread, and their +227 price as a straight up underdog is also enticing.
You don't need to predict who wins to make money here, though. As I said, this game is going to feature all the scoring.
Baltimore Ravens vs. Denver Broncos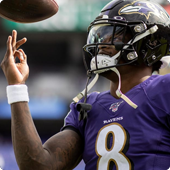 Ravens (+1) -105
Broncos (-1) -115
Over 45 (-105)
Under 45 (-115)
The Ravens got considerably lucky in week three, as they only put up 17 points against a bad Lions team and needed the luckiest kick in NFL history to escape with a win.
Still, they have Lamar Jackson, who could easily dominate this game in Denver.
The Broncos could very well be the league's worst 3-0 team. They have a balanced offense and what looks to be an elite defense, but they also haven't really played anyone.
It's nice that they're beating up on the Giants, Jaguars, and Jets, but their offense isn't scary, and this will be the defense's first true test.
The better team should win out here. Baltimore at +1 is gross, and I'd be all over it as soon as possible.
Tampa Bay Buccaneers vs. New England Patriots
Buccaneers (-6) -115
Patriots (+6) -105
Buccaneers to Win (-255)
Patriots to Win (+215)
Over 49 (-110)
Under 49 (-110)
They say you can never really go back home, but Tom Brady will try in week four.
It's certainly a drama-rich game, and it's only fitting the NFL has found a way to get it on primetime TV.
Brady and his Bucs lost to the Rams last week, but this serves as a possible rebound game for a team Brady knows all too well.
Belichick's history and knowledge of Brady does aid him, while the Pats have a solid defense and will be at home.
Perhaps bettors should play it safe, but the Bucs feel like a steal across the board here. Brady will undoubtedly shine in this setting, and it's awfully hard to envision Tampa Bay falling to 2-2.
Las Vegas Raiders vs. Los Angeles Chargers
Raiders (+3) -101
Chargers (-3) -119
Raiders to Win (+155)
Chargers to Win (-175)
Over 52.5 (-108)
Under 52.5 (-112)
Hats off to the NFL schedule makers, as they once again are capping off a wild week with some killer primetime affairs.
I doubt this tops the SNF game from the night before, but this is about as tense of a MNF game as you're going to get. The undefeated Raiders hope to get to 4-0 here, while the Chargers just took down KC and can move into first place in the AFC West with a win, potentially.
It's going to be a wild game, and it features two explosive offenses. I love the Over here, but I don't have a lean for how to bet elsewhere.
L.A. and Las Vegas are both notorious for shooting themselves in the foot. Perhaps just go with the superior value, which is undeniably the perfect Raiders at +155.
Betting on the NFL in Week 4
The whole point of taking an early look at the week four NFL betting lines to do two things. First, to have a frame of reference to get the week rolling.
Later in the week, Nick Sterling looks at NFL betting trends and major line movement. That will help you see glaring differences when it comes to altered odds, or how other bettors are looking at games.
The second thing is that an early look at NFL odds can reveal bets too good to bypass. You won't be able to get the same odds Wednesday or Friday that you can right at the beginning of the week.
What you choose to do with the early odds and analysis is up to you. For extra help throughout the week, hit up our NFL betting picks section.
September
Casino of the Month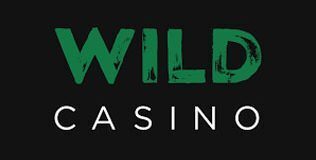 Welcome Bonus
250% up to $5,000