Early Week 13 NFL Odds (2021) – Betting Line Analysis and Insight

The NFL has been a bit of a mess in recent weeks. Things are being turned upside down, elite teams are sputtering out of control, and it's okay if you're not sure what to make of it.
The Los Angeles Rams lost for a third game in a row. New England looks like a title threat. The Titans have lost their hold on the AFC. And nobody knows what to make of the Cowboys.
Each week brings a new wrinkle to a completely unpredictable 2021 NFL season, and it makes it tough to feel good about your bets. Luckily, there are some spots worth targeting each week, and a key piece to the betting process is figuring them out before the lines adjust.
Injuries, matchups, and public betting can alter the way things play out at the top NFL betting sites. My early look at the initial NFL odds just might help you finish in the green.
With that, let's dive into the week 13 NFL schedule, taking a look at the odds available for each game going into Monday.
Early NFL Odds for Week 13
Cowboys (-6) -113 vs. Saints (+6) -107
Vikings (-7) -107 vs. Lions (+7) -113
Cardinals (-7) -116 vs. Bears (+7) -104
Buccaneers (-10) -110 vs. Falcons (+10) -110
Colts (-8) -110 vs. Texans (+8) -110
Eagles (-7) -110 vs. Jets (+7) -110
Chargers (+2.5) +105 vs. Bengals (-2.5) -125
Giants (+2.5) -105 vs. Dolphins (-2.5) -115
Football Team (+2.5) -110 vs. Raiders (-2.5) -110
Jaguars (+13.5) -110 vs. Rams (-13.5) -110
49ers (-3) -105 vs. Seahawks (+3) -115
Broncos (+9.5) -110 vs. Chiefs (-9.5) -110
Patriots (+3) -104 vs. Bills (-3) -116
What a week in the NFL we have ahead of us. The odds above are courtesy of BetOnline, and by the looks of it, we have a very wonky slate coming.
Anytime you see multiple games with a 2.5-point spread or a spread with +105 odds attached to it, you know things are about to get weird.
On top of that, nine of the week 13 NFL matchups have a 7-point spread or tighter. That's not exactly a thin margin to work around, of course.
Perhaps it's a bit more telling to note that seven of this week's games (that presently have odds) have a 7-point spread or greater.
Two of this week's spreads are especially daunting. The Rams are massive favorites after losing three straight. They're at home against the 2-9 Jags, but still.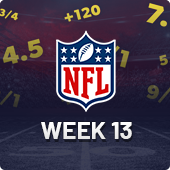 Tampa Bay is the other big favorite. They're expected to win by 10 when they battle the rival Falcons. Atlanta has been bad, but they did rediscover a pulse with Cordarrelle Patterson back in the fold.
It could be a tough week to get a lot of bets right. Ultimately, it may be more about selecting the right wager, and also knowing which games to just leave alone.
My goal is to help you with your initial week 13 NFL betting process. Let's take a closer look at every week 13 NFL game that has odds and see what the best options appear to be.
Dallas Cowboys vs. New Orleans Saints
Cowboys (-6) -114
Saints (+6) -107
Cowboys to Win (-245)
Saints to Win (+205)
Over 47.5 (-105)
Under 47.5 (-115)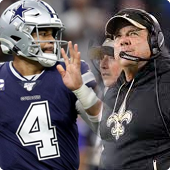 The first game of week 13 goes down in New Orleans on a short week. Dallas has dropped their last two games, while the Saints are in free fall mode with four straight defeats.
Talent is the key differentiator here. The Cowboys have been dominant and lifeless depending on the week, but they absolutely have the players to make some serious noise.
New Orleans probably needs to make a switch at quarterback, or at least get Alvin Kamara back. The latter would help, but I don't think it stops the bleeding here.
Dallas to win feels like a bet to hammer in week 13. The Saints could always keep it interesting on a short week at home, while the Over stands out given the amount of points Dallas can put on the board.
Minnesota Vikings vs. Detroit Lions
Vikings (-7) -107
Lions (+7) -113
Vikings to Win (-280)
Lions to Win (+235)
Over 47 (-105)
Under 47 (-115)
The Vikings play host to the winless Lions in week 13. To the shock of nobody, they are touchdown favorites at all of the most reputable NFL betting sites.
The moneyline isn't amazing, but the Vikings should win here. They have climbed back into the NFC playoff picture at 5-6, and they need this one to get back to .500.
To their credit, Detroit has been competitive. Of course, they could be hurting with top running back D'Andre Swift banged up.
Detroit needs all hands-on deck to have a shot in any game, and that certainly includes a division rivalry clash.
Arizona Cardinals vs. Chicago Bears
Cardinals (-7) -116
Bears (+7) -104
Cardinals to Win (-325)
Bears to Win (+270)
Over 46 (-110)
Under 46 (-110)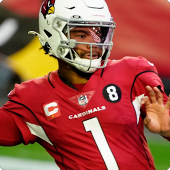 The Cardinals rested on their bye in week 12, and yet they come into the new week with the best record in the NFL.
Arizona still holds their fate in their hands, and will probably dispose of the Bears. That will be at least partially due to the likely healthy return of star quarterback Kyler Murray.
Based on how they've played in recent weeks – and how bad the Bears tend to be – Arizona would likely be a fine bet even if Murray were to be sidelined once again.
All things considered; the spread feels a bit tight. Arizona's moneyline can be hammered, but it's not the best way to bet here. The Cardinals are 8-3 against the spread in 2021, while the Bears are just 4-7 in that regard.
The smart play will likely be to attack this spread before it changes.
Tampa Bay Buccaneers vs. Atlanta Falcons
Buccaneers (-10) -110
Falcons (+10) -110
Buccaneers to Win (-430)
Falcons to Win (+350)
Over 49.5 (-110)
Under 49.5 (-110)
The Buccaneers are starting to heat up after a little rough patch. They've won their last two, and the offense started clicking again in a wild shootout against the Colts.
Tom Brady usually does the heavy lifting, but this time it was Leonard Fournette.
TOUCHDOWN! @_fournette!

Leonard Fournette is just the 3rd @Buccaneers player ever to score 4 touchdowns in 1 game! #GoBucs pic.twitter.com/ngmeAm8Uh3

— FOX Sports: NFL (@NFLonFOX) November 28, 2021
Having that offensive balance is key, while Tampa Bay hopes to get slot receiver Antonio Brown back for this showdown with the rival Falcons.
Atlanta snapped a nasty skid on the heels of an explosion from do-it-all offensive weapon Cordarrelle Patterson, but I see him running into a brick wall against the Bucs' #1 run defense.
There could be offense in this one and divisional tilts can be problematic. However, this is one the Bucs should run away with. I'd hop on the 10 points before it moves, and likely stay away from the rest.
Indianapolis Colts vs. Houston Texans
Colts (-8) -110
Texans (+8) -110
Colts to Win (-355)
Texans to Win (+285)
Over 46 (-115)
Under 46 (-105)
The Colts should feel good about themselves. Sure, they gave up 38 points in a tough home loss last week, but they still put up 31 of their own, and losing to the defending champs isn't too demoralizing.
Indy held firm against a tough opponent, and they're still in the thick of the AFC playoff race at 6-6. In fact, if they can come close to winning out, a shot at the AFC South crown isn't off the table.
They can't trip up in slam dunk games like their week 13 showdown with the Texans, though.
I don't expect them to, of course. Houston should have zero answer for a red-hot Jonathan Taylor, while Indy's defense should be able to contain Tyrod Taylor and a relatively punchless Texans offense.
That said, the Over is very inviting here. The Colts should bounce back and win big, but I see a fair number of points being scored. I love Indy ATS (7-5 against the spread so far) and the Over early on.
Philadelphia Eagles vs. New York Jets
Eagles (-7) -110
Jets (+7) -110
Eagles to Win (-300)
Jets to Win (+250)
Over 46 (-115)
Under 46 (-105)
Just when you started to buy into the Eagles, they did absolutely nothing on offense in an ugly loss to the New York Giants.
Philly may be back to square one, but they're the rightful favorite as they take another New York squad in the Jets. This matchup appears to be softer, and their surging defense should have their way with Zach Wilson.
Here is the hilarious interception.
This Zach Wilson INT went off his teammate's back ?

(via @HoustonTexans)pic.twitter.com/QmPzA1Fn2D

— SportsCenter (@SportsCenter) November 28, 2021
Wilson has talent, but basically nothing has gone right for him as a starter with Gang Green. It's been so bad, in fact, that the team has come close to publicly backing Mike White in the past.
The Jets are at home and Philly's offense was bad last week, but the Eagles are the team to target in this one. The Under is appealing based on the way these offenses have played lately, though.
Los Angeles Chargers vs. Cincinnati Bengals
Chargers (+2.5) +105
Bengals (-2.5) -125
Chargers to Win (+125)
Bengals to Win (-145)
Over 50.5 (-110)
Under 50.5 (-110)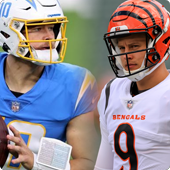 I officially have no idea what to make of the Chargers. They seem to torch someone every other week, and in the odd week, they are rudderless on offense.
This past week, they were completely held in check in a dispiriting 28-13 loss to the rival Broncos.
L.A. could easily turn back into the offensive juggernaut we know they can be, but they're the understandable road dogs as they prepare to take on the Bengals.
Joe Burrow vs. Justin Herbert is going to be must-see TV, and this potential duel does have me falling in love with the current price for the Over.
That said, it'll be difficult to get away from the Bengals, who are starting to heat back up again and are a game back in the AFC North.
New York Giants vs. Miami Dolphins
Giants (+2.5) -105
Dolphins (-2.5) -115
Giants to Win (+125)
Dolphins to Win (-145)
Over 42 (-107)
Under 42 (-113)
Ugly NFL game, incoming. The Giants fired offensive coordinator Jason Garrett, and somehow managed to get even worse on that side of the ball last week.
New York did grind out a win, though, and we were reminded of what their defense is capable of. Now they trek down to South Beach, where a surging Miami squad awaits.
The Dolphins also have a defense that is stringing quality performances together, while the Dolphins have won each of their last four games.
Here are the points they've allowed during that stretch.
vs. Texans (9)
vs. Ravens (10)
@ Jets (17)
vs. Panthers (10)
Miami's price and spread look good here, but this could be a game with precious little scoring. The Under also looks about right. The Over is just 5-7 in Dolphins games and 3-7-1 in Giants games so far in 2021.
Washington Football Team vs. Las Vegas Raiders
Football Team (+2.5) -110
Raiders (-2.5) -110
Football Team to Win (+120)
Raiders to Win (-140)
Over 49 (-110)
Under 49 (-110)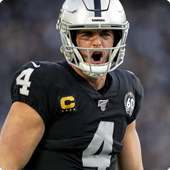 The Washington Football Team and Las Vegas Raiders both feel good about themselves these days. Washington took out the defending champs two weeks ago and have won two in a row, while the Raiders beat Dallas on Thanksgiving Day.
Something has to break here, though. Both teams are still in position for a run at their division crown, so I anticipate a dog fight.
The Over is .500 or better for both teams in 2021, but the defenses are better than advertised. I'd ultimately side with the Raiders, who are at home and have the more stable play under center.
Jacksonville Jaguars vs. Los Angeles Rams
Jaguars (+13.5) -110
Rams (-13.5) -110
Over 48 (-110)
Under 48 (-110)
This is the type of game where you may want to brush up on how to bet on football point spreads. It can be tricky to know what side to be on, and how to approach these thick lines.
My gut says the Rams are the way to go here. L.A. is stuck in an ugly three-game skid, but they're immensely talented, and certainly a tier or two ahead of the Jaguars.
Both teams have struggled to a 4-7 mark against the spread, but Jacksonville doesn't have the firepower to keep up with the Rams.
L.A. isn't going to eat a fourth straight loss here, so the only question is if you believe they can cover by two touchdowns.
San Francisco 49ers vs. Seattle Seahawks
49ers (-3) -105
Seahawks (+3) -115
49ers to Win (-145)
Seahawks to Win (+125)
Over 46 (-112)
Under 46 (-108)
This is a massive game in the NFC West. San Francisco has forced their way back into the NFC playoff picture behind a three-game winning streak, while the Seahawks are on life support.
We don't yet know their situation, as I am writing this prior to the week 12 Monday Night Football game. That said, this is a huge divisional clash, so both sides should come to play.
Historically, these meetings have been rather intense. Check out how things have gone down over the last six meetings.
10/3/2021 – Seahawks 28, 49ers 21
1/3/2021 – Seahawks 26, 49ers 23
11/1/2020 – Seahawks 37, 49ers 27
12/29/2019 – 49ers 26, Seahawks 21
11/11/2019 – Seahawks 27, 49ers 24 (OT)
12/16/2018 – 49ers 26, Seahawks 23 (OT)
Seattle has dominated the W/L column lately, but these games have all been close. Two of them even went to overtime.
If you're looking for bets to avoid in week 13, this may be one of them, as it could simply go either way. I'm leaning toward the Seahawks at home as a nice value, but due to the intensity of this one, the Under may be the best play.
Denver Broncos vs. Kansas City Chiefs
Broncos (+9.5) -110
Chiefs (-9.5) -110
Broncos to Win (+360)
Chiefs to Win (-450)
Over 49 (-110)
Under 49 (-110)
Denver has been impossible to peg this year. They started off 3-0, and now they're 6-5. While they've recovered after a tough stretch, they now have the unenviable task of slowing down a scorching hot Kansas City squad.
The Chiefs haven't been perfect, but they weathered an early storm and have rattled off four straight wins.
Kansas City appears to be back on track, and they'll be at home attempting to keep Denver at the bottom of the division. While they probably succeed, the AFC West is separated by one game throughout at the moment.
A close game can't be ruled out, especially after the Broncos whipped the Cowboys and Chargers in recent weeks.
I actually like Denver ATS here, especially when you consider the Chiefs haven't been blowing teams out that much during their recent run.
New England Patriots vs. Buffalo Bills
Patriots (+3) -104
Bills (-3) -116
Patriots to Win (+140)
Bills to Win (-160)
Over 44.5 (-105)
Under 44.5 (-115)
This week's Monday Night Football showdown is a big one. New England has risen to the top of the AFC East, and suddenly may very well be the team to beat in the conference.
It's worth noting that no NFL team has ever won a Super Bowl with a rookie quarterback, but the Patriots are running the ball and playing elite team defense.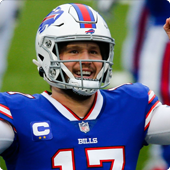 Buffalo gets to host this one, of course, and the winner officially gets sole possession of first place in the division.
It's worth noting that this has historically been a tough matchup for Josh Allen and the Bills.
Buffalo won easily in the last meeting but won by three in the first showdown last year. They're also just 2-7 against the Pats over the last nine clashes.
As huge of a game as this is, I don't like the spread, and picking a side feels dicey. Instead, I'd hang my hat on two very good defenses driving this one to the Under.
Betting on the NFL in Week 13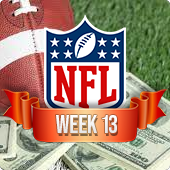 That does it for this week's early NFL odds breakdown. As noted, this is a weird week for NFL betting already, and we still don't know what injuries might pop up, or how lines may move.
All I know is that there will be some surprise inactives, and the lines will alter in some fashion.
Getting ahead of that as much as possible is key to maximizing value, but there are a lot of situations that are likely better left avoided.
I've touched on the clear spots to bet on, as well as the situations where early betting is probably advantageous. As always, there also are some key games where you simply are better off looking elsewhere.
Hopefully my early NFL betting odds breakdown gets you ready for a fun (and profitable) week of NFL betting. For further analysis and expert picks, head over to our NFL betting picks section.
September
Casino of the Month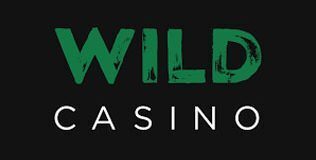 Welcome Bonus
250% up to $5,000