Hide Bonus Offers
| | | | | |
| --- | --- | --- | --- | --- |
| #1 | Bovada Sports | 50% Up To $250 | Visit Site | Bovada Sports |
| #2 | BetUS | 125% Up To $2,500 | Visit Site | BetUS |
| #3 | MyBookie | 100% Up To $1,000 | Visit Site | MyBookie |
| #4 | Everygame | 100% Up To $500 | Visit Site | Everygame |
| #5 | BetOnline Sports | 60% Up To $1,000 | Visit Site | BetOnline Sports |
Early Odds for Jake Paul vs. Tommy Fury With Analysis

Jake Paul vs. Tommy Fury odds are out for a fight likely to go down at some point in December.
The YouTuber is finally set to test himself against a boxer, with the younger brother of WBC heavyweight champ Tyson getting the gig.
The bout has yet to be confirmed but is expected to be finalized soon. Let's check out those odds and look at what's at stake in this fight.
Latest Paul vs. Fury Odds
The bookmakers aren't keen on Paul this time around.
If you're looking to back the social media star to pull off the upset, you can get plus money odds for your trouble. The betting line for Paul vs. Fury is not crazy, but I'd expect the former's price to swell out the closer we get to the ring walk.
Fury's odds to beat Jake Paul are currently just under the -200 mark with most of the top apps for betting on boxing.
Although he is hardly an accomplished boxer himself, he should have too much for Paul to handle. At least, that's the consensus among fight fans and handicappers.
Paul vs. Fury Fight Date and Other Details
When: December 18 (Unconfirmed)
Where: TBC
Undercard: TBC
Rounds and Rules: TBC
There is not a great deal known about precisely where the Fury vs. Paul fight will go down.
It's almost certain that the bout will be fought in the United States, with Miami most likely. December 18 is the date it is more than likely going to happen.
I would expect both sides to insist that a rematch clause be inserted into the contract with a potentially money-spinning run back in 2022, depending on how things go.
Money is the nature of the game, of course. This fight would not be happening unless it was lucrative for both sides.
Paul, however, seems to feel confident that he's the A-side in that department.
Jake Paul mocks Tommy Fury for flying on a budget airline and makes him a new offer for their fight…

[?️ @JakePaul] pic.twitter.com/aBn65YWYoi

— Michael Benson (@MichaelBensonn) October 6, 2021
Can Paul Beat Fury?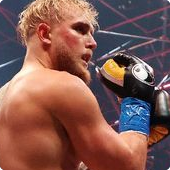 Record: 4-0 (3 KOs)
Nationality: American
Status: Underdog
I'm not ashamed to admit this — I'm starting to warm to Jake Paul.
He's beaten every opponent that has been put in front of him so far and deserves respect for stepping in with a boxer that is favored to beat him.
Don't get me wrong. The quality of his opposition to date leaves a lot to be desired. The likes of Nate Robinson and Ben Askren were never going to be major threats.
Tyron Woodley was a step up, but Fury will be the biggest test of them all.
| | | | |
| --- | --- | --- | --- |
| Opponent | Method of Victory | Round | Date |
| Tyron Woodley | SD | 8 | Aug 29, 2021 |
| Ben Askren | TKO | 1 | Apr 17, 2021 |
| Nate Robinson | KO | 2 | Nov 28, 2020 |
| AnEsonGib | TKO | 1 | Jan 30, 2020 |
When it comes to the crunch, the guy is genuinely funny.
I don't rate him as a boxer but he's shown some decent skill for someone in his position. He's worked hard to get into fighting shape and appears to be well-disciplined and healthy.
So, good on Jake for testing himself against Fury.
It's pretty much a win-win situation for him as he stands to make a lot of money, regardless of the result. If he wins, he will be encouraged to make more of a career from what he has going for him.
At this point, he's doing the right thing in pushing himself forward.
Paul's odds to beat Fury show that it's not going to be an easy fight for him. And while I'm going to refrain from making my pick for the bout, I will say that he has every right to see this as the greatest test of his "boxing" career so far.
Will Fury Knock Out Paul?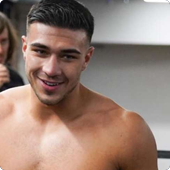 Fury's Record: 7-0 (4 KOs)
Nationality: English
Status: Favorite
The Fury name holds a lot of weight in the world of boxing.
That's pretty much all down to Tyson.
The unbeaten two-time heavyweight world champion has worked his skin off the bone to become the "baddest man on the planet," and there's no way that he's going to allow his younger sibling to make him look like a fool.
In fact, the champ has claimed that he will "disown" Tommy if he loses to Paul.
What If Paul Beats Fury?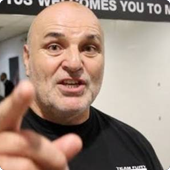 Can you imagine it?
The embarrassment. The shame.
His proud Irish Traveller fighting family will not tolerate such loss of face. If you can't envisage the reaction his father and brother would have if he can't beat a former Disney Channel star, I can tell you now that it would not be a positive one.
Money is one thing, sure. A fight like this would go a long way to ensuring that the Love Island star is comfortable in life. But what good will that be with the shame of dropping his first "0" to JP?
John, Fury's father, told the True Geordie Podcast that he would personally retire his son if he lost the fight.
"I see Tommy splattering Jake Paul all over the ring, within four to five rounds. If he doesn't, it's over for him! He knows that. No pressure Tommy lad, but let me tell you, you will be called Tommy Fumbles as well… if it's a close fight, Tommy's retired.
"If Tommy struggles to beat him, he's retired from boxing [because Jake Paul] is a YouTuber! He's gotta be knocking Jake Paul out…"
Fury has the pressure on him. With that being said, he is the only boxer in this fight.
Now, I'm not exactly the kid's biggest fan. He hasn't really shown much in his career to date and I sincerely doubt that he will ever make it on the world stage.
As for making money, however, this is a great opportunity to boost his profile and cash in on a big win against Paul.
If he were to brutally knock the American out, I don't think a rematch would be as appealing to fans and promoters. But never say never.
The most likely way the fight ends is by a late stoppage. But at this point, I couldn't bet against it being a long, drawn-out spectacle that goes the distance.
Even if Fury's father doesn't see it that way.
Advice for Gambling on the Paul vs. Fury Bout
As things stand, I would be shocked if the odds for Jake Paul vs. Tommy Fury drastically change.
Still, Fury's odds will more than likely shorten to around the -250 mark by fight night. If you're betting on Fury to beat Paul, you might want to get on his price as it is.
If you like Paul in this fight, hold off. I think we'll see his odds swing out a little with a price of around +185 possible with some bookies.
I'll be back with more on the Jake Paul vs. Tommy Fury fight. In the meantime, check out the latest from the team for recommended bets and picks.