Hide Bonus Offers
| | | | | |
| --- | --- | --- | --- | --- |
| #1 | Bovada Sports | 50% Up To $250 | Visit Site | Bovada Sports |
| #2 | BetUS | 125% Up To $2,500 | Visit Site | BetUS |
| #3 | MyBookie | 100% Up To $1,000 | Visit Site | MyBookie |
| #4 | Everygame | 100% Up To $500 | Visit Site | Everygame |
| #5 | BetOnline Sports | 60% Up To $1,000 | Visit Site | BetOnline Sports |
Early Odds and Lines for Week 12 of the NFL – Predictions and Free Betting Picks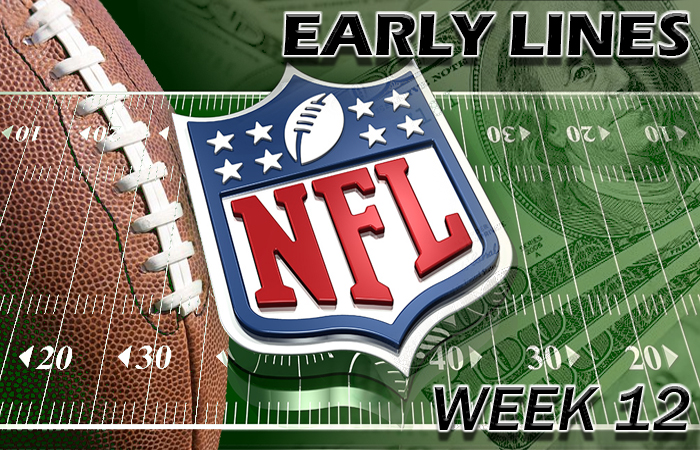 I took a hot run into week 11 of the 2018 NFL season, going a stellar 75-54-3 through the first half of the year. I was absent for week 10, but the aim was to pick up right where I left off and hand bettors some elite wagers going into the new week.
That's always the aim of this column: to get wins but to also eye the bets that are going to deliver some of the best value. I scored more of that in week 11, even in one of the dicier NFL betting landscapes.
Backing underdogs like the Lions and Jaguars to stay in games Vegas didn't favor them in helped me to a solid 6-4-1 finish, pushing my season record to 81-58-4. I earned the "push" by predicting that the total of the Colts vs. Titans game (38-10 win by Indy) would go under.
It was another solid week of NFL picks, and connecting on almost 58% of my predictions so far is a welcome stat.
Again, it's not just about wins. These early looks at NFL betting lines certainly hope to land bettors some victories, but I also want to exploit the most promising bets based on what can be seen early in the week.
That plight rages on with week 12 already looming – especially with a feast waiting for NFL bettors on Thanksgiving Day. Let's dive into the early week 12 NFL betting lines and see how you may want to bet this week.
All odds and lines referenced in this post were taken from SportsBetting.ag on 11/19/2018. They may have changed since the time of writing.
Chicago Bears (-3.5) @ Detroit Lions (+3.5) Total: 44.5
The Bears proved they were legit with a convincing win over the Vikings in week 11, inching them closer to the NFC North title.
It's impressive considering their defense is not the only reason they're winning games, and this team may very well be a Super Bowl 53 sleeper.
Detroit did show life in a home win over the Panthers last week as well, but had it not been for the Panthers going for it with a minute to go, the story could have been different.
I just don't see Chicago getting tripped up against lesser opponents these days. They're dialed in at the moment, and with four straight wins behind them, they appear to be on fire.
Detroit hasn't always been competitive this year, so losing by four or more won't be a shock to many.
PICK
Chicago Bears (-3.5)
-106
Washington Redskins (+8) @ Dallas Cowboys (-8) Total: 40
The Redskins gave a valiant effort in a tough home loss last week, but now they'll have to come to grips with the sobering reality of quarterback Alex Smith (leg) being lost for the season.
Barring a dramatic change on their roster, that puts 32-year-old Colt McCoy in an unenviable position to keep a suddenly demoralized Redskins team from spiraling out of control.
On the other side of this is the Cowboys, who have won two in a row and looked very good in getting a tough road win over the Falcons last week.
Dallas lost to the Redskins in DC just a few weeks ago, but they look like a different team right now and will be able to taste first place in the NFC East.
Considering what's at stake as well as the loss of Smith, I tend to think Dallas wins this one pretty easily.
PICK
Dallas Cowboys (-8)
-110
Atlanta Falcons (+12.5) @ New Orleans Saints (-12.5) Total: 59.5
The Falcons faced a do-or-die moment at home last week and came up lame. Now they have to go to New Orleans to try to save their season against the hottest team in football.
That feels like a reach, especially since Atlanta has not always been efficient offensively this year, and their defense has been horrific at times.
New Orleans, meanwhile, is as dynamic as it gets offensively and truly seems unstoppable. That's certainly the case at home these days, while their defense has actually gotten better with each passing week.
That being said, this game has shootout written all over it, and this spread is pretty ugly. I'll bank on the Saints once again putting up 35+ points, and hopefully the Falcons will take part in the festivities.
Jacksonville Jaguars (-3.5) @ Buffalo Bills (+3.5) Total: 37.5
The Jaguars blew a 16-0 lead over the Steelers at home in week 11. That's going to be awfully tough to get over, but Jacksonville showed heart in that game, and best of all, their defense came back to life.
Perhaps the Jags mail it in going forward, but it's still hard to buy them failing to finally snap their nasty six-game losing streak against the Bills.
Buffalo is at home and has shown potential on the defensive side of the ball, but Jacksonville won't get a better opportunity to nab a win the rest of the season.
Whether the Jaguars turn things around and make a push for a wild card spot or not, they simply can't lose this game.
PICK
Jacksonville Jaguars (-3.5)
-104
Oakland Raiders (+10.5) @ Baltimore Ravens (-10.5) Total: 42.5
Jon Gruden and Derek Carr got in a spat on the sidelines, but even Oakland's never-ending turmoil couldn't keep the Raiders from beating the Arizona Cardinals.
It's ironic, as the Raiders lost their grip on the top pick in the 2019 NFL Draft, even though you know there's no way they wanted that to happen.
The nice thing is that the Raiders showed some fight, and because of that, bettors need to wonder if they can beat a huge +10.5 point spread when they head into Baltimore next week.
My gut instinct says they probably can, simply because the Ravens haven't been all that great defensively, and they may also be going up against a rookie quarterback in Lamar Jackson.
Instead of biting on this gaudy spread, though, I'm assuming Oakland's defensive woes contribute to the over.
San Francisco 49ers (+3.5) @ Tampa Bay Buccaneers (-3.5) Total: 55.5
The Niners keep trying to stay competitive, and it's pretty admirable. Nick Mullens got them a blowout win two weeks ago, and last week, he almost got them a home win over the Giants.
San Francisco has a great system, and while they're trudging along with a bunch of spare talents actually running it, it's clear they have yet to give up.
Tampa Bay, meanwhile, is about as dysfunctional as it gets. Despite a hot start to the year, the Bucs are just 3-7 and have dropped four straight games. That, and they can't seem to stick with a quarterback.
There will be points in this game regardless of who is under center, but Tampa's horrific defense keeps them from being a great pick to cover.
PICK
San Francisco 49ers (+3.5)
-107
New York Giants (+5.5) @ Philadelphia Eagles (-5.5) Total: 46
Don't look now, but the G-Men have won two straight games and are starting to think about a playoff run.
This could be the classic case of "too little, too late," but the Giants have something cooking on offense and have always had the tools on defense.
They could be rolling into the perfect storm here, as a win does thrust them into the discussion in the NFC East, and the Eagles seem to be trending very much in the wrong direction.
Philly won the title a year ago, but they've been stuck in a nightmare ever since. The talent is there for them to compete with anyone, but they've lost three of their last four and got trounced by the Saints by 41 points.
Recovering from that in one week will prove to be difficult.
You don't need the Giants to win to exploit the early week 12 NFL betting lines, though. If New York can simply keep this one close and threaten to win a third straight game, you'll profit.
PICK
New York Giants (+5.5)
-110
Cleveland Browns (+3) @ Cincinnati Bengals (-3) Total: 47.5
Baker Mania returns after a bye in week 12, and let's not forget that the last time we saw the Browns, they dismantled the Falcons at home.
Now Cleveland heads to their Ohio rivals in hopes of taking out the Bengals and slowly climbing up the ranks in the AFC North.
Winning the division isn't really in the cards at this point, but Cleveland will compete so long as there's still a mild shot at a wild card spot (there is).
Cincinnati might not just lie down and allow that to happen – especially at home – but based on their awful defense and their recent struggles (1-4 over their last five), they may not have much of a say in the matter.
Again, this isn't about getting the outcome right. Just back the Browns to keep it interesting and soak up the value in the process.
PICK
Cleveland Browns (+3)
-104
New England Patriots (-8.5) @ New York Jets (+8.5) Total: 46
Tom Brady and company return to the field after a nice week-long break. That should help them recharge their batteries enough to get healthy and also forget a nasty 34-10 thrashing from week 10.
The good news is that the Pats were scorching hot before that brutal loss, and they also get to face the Jets in week 12. New York just got done getting ripped apart by the Bills, of all teams, so it's not looking good for them in this one.
Despite the clear advantage, the Pats aren't handed an obscene spread. I find it hard to believe New England wins by fewer than 10 points, so I'm all over them to cover this week.
PICK
New England Patriots (-8.5)
-110
Seattle Seahawks (+3.5) @ Carolina Panthers (-3.5) Total: 47
Russell Wilson and co. saved their season with a big home win over the Packers last week, and Seattle will try to keep it going in Carolina against the Panthers.
That's not an easy task, seeing as the Panthers have yet to lose on their home field in 2018.
Carolina gets to head home after a two-game losing streak on the road, but the way they lost in Detroit in week 11 may have some questioning head coach Ron Rivera.
If those questions come from inside the locker room, there could be some major problems afoot.
I won't bite on that narrative just yet, but neither team can afford to lose this one. Carolina probably wins, but Seattle playing tightly to lose by a field goal feels like a steal for bettors.
PICK
Seattle Seahawks (+3.5)
-108
Arizona Cardinals (+11.5) @ Los Angeles Chargers (-11.5) Total: 44.5
The Cardinals lost a tight one against Oakland, but they'll stay out west to battle the Chargers this week. LA endured a tough loss of their own, as they fell to the Broncos on a last-second field goal.
Both of these teams lost in the same exact fashion, but it's the Chargers who should be more ashamed.
They have a ton of talent and should be the huge favorites you see here, but there is something about the Bolts every single year I can't bring myself to trust.
While Arizona is somewhat appealing at +11.5, the real play here is the offensive upside working into a low 44.5 total.
The Chargers could easily drop 40 points in this matchup, while the Cards have looked a lot more palatable with Byron Leftwich running the offense.
Arizona isn't the worst play ATS this week, but the over feels much more doable.
Miami Dolphins (+8.5) @ Indianapolis Colts (-8.5) Total: 51.5
Miami is in shambles following a blowout loss in Green Bay, but Dolphins fans will hope a week 11 bye can set them straight.
It may take more than a week away from football to recharge the Fins, who have dropped five of their last seven games.
Miami is just 1-4 on the road and hasn't been all that competitive with Brock Osweiler under center. I can't say I'm shocked, while the Dolphins as a whole will face an uphill battle when they head to Indy to try to stop a red-hot Colts squad.
Andrew Luck is playing out of his mind and has Indy humming (four straight wins) following a ghastly 1-5 start. The Colts feel pretty unstoppable at the moment, and I'm not about to start betting against them at home.
Even if I wanted to, I'm not doing it in favor of the Dolphins. The over is in play, but Indy to cover is a trending theme. I think they do it again in week 12.
PICK
Indianapolis Colts (-8.5)
-115
Pittsburgh Steelers (-3.5) @ Denver Broncos (+3.5) Total: 47.5
The Steelers should have lost in Jacksonville last week, but they showed serious perseverance and extended their winning streak to six games.
Pittsburgh is preparing to run away with the AFC North, all the while showing everyone they can win games in just about every way imaginable.
A road date in Denver is a lot harder than it looks, but betting against the Steelers is largely a losing endeavor these days.
I respect Denver's fight and how difficult it is to win games in Colorado, but they're over-matched here. Look for the Steelers to keep it rolling and cover in this one.
PICK
Pittsburgh Steelers (-3.5)
-105
Green Bay Packers (+5) @ Minnesota Vikings (-5) Total: 48.5
The Packers have been a brutal 0-5 on the road this year and are almost certainly facing an elimination game in Minnesota on Sunday Night Football.
In better news, they're still very much alive in the NFC playoff picture with a big win here, and their first road win of the season couldn't come at a better time.
Minnesota lost a big NFC North battle in week 11, but they're at home and have a big opportunity in front of them. These two teams also battled to a 29-29 tie back in week two, so bettors should anticipate a pretty tight one.
I'm a tad surprised the Packers are such big underdogs here, especially since they've been very competitive all year – even on the road. I'll take Green Bay and the points, and I wouldn't even be that shocked if they stole the win.
PICK
Green Bay Packers (+5)
-110
Tennessee Titans @ Houston Texans
This is the lone week 12 NFL contest without fresh lines, and that has everything to do with Titans quarterback Marcus Mariota being banged up.
Tennessee got thoroughly exposed in a thrashing by the hands of the Colts in week 11, and now they go out on the road to try to slow down a scorching hot Texans team that has won seven games in a row.
I doubt the spread or moneyline will be too kind to bettors in this one, but for now, I'll just take Houston to get the win. If Mariota is out there, Titans against the spread feels like a viable bet.
PICK
Houston Texans to Win
N/A
Summary
Week 12 surprisingly feels pretty self-explanatory. I tend to think I have a solid feel for most weeks when looking at the early betting lines, but going into week 12, I'm more confident than ever.
Part of that is Vegas simply handing out some very playable wagers, and part of it is a lot of teams really showing who they are in recent weeks.
Injuries like Alex Smith could help clear things up as well.
Regardless, this looks like a solid list of lines to hop on, and hopefully I steer you in the right direction with your football betting this week.
Either way, good luck with your week 12 NFL wagers, and enjoy the holiday!