Hide Bonus Offers
| | | | | |
| --- | --- | --- | --- | --- |
| #1 | Bovada Sports | 50% Up To $250 | Visit Site | Bovada Sports |
| #2 | BetUS | 125% Up To $2,500 | Visit Site | BetUS |
| #3 | MyBookie | 100% Up To $1,000 | Visit Site | MyBookie |
| #4 | Everygame | 100% Up To $500 | Visit Site | Everygame |
| #5 | BetOnline Sports | 60% Up To $1,000 | Visit Site | BetOnline Sports |
Early Odds and Lines for Week 11 of the NFL – With Predictions and Free Betting Picks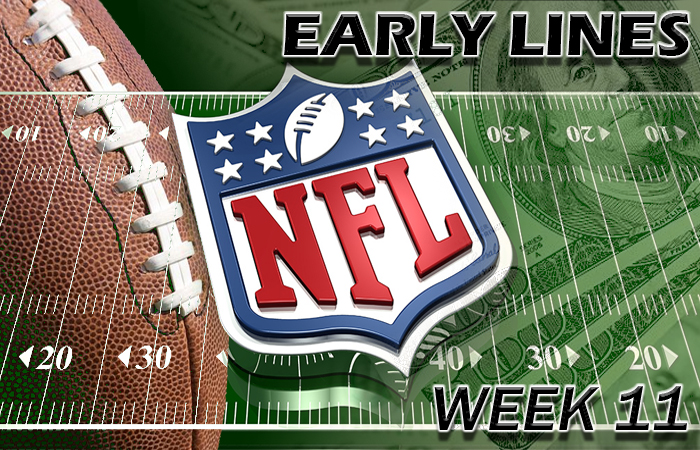 After a week away from the NFL betting scene, I'm ready to take a fresh look at pro football and help bettors gauge how they want to bet on games going into week 11.
While I took a one-week NFL betting hiatus, it was on the heels of a stellar week nine showing. My season NFL picks record (67-49-3) was already in good shape, but I tacked on a strong 8-4 run through week nine.
That pushed me to 75-53-3 through the first nine weeks of the season, and anytime you're approaching a 60% conversion rate, you have to feel pretty good.
I hope to keep the positive momentum going into week 11, but as usual, the main goal really is to just point you in the right direction. Looking at early NFL betting lines is partially about getting the picks right, but it's also about identifying amazing value and pouncing before Vegas moves things around.
Here's my early look at how I think week 11 in the NFL will take form.
All odds that are referenced in this post were taken from SportsBetting.ag on 11/12/2018. These odds may have changed since the time of writing.
Green Bay Packers (+2.5) @ Seattle Seahawks (-2.5) Total: 49.5
Green Bay kept their playoff hopes alive with a blowout win over the Dolphins at home, but they'll have a tall order in taking down the Seahawks in Seattle on Thursday Night Football.
Not only is this game in a brutal spot on a short week, but the Packers have yet to win a game (0-4) outside of Lambeau Field. The good news, however, is that Green Bay may have finally found their Robin to Aaron Rodgers' Batman.
Normally, I'd just take Seattle here, but this one actually projects to be a slugfest. Both teams will want this one badly, but I'm not anticipating some epic shootout. Getting over 50 points will not be easy here, so the under feels like a solid bet to target.
Carolina Panthers (-3.5) @ Detroit Lions (+3.5) Total: N/A
The Panthers got positively smoked in Pittsburgh last week, quickly erasing all of the optimism bettors had over their recent hot run.
Carolina remains a very balanced and capable team, but getting over a beatdown where they coughed up 51 points won't be easy.
To make matters worse, Cam Newton and co. don't get the luxury of playing at home yet. Instead, they have to go to Detroit to battle the Lions.
Detroit has been sliding lately and isn't the greatest bet to steal the win, but the +3.5 points is tough to bypass with this one in the dome.
PICK
Detroit Lions (+3.5)
-110
Tennessee Titans (+3) @ Indianapolis Colts (-3) Total: 48
The Titans have felt like a tease for much of the year, but over the past two weeks, they've displayed a very real defensive bite.
A big road win in Dallas and then a convincing 34-10 shellacking of the Patriots should have most bettors buying what they're selling. I'm not quite there yet, but I won't deny how good their defense looks.
Marching into Indy and derailing a red-hot Colts team feels like a mild reach, but Tennessee may slow things down enough to get you to the under in this one.
Houston Texans (-2.5) @ Washington Redskins (+2.5) Total: 43
Speaking of red hot, only the Saints are more on fire than Houston these days, as the Texans will try to make it seven straight wins when they head to DC to take on the Redskins.
From a pure talent perspective, it's tough not to roll with the Texans here. Washington did bounce back with a nice road win in week 10, but they are showing warning signs of a fraudulent winner.
The Redskins offer tantalizing value at home, but Houston feels like the better team. Look for that winning streak to hit seven.
PICK
Houston Texans (-2.5)
-120
Pittsburgh Steelers (-5.5) @ Jacksonville Jaguars (+5.5) Total: 47.5
Everyone will be on the Steelers after they housed the Panthers with a 51-point explosion, but week 11 demands them to go into Jacksonville and dispatch the Jaguars.
Jacksonville is a hot mess these days, but this is still a huge home game that could give them a chance to get back on the right track.
Seeing as how Ben Roethlisberger has not excelled in this matchup and has a history of road woes, I'm game for taking the points via the Jags.
PICK
Jacksonville Jaguars ATS (+5.5)
-110
Dallas Cowboys @ Atlanta Falcons
Dallas saved their season with a big road win over Philly in week 10, so it's going to be tough to completely write them off. Atlanta, meanwhile, snapped a nice winning streak by getting torn apart by (gulp) Cleveland.
I'm not sure what to make of any of that, but the Falcons remain the vastly superior team in terms of talent and will have the luxury of playing at home.
Dallas isn't really equipped to win a shootout in this matchup, and that's probably exactly what they'll have to do.
Give me Matty Ice at home all day as the Falcons stay alive for the playoffs and send Dallas one loss closer to missing out.
PICK
Atlanta Falcons to Win
N/A
Tampa Bay Buccaneers @ New York Giants
This is one sorry affair, as the Buccaneers and G-Men face off in New York in a battle of two teams that seemingly have no motivation to win.
Tampa Bay does have more talent at this point, but they're coming off of a crazy game where they managed just a field goal in a game where they put up 500+ total yards. Yeah, weird.
New York isn't easy to trust, but they're at home, and the Buccaneers (lost three straight) are going nowhere in a hurry.
If the Giants are going to snag a win again anytime soon, a home date with the Bucs would make perfect sense.
PICK
New York Giants to Win
N/A
Cincinnati Bengals @ Baltimore Ravens
The Bengals got murdered by the Saints last week, but they won't have much time to lick their wounds with a tense AFC North clash awaiting them in Baltimore.
The Ravens would normally appear to be the aggressor here, but a Joe Flacco injury has them hurting on offense. The possibility of the Lamar Jackson era starting sooner than expected might not be the amazing news Ravens fans previously thought.
Either way, the Bengals suddenly have a must-win game in front of them, and they're just a little better than the Ravens. I'll take the Bengals here, especially since they took the first meeting earlier this year.
PICK
Cincinnati Bengals to Win
N/A
Denver Broncos (+7) @ Los Angeles Chargers (-7) Total: 47
The Broncos are hanging by a thread after two more losses dropped them to 3-6 on the year. Head coach Vance Joseph also appears to be on his last leg, so the competitiveness of this squad is tough to peg moving forward.
On the other side, the Bolts are quickly turning into one of the NFL's best bets on a weekly basis. LA still has hopes of claiming the AFC West and is a solid 3-1 at home.
I don't anticipate them letting this one stay close.
PICK
Los Angeles Chargers ATS (-7)
-105
Oakland Raiders (+4) @ Arizona Cardinals (-4) Total: Over 41
This may actually be the toughest NFL game of week 11 to call. The Raiders have gotten blown out more times than I can count in 2018, but it's not like they're facing a world beater in Arizona this week.
The Cardinals have been the more competitive team, but the talent gap is not very wide. I know Oakland seems like they're trying to lose these days, but staying within four points against the Cards isn't asking much.
That's not the play, though. Vegas is looking at these offenses when setting a low total of 41 but not really considering that neither defense is close to elite. I'll take the over and run.
Philadelphia Eagles (+7) @ New Orleans Saints (-7) Total: N/A
The Saints aren't just on fire with eight wins in a row. They look flat-out unstoppable. Everything is clicking for them on both ends of the field, and now they get a home game to make it nine wins in a row.
I tend to think Philly has a chance in any spot, but getting a win in the dome – let alone staying in this one – feels like a reach.
The Eagles have underperformed basically all year, and after a deflating home loss to the Cowboys, I can't back them even against this spread.
PICK
New Orleans Saints (+7)
-110
Minnesota Vikings (+3) @ Chicago Bears (-3) Total: 45.5
The NFC North will finally get a little clarity. Both the Vikings and Bears have been trending in a very positive direction for weeks, but someone eats a loss when the two clash in Chicago in week 11.
The early edge goes to the Bears, as they'll be at home and appear to have the nastier defense with a healthy Khalil Mack on the field.
I hear that logic, but this is still going to be a tight rivalry game. I'll take the points with Minnesota.
PICK
Minnesota Vikings (+3)
-119
Kansas City Chiefs (+2.5) @ Los Angeles Rams (-2.5) Total: 63
The game of the week goes down in Mexico City, which equates to a neutral field, and nobody has an edge in this epic battle between the Chiefs and Rams.
This contest has been circled on the calendar for much of the 2018 NFL season, and it's easy to see why, as these are the two most dynamic teams in football.
The total is just obscene at 63, but it'll be awfully hard not to bet the over. Instead of doing that, though, I'm going to take the points. Kansas City might be the better team anyways, but I have to think this game is close.
KC to win or lose by three is a solid play.
PICK
Kansas City Chiefs ATS (+2.5)
-105
Summary
As we approach the 11th week of the 2018 NFL betting season, I think there is one very difficult thing for bettors: not being too much of a prisoner of the moment.
I'm sure I'm guilty of it at times, but it's important to look at things as a whole and try to see where teams are going – not just where they've been.
The trick with week 11 is that some of these spreads are super dicey. Vegas knows what they're doing, and they know how the public views some of these matchups. Hopefully, this rundown exploits some of the pricing a bit, and you're able to take advantage.
Either way, it's been a solid run through the NFL over the course of the first 10 weeks, and the aim is to prolong it this week. Thanks for reading, and good luck with your wagers in week 11!