Early Odds and Analysis for Mike Tyson vs. Lennox Lewis

Mike Tyson's next fight will be a rematch of his 2002 fight with Lennox Lewis in September.
That's according to the man himself, who recently confirmed that he would take on the former undisputed world heavyweight champion in an exhibition this Fall. And with the odds for Tyson vs. Lewis 2 already out there, things already feel legit.
I'll be sharing the best Tyson vs. Lewis rematch odds online and touching upon where the early betting value is.
I'll also be breaking down the two heavyweight legends to identify who has the advantages heading into this contest. If you're betting on Tyson vs. Lewis 2, make sure to check that out.
Let's get this betting preview started with the line for the fight.
Odds for the Tyson vs. Lewis Rematch
If you are hoping to make money betting on Tyson vs. Lewis 2, the odds above are available at BetOnline.
Despite being battered by Lewis in their 2002 bout, "Iron" Mike is the favorite for the Tyson-Lewis rematch. His odds right now are a very resectable -160, and you can get your money down now if that price is doing it for you.
Lewis' odds to beat Tyson make him a moderate underdog in this fight.
At +120, there will be a lot of bettors keen to secure Lewis' price early. He was the superior man in the only fight these two have had to date, and his advantages in height and reach will surely make him a tough nut to crack in a potential rematch.
Let's take a quick look at the former champ seemingly confirming a bout with his former rival before we move on to the Tale of the Tape for Tyson vs. Lewis 2.
Tale of the Tape for Tyson vs. Lewis 2
| | | |
| --- | --- | --- |
| Mike Tyson | Tale of the Tape | Lennox Lewis |
| 54 | Age | 55 |
| 50-6-0-2 (NC) | Record | 41-1-2 |
| 43 | Knockouts | 30 |
| USA | Nationality | UK |
| 5'10" | Height | 6'5" |
| 71″ | Reach | 84″ |
| Orthodox | Stance | Orthodox |
It's incredible to think just how far Mike Tyson got in the heavyweight division, despite his height and reach.
At 5'10", Tyson is one of history's shortest heavyweight champions of the world.
Sure, he had a few inches on the legendary Tommy Burns (5'7″) and was built like a tank compared with Rocky Marciano and John L Sullivan, but you only have to look to the size of Lewis to see what I'm talking about.
Lewis stands at 6'5″ and rocks a sizeable reach advantage over Tyson, too. His 84″ means that he has 13 inches over his former rival, who by comparison, is a T-Rex at 71″.
Will these advantages dictate who wins the Tyson vs. Lewis rematch? They very well could. But let's get the bigger picture by taking a closer look at the attributes of both men, starting with Lewis.
Will Lewis Beat Tyson Again?
There are going to be a lot of bettors enticed by Lewis' odds to beat Tyson on the top online sportsbooks.
I mean, he's done it before. Albeit, nineteen years ago but the manner in how Lewis beat Tyson makes this rematch interesting.
Marking "The Lion" as the underdog against a man he completely outclassed before makes little sense to some observers. However, it is not difficult to see why Tyson has been made the favorite in this fight.
He has competed in fights up until 2005 while Lewis retired in 2004.
More importantly, Tyson proved that he could still get into shape and compete in his exhibition with Roy Jones Jr. in 2020, while we can't exactly say the same about the Brit.
But in terms of pedigree, Lewis goes down as one of the best heavyweights of the past century.
Objectively, in terms of achievement, he is only behind the likes of Joe Louis, Muhammad Ali, Larry Holmes, Joe Frazier, Rocky Marciano, and maybe one or two more.
Lewis has Olympic pedigree, having won gold for Canada in the super-heavyweight class at Seoul '88.
He ended his pro career with 41 wins, two losses, and one draw, with three wins by KO over Haseem Rahman, Mike Tyson, and Vitali Klitschko in his final three bouts. He also avenged both of his losses to Rahman and Oliver McCall.
I don't believe anyone gambling on Tyson vs. Lewis 2 will feel too bad about backing Lewis based on his credentials inside the ropes. I mean, he will have to get back in shape, but if Tyson could manage it, I'm sure he will be fine.
Let's break down Lennox Lewis' positives and negatives before we move on to Tyson.
Lewis' Strengths and Weaknesses
| | |
| --- | --- |
| Main Strengths | Main Weaknesses |
| Significant Height and Reach Advantages | Inactivity |
| Excellent Jab | Unknown State of Health |
| Great Cross | Older than Tyson |
| Intelligence | Questions Over his Chin |
As a fighter, Lewis's strengths inside the ropes well outweighed his weaknesses. When he takes to the ropes against Tyson this September, I do not think much will change in that regard.
He still has that great size and reach, obviously. He will still have that awesome jab and straight right, too. Furthermore, he will also possess that excellent boxing brain that continues to be underestimated by some.
As for the weaknesses of Lennox Lewis? The first thing that usually gets brought up by those looking to get the boot in is his chin. There has been a long-standing myth that he is glass-chinned when that is easily refuted.
I mean, he was knocked out twice in his career by very big shots.
But the punches he took over the years from guys like Tyson, David Tua, Vitali Klitschko, Razor Ruddock, and more should point towards his ability to take a shot being above, rather than below average.
Still, Lewis will have to prove that he is capable of fighting, as we don't know if any health problems or ailments stand in the way of his return to the ropes.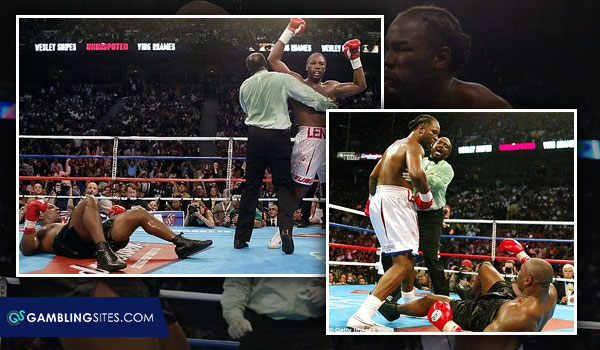 Can Tyson Beat Lewis?
Mike Tyson is in a much better place right now than he was around the time of the Lewis fight in 2002.
Mentally, he seems to be exceptionally positive. He looks as though he is enjoying life, and these exhibition bouts are giving him even more reason to get up in the morning and smile.
When you contrast that with the mental health issues that saw him confined to institutions, the excessive drugs, alcohol, and general debauchery, as well as the threat to his existence around the first fight, he seems like a new man.
Tyson's career was truly one of a kind and he is probably still the most famous boxer on the planet, despite having left the sport in 2005.
That says a lot for his star power, as well as the current state of boxing. Fans are going to pay to watch and to bet on Tyson vs. Lewis 2, regardless, so there's no harm done.
But is there a sense of unfinished business between Tyson and Lewis that could make this feel like more of a score-settler than an exhibition?
That is a good question and one that we will not really see answered until these two share a ring again.
You could look at Tyson holding back against Roy Jones Jr., and say that he shows the same restraint as he did against Lewis.
But Tyson never had beef with Roy, who was primarily a super-middleweight/light heavyweight at the time Tyson was operating at heavyweight.
This fight is certainly more exciting as it features two genuine old-school rivals. These guys aren't going to give an inch to one another, so there could be fireworks on the night.
Tyson's Strengths and Weaknesses
| | |
| --- | --- |
| Main Strengths | Main Weaknesses |
| Power | Size Disadvantages |
| More Active than Lewis | Previous Loss to Opponent |
| Inside Fighting | Easy to Disrupt |
| Tenacity | Questions Over his Discipline |
The stylistic matchup here is between a smaller, more powerful puncher against a tall, long, and rangy operator with an excellent jab and straight.
Thus, Tyson's only chance of beating Lewis is to get close enough to him to land. If this were a "proper" fight, Mike would be looking to close the distance and unload on Lewis from the inside with those trademark chopping hooks and uppercuts.
As an exhibition fight, Lewis is probably the worst matchup there is.
Without being able to throw hard shots, Tyson's chances are all but nullified by Lewis' length. This could suggest that the fight will be a lot more open and competitive than the Tyson-Jones one last year.
Still, even if this does look more of a fight than Tyson's last outing, he will need to remain disciplined and focused to overcome an excellent technician in Lewis.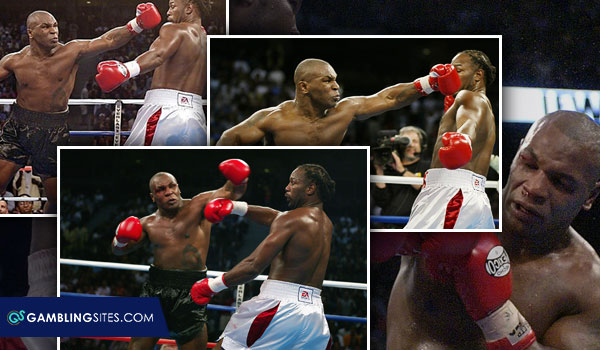 More Tyson vs. Lewis Rematch Details to Follow
That is a wrap for this betting preview for Mike Tyson vs. Lennox Lewis 2.
From the best odds for Tyson-Lewis rematch to the strengths and weaknesses of both fighters, we've covered a major chunk of all there is to know about the upcoming fight.
Given that the full details of the bout are yet to be announced, there are a few bits and pieces left to tie things up.
When I have the full details for Tyson vs. Lewis 2, I'll be sharing them on our betting blog for boxing. I will also be providing updated odds, predictions, and my betting pick for Tyson-Lewis 2 via our boxing picks section.
You can get access to both, below. Until next time!