Early Odds and Analysis for Alexander Volkanovski vs. Brian Ortega at UFC 266

Alexander Volkanovski puts his UFC featherweight title on the line against Brian Ortega on September 25, 2021.
The fight headlines the upcoming UFC 266 pay-per-view event from the T-Mobile Arena in Las Vegas, and features support from Valentina Shevchenko vs. Lauren Murphy in the co-main. Additionally, we Nick Diaz vs. Robbie Lawler in a rematch of their UFC 47 bout all the way back in 2004.
However, my focus today is firmly on UFC 266's main event.
The top UFC betting sites have released their markets and early odds for Volkanovski vs. Ortega. I'll be looking at the moneyline prices for both men, analyzing what each fighter brings to the table, and providing you with the lowdown on one of the biggest featherweight bouts in recent memory.
Let's start with the odds.
Breaking Down the Early Odds for Volkanovski vs. Ortega
Alexander Volkanovski to Win: -190
Brian Ortega to Win: +155
Volkanovski is on a 19-fight win streak that extends back to December 2013.
He has two wins over Max Holloway, albeit a controversial one in the second fight. Yet, he is still doesn't get the respect he deserves. Still, the bookmakers know the score, which is reflected in the odds for Volkanovski to beat Ortega.
At -190, the champ might look a bit pricey at first glance. That is until you weigh up the science behind the oddsmakers' choice to install him as a near -200 favorite.
Not only has he proven himself as a champion; his style is well suited to what Ortega brings to the party.
Still, I'm guessing that some readers will see Ortega's odds for UFC 266 and hop on them.
After all, it's tempting to throw your chips on "T-City" following a superb performance against The Korean Zombie in October 2020. That night, he completely outclassed a tough and dangerous striker on the feet, outscoring him and generally making the guy look a lot worse than he is.
Volkanovski is not The Zombie, however. He is a very astute and pragmatic striker that will prevent Ortega from finding his flow. Comfortable on the feet, he is also as well-rounded as they come.
My verdict on the early odds for Volkanovski vs. Ortega is that they are pretty much spot on.
Tale of the Tape for Volkanovski vs. Ortega
| | | |
| --- | --- | --- |
| Alexander Volkanovski | Tale of the Tape | Brian Ortega |
| 23 | Fights | 44 |
| 22 | Wins | 28 |
| 1 | Losses | 15 |
| 11 KO; 3 Sub | KO and Submission Wins | 3 KO; 7 Sub |
| 32 | Age | 30 |
| 5'6" | Height | 5'9 |
| 71" | Reach | 69″ |
| Orthodox | Stance | Switch |
Despite giving up three inches in height, Volkanovski has a positive reach advantage of two inches over Ortega.
The Aussie's 5.5+ positive ape index belies his below-average height for the 145-pound division. It allows him to compete with taller fighters while sometimes giving them the impression that he is outside of range.
A smart fighter, "The Great" initiates the attack on the feet where he has picked up a 50% knockout ratio from his 22 wins. The former rugby league player once weighed an incredible 210 pounds before dedicating himself to mixed martial arts and is deceptively strong.
Volkanovski has one of the best coaching teams in MMA behind him.
The Aussie trains at the highly respected City Kickboxing gym alongside the likes of UFC middleweight champion Israel Adesanya and lightweight contender Dan Hooker.
Ortega's three knockout wins aren't exactly indicative of his power. He can bang, that's for sure. Just ask Frankie Edgar, who suffered the first KO loss of his career to the 30-year-old in March 2018.
Traditionally, the American's biggest threat comes from his submission game. Spectacular sub wins over Renato Moicano and Cub Swanson were decisive factors in Ortega landing his first UFC featherweight title shot against Max Holloway in December 2018.
T-City was battered that night by the Hawaiian, who went on to drop back-to-back losses against the champ. But he picked himself up and came back stronger.
Ultimately, the question is, does Ortega have a chance at beating Volkanovski?
Analysis of Brian Ortega's Fighting Style
One of my best tips for betting UFC fights is to avoid recency bias.
In other words, don't get carried away with how good a fighter looks in their last bout. In this case, don't scramble to bet on Ortega to beat Volkanovski based on how good he looked against The Korean Zombie.
Now, he did look impressive that night. And we are all guilty of fawning over a fighter that can completely outclass a top contender the way he did in October.
Although it was almost a year ago, it's the most recent fight that the BJJ blackbelt has had.
While you must always pay attention to form, the most important thing to consider before jumping on the early odds for Volkanovski or Ortega is the matchup. How do these fighters size up against each other? Are there any discernible weaknesses that a fighter can exploit in their opponent's game?
Well, here's something I can tell you for free — there is no way that the Australian will stand in the pocket like a punching bag. Unlike The Zombie, he's coming in with a specific game plan tailored to Ortega's style.
That's most likely going to involve peppering Ortega's lead leg and pushing a pace that he will, at least at some point, be unable to match.
So, how does Ortega beat Volkanovski? Is there anything that he has in his arsenal that might give him the advantage in this fight?
Brian Ortega's Key Strengths and Weaknesses
| | |
| --- | --- |
| Strengths | Weaknesses |
| Technical Jiu-Jitsu | Striking Defense |
| Submission Game | Mediocre Wrestling |
| Chin | Movement on the Feet |
| Counter Striking | Inactivity (3 Fights since March 2018) |
If Volkanovski shoots in, he's putting himself in danger of a guillotine.
One of the greatest strengths the American has in this fight is his jiu-jitsu, but it's only effective from a defensive position.
Ortega is not a great wrestler. He's averaged just 21% in takedown accuracy thus far, which is poor. His 56% takedown defense isn't as bad, but it does show that he's not exactly up there with the top wrestlers in the promotion.
He is extremely tough, however, given that he has never been stopped in his career. The TKO doctor's stoppage against Holloway was out of his hands, in all fairness, and he would have opted to carry on in that fight without the intervention of the officials on the night.
Although he packs some power and has a great chin, Ortega does get hit far too much for my liking. A guy like Volkanovski can really take advantage of this and pretty much follow a similar game plan to the one Holloway executed back in 2018.
All in all, Brian Ortega is one of the top dogs at 145. But he faces the best man in the division right now, and it's difficult to see how his strengths can cause the Aussie problems.
Can Ortega beat Volkanovski? Yes. Absolutely. But the odds are seriously against him outclassing the champ. If he does win, it's going to come down to mistakes and/or a poorly executed strategy from Alexander.
One of the key factors in his mauling of The Zombie was his new strategy for that fight. He looked like a different fighter. But how many times can a guy like Ortega come in and surprise?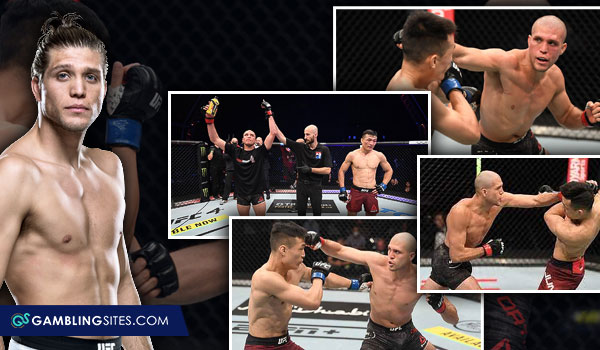 Analyzing Volkanovski Ahead of UFC 266
Did Volkanovski win the rematch with Holloway?
The last time I checked his record, it clearly shows a decision win for the former rugby player. Did he deserve the win? I gave it to "Blessed" and will still insist that the Hawaiian did enough on the night.
It wasn't the greatest robbery in UFC history, however. It was close, and a true fan will appreciate that in order to dethrone a champion, there can be no gray area.
Volkanovski comes into this fight in his absolute prime. Controversial or not, he has two wins against a man considered to be the very best fighter in the history of the 145-pound division. He has looked unbreakable in his run to the top of the pile and is showing no signs of slowing down.
We haven't seen Volk do his thing since that second win over Max in July 2020. But we did get to watch a terrifying striking masterclass in Holloway's dismantling of top contender Calvin Kattar in January.
That win indirectly boosted the City Kickboxing star's stock. It made him look like even more of a monster, simply on account of how badly an opponent he beat twice smashed a top featherweight with ease.
Volkanovski won't come into this fight resting on his laurels, however. One of the key factors that make him so dangerous is the bespoke game plans he develops based on his opponents' strengths. Sure, Ortega looked great against the Zombie, but every weakness he has will be targeted by the king of 145 on the night.
The early odds for Volkanovski and Ortega clearly show that the Aussie is a firm favorite. But what are his strengths and weaknesses ahead of his next title defense?
Key Strengths and Weaknesses of Volkanovski
| | |
| --- | --- |
| Strengths | Weaknesses |
| Athleticism | Height |
| Striking | Untested Against Submission Artists |
| Cardio | Wild at Times |
| Fight IQ | Takedown Technique |
Although Volkanovski arguably deserves a spot among the most unbeatable fighters in the UFC in 2021, he's not perfect.
No fighter is. That's what makes the stylistic clash so important.
So, before you put all your money on Volkanovski's early odds to win, it's wise to consider if any of his weaknesses can be exploited by Ortega.
Let's start with a key strength of the Australian, which is his athleticism. You don't see many former rugby players entering the UFC and winning championships. In Volkanovski's case, he dropped almost 80 pounds to fight at featherweight, which is pretty crazy.
Coupled with his toughness, cardio, and adaptability, he's nothing short of a nightmare for most opponents. I mean, Holloway's gas tank and output are insane, yet Volkanovski managed to keep up the pace in both fights. That's very impressive.
As for the weaknesses of Volkanovski? Well, depending on the scenario, his height might leave him susceptible to issues against taller opponents. He makes up for this physical negative with his above-average reach on the feet, but in the clinch, it is something that can be exploited.
Perhaps the greatest danger for Volanovski against Ortega, however, is his takedown technique. He has the tendency to shoot for both the single and double leg with his head far too exposed. If he tries this against Ortega, he's leaving himself very vulnerable to a standing guillotine.
With everything considered, Volkanovski has the advantages on the feet. He's certainly no pushover as a wrestler and has explosive power and the gas tank to keep things going his way. But if he gets careless in the takedown, Ortega could take his neck.
This fight will look a lot different to his last two bouts against Max Holloway, but that could suit the Aussie.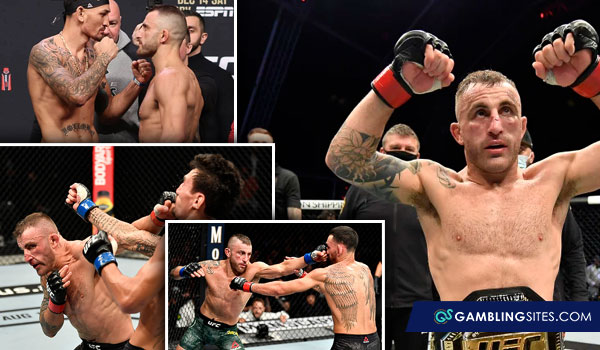 Volkanovski vs. Ortega Betting Advice
Don't expect much movement in the early odds for Alexander Volkanovski vs. Brian Ortega compared to those around fight night.
There will not be a lot of change to either man's price, which means there is no rush in making your bets. In fact, it's perhaps a better idea to wait for some of the best props for Volkanovski vs. Ortega to be released if you are gambling on this fight.
While there is more to consider before I make my pick for the UFC 266 main event, I'm leaning towards a decision win for the champion. The price for that should be a sweeter deal than the moneyline.
You can find my recommended UFC betting picks for this one closer to fight night. Once I am sure about who I'm backing, I'll be revealing my predictions for Volkanovski vs. Ortega to help you get the most out of the odds-on offer.
Until then, check out the latest picks for the fights!