Early Odds for the 2022-23 College Football National Championship

The 2021-22 college football season came to an end with Georgia capturing the national title with their epic victory over Alabama.
The Bulldogs won their first national championship since 1980 and Nick Saban will have to wait at least one more season to capture his eighth. Alabama and Georgia are two teams that certainly won't be going away anytime soon.
It is time to dissect the latest odds to win the national championship for the 2022-23 college football season.
Odds to Win 2022-23 CFP National Championship
Despite one season recently ending, there is no better time than the present to discuss the latest odds to win the national championship. These odds are from SportsBetting.ag and there are others to check out for the best value.
Georgia is likely going to get some sleep this offseason after finally capturing their first national title in 41 seasons. Herschel Walker is widely considered the top Bulldog in program history, but the slew of defensive juggernauts helped lead them to the promised land.
Georgia is right there, nipping at the heels of Alabama to repeat as national champions. However, Ohio State sticks out as the top challenger to both of the SEC favorites.
We have seen Georgia play in two national titles in the CFP era (since 2014) and the Buckeyes are in the same boat. They were coming off a disappointing loss to Alabama heading into this past college football season.
Finding a solid replacement for Justin Fields seemed like a chore at first, but C.J. Stroud is coming off a record-setting Rose Bowl with wide receiver Jaxon Smith-Njigba.
The records that were shattered were off the charts in Pasadena.
347 receiving yards by Smith-Njigba (most in FBS bowl history)
15 catches (most in Rose Bowl history)
3 receiving touchdowns (tied Rose Bowl record)
573 yards passing, Six touchdowns (Rose Bowl records)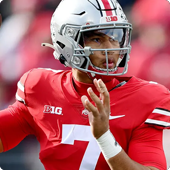 The Columbus dynamic duo is absurd and that is all while losing two of their productive wideouts in program history. The rich get richer, and Ohio State has all the pieces in place to get back to the CFP after falling in their final pre-bowl against Michigan.
A few pivotal matchups against Notre Dame (season opener), Penn State, Michigan State, and Michigan will likely decide their fate.
Marcus Freeman making his Notre Dame regular season debut and his official first full season with the Golden Domers as the head coach will be one of the premier games of the season.
For the SEC haters, they will need to back the Big Ten in hopes of ending the SEC's dominant run. More discussion on that ahead, but three of the top five favorites are from the SEC.
Like most futures, these odds will change as transfers, injuries, and NFL Draft declarations occur prior to the spring. For those interested in other future wagers, check out the early odds to win the 2022 Heisman Trophy.
Can Georgia Repeat as National Champions?
Georgia was finally able to capture the gold and win their third national championship, their first since 1980.
The one negative about the program is all the NFL talent they are losing. In fact, most of their starting roster could be on their way out. The biggest names will need to be replaced.
The star-studded defense that led the nation in points allowed will be a challenge to duplicate next season.
Losing Jordan Davis at nose tackle will shed a tear for some folks in Athens. Here are a handful of their top performers likely headed to greener pastures.
Jordan Davis, DT
Nolan Smith, LB
Lewis Cine, DB
Nakobe Dean, LB
Travon Walker, DL
Quay Walker, LB
Derrion Kendrick, DB
Devonte Wyatt, DL
Their nasty defense was stifling and could punch you in the mustache and knock you out cold. Kirby Smart has brought the program to new heights and the ability to recruit has allowed them to flex their muscles.
The offensive side of the ball was a committee approach that was led by a slew of backs and receivers. Enough youngsters played well down the stretch and top 5 recruiting classes have put them in the running for the best rosters in the country for the past few seasons.
Stetson Bennett doesn't know where exactly where he will be playing in 2022, but the Dawgs are going to be fine. Their schedule is manageable with a Top 25 potential matchup against Oregon in the opener (Atlanta). Tennessee, Florida, and Auburn may all lose four-plus games again.
The offense looks bright with Brock Bowers. He put together one of the best seasons as a freshman from the past season. He has a bright future for Athens, regardless of who is threading the needle to the potential All-American tight end.
Georgia takes the 26-18 lead over Alabama on a Brock Bowers TD catch! #NationalChampionship
pic.twitter.com/C2bwZIGXgr

— Zach McKinnell (@zachmckinnell) January 11, 2022
Most top-notch programs are tremendous in the trenches since the perimeter is often the easier to reload. They always say that the elite teams are built from the inside-out.
Georgia had a few dominant defenses under Mark Richt but came up short in the BCS era. Luckily, they brought in a new coach that has been a blessing.
Kirby Smart has built a winning culture and tradition that has had the fans on their feet for years. In fact, Georgia has appeared in a New Year's Six Bowl in five straight seasons.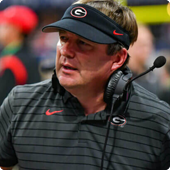 2021: Orange Bowl (national champs)
2020: Peach Bowl
2019: Sugar Bowl
2018: Sugar Bowl
2017: Rose Bowl (CFP)
Smart took over for Richt in 2016 and it only took his second season to grab the nation by storm. They ended up knocking off Oklahoma in one of the better Rose Bowls we have seen.
They had a devastating trio in the backfield. DeAndre Swift was behind Nick Chubb and Sony Michel that season, but they made life easier for Jake Fromm. Roquan Smith was the top defensive player in the country at linebacker.
The 2021 roster was even deeper, and Smart was able to put it all together to grab a national title. The future is bright next season (+350) with an enjoyable schedule.
Those games against Auburn, Florida, and Tennessee are all home/neutral-site matchups.
Many defending champions catch breaks for another stellar season, but time will tell which players eventually declare for the draft or decide to come back to Athens for another year.
CFP Sleepers to Monitor in 2022
The Bearcats had preseason hype in 2021, but they took on all challengers and made the most of their opportunities.
Knocking off Notre Dame was the difference between making and missing the CFP. The Irish nearly got in despite losing in South Bend to Luke Fickell. Who is going to have the best chance of pulling off the magical year that the Bearcat recently did?
BYU Cougars
I am looking at BYU (+8000) due to the challenging schedule next season. They have Notre Dame, Baylor, Arkansas, and Oregon all on the docket. Those are four Top 20 preseason teams on paper.
If they can somehow go 11-1, they honestly are more than worthy of getting a shot at the CFP. Run the table and I will be touting them as the best non-Power Five team in the past quarter century.
Gunner Romney is a star wideout for BYU and they would love to get the bad taste out of their mouth after losing to UAB in the Independence Bowl.
The Cougars are loaded with experience and have enough Top 25 talent on their roster to contend with the big boys.
Throwing the ball up for grabs to Romney isn't a bad idea, as this should be the best season yet for No. 18 in Provo.
Reverse flea flicker from Jaren Hall to Gunner Romney for a TD!

BYU goes up 14-7. pic.twitter.com/5RhFxYaWfO

— Benjamin Criddle (@CriddleBenjamin) September 19, 2021
Houston Cougars
I would have no issue leaning with a squad from the AAC again like I often do, but I will be giving some love to the independent squads. Notre Dame doesn't count as a Top 10 program, but look at the team in Provo, Utah.
The other team that deserves a mention will be the Houston Cougars (+8000). The return of Clayton Tune and Nathaniel Dell could give them an elite, top five caliber of an offense.
The non-conference schedule is soft, and they could go 13-0 and still miss out on the invite. I love BYU's schedule much more and they would get more respect from the committee.
Time will tell if either team can repeat what Cincinnati has already accomplished, becoming the first-ever Group of Five team to crack the code in the CFP era.
Who Will Be the Next 2021 Version of Michigan?
Michigan had long odds to reach the CFP (+2700), which was the longest by a country mile compared to the other three teams. Take a look at the disparity between the two that played in the title game versus the other consolation squads.
| | | | | |
| --- | --- | --- | --- | --- |
| Preseason Odds | Alabama | Georgia | Cincinnati | Michigan |
| To Reach CFP | -310 | +162 | +2200 | +2700 |
There will often be at least one SEC squad that seems like a lock to reach the CFP (usually Alabama), but that leaves the door open for at least two other squads.
The Power Five has plenty of talented teams, but avoiding those landmines on top of their own adversity usually prevents some of the best teams from advancing. So, which team is going to win almost out of nowhere like Michigan and perhaps reach the CFP?
Well, there are usually a few clues and tips that can determine how successful programs not in the preseason Top 15 can make a run at the CFP.
Returning Starters
Schedule
Luck/Injuries
Player Development
Michigan took advantage with a few stars on both sides of the ball becoming household names. Hassan Haskins dominated Ohio State prior to the Big Ten title game, but they had a pair of pass-rushers that dominated the Big Ten.
David Ojabo was a stud and Aidan Hutchinson has turned into a possible number one overall pick in the upcoming NFL Draft. The likes of Penn State, Wisconsin, and Washington were all better teams entering the season.
Two of the three had disastrous seasons per their expectations with the Nittany Lions failing to finish in the Top 25 despite being as high as fourth in the polls. Washington was a popular pick to win the Pac-12, but they failed to reach a bowl and fired their head coach.
Wisconsin finished strong after an abysmal September start to the year. All three looked better than Michigan on paper, but Jim Harbaugh got the job done.
Harbaugh won his first two games this past season as an underdog, something he had never done before.
Plus, the Wolverines actually became the first-ever team in the CFP era to reach the playoff despite being unranked in the preseason polls.
So much went in their favor and that is where the luck lies with reaching the CFP when the deck is stacked against you.
One team that sticks out to reach the CFP and challenge for a national title next season as a dark horse is USC. The Trojans are +3300, which is outside the top 10 favorites.
Keep in mind, they have struggled miserably more times than not to produce a Top 25 squad. However, Lincoln Riley has been an offensive mastermind in the college landscape.
If they were to land Caleb Williams after Jaxson Dart recently entered the transfer portal, they could be a decent dark horse to win it all.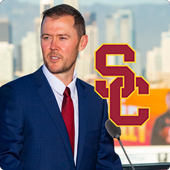 Riley was a great hire by USC, as they attempt to get back on track to become a national title contender soon. The Trojans brought out the red carpet to land him just hours after losing Bedlam to Oklahoma State.
The new USC coach could make the difference and the Trojans will have a few games to circle going into the year.
The Irish should be a preseason Top 10 squad and the Utes won't be too far behind as one of the Pac-12 favorites. If they can get to 11-1 heading into the Pac-12 title, they would have a shot at getting into the CFP.
The Utes are in the South with USC, so there will be luck needed if they lose that trip to Salt Lake City. Avoiding a matchup with Oregon to start the Riley tenure is a break.
The other few teams that stand out are NC State (+8000), Oklahoma State (+3300) and Arkansas (+6600). The Cowboys and Razorbacks both had impressive victories on New Year's over Notre Dame and Penn State, respectively.
KJ Jefferson under center has made the Arkansas rushing attack nearly unstoppable. They have a bevy of backs and are adding new pieces at receiver that could make them a real threat in a division that has Alabama, Texas A&M, LSU, and Auburn potentially all stealing headlines before them.
Devin Leary is a stud passer and should be able to spin the magic bean in a mediocre ACC, albeit Wake Forest and Clemson should remain as relevant Top 25 squads.
I have faith in Mike Gundy entering his 18th season in Stillwater. Especially after finishing with his second Top 10 ranking. These three teams are not nearly a lock in comparison to our next program.
Will the Heisman Winner Get Another National Title Shot?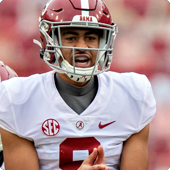 Alabama (+300) and Nick Saban won't be going anywhere in terms of being left out of the title picture. They will be back and are the listed favorites to win the title next season across many sportsbooks.
The main attraction will be the return of their superstar Heisman winning quarterback. While he didn't put on a clinic in the national title loss against Georgia, he should challenge for more trophies in 2022-23.
Bryce Young is the favorite to win the Heisman (+260) and we haven't had a repeat since Archie Griffin (1974-75). Griffin is the only player to ever accomplish such an impossible feat that nobody has come overly close to for decades.
The play of Young will single-handedly carry Alabama to the finish line. Their youngster wideouts are fully capable of filling the void that John Metchie and Jameson Williams are likely to leave behind.
Young is one of the rare signal-callers that has a quick release and delivers the ball on time with ease. He is considered the favorite to be the top pick in the 2023 NFL Draft.
What a play by Heisman winner Bryce Young! Bama goes up 18-13 on the Dawgs. #NationalChampionship

(via @espn)pic.twitter.com/EyaOEWe6Zf

— Bally Sports (@BallySports) January 11, 2022
Teammate Will Anderson Jr. might be the lone player that can steal that spot from him as both third year players will likely be playing in their final season come kickoff 2022. Anderson is a monster that has been unblockable due to his athleticism off the edge.
What has been impressive with Alabama is they have followed up a bowl loss under Saban with either a national title or at least a trip to the CFP in all but one season.
Finishing Top 10 in the final AP Poll for the past 14 seasons is remarkable. Losing more than two games is nearly impossible for the program to witness.
They will be back, and nobody will be stunned if they get back to the CFP with a lone loss potentially coming but not costing them a spot due to their strength of schedule and ability to pass the eye test with flying colors.
Betting on the 2022-23 College Football National Championship
For all your college betting needs, take time this offseason to debate on which top college football betting sites are your favorites.
There you have it, the odds to capture the 2022-23 national championship in college football. Don't be sad the offseason is here, look back and enjoy the moments we were given.
To think, there wasn't an actual Rose Bowl played in Pasadena two years ago and we were given an instant classic between Ohio State and Utah on New Year's Day in 2022.
The pageantry of the fans is what drives this sport, and the national title and CFP brought that back to us this past season.
The next CFP title game will be here before you know it. Ready to place your bets already? Brush up on the best way to do so with our college football strategy guide.
College Football Betting Strategy Guide