Early NFL Odds Breakdown for Week 11 (2021) – Advice for How to Bet

If you were hoping the 2021 NFL season would finally start to show itself by week 10, you may have left disappointed.
Tampa Bay lost their second game in a row. Dallas went ham a week after getting crushed by the Broncos. The Packers shut the Seahawks out. Miami stifled Lamar Jackson and the Panthers smoked the Cardinals.
There was a lot to chew on in week 10, but very little was actually answered. Of course, from a betting perspective, there were several massive upsets. For a brief second there, even the Lions almost won.
Week 10 was for the books, and if you go out in front of things early, perhaps you came away a big winner.
Ideally, you can do so in week 11. The best way to do that is to check out the early NFL betting lines, however. Let's look at the early week 11 NFL odds at the top NFL betting sites and then touch on every game that currently has pricing.
NFL Odds for Week 11
New England Patriots (-5.5) -110 vs. Atlanta Falcons (+5.5) -110
Indianapolis Colts (+7) -117 vs. Buffalo Bills (-7) -103
Miami Dolphins (-2.5) -125 vs. New York Jets (+2.5) +105
Washington Football Team (+2.5) -105 vs. Carolina Panthers (-2.5) -115
Baltimore Ravens (-6) -115 vs. Chicago Bears (+6) -105
New Orleans Saints (+1.5) -110 vs. Philadelphia Eagles (-1.5) -110
Houston Texans (+10) -105 vs. Tennessee Titans (-10) -115
Green Bay Packers (-2.5) -112 vs. Minnesota Vikings (+2.5) -108
Arizona Cardinals (-2) -110 vs. Seattle Seahawks (+2) -110
New York Giants (+11.5) -112 vs. Tampa Bay Buccaneers (-11.5) -108
These are the early week 11 NFL odds, courtesy of BetOnline. That's one of my favorite options for initial odds and a lot of NFL props, but it's always wise to shop around for the best prices and wagers.
That said, there are only NFL betting lines listed for 10 games going into week 11. Injuries can and will impact the way some games are priced, and I also write this before the week 10 Monday Night Football game is played.
In addition, the Denver Broncos and Los Angeles Rams get the week off.
Be sure to check for updated NFL odds, but before it comes to that, this early look can be useful for two key reasons.
First, you can formulate how you want to bet. Secondly, you can take advantage of pricing that simply won't be available to you later in the week.
Week 11 is loaded with marquee matchups, with several having major playoff implications. The most compelling is a tilt between the Cowboys and Chiefs, but the odds aren't out for that affair as I write this.
For now, let's focus on the games with week 11 NFL odds.
Patriots vs. Falcons
Patriots (-5.5) -110
Falcons (+5.5) -110
Over 46.5 (-110)
Under 46.5)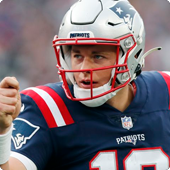 Don't look now, but Bill Belichick has his Patriots looking like a playoff contender. New England could be more than that, as they've hung tight with some good teams, and are looking solid at 6-4.
They are still tying the immediate future of this franchise to a rookie quarterback in Mac Jones, but he hasn't had to do it all alone.
New England is helping him out with a commitment to the ground game (9th in rush play percentage), and their defense (4th in scoring) has been a handful for opposing offenses.
This surging Pats squad now gets the Falcons, who just got embarrassed by Dallas, 43-3. I can only imagine what Bill Belichick will dream up for this matchup, but odds are it won't be good for Atlanta.
New England looks like a fine bet to cover the 5.5-point spread here, and their moneyline should also be appealing. The Pats are 6-4 ATS on the season, after all.
Colts vs. Bills
Colts (+7) -117
Bills (-7) -103
Over 49.5 (-110)
Under 49.5 (-110)
People were awfully worried about the Bills after losing to Jacksonville a week ago. One week later, and the Colts beat the Jags, and Buffalo demolished the Jets.
And all is right with the world.
Anytime a giant stumbles, people think everyone has figured them out. In reality, Josh Allen and the Bills are as dangerous as ever. So much so, that they enter week 11 as touchdown favorites as they host Carson Wentz and the Colts.
I tend to buy into that spread, even though Indy rusher Jonathan Taylor has been a man possessed. Look at what he's done since week 4.
| | | | |
| --- | --- | --- | --- |
| Week | Rushing Attempts | Rushing Yards | Rushing TDs |
| 10 | 21 | 116 | 1 |
| 9 | 19 | 172 | 2 |
| 8 | 16 | 70 | 1 |
| 7 | 18 | 107 | 1 |
| 6 | 14 | 145 | 2 |
| 5 | 15 | 53 | 1 |
| 4 | 16 | 103 | 1 |
Taylor has been unstoppable, and Indy has been on a roll (5-2) during that stretch.
As good as he's been, it's understandable to project him to hit the skids here. Buffalo's offense can be tough to keep up with, and the Bills have been nasty (4th) against the run.
The Colts have been pretty pesky (6-4 ATS) on the year, however, so getting on this spread before it tightens may not be a terrible call. Given Buffalo's offensive upside (4th in scoring), the Over could be an easy target, too.
Dolphins vs. Jets
Dolphins (-2.5) -125
Jets (+2.5) +105
Over 45.5 (-110)
Under 45.5 (-110)
The Jets reportedly gave Mike White one last shot to hold onto New York's starting quarterback gig this past week. He proceeded to throw four interceptions in a brutal blowout loss.
It looks like it's back to Zach Wilson to keep the Jets going in week 11.
The Mike White run was fun. It's now over.

Zach Wilson will be back next week against the #Dolphins.

— Connor Hughes (@Connor_J_Hughes) November 14, 2021
You can't blame them, either. White scored a sweet upset of the Bengals, but that galvanizing moment feels like it came years ago at this point.
No matter who you like, the Jets are just 2.5-point dogs here. They haven't proven to be a team bettors can trust, and they're hosting a Dolphins team that completely dominated Baltimore last week.
This line is very weird to me. The only thing that makes sense is hammering Miami at -2.5, or just going hard after their moneyline. Given Miami's rise on defense, I probably wouldn't touch the game total, however.
Washington vs. Panthers
Washington (+2.5) -105
Panthers (-2.5) -115
Over 43.5 (-110)
Under 43.5 (-110)
Week 11 offers up a weird one. Narrative Street is as busy as anyone can remember, as Ron Rivera returns home to take on the Panthers and (checks notes) Cam Newton.
Newton proclaimed it himself after scoring twice in an emphatic win over Arizona in week 10:
"I'M BAAAAAAACK!"

Cam Newton scores in his first play back with the Panthers!
(via @NFL)pic.twitter.com/URzAh9L5qF

— Sports Illustrated (@SInow) November 14, 2021
Carolina fans simply won't know what to do here. Rivera will surely wish for some revenge, and his Washington squad is as confident as ever after taking out the defending champs.
Newton could be ready to take over Carolina's starting quarterback job full-time by the time he squares off with his old coach, though. Carolina's defense is nothing to sneeze at, either.
Overall, picking a side feels like a nightmare. This feels like one that's a fun watch, but less fun for betting.
Ravens vs. Bears
Ravens (-6) -115
Bears (+6) -105
Over 45 (-110)
Under 45 (-110)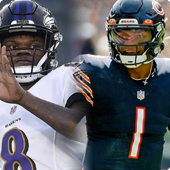 Lamar Jackson and his Ravens got thoroughly out-played last week, but I fully expect Baltimore to get it going again in week 11.
Both the Bills and Cowboys endured this fate a week ago, and they rallied and completely destroyed their next opponent. That's what the great teams do, and when looking at these two sides, the Ravens are undeniably the team to get behind.
I don't love the point spread in general, but the Ravens haven't lost consecutive games in 2021, and they've found a lot of different ways to win this season.
That said, they're just 3-6 against the spread on the year. Chicago's defense and David Montgomery's return to full strength could give the Bears a shot at keeping it somewhat close.
Saints vs. Eagles
Saints (+1.5) -110
Eagles (-1.5) -110
Over 44 (-110)
Under 44 (-110)
There are teams in the NFL that are impossible to make any sense of. Two of them face off in week 11, so good luck figuring this one out.
In all seriousness, the Saints have dropped two in a row and are banged up right now. They have to go on the road to take on the Eagles, who are 4-6 and have yet to win at home.
The NFC is pretty top-heavy, so both of these teams technically are still in the playoff race. Normally I'd favor the home team, but the coaching and defensive reliability lean toward the Saints.
That could make them solid underdogs to get behind, but with Alvin Kamara possibly returning after taking the week off, I'm not even sure that underdog status sticks.
Texans vs. Titans
Texans (+10) -105
Titans (-10) -115
Over 45.5 (-110)
Under 45.5 (-110)
The Titans are white hot. They've ripped off six straight wins and are coasting in the AFC South at 8-2. It hasn't come against cakewalk opponents, either, as they've beaten the Bills and Rams in recent weeks.
Tennessee's defense is making a name for itself, too, although there should be a little concern with Julio Jones joining Derrick Henry on injured reserve.
The #Titans have placed WR Julio Jones on Injured Reserve. He's out three games.

— Ian Rapoport (@RapSheet) November 13, 2021
Still, the Titans are the rightful favorites at home against a Houston team that clearly has no interest in winning games right now.
The spread feels thick, but the Titans have won by double digits in four of their last six outings. They're also third best (7-3) in the league against the spread.
Houston can bring a little offense to the table, so the early lines allow the Titans ATS and the Over to be potential smash plays for bettors.
Packers vs. Vikings
Packers (-2.5) -112
Vikings (+2.5) -108
Over 49.5 (-110)
Under 49.5 (-110)
Aaron Rodgers didn't make a triumphant return from COVID-19 in terms of his individual performance.
However, what bettors learned in week 10 was far greater than watching A-Rod slay the Seahawks; the Packers have a truly legit defense.
This unit may be bordering on elite.
That's one thing to digest. The other? Green Bay's offense has never truly taken flight in 2021, and their week 11 performance certainly didn't come close.
It's worth debating if that explosion can come against an underrated Vikings defense this week, but the top NFL betting sites have this game slated for a 49.5 total. On top of that, it's hard to imagine the Packers being that sluggish for a second straight game.
Green Bay is a solid bet to keep it going here, and the Over looks like a solid bet.
Cardinals vs. Seahawks
Cardinals (-2) -110
Seahawks (+2) -110
Over 50 (-110)
Under 50 (-110)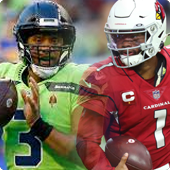 If you thought the Seahawks were desperate heading into week 10, then they'll really be up against it in week 11 when they host the Cardinals.
On paper, this is at worst a fun battle, as Kyler Murray is projected back. The Murray vs. Russell Wilson narrative is a fun one, and there should be points flowing here.
It feels weird to say that when Seattle scored precisely zero points at Lambeau Field, but we know what the Seahawks are capable of. Ditto for the Cardinals.
Assuming these teams are at full strength, the Over looks pretty good. Arizona is probably the way to go if looking at the spread or moneyline, though.
Giants vs. Buccaneers
Giants (+11.5) -112
Buccaneers (-11.5) -108
Over 50.5 (-110)
Under 50.5 (-110)
The last game on the week 11 docket has Tom Brady and co. looking to prevent a three-game losing skid.
This is still a team capable of repeating as Super Bowl champs, though.
Everything in my body wants to dish out a knee-jerk "the Bucs got this" reaction, and maybe that's just the correct response. However, the Bucs have not looked like themselves lately, and the Giants have been tough defensively.
New York just beat the Raiders and Panthers and sandwiched between those two wins was a tough road loss to the Chiefs.
I'm not saying the Giants beat the spread here, but I don't know how comfortable bettors should feel about Tampa Bay covering by 12 points.
Tampa Bay is just 3-6 against the spread in 2021, and injuries have impacted their offensive output. It's worth noting this same Giants defense gave the Bucs issues in a 25-23 game in 2020, too.
Betting on the NFL in Week 11
There is a clear benefit in betting on the NFL early in the week. Lines move quite often, and the initial lines aren't yet impacted by the betting public.
Sometimes injuries and random news can completely alter what we think is an obvious bet, as well.
This post isn't just a reminder to bet on the NFL early and often. Sometimes the price simply isn't right. Other times NFL sportsbooks wisely take bets down until the situation isn't so murky. There are even cases where waiting is the better move.
Still, for week 11, there seem to be a lot of low game totals. The NFL has had a bit of a lull in offensive play lately, but that won't last forever.
I think a few spreads look good right away, and once the moneylines pop up, you should see some straight up bets you like, too. But the big takeaway is that hammering the Over in week 11 could be mighty profitable.
Of course, the other thing about early week 11 NFL betting lines is, well, they're early. Once things settle down after a day or two, be sure to hit up our NFL betting picks page for free picks and analysis for all things NFL betting.