Early Nathan's Hot Dog Eating Contest Odds, Props, and Picks for 2022

I'm sitting down to write about people stuffing their faces with hot dogs (and water). What month is this?
Yes, it feels weird, as the 2022 Nathan's Hot Dog Eating Contest is (checks calendar) eight months away. You know, basically a year.
When in Rome, though.
The top entertainment betting sites are still looking ahead to the July 4th tradition, and they're doing it early. That means you can place bets now if you'd like, and there's merit in doing so if you feel you won't get a better price later on.
So, while the 2022 Nathan's Hot Dog Eating Contest is not coming for quite some time, you could still profit from your decisions today.
To help you do that, let's break down the early 2022 Nathan's Hot Dog Eating Contest odds, and come to some predictions.
Total Hot Dogs Eaten by Men's Winner
Over 74.5 (+120)
Under 74.5 (-160)
BetUS gets the party started with the eventual winner's hot dog count from the men's side.
Someone has to win, and that means they'll be stuffing a lot of wet hot dogs down their gullet.
That's probably going to be the iconic Joey Chestnut, who won yet again in 2021.
A one man DYNASTY ?

Joey Chestnut wins the Nathan's Famous Hot Dog Eating Contest for the 14th time ?? pic.twitter.com/6WZN4sHf3v

— Sports Illustrated (@SInow) July 4, 2021
Chestnut has now won each of the last five competitions, and 13 of the last 14. His dominant run is the stuff of legends, and he even surpassed his own expectations by breaking his hot dog eating record last year.
He upped his game to the tune of 76 hot dogs, and now you can bet on whether he can do it again.
To understand (and appreciate) just how difficult (and gross) that could be, check out this video.
The best bet is him simply matching his 2020 mark (75) and it's at plus money.
You can even up the ante, as there is an alternative bet where the Over is 76.5 (+275), which would mean you think he'll break his record, once again.
Both are fair game, but I'd play it a bit safer here. Chestnut could keep pushing the envelope and hit 77 or 78 hot dogs, but he's still human (I think). I'd cut the bet at 74.5 and take the plus money and run.
Betting on Joey Chestnut's 1st 30 Seconds Lead
Leads after first 30 seconds (-250)
Doesn't lead after first 30 seconds (+185)
If Joey Chestnut is going to have a shot at breaking his own personal hot dog-eating record again in 2020, he probably will require a fast start.
Historically, other eaters haven't rivaled him when the dust settles, so if he's beating everyone and breaking records, conventional wisdom suggests he'll be leading from the jump, too.
The odds favor it happening, and a more determined Chestnut that will likely be aiming for 80 eaten hot dogs probably won't come slow out of the gates.
Betting on Joey Chestnut's Hot Dog Count
Over 11.5 after 1st minute (+135)
Under 11.5 after 1st minute (-175)
I am not blown away by the value associated with betting on Chestnut's early lead in this competition, but I do like this prop.
You can bet on whether or not his fast start will equate to 11.5+ hot dogs eaten, much like it did in 2021.
Here was the record-setting pace he started with last year.
1st Minute: 12
2nd Minute: 11
3rd Minute: 9
4th Minute: 8
5th Minute: 6
6th Minute: 6
7th Minute: 5
8th Minute: 5
9th Minute: 6
10th Minute: 7
Chestnut wasted no time early on, and he was absolutely crushing it through the first few minutes, and the 12 eaten hot dogs within the first minute is what bettors will want to focus on.
The fact that he maintained a similar pace for two whole minutes to start the competition tells me he has a specific plan to get off to a huge lead, and then he paces himself before erupting again late.
Chestnut knows it's a long, grueling 10 minutes, but he can't get a record if he starts slow, and starting slow leaves the door open to his competition upsetting him, too.
Look for him to get off to yet another fast start at the 2022 Nathan's Hot Dog Eating Contest.
Joey Chestnut's Exact Hot Dog Count
77-78 (+900)
Any Other (-2500)
Full disclosure, there are actually numerous props for how many hot dogs Joey Chestnut will eat in the 2022 Nathan's Hot Dog Eating Contest.
This one just has the best price at +900, even though I am suggesting you bypass it.
The point? You can bet on the exact hot dog count for Joey Chestnut in the 2022 competition.
I think it's a bit easier (and safer) to just pick a total you think he will cover, and bet that way.
This one is a bit high, but it does offer supreme value if it can hit. Regardless, you can bet on how many hot dogs Joey Chestnut will eat, and the upside is obvious.
Who Will Win the 2022 Nathan's Hot Dog Eating Contest?
Joey Chestnut (-3000)
Anyone Else (+1000)
The big question is who will win the 2022 Nathan's Hot Dog Eating Contest. Or more specifically, can anyone beat Joey Chestnut?
Logic suggests this is Chestnut's contest to lose again, and he's probably pushing for yet another record. That said, he isn't without his challengers.
Geoffrey Esper finished in second with 50 hot dogs last year, while Nick Wehry was third with 44 hot dogs eaten. Neither of these guys were remotely close to Chestnut (76), but if anyone is going to upset him, they're the contestants to bet on.
That said, I just don't see a reason to chase this bet.
Who Will Win the Women's Competition?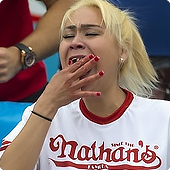 Let's not forget about the ladies. I correctly predicted last year's winner, with Michelle Lesco taking advantage of a pregnant Miki Sudo taking the year off.
My guess is Sudo will be back to try to start a new winning streak, and she would pull in as the favorite after winning the previous eight contests for the women's side.
Lesco's 30 hot dogs from 2021 wouldn't come close to what Sudo normally does, so a non-Sudo pick would likely require the former champ to miss the competition for a second straight year.
Betting on the 2022 Nathan's Hot Dog Eating Contest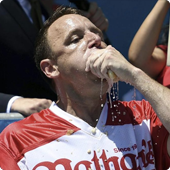 This look at the 2022 Nathan's Hot Dog Eating Contest odds was understandably mostly all about Joey Chestnut.
The man has completely dominated competitive eating's biggest stage, and it's unlikely that changes in 2020.
Of course, this post can be about the other competitive eating stars if you want it to be. There is value in it, too, assuming you believe someone other than Chestnut scarfs down more hot dogs next summer.
I'm of the belief that Chestnut isn't slowing down just yet. The crazier thing is that you can still profit off his improbable ascension.
Betting on Joey Chestnut to win the Hot Dog Eating Contest is a waste of time at his -3000 odds. But as you can see, there are plenty of other Nathan's Hot Dog Eating Contest prop bets you can (and should) take advantage of.
Want to read about more entertainment betting markets? Check out the posts below.
September
Casino of the Month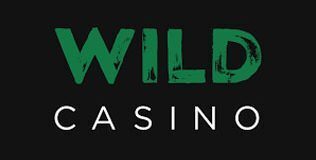 Welcome Bonus
250% up to $5,000