Hide Bonus Offers
| | | | | |
| --- | --- | --- | --- | --- |
| #1 | Bovada Sports | 50% Up To $250 | Visit Site | Bovada Sports |
| #2 | BetUS | 125% Up To $2,500 | Visit Site | BetUS |
| #3 | MyBookie | 100% Up To $1,000 | Visit Site | MyBookie |
| #4 | Everygame | 100% Up To $500 | Visit Site | Everygame |
| #5 | BetOnline Sports | 60% Up To $1,000 | Visit Site | BetOnline Sports |
Early March Madness Props: 5 Wagers That Could Win You Cash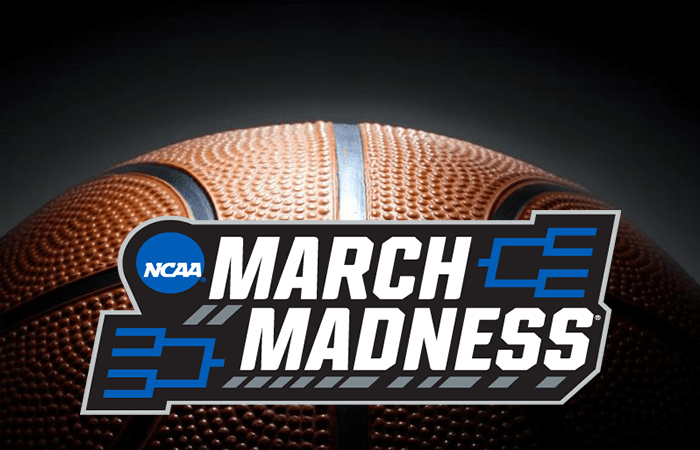 Although automatic berths in March Madness won't be determined until the conference championships have concluded in a couple of weeks, we've already got a pretty good sense of what this year's NCAA tournament field is going to look like.
And what it looks like is a whole lot of parity. With dangerous teams like Wichita State, Michigan, Florida, Gonzaga and Kentucky all seeded 4th or lower on Joe Lunardi's latest bracketology projections for ESPN, it's hard to imagine Warren Buffett finally having to pay out $1 million per year for life to any of his employees who correctly pick the Sweet 16.
Instead of shooting for the impossible perfect bracket, a more fun approach for this year's tournament may simply be playing props on how far individual teams will advance or whether they'll get further than others. Fortunately, TopBet.eu has already obliged us with 13 March Madness props.
All odds that are referenced in this article were taken from TopBet.eu at 11 a.m eastern on February 21, 2018. These odds may have changed since the time of this writing.
March Madness Props At TopBet.eu
You can bet on March Madness futures at practically any online betting site right now, but TopBet has taken things a step further with these tournament props.
In addition to betting on whether Villanova, Virginia, Michigan State or Duke will win it all, you can also bet against them cutting down the nets in April. TopBet also has 2-way odds on whether each of those teams will get to the Final Four, as well as 5 head-to-head matchup props on which team will get the furthest in the tournament.
Here are all the March Madness props that TopBet was offering at the time of writing:
Will Villanova Win The Championship: Yes +450, No -700
Will Virginia Win The Championship: Yes +500, No -800
Will Michigan State Win The Championship: Yes +450, No -700
Will Duke Win The Championship: Yes +500, No -800
Will Duke Advance To The Final Four: Yes +140, No -170
Will Villanova Advance To The Final Four: Yes +120, No -150
Will Virginia Advance To The Final Four: Yes +170, No -220
Will Michigan State Advance To The Final Four: Yes +135, No -165
Virginia vs. Duke: Who Will Advance Further: Virginia -105, Duke -125
Xavier vs. Cincinnati: Who Will Advance Further: Xavier +100, Cincinnati -130
Kansas vs. North Carolina: Who Will Advance Further: Kansas +120, North Carolina -150
Arizona vs. Purdue: Who Will Advance Further: Arizona -140, Purdue +110
Villanova vs. Michigan State: Who Will Advance Further: Villanova -130, Michigan State +100
5 March Madness Props That Could Win You Cash
National championship futures aren't that appealing in a 64-team tournament (68, including the play-in games), and you probably aren't interested in laying -700 or higher on a team not winning it all, either.
Instead, I suggest giving these 5 March Madness props some consideration. 3 of them pay even money or better, and the other 2 won't result in you losing your shirt if you're wrong, either.

1. Xavier To Advance Further Than Cincinnati (+100)
It's so surprising to see Xavier as the underdog on this prop that it makes me feel as if this is a trap. The Musketeers were ranked 4th on this week's AP Top 25 (7 spots ahead of Cincinnati) and were even listed as a #1 seed on Joe Lunardi's latest projected March Madness brackets (Cincy was a #3 seed in its region).
These odds may also be an over-reaction to Xavier's 95-79 blowout loss at home to Villanova on Saturday. I'm willing to give the Musketeers a pass in that game, since they were riding a 9-game winning streak and may have been a bit complacent while the Wildcats were hungry after losing to Providence and St. John's over the past 10 days.
Cincinnati hasn't set the world on fire lately either, losing last week at Houston and then falling at home Saturday as 6-point home favorites against Wichita State. The Bearcats are 2-3 against the spread over their last 5 and just 13-10 ATS on the season, compared to Xavier's sparkling 19-9 record against the number. That indicates to me that the Musketeers are the more underrated team of these two.
Maybe that's because nobody respects the Xavier defense, which is a lowly 257th in the nation in points allowed per game. But part of that is the pace that the Musketeers play, a pace that has enabled them to average more than 85 points per outing this year (8th in the NCAA). Cincy can D up with the best of them (2nd in points allowed per game), but scoring can be a struggle for the Bearcats.
Of these 2 programs, Xavier's got the better recent track record in March Madness.
The Musketeers have won 15 games in their last 9 tournament appearances, compared to Cincinnati's 14 victories in its last 16 tournaments. Taking all of the above into consideration, getting even money on Xavier going further than the Bearcats looks like a steal.

2. Purdue To Advance Further Than Arizona (+110)
Here's another prop in which the higher-ranked team (Purdue, 6th on this week's AP Top 25) is an underdog to a lower-ranked squad (Arizona is 14th).
This time, it's easy to see why that's the case. Purdue looks like a team headed in the wrong direction at the moment, dropping 3 of its last 4 and failing to cover the spread in 8 straight outings (0-7-1 against the spread) to fall into third place in the Big Ten. Meanwhile, Arizona is coasting to a first-place finish in the Pac-12, even if the Wildcats continue to play below expectations (10-15-2 ATS).
Once again, I disagree with the oddsmakers on who the favorite should be on this prop. Lunardi projects Purdue as a #2 seed in its bracket, while the Wildcats are currently slotted as a #4. The Boilermakers are solid at both ends of the floor, they've got a veteran cast that has had enjoyed tournament success in the past, and they have benefitted from playing a lot of tight games (each of their last 8 contests have been decided by 8 points or less.) Arizona doesn't play very good defense, making the Wildcats very vulnerable if they find themselves trailing in the tournament and have to play catch-up.
Purdue's recent struggles may actually be a silver lining, as every team goes through a tough stretch at some point during the season and it's best to get it out of the way before the tournament. I fully expect the Boilermakers to learn and benefit from the adversity they've faced, which should only make them a tougher out in March Madness.
Arizona's won at least 2 games in 6 of its last 7 trips to the tournament, and I'm not projecting a first-round exit for the Wildcats here either. But Purdue looks like a Final Four team to me, making the +110 odds on the Boilers to advance further than Arizona a tremendous value.

3. Villanova To Not Advance To The Final Four (-150)
In a year in which there really are no dominant teams in college basketball, I think we need around +200 odds or better to have any value backing a team to get to the Final Four.
That makes the chance to fade the Wildcats at a short -150 price extremely appealing. Even if Villanova gets a #1 seed in its bracket (as expected), there will be several minefields the Cats will need to survive just to earn their way to San Antonio, beginning as early as the second round.
Nova continues to live and die by the 3-pointer, which is always a wild card. If those treys aren't falling with regularity, the Wildcats are vulnerable against pretty much anybody. We saw exactly that in Villanova's recent losses to St. John's (when the Wildcats were 9 for 33 from behind the arc) and Providence (3 for 20).
Against a defense that excels at defending the trey, such as Cincinnati or Kentucky, the Cats could quickly find themselves in trouble.

4. Michigan State To Advance Further Than Villanova (+100)
Since I just established reasons why the Wildcats might go out of the tournament earlier than expected, it shouldn't come as a surprise that I'm also fading Villanova's tournament chances in this prop against Michigan State.
The Spartans have everything you want in a national championship contender. They score the ball extremely efficiently, they're great shooting the 3, they rebound at both ends of the floor and they play stellar defense. Tom Izzo's teams often don't round into form until the end of conference play and the start of tournament time, so we may not even have seen the best the Spartans have to offer yet.
Sparty should also be extremely hungry, with 1 win in its last 2 tournament appearances nowhere near what is expected from this program. That is another advantage they have over the Wildcats, who are just 2 years removed from their 2016 national title. Finally, much like Purdue, playing a tough conference season in the Big Ten should have the Spartans prepared to win some tight games in March.

5. Duke To Advance Further Than Virginia (-125)
They say that defense wins championships, but that's not always true in college basketball. In fact, the NCAA tournament tends to reward teams with better offenses, with 8 of the past 12 national champions ranking higher in offensive efficiency than they did on defense.
Maybe that's why the Cavaliers continue to fall short in March Madness. Despite arguably boasting the most consistently-great defense that we've seen in college basketball in recent years, Virginia's chronically lethargic attack has led to a mere 7-5 tournament record under head coach Tony Bennett. The Cavaliers have slim margin for error in most of their games, and being burdened with high expectations once again doesn't make it any easier to pull out victories in tight contests.
Duke will face plenty of pressure this year as well, but at least the Blue Devils have a coach who has lived up to it in the past, winning 2 national titles in the last 8 years. Not only can Duke score against anybody, they can also do it from anywhere on the court, shooting the 3 at around 40% and hitting 50% from the field. And while allowing more than 70 points per game might look alarming for a team with national title aspirations, the Blue Devils have held opposing shooters to approximately 40% from the field. As good as Duke is playing a high-tempo style, I also believe they're capable of grinding out victories in the half court.
Until Virginia proves it's capable of overcoming its past demons, I'll gladly back the more proven program at this short price.
Conclusion
When you're filling out March Madness brackets, things can go sideways pretty quickly. You have to make picks on a lot of games in which you really don't have any idea what's going to happen, and there are always upsets that spoil even the most logical picks.
Betting props is an easier and more enjoyable route to add excitement to the March Madness tournament, and you've also got a much better chance at actually winning. Whether it's betting these 5 picks that I've highlighted above or wagering on any of the other tournament props currently available at TopBet, I strongly encourage you to give it a try and see what you think.