Early Betting Preview for the 2022 US Midterm Elections

We're almost one year out from the next round of United States elections.
Odds for the 2022 midterms have been released, with some rather interesting markets out there.
For example, you can bet on gubernatorial elections. Or on Herschel Walker being elected to the Senate in Georgia. There are even a few markets for wagering on Donald Trump to look at.
If you're planning to bet on the 2022 US elections, let's start off this piece with one of the best midterms props doing the rounds.
Who Will Control the House in 2022?
Republicans: -300
Democrats: +200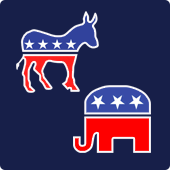 The big question.
As you can see, the odds for the Republicans to control the house after the 2022 midterms look promising for the GOP.
Anyone looking to place bets on the elections this far out should consider jumping on this price, as all signs point towards the party reclaiming control of Congress.
Historically, Republicans tend to do well at the halfway mark of a president's term. It looks increasingly likely that they will enjoy success based on dwindling support for President Biden and widespread fears over the economy.
Biden's approval ratings are sinking and are unlikely to have bottomed out just yet. While he is not on the ballot, there is no doubt that he will be in the back of voters' minds come November next year.
The POTUS came into office at a time when the country was mid-pandemic. And although it would be harsh to label his administration's response to COVID-19 as poor, his party will clearly suffer for it one way or another.
Blaming his predecessor, Donald Trump, is the obvious way to go for the Dems. But when it comes to convincing the American public that everything was Trump's fault, Biden is going to need to make a very convincing case.
The disastrous handling of the withdrawal of Afghanistan earlier this year is another issue that will come back to bite Biden in the butt. But by 2022, signs of a likely recession should begin to surface.
Recent polls show that the economy is the front and center issue. Thus, the performance of the government on key financial issues could be the fulcrum that turns the wheel back in favor of the Democrats.
In September, Biden made the following comments while honoring labor unions.
"When I came to office, our first job was to stop the economic bleeding, and it was the worst bleeding since Roosevelt [in the Great Depression]. We passed the American Rescue Plan. That delivered shots in arms and checks in pockets, and provided that extra breathing room for working families."
But Americans are starting to grow weary of the president and will continue to turn against the Democrats as things get tangibly worse.
Will Donald Trump Become Speaker of House?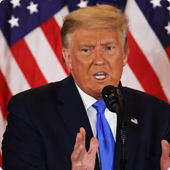 One person's dream is another's nightmare.
But I guess the look of Trump's odds to become speaker of the House should prevent the blood pressure of many opponents from hitting dangerous levels.
There's no doubt that the entertainment value of having the outspoken, former president as speaker would be great. In a real-world scenario, however, it just wouldn't work.
Can you imagine incumbent speaker Nancy Pelosi's face as she passes over her chair and gavel to Trump?
I'm not sure he would be able to contain himself; the side-splitting grin and air of pomposity would probably be enough to see him spontaneously combust on the spot.
Biden would probably follow suit, but for completely different reasons.
Trump made an appearance on Real America's Voice in June. The host, David Brody asked the former president if running for speaker would interest him.
"Well, I've heard the talk and it's getting more and more, but it's not something that I would have considered. But it is — certainly, there's a lot of talk about it."
Although Trump becoming speaker of the House is a funny concept, it's also highly unlikely to happen. Not only would it potentially harm his chances of winning a second term as POTUS, but could harm the Republicans as a whole.
I'd say there is more chance of winning money by betting on a Trump vs. Biden boxing match than there is from this market.
Herschel Walker to Win the Georgia Senate Race?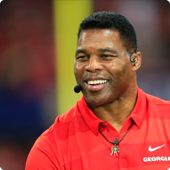 Herschel Walker turned heads when he announced his campaign to run for the US Senate in Georgia.
The multi-talented, former NFL star running back was also a mixed martial artist, Olympic bobsleigh competitor, businessman, and erm, ballet dancer. Now, he's turning to politics.
I love anyone eccentric enough to throw themselves into as many things as possible. While he has absolutely no political experience whatsoever, there are politicians in the States currently stealing a living that I'd choose Walker over.
Not that I'll be naming any of them. At least until I can afford a stronger legal team…
All jokes aside, the odds for Walker to become a senator in Georgia show that it's not as crazy a concept as some would have you believe. But I do believe he will be up against it when the former Bulldog's dirty laundry is aired out in public.
Walker released his book Breaking Free in 2008, which documented his dissociative personality disorder and touched upon other struggles with mental illness.
He has been accused of domestic violence in the past, and is already being lambasted by those who identify as 'on the left."
Herschel Walker is possibly the dumbest person I've ever heard opine on politics. Not to mention all the violent domestic and sexual abuses he blames on a dissociative "multiple personality disorder." He's a real gem. https://t.co/w8p5hfjA93

— These Tweets Kill Groupthink (@Moderateleft) April 11, 2021
While he has strong support in some quarters, I reckon Walker's domestic abuse allegations will be enough to push him out of the race.
The odds are available on SportsBetting.ag for anyone looking to take them.
Will Trump Be Elected at the Midterms?
The chances of Trump being voted to the House of Representatives via any Congressional district are about as thin as a mantis' front leg.
Still, there will be some who believe it's worth a shot. But the odds for Trump to be elected at the midterms are +800, which is kinda stingy for the chances of it happening.
I wouldn't bother with this market. It's just one of those 2022 midterm elections props that are there to catch attention. Instead, I'd consider looking over the odds for Trump to run for president in 2024. At least there's a real chance of that happening.
It's clearly a no from me, but at those odds, I'd avoid this market.
Picks for the 2022 Midterms Governor Races
The odds for the governor races in 2022 vary between mega interesting and meh.
I'll be looking closer at betting on the 2022 gubernatorial elections further down the line. But here's a quick glance at what to expect.
Arizona
Republicans: -275
Democrats: +185
Republicans look nailed on to win this one, with Donald Trump endorsing former TV anchor Kari Lake. However, Matt Salmon has the backing of the anti-tax organization Club for Growth, who were allies of the former president in primaries.
Arizona Board of Regents' Karrin Taylor Robson and 2020 US Senate candidate Steve Gaynor are running with Kimberly Yee and Daniel McCarthy also strong contenders.
Georgia
Republicans: -140
Democrats: +100
This is a key battleground that could come down to the wire.
Incumbent Gov. Brian Kemp, a vocal opponent of Trump, will face a very tough time winning a second term.
It appears that former Democrat Vernon Jones will offer a major challenge.
But if he was counting on Trump's backing, it's clear that he won't be getting it. Instead, Sen. David Perdue is a probable choice.
Other gubernatorial candidates like Kandiss Taylor will be fighting it out with Stacey Abrams, but ultimately, the Republicans should take this one.
New York
Democrats: -10000
Republicans: +1500
There is literally more chance of Big Bird becoming Mayor of New York City than there is of the Republicans getting in.
Unfortuantely, the odds stink worse than one of Oscar the Grouch's farts. Which would, ironically, hold more value.
Avoid.
Pennsylvania
Democrats: -180
Republicans: +140
This will be one of the most crowded fields.
As such, the odds for gubernatorial elections in 2022 are difficult to process. I mean, the Democrats should win but there is also a fair chance of the GOP taking it.
Attorney General Josh Shapiro will have a lot of support and appears to be the man to back, as the only Democratic runner. Unless the Republicans can produce a solid contender, he will more than likely replace the term-limited Tom Wolf.
Lou Barletta, Joe Gale, William McSwain, and Guy Ciarrocchi are some of the more esteemed contenders.
Wisconsin
Republicans: -130
Democrats: -110
I think the odds are solid for the Democrats here.
Incumbent Gov. Tony Evers has his fair share of haters, but he also has some strong support.
I believe he will sneak over the line ahead of any Republican candidate, and the price does look rather nice.
Where to Bet on the 2022 Midterms
You can find a bunch of midterms odds for 2022 via our recommended political betting sites.
If you're keen on jumping on some early odds ahead of next year's key battles, make sure to shop lines for the top prices available for all markets.
We will be covering the 2022 midterms in detail on our politics betting blog closer to the election dates. Make sure to check back in with us for those.
You can, of course, browse what other political odds and markets are available right now.
Perhaps you're looking even further ahead. If so, what do you reckon the odds for a female president in 2024 look like?
AUGUST
Casino of the Month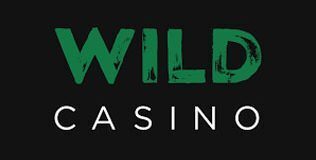 Welcome Bonus
250% up to $5,000
Read Review
Visit Site