Hide Bonus Offers
| | | | | |
| --- | --- | --- | --- | --- |
| #1 | Bovada Sports | 50% Up To $250 | Visit Site | Bovada Sports |
| #2 | BetUS | 125% Up To $2,500 | Visit Site | BetUS |
| #3 | MyBookie | 100% Up To $1,000 | Visit Site | MyBookie |
| #4 | Everygame | 100% Up To $500 | Visit Site | Everygame |
| #5 | BetOnline Sports | 60% Up To $1,000 | Visit Site | BetOnline Sports |
Early Betting Preview of the 2019 Snooker World Championship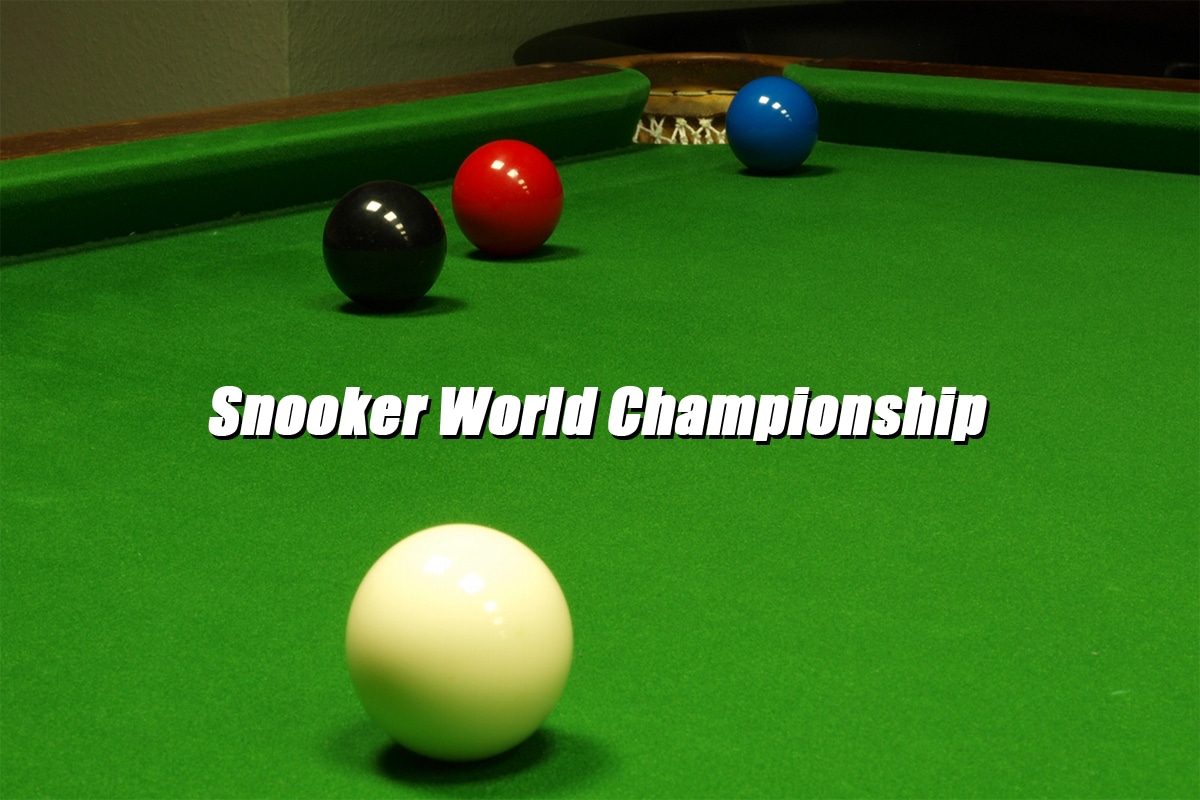 It's been a whirlwind few months in the world of snooker, and the best is yet to come.
The 2019 World Championship is knocking on our door, and the elite players are firmly locked on the biggest prize in the sport.
Understandably, all the hype right now is surrounding Ronnie O'Sullivan. The Rocket equaled Stephen Hendry's record of 36 ranking titles by dispatching Neil Robertson in the tour Championship final. This led to him reclaiming the world number one spot after nine years.
This remarkable achievement for the Englishman once again sparked the debate whether he is the greatest of all time, and deservedly so. The next big challenge for Ronnie will come in April when the World Championship takes center stage in the Crucible Theater.
He might be flying now, but he will face stern competition from the other top seeds in a tournament where his record hasn't been great in the past few years. Last year's edition showed us that no player is safe, and there were a bunch of big surprises.
The defending champion Mark Selby and the 10th seed Neil Robertson were eliminated in the first round. O'Sullivan himself didn't make it far as he went out to a battling Ali Carter in the second round. Some of the other top guns such as Judd Trump, Barry Hawkins, and Shaun Murphy also didn't live up to the expectations.
Eventually, it was Mark Williams and John Higgins who crept into the final. After a fiercely contested tie, Williams took down the Scotsman with a final score of 18-16.
The top betting sites have already provided a glimpse of what we can expect this year. So it's the perfect time to have an early look at the odds and assess the chances of the top competitors.
Ronnie O'Sullivan
The Rocket is on top of the world once again. It's simply astonishing how this player can pick himself up and continue producing that level of snooker. He has won five tournaments this year, and claiming the biggest prize once again will be a fairytale ending to the ranking season.
It's no surprise that the bookies have Ronnie as the firm favorite. When he is in that kind of form, it's hard to imagine that anyone can keep up with him. However, there are a couple of things that I have to say about his chances.
The Rocket hasn't been great in the World Championship lately. Since his back-to-back wins in 2012 and 2013, O'Sullivan has only been in the final once. In fact, he has only managed to qualify for two quarter-finals in four years.
Sure enough, there are loads of reasons for that, but my feeling is that betting on Ronnie could be risky. We won't be seeing him in the China Open, so basically the next time he'll be around the table will be the World Championship.
We all know his form and mood can shift quickly, and the worry here is whether we'll get the flying Rocket or the one that can't make easy shots when the WC comes around. At these odds, I personally wouldn't risk it.
Judd Trump
Trump is definitely in the mix for me. He has already won the World Grand Prix and the Northern Ireland Open, which are serious ranking tournaments. He also clinched The Masters title, which may not have helped him in the rankings, but it's still a very prestigious tournament and a testament to his brand of snooker.
Throw in some quarter-final and semi-final appearances, and on the whole, the guy's not having a bad season at all. He is currently ranked 6th and looks calm and composed around the table. I see no reason why he shouldn't have a decent tournament, but I feel he might just fall short.
The biggest clue is that he's never actually won it. In fact, the closest he's come so far is a final in 2011, in which he was outclassed by veteran John Higgins. He's only been to a couple of quarter-finals after that, and what worries me is that he has been easily eliminated by lower-ranked players in recent years.
Trump is still among the elite, but I'm not sure the World Championship will ever be his grand stage. My guess is that he could improve on his quarter-final exit from last year but won't be making it much further.
Mark Selby
I can't hide the fact that Mark Selby is an interesting proposition for me. You can say he's not having the best season of his life, but if you look at the rankings, you might think twice. Selby just about surrendered the top spot to O'Sullivan, but he has been holding onto that for more than three years.
He won the China Championship, and his earnings for the ranking season total £1,182,225. The guy is right up there with the very best, and I'm a little surprised to see that he's been pushed to the sidelines.
I can agree that last year's first-round exit at the hands of Joe Perry was a huge shock. Nobody was expecting it, and it definitely wrecked Selby's confidence. But since then, he has dusted himself off, picked up another ranking title, and he will absolutely be fired up to make amends.
Plus, don't forget that he has quite a record in the tournament. Prior to his disappointment last season, the Jester from Leicester won the World Championship three times in four years. Not exactly something you can neglect, is it?
Neil Robertson
As much as I like watching The Melbourne Machine play, he can also be very frustrating. He won both the Riga Masters and the Welsh Open but failed to make the most out of other opportunities and is currently ranked 7th.
You can say that many of the finals he lost were against Ronnie O'Sullivan, and I'll agree that we can't fault him too much for those. However, he was also battered by Mark Allen at the International Championship final.
Last year's World Championship was a disaster for the Australian. He went out in the first round against Robert Milkins, losing the game 10-5. Knowing that you'll have to scroll a lot to find Milkins in the rankings, I'll help you out here — he's 38th.
And despite Mark Selby enduring the same fate, I don't think it's simply a hiccup with Robertson. In fact, in five of the last eight editions of the tournament, the Australian has managed to pass the first two rounds only three times and has a single semi-final appearance to his name.
I feel like he won't be able to turn things around this year as well, so I'm not at all surprised by the odds provided here.
The Rest of the Bunch
You might be wondering why the defending champion Mark Williams and last year's finalist John Higgins are given such high odds. After all, they occupy the 3rd and 4th seeds in the world ranking and have a big history in the tournament.
Well, if you actually look at how things shaped up for them last time around, you'll probably understand the reason. Given how elite players were eliminated in the first rounds, Williams and Higgins both had a bit of luck progressing through the stages.
Williams had to play Jimmy Robertson, Robert Milkins, and Ali Carter. The semi-final was his first real challenge where he narrowly edged Barry Hawkins by 17-15. Higgins' fate was almost identical. The Scotsman went through Thepchaiya Un-Nooh and Jack Lisowski.
He then had to face Judd Trump and Kyren Wilson, and both those matches were very tight and could well have ended differently. I'm not trying to take away anything from them, but it's true that they got a bit lucky.
Just look at their records in recent years. Williams didn't even participate in 2017, and his last semi-final appearance was back in 2010. John Higgins has a better record with his back-to-back finals, but he hadn't moved past the quarter-finals in six years prior to those.
Mark Allen has two ranking titles this season and actually made it to the UK Championship final but was beaten by Ronnie O'Sullivan. By all accounts, this is a good player that shouldn't be underestimated. Does he have what it takes to win the big one? I'm not so sure.
The longer games don't suit him, and his record in the World Championship shows that clearly. He's only ever been to one semi-final, and most of his attempts end in either of the first two rounds.
Kyren Wilson also has two ranking titles to his name this season and is enjoying his snooker at the moment. Also, he seems to be establishing a positive trend with his performances at the Crucible in recent years. After securing back-to-back quarter-final berths in 2016 and 2017, he went a step up by reaching the semi-final last year.
I expect he will be a tough opponent for any of the favorites, but I doubt he will be able to continue improving on his final position. Nevertheless, the guy is gaining experience rapidly, so the day that he shocks us all may not be too far away.
My Pick for the 2019 Snooker World Championship Winner
I hardly doubt we'll see anything remotely similar to what went down in the tournament last year. The elites will be geared up to put things right, and that could spell trouble for the older players who got a break last time around.
Although all the rage now is backing O'Sullivan, I'm not entirely convinced it is a good idea. While it's more than reasonable to bet on him to win it, there are just too many unknowns around him. That's why I'm putting my money with Mark Selby.
He is a proven champion, and last year's bitter disappointment will help motivate him. The odds are a great value, and you'll only see them going down from here. So, if you're up for an early pick on the outright winner, I definitely recommend the Jester from Leicester.
Final Words
That's it for my early preview of the World Championship. I hope that I've given you a different perspective even if you completely disagree. I would love to hear from you, so make sure you leave a comment and tell me why I'm wrong about Ronnie and Selby's chances.
In any case, if you'll be betting on the Snooker World Championship, make sure you visit our blog regularly for the latest odds, news, and updates.
Good luck!