Hide Bonus Offers
| | | | | |
| --- | --- | --- | --- | --- |
| #1 | Bovada Sports | 50% Up To $250 | Visit Site | Bovada Sports |
| #2 | BetUS | 125% Up To $2,500 | Visit Site | BetUS |
| #3 | MyBookie | 100% Up To $1,000 | Visit Site | MyBookie |
| #4 | Everygame | 100% Up To $500 | Visit Site | Everygame |
| #5 | BetOnline Sports | 60% Up To $1,000 | Visit Site | BetOnline Sports |
Early Betting Odds and Picks for UFC 239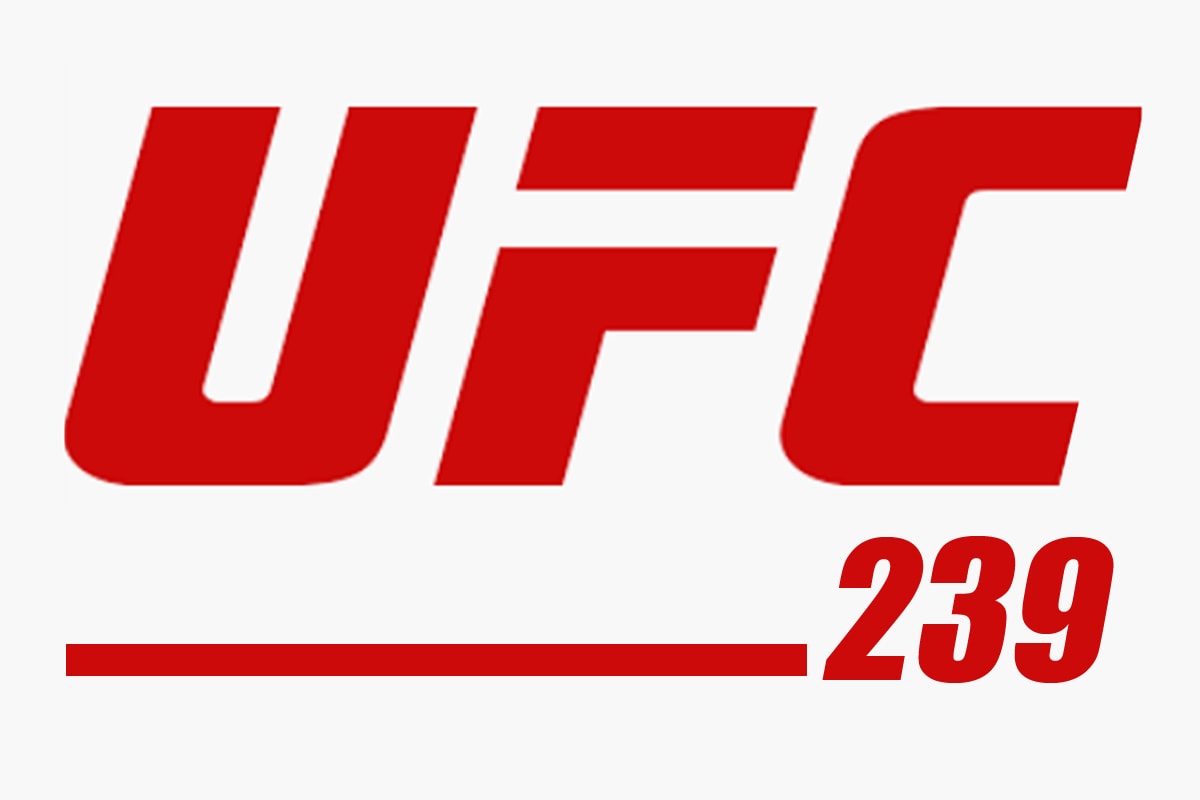 Whenever Jon Jones is featuring, you can be certain there will be fireworks.
Jones (24-1-0) will take on Thiago Santos (21-6-0) in what will be the second defense of his UFC light heavyweight title, having won the strap vacated by Daniel Cormier at UFC 232 in December 2018.
The Rochester, New York native is already a heavy favorite against Santos, who is currently riding a four-fight win streak into the showdown.
Elsewhere, the first UFC women's two-weight champion, Amanda Nunes, will take on former bantamweight titlist Holly Holm on the co-main event.
Nunes, who spectacularly decimated the seemingly unbeatable Cris Cyborg on the undercard of Jones vs. Gustafsson at 232, will defend her 135-pound title for the fourth time in her UFC career.
If that wasn't enough to get the pulses racing, we also have the first light heavyweight appearance of Luke Rockhold to look forward to. The former UFC middleweight champion will be welcomed to 205 pounds by the tough Jan Błachowicz.
And… don't stop reading yet, because there is more.
Jorge Masvidal vs. Ben Askren. Wow, right?
Oh, and a massive heavyweight contest is set to go down between former UFC heavyweight kingpin Junior dos Santos and the division's number-one contender, Francis Ngannou. Someone is surely getting knocked out.
At this point, it seems like we could be getting a little greedy, but who cares? Prior to that bout, Michael Chiesa and Diego Santos will be going head to head in what looks set to be a true old-school dust-up.
With more big-time bouts possible for this card, UFC betting fans will surely be delighted at what is to come.
For now, let's dive into my early UFC 239 betting preview with odds and predictions for this mega card.
Latest UFC 239 Odds
The early odds provided below for both Jones vs. Santos and Nunes vs. Holm are provided by BetOnline. These odds are accurate at the time of writing but are subject to change.
UFC Light Heavyweight Championship Odds
UFC Women's Bantamweight Championship Odds
What Do These Early Odds Tell Us?
Well, pretty much what anyone can expect — Jon Jones and Amanda Nunes are heavy favorites to win.
Jones, in particular, is fighting an opponent that many feel is not strong enough to mount a challenge that will be dangerous enough to threaten his reign as champion. That said, can you think of anyone at light heavyweight that can?
Well, Luke Rockhold's entry to the 205-pound division certainly makes it stronger; that's for sure. If he can beat Jan Błachowicz, he might find himself in the reckoning for a title shot soon.
Amanda Nunes is arguably the greatest female fighter in the history of the UFC and comes in at -315 against Holly Holm. Nunes has not lost a fight since 2014 and has looked extremely assured as champion since submitting Miesha Tate at UFC 200 in 2016.
So, you might be thinking that these fights are foregone conclusions — that there is no way that Jones or Nunes can be beaten.
Wrong.
I believe that there will be at least one upset on the night of this summer spectacular of fights.
How to Bet on UFC 239
If you are new to betting on UFC fights, you might be wondering where the best place to start is.
Firstly, you're going to need to find yourself a solid and reliable betting site that caters to odds on MMA bouts. Check out the best UFC betting sites and find an online betting site that'll help you get the most bang for your buck.
If you click on the link above, you will also find a wealth of information that will give you some valuable tips on what to expect when betting on UFC 239. With a breakdown of the types of bets, rules of MMA, and the ways to win, you can find everything you need to get you going.
UFC 239 already looks like the best card of the year. There are two massive title fights scheduled for July 6, with another two potential title fight eliminators set to go down.
Additionally, there are some absolutely awesome bouts on there that could have huge effects on a couple of the UFC's most stacked divisions.
Given that there are more big bouts to get our teeth stuck into, I think a short breakdown of the fights already announced for the main card of UFC 239 is in order.
Let's start by analyzing the main event of the evening.
Jon Jones vs. Thiago Santos
What can you say about Jon Jones that hasn't already been said 1000 times before?
While MMA betting fans will be hoping that he has shaken off the propensity for controversy that has even seen his legacy questioned at times, there is no doubt that many have an affinity for "Bones."
After all, the 30-year-old is quite possibly the most naturally gifted mixed martial artist of all time. Crazy, considering he admitted to initially learning to fight by watching YouTube videos.
Jones has had a very colorful past, but he is showing signs of maturity that should see him establish his reign as the most dominant champion in UFC history. While the light heavyweight division he rules over may not be the most competitive, Jones, if he hypothetically fought in any division in the championship, would probably own it.
The next man tasked with handing Jones his first actual loss in MMA — that counts as an amateur and a professional — is Thiago Santos.
The Brazilian is 3-0 since moving up to the UFC's light heavyweight division, with TKO/KO wins over Eryk Anders, Jimi Manuwa, and Jan Błachowicz.
What a task it will be for the 35-year-old, in what will be his first title shot as a pro.
Who to Back
Look, I'm not the type of guy to tell you that some fighters are unbeatable, because, quite frankly, no fighter is immune to defeat.
However, the closest thing we have seen to an unbeatable fighter in the UFC is Jon Jones.
The living legend has very rarely been troubled in fights. Aside from the first bout against Alexander Gustafsson, Jones has pretty much dominated every single man that has been put in front of him.
When we consider the caliber of fighters he has put away, especially at a time when light heavyweight was one of the strongest divisions in the promotion, it's easy to see why.
Mauricio Rua, Brandon Vera, Quinton "Rampage" Jackson, Lyoto Machida, Rashad Evans, Vitor Belfort, Chael Sonnen, Alexander Gustafsson (2), Glover Teixeira, and Daniel Cormier — all of these men have lost to Jones.
While Santos will be up for this fight, he will be no match for Jones.
The UFC light heavyweight champion's unbelievable striking, fantastic takedown defense, and sky-high fight IQ will be far too much for Santos on the night.
When odds of -600 seem good, you just know that Jones is somehow involved.
Amanda Nunes vs. Holly Holm
Each and every time since 2014 that fans have bet on Amanda Nunes to lose, she has invariably disappointed them.
Those who have stuck by her have been treated to some pretty nice paydays, however.
Despite being the underdog in her last fight against Cris Cyborg — a fighter that hasn't lost a bout since her debut in 2005 — Nunes battered her, much to the surprise of pretty much everyone.
Well, except Nunes and her team, of course.
The Brazilian is one of the UFC's best pound-for-pound fighters and is arguably the greatest woman to have ever done it. With wins over Cyborg, Ronda Rousey, Miesha Tate, Valentina Shevchenko, and Germaine de Randamie, it is not difficult to see why.
Perhaps the only true elite fighter that Nunes has yet to put away is Holly Holm. At UFC 239, she will finally get the chance to chalk that name off of an elite list of female fighters.
That said, will Holm just lay down and allow Nunes to direct the pace and have her own way? Not at all.
In terms of styles, this one could be tricky for Nunes. Then again, I'm pretty sure many of us thought the same when she fought Cyborg, Shevchenko, Rousey, and Tate.
Who to Back
Amana Nunes has become one of those fighters that takes a lot of balls to go against.
Her resume over the past few years is incredible, and she has not just risen to the occasion but has gone above and beyond to work her way into the reckoning as one of the all-time greats of MMA.
It's tough to see anyone beating her, although Holm has a great shot at upsetting the applecart.
Holm is a former boxing and kickboxing world champion and briefly held the UFC women's bantamweight title, too. She is a cultured striker with an excellent sense of distance who can use great lateral movement and pick opponents off from the outside.
However, a fighter with the power and pressure game of Nunes is a bad matchup for "The Preacher's Daughter."
Holm, at 37, has her best days behind her and would need something truly special to beat Nunes.
Does she have the capability of pulling it off? Absolutely. She is an excellent striker who will not stand in front of Nunes and allow her to pick her apart. But what will likely put her to the test is how she deals with the forward momentum and heavy hands of Nunes.
Holm has a huge chance of upsetting the applecart here. However, I have learned that backing against Amanda Nunes to win money is akin to eating soup with a fork.
Note that my colleague Jerry wrote his own betting preview of Holm vs. Nunes a couple of weeks ago. He reached a similar conclusion, but it's worth checking his post out to get his thoughts on the fight.
Jan Błachowicz vs. Luke Rockhold
Up until a defeat against Thiago Santos in February, Jan Błachowicz was riding a four-fight win streak.
The loss to Santos probably lost him a shot at Jon Jones' title and the chance to become the second Polish UFC champion. However, he will dust himself off ahead of a fight against former UFC middleweight champion Luke Rockhold at UFC 239.
Rockhold has fought just three times since June 2016. The first of those fights saw the part-time model get knocked out cold by Michael Bisping before he bounced back the following year with a TKO victory over David Branch.
Things looked encouraging for Rockhold until he was knocked out in Perth, Australia, by Yoel Romero last year. Suffice it to say, Rockhold was not enjoying the most successful period of his career, so something had to change.
And change it did.
The 34-year-old decided that enough was enough at middleweight and made the decision to move up to light heavyweight.
205 pounds could see the rebirth of Rockhold, just as it did with former light heavyweights Anthony Smith and Thiago Santos, who are, incidentally, the former and next opponents of Jon Jones.
If Rockhold can pass this next test with flying colors, he could be lining up against "Bones" for a shot at his title as early as the end of the year.
Who to Back
Błachowicz is no bum; that's for sure.
Surprisingly, he will not be the bigger man when he squares off against Rockhold at UFC 239. The Polish star stands at 6'2" — one inch shorter than Rockhold at 6'3" — but does have a one-inch reach advantage (78″) over his opponent (77″).
Rockhold will feel pretty confident in this first test at 205 given that Błachowicz does not have the type of knockout power to keep him at bay. Given that the American has only ever lost via KO/TKO, he will feel a little easier about working on the inside against a fighter where respect for power will be minimal.
Now, that is not to say that the Pole is not capable of putting out Rockhold's lights — because he most certainly is — but he does not possess the type of power to keep him on the back foot.
On his day, Luke Rockhold was one of the best middleweights in MMA. His carelessness at times saw him walk into shots that he maybe should have avoided, but there is no doubt that he belongs in the elite club of fighters, pound for pound.
I believe that Rockhold will do very well in the light heavyweight division, at least, up until he meets the heavy hitters at 205 pounds.
His first foray at light heavyweight, against Błachowicz, will end in a unanimous decision win that will set him up nicely for a fight against one of the top 5.
From then on, it is up to Rockhold to show what he has got in this weight class.
Jorge Masvidal vs. Ben Askren
When Jorge Masvidal was matched up against Darren Till in London earlier this year, some suggested that he was a stepping stone for the Englishman to get back in the winning column.
As everyone learned that night, Masvidal is no one's stepping stone and is always down to throw bombs. The punch that connected with Till's jaw dropped him like a sack of potatoes and proved just how hardcore the Cuban-American is.
On the other hand, Ben Askren finally made his UFC debut on March 2 against Robbie Lawler. No one had expected the fight to go down as it did — with Askren winning by a first-round bulldog choke — especially with the former looking dangerously close to being stopped at one point.
Robbie Lawler, much like Askren, is one of the no-nonsense fighters in the promotion. His love of violence and downright war has made him one of the biggest fan favorites on the roster.
His fans, however, were far from happy at referee Herb Dean's decision to stop the bout given that Lawler was still conscious in the choke.
Regardless, the decision stands, and Askren moves on to his next step (there's that word again) towards a UFC welterweight title shot.
Masvidal is aiming for a shot at Kamaru Usman's UFC welterweight title, too, and it will take a lot of convincing from Askren to make him change his mind.
Who to Back?
This one is a tough fight to call.
Masvidal is one of the deadliest fighters in the world to sleep on, granted, but after his knockout of Till, it is farfetched to believe that he will enter this contest under the radar. In fact, Askren is going to know exactly what to expect.
Stopping it, however, is another thing altogether.
Askren is a two-promotion world champion, having collected belts in Bellator and ONE FC. He is a genuine contender for a shot at the UFC welterweight championship, but he will be tested more than he ever has been before in the world's foremost MMA promotion.
In his first fight under the UFC banner, against Lawler, he was hit with some heavy shots yet somehow managed to weather the storm to lock "Ruthless" into the fight-winning choke.
Askren displayed a great chin and impressive heart in the process and will need to do that again when he comes up against a very hungry Masvidal.
Masvidal has excellent boxing skills and will light up Askren if the latter is not smart in how he works his way inside the range of his opponent. If Masvidal catches him, we could see the first-ever loss for Ben Askren in MMA.
I believe that will be the case on the night.
Junior dos Santos vs. Francis Ngannou
What a heavyweight matchup this promises to be.
Junior dos Santos will be vying to show the world that he has what it takes to stop the wrecking ball that is Francis Ngannou. However, the UFC's heaviest hitter, Ngannou, will surely see "JDS" as the final boss of a video game standing in his way of a UFC title shot.
Ngannou's last shot at gold culminated in a very disappointing night for the Cameroon-born power puncher. Stipe Miocic, the champion at the time, utterly dominated the challenger and broke his confidence in the process.
Ngannou's fight against Derrick Lewis, which came immediately after, was perhaps the single worst fight in the history of the promotion. To make matters worse for Ngannou, he lost, too.
Still, "The Predator" was able to dust himself off and claim a first-round knockout over Curtis Blaydes before following this up with a 26-second (albeit bizarre) knockout of Cain Velasquez in February.
Now, he will challenge the #3 ranked heavyweight, dos Santos, in what is almost certainly the eliminator for the next shot at the heavyweight title.
That is, of course, if Brock Lesnar vs. Daniel Cormier goes down at some point this summer and the winner either vacates or chooses to take on either Ngannou or dos Santos.
Who to Back?
Junior dos Santos is currently riding a three-fight winning streak into this contest.
Victories over Blagoy Ivanov, Tai Tuivasa, and Derrick Lewis have given him a lot of confidence to push for another shot at the title.
The last time dos Santos fought for the title was May 2017, where he lost by first-round TKO to the former champion, Stipe Miocic.
Dos Santos is 35 years old and is getting no younger. He will almost certainly see this as the last time he will be in with a shot at UFC gold, so he will be putting nothing less than 100% into making this one count.
Although he is riding high at the moment, I believe he will come up short against Ngannou.
The African, who is desperate to get his hands on the title, has too much power for dos Santos to deal with. I believe he will stop the former champion in his tracks and leave the Octagon with the rightful claim to the next shot at the UFC heavyweight championship.
Of course, it won't be a simple walk in the park for Ngannou. Dos Santos is an excellent fighter with a great all-around skill set. However, he has been knocked out by fighters like Stipe, Cain Velasquez, and Alistair Overeem and will struggle against the power of Ngannou.
I expect an early stoppage in this fight for "The Predator."
Michael Chiesa vs. Diego Sanchez
This one is set to be slept on by many fans, unfortunately.
However, Michael Chiesa vs. Diego Sanchez will quite possibly be one of the best fights of the night.
First and foremost, Sanchez is one of the true legends of the sport and has to be admired for still sticking around following a difficult few years. With the heart of a lion and an absolute refusal to ever quit, The Ultimate Fighter (TUF) Season 1 winner has a huge fanbase, even if his days of glory seem well behind him.
Chiesa, on the other hand, is the TUF Season 15 winner and is nowhere near as popular as Sanchez.
Many looked at his decision to sue Conor McGregor for the infamous "dolly incident" as something that a fighter shouldn't do. That said, whatever Chiesa wants to do in that scenario is up to him, and he will likely care little about how that puts him in standing with UFC fans.
The Italian-American is well-renowned for his submission game. He put away another fan-favorite in Carlos Condit via a kimura in December and will be hoping to do the same to Sanchez.
However, given that Diego Sanchez has never been submitted in his career — and we are talking 40 pro fights — Chiesa will have his work cut out trying.
Who to Back?
I like this fight. I like it a lot.
Why? Well, first and foremost, Chiesa has a great submission game, and Sanchez has never been subbed. That alone makes for an intriguing contest.
Chiesa doesn't have great power, and this was evident in his run as a lightweight. In fact, Chiesa has never stopped anyone on the feet and has never even looked close to knocking an opponent out.
If he had no power at lightweight, you can reasonably surmise that his ability to hit hard at welterweight will be even less convincing.
Sanchez will be licking his lips at the prospect of putting together three wins for the first time since 2009. It was over a decade ago when the veteran achieved this at UFC 95. The thing is, he can do it against Chiesa.
If people are sleeping on how great this fight could be, then they almost certainly will be overlooking Sanchez's chances on the night.
No, anyone who believes that Sanchez cannot be submitted will be trusting history to repeat itself rather than employing the logic of there being a first for everything. However, I don't think Chiesa's strong submission game is good enough to tie the seasoned veteran down.
I believe Sanchez's heart and discipline will be the difference here and will be rooting for him to beat Chiesa and put together his best record in a decade.
Although the odds for this one have yet to be released, Sanchez will almost certainly be the underdog.
There could be a great price on him to grab the win.
Breakdown of UFC 239 Picks
So, in summary, my picks for the fights on the main card of UFC 239 are as follows.
Jon Jones
Amanda Nunes
Luke Rockhold
Jorge Masvidal
Francis Ngannou
Diego Sanchez
While the odds for all of the fights on the card are yet to be released, we can expect Masvidal and Sanchez to be betting outsiders.
We know that Jones at -600 and Nunes at -315 are early betting favorites, but the remaining fighters I have chosen are almost certainly going to be favorites in their respective fights.
Some UFC betting fans might pick a couple of fighters to wager on, while others might feel lucky enough to try a parlay bet on all six. A parlay would certainly pay great odds, but it is up to you how you would like to bet on the fights.
Final Thoughts
Fight fans are already buzzing about UFC 239, given that the card has yet to be completely finalized and is already stacked.
Headlined by legendary light heavyweight champion Jon Jones and title challenger Thiago Santos, fans will once again be wondering if "Bones" can be beaten. It is tempting to entertain the thought, at least.
Then, arguably the greatest female fighter of all time, Amanda Nunes, will be aiming to put another legend, Holly Holm, on her list of victims.
The rest of the card already looks incredible and is set to offer those betting on UFC 239 a wealth of options to get their teeth stuck into.
If this is not the best UFC event of the year, then I personally cannot wait to see what tops it. Respect has to go to UFC President Dana White, Sean Shelby, and the rest of the matchmaking team for giving fight fans and betting enthusiasts more to look forward to.
If only boxing promoters could follow suit…