Early Betting Odds and Contender Analysis for the 2022 NBA Rookie of the Year

Last week's NBA Draft spelled the end of many debates that had been taking place for months. The release of early NBA ROY odds for 2022 is the catalyst for striking up new arguments.
Is it worth betting on Cade Cunningham? Who are the top contenders for the NBA Rookie of the Year? Are there any other first-year players who prospective bettors should be keeping tabs on?
All fair questions – ones I plan on diving into below. First, have a peek at the pricing to get a better feel for the market.
2022 NBA Rookie of the Year Odds
Cade Cunningham is positioned atop the betting sheet regardless of which of the best NBA sportsbooks you're active on. Cunningham is followed by Jalen Green and Evan Mobley, while Jalen Suggs and Scottie Barnes round out what I'm calling "tier-one."
The five guys who have separated themselves from the pack are the same five guys who were selected in the top-5 of the draft. Things get a bit murky after that depending on where you're betting.
Speaking of placing a bet on the NBA ROY, it's imperative that you're shopping lines to get the best number that's out there. Specifically, those targeting a certain individual who'll address in a later section.
Why is Cade Cunningham the Favorite?
For a multitude of reasons.
The 6'8" do-it-all guard is the epitome of a three-level scorer and can play either backcourt position. Cade was a consensus first-team All-American in 2021 after averaging north of 20 ppg on 40% three-point shooting. He averaged 6.2 rebounds, 3.5 assists, plus was a menace defensively (1.6 spg, 0.8 bpg).
His athleticism is off the charts, and he won't turn 20 until September, are you starting to sense why this cat closed at -5000 to be the first pick in the draft?
Undeniably the most skilled and sought-after player in the class, the Pistons will be happy to hand the keys of the offense over to the new
face of their franchise.
Detroit is amid a full-blown rebuild and will start three second-year players alongside Cunningham in 2021.
In other words, Cade will have ample opportunities to stuff the stat sheet from the get-go – ala Anthony Edwards during the second half of last season.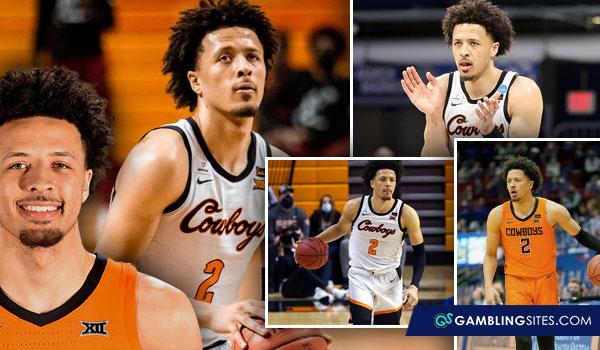 Assessing the Other Top Contenders
Four other names join Cunningham priced under +1000. Let's look at each of their prospects of bringing this award home.
Jalen Green
The Rockets selected the 6'6" shooting guard 2nd-overall and plan on unleashing him right away. Having said that, John Wall is under contract through 2023 and Kevin Porter Jr. emerged late last season as a bonafide up-and-comer. Houston also snagged ASU two-guard Josh Christopher, a former AAU teammate of Green, in the first round.
Green is too talented not to shine, but a path toward immediate success isn't exactly laid out with red carpet.
Evan Mobley
A pure seven-footer with range and mobility, Mobley's arrival in Cleveland kills two birds with one stone. Using his length and agility, Evan tallied 2.9 blocks per game on his way to being named the Pac-12 Defensive Player of the Year. The Cavs ranked 29th out of 30 teams in defensive FG % and will be leaning on Mobley to clog up the post.
The scary thing is as great of a defender as the USC product is, his prowess offensively is just as inspiring.
Jalen Suggs
A left-handed point guard who was brilliant during his only season at Gonzaga, Jalen Suggs joins a crowded backcourt in Orlando. Cole Anthony appears to be penciled in as starting point guard while Orlando tries to work former top-pick Markelle Fultz into the rotation. R.J. Hampton and Gary Harris came over as part of the deal that sent Aaron Gordon to Denver.
On top of all that, Terrance Ross is one of the top 6th men in the league and will eat up plenty of minutes on the perimeter.
Suggs all-around skillset has him lined up for a long and fruitful career, I'm just not expecting huge numbers during his first year.
Scottie Barnes
The ACC Freshman of the Year in 2020-21 is bursting with potential. Scottie was limited to just 24.8 minutes per game under Leonard Hamilton in Tallahassee and still managed to put up some solid numbers.
10.3 ppg
4.1 apg
4.1 rpg
1.5 spg
Barnes shot over 50% from the floor, although his greatest asset at the next level is the fact that he can guard 1-5. At 6'9," Scottie profiles as a point forward with triple-double upside.
Could an Outsider Win the 2022 ROY?
It's possible someone outside of the top candidates walks away with the hardware. However, history tells us that it's not very likely. Dating backing to the 2014 NBA Draft, the eventual ROY winner was a top-3 selection every year but one.
| | | |
| --- | --- | --- |
| Draft Year | ROY Winner | Draft Pick # |
| 2014 | Andrew Wiggins | 1 |
| 2015 | Karl-Anthony Towns | 1 |
| 2016 | Malcolm Brogdon | 36 |
| 2017 | Ben Simmons | 1 |
| 2018 | Luka Doncic | 3 |
| 2019 | Ja Morant | 2 |
| 2020 | LaMelo Ball | 3 |
Going back to 1988, there have only been two instances of a player picked outside of the top 10 winning the ROY (Michael-Carter Williams – 11th in 2013, Malcolm Brogdon – 36th in 2016).
Recent results tell us not to look outside of the top 10, but I can't help but tout the man plucked at #16.
Alperen Sengun, Houston Rockets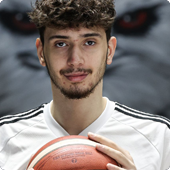 Most guys who just turned 19 on July 25th would need a year or two to be developed at the professional level. Then again, most guys weren't named MVP of the Turkish League when they were 18 years old.
The most polished big man in this draft has an array of moves in the post and always plays with a high motor.
Alperen possesses tremendous footwork and shot over 80% from the charity stripe – the dude is the total package with a sky-high basketball IQ.
ESPN's NBA Draft analyst Jonathan Givnoy sums up the Rockets new big man quite accurately.
"Arguably the most productive 18-year-old in high-level European basketball history."
And now for the most exciting part about throwing a flier on Sengun to win the ROY.
While most of the top betting sites are clued in and installed Alperen at +1600, BetUS must have fallen asleep when producing NBA ROY odds. Sengun is hanging out at a juicy +6600 at the reputable sportsbook.
Among the NBA Rookie of the Year sleepers worth keeping an eye on, James Bouknight and Josh Giddey make a lot of sense. Bouknight is a big-time scorer who will have a big role in Charlotte, he should blend nicely alongside reigning ROY winner LaMelo Ball.
Giddey has lots of room to grow at just 18 years young, but don't be late to the part. The 6'7" Aussie is ready to contribute after being named the 2021 NBL Rookie of the Year. Josh posted three triple-doubles last season with the Adelaide 36ers.
Betting on the NBA Rookie of the Year Contenders in 2022
Feel free to take your pick among the men selected 1-5 in the draft. Of that group, Cade Cunningham and Evan Mobley pique my interest the most. They're the ones in the best positions to make their presence felt.
Houston drafted four players in the first round, many will be betting on Jalen Green to win this coveted award. However, consider a wager on Alperen Sengun, another first-year Rocket player who's ready to provide an impact. Sengun's +6600 price tag is awfully salivating.
September
Casino of the Month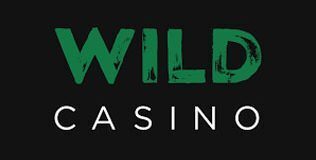 Welcome Bonus
250% up to $5,000