Hide Bonus Offers
| | | | | |
| --- | --- | --- | --- | --- |
| #1 | Bovada Sports | 50% Up To $250 | Visit Site | Bovada Sports |
| #2 | BetUS | 125% Up To $2,500 | Visit Site | BetUS |
| #3 | MyBookie | 100% Up To $1,000 | Visit Site | MyBookie |
| #4 | Everygame | 100% Up To $500 | Visit Site | Everygame |
| #5 | BetOnline Sports | 60% Up To $1,000 | Visit Site | BetOnline Sports |
DraftKings Salaries Advice for Week 1 of Daily Fantasy Football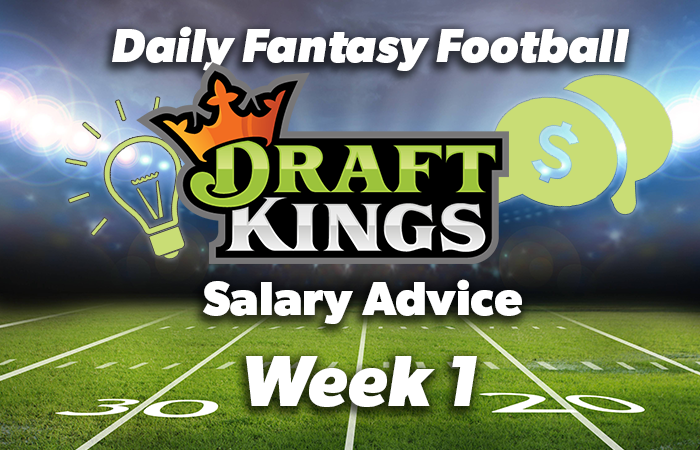 Shortly after daily fantasy sports giant (and main competitor) FanDuel unleashed their week one daily fantasy football leagues for the 2016 NFL season, DraftKings followed suit.
Suddenly both of the top DFS operators have shoved their daily fantasy football product out to the world, while DraftKings has even begun offering preseason DFS leagues.
It's insanity at its finest, but for the true die hard NFL and DFS fans, it's pure, unadulterated bliss.
Most fantasy football leagues don't draft for a couple weeks, if not right before the first game of the year, so having player salaries and team building at your disposal can be a very entertaining (and exhausting) thing.
In an effort to make the next month as painless as possible when it comes to your daily fantasy football lineup construction, we took an early look at the DK salaries. Here's what we came away with:
Over-Priced Week 1 Stars

Quarter Backs
Andrew Luck – Colts ($8.3k)
Eli Manning – Giants ($7.5k)
It's not that I don't think Luck or Manning can't produce huge week one games – because they totally can. However, I'd personally like to see Luck do some good before trusting him in 2016. He was atrocious for most of 2015 and many reports coming out of camp this summer suggest he hasn't looked amazing.
Luck is at home, but the Lions aren't the easiest matchup. Maybe he gets off to a solid start, but I don't think I'll be paying $8.3k to see – especially when Aaron Rodgers is just $200 more and no one else is above that price at the quarterback position.
Manning, on the other hand, could actually still look like a value play at $7.5k. That might be too rich for a guy who saw his efficiency dip down when on the road in 2015, while his struggles against the Dallas Cowboys have also been well documented (55% completion rate and 0 TDs in two meetings last year). With guys like Carson Palmer, Blake Bortles, Tony Romo and even Derek Carr all cheaper, I see no reason to hope Manning finally gets it on the road against a tough divisional foe.

Running Backs
Ezekiel Elliott – Cowboys ($7.3k)
Jamaal Charles – Chiefs ($7.1k)
Lamar Miller – Texans ($7k)
The main problem with these three guys is they're all expensive and they all have some obvious red flags.
Elliott, for one, is a rookie in his first NFL game and he's facing an NFC East opponent that probably won't take too kindly to his league debut being sensational. The NYG defense wasn't that tough last year, but they did make improvements on the line and might focus on the rookie star rusher. Add in Zeke's off field domestic violence issue (pending) and the fact that he's proven nothing to this point, and I find him a bit difficult to trust.
Charles is coming off of his second ACL tear while in the NFL, which naturally is cause for pause for a guy who comes in as one of the priciest fantasy backs to start off the new year. KC also now has a healthy stable of talented running backs behind him, so in addition to health/form concerns, we need to wonder if Charles will be eased into some kind of rushing committee. I'm not worried about San Diego's weak run defense, though, so if these red flags can be cleared up prior to September 11th, I could change my stance here.
Lastly, Lamar Miller is in a new city, was already somewhat of an erratic fantasy producer in Miami and seems a bit expensive for a guy no one has ever been completely sure about. All anyone has ever talked about with Miller is his explosive upside, but it's worth wondering if Miami was ever on to something by holding him back. We also can't know if playing with Brock Osweiler is going to be a bad thing, or if a huge workload in Houston will backfire. His price is that of a top shelf fantasy running back, yet Miller topped even 10 fantasy points just half the time in 2015 (8 games). I need to see more.

Wide Receivers
Odell Beckham Jr. – Giants ($9.3k)
J. Green – Bengals ($8.4k)
Jordy Nelson – Packers ($7.7k)
ODB can be a monster in any matchup and he certainly has the swagger and talent to back up all of his antics. That being said, he was nowhere to be found in two meetings with Dallas last year (weak 9-79-0 line in two games), who happened to field a pretty good pass defense by the numbers in the fantasy realm. I'm not saying the Cowboys will shut him down again, but they seem to have a mental hold on Eli Manning and this game is on the road. I'd be a little hesitant to put all my eggs in Beckham's basket in week one.
Stud wide receivers often need to be wary of tough individual matchups, and Green has one in week one with New York's Darrelle Revis. Revis could slide in play at anytime, but this is just a tough spot to feel great about Green. That is especially the fact with Tyler Eifert banged up and both Marvin Jones and Mohamed Sanu in new towns. With a lack of support around him, Green could get shut down in week one, making his price a little steep.
I love me some Jordy Nelson and if he's back to form, his $7.7k price really isn't bad at all. In fact, it might be a steal. However, Nelson is recovering from a torn ACL, has tendinitis in his other knee, is 31 years old and will be on the road in week one. Add in potential rust and Nelson quickly becomes a dicey DFS play. I may try him in a GPP somewhere just because I love his talent and upside, but it may be wise to refrain from him in week one.

Tight Ends
Rob Gronkowski – Patriots ($7.4k)
Pretty much every tight end is appropriately priced to start off 2016, and heck, so would The Gronk if Tom Brady were under center. Trouble is, a 4-game suspension has made this a tough call, as the unproven Jimmy Garoppolo will be tasked with running New England's offense on the road against a very good Arizona Cardinals defense.
None of this sounds good to me, as Jimmy G will likely be under constant pressure and if the Pats are lucky, they'll probably try to control the tempo by sticking with a lot of running plays. There is the possibility of Jimmy G just confiding in Gronkowski all night and him just destroying the Cards, but that's probably not the likely result here. This oddly could make Gronkowski fairly contrarian in week one, but ultimately he's going to be too tough to trust at this price.

Defense
New York Jets ($3.4k)
New England Patriots ($2.9k)
We're not really up in arms over any of the defense pricing, but the Jets and Pats could stand to be a tad cheaper. New York is at home and generally a good unit, but they'll also be facing a Bengals team that was pretty darn efficient last year. Add in that Gang Green was a bit inconsistent for fantasy purposes last season (11 games of 8 or fewer fantasy points), and this price feels a bit high to start the season.
New England under $3k is not insane, but let's look at the facts: they lost Chandler Jones, their defense wasn't amazing last year to begin with and they're on the road against an elite Arizona offense. Oh, and they may have to account for a rough career debut for Jimmy Garoppolo. It's not impossible for them to rise up and rally behind Jimmy G, but it's not overly likely in this setting. They're probably a unit to avoid.
Top Week 1 Values

Quarter Backs
Carson Palmer – Cardinals ($7.1k)
Tony Romo – Cowboys ($6.8k)
Robert Griffin III – Browns ($5.6k)
It's true Carson Palmer imploded in the worst way in the NFC title game last year, but are we supposed to forget about the fantasy beast he was in 2015 up until that point? We refuse to do so. Palmer is at home in week one, where he's got a beatable matchup against a Patriots team that will be attempting to live life without Tom Brady. Palmer is priced like an intermediate passer, but he's an elite option. We need to take advantage in week one.
Romo's story could be very similar, as the Cowboys win when he's on the field and lose when he's gone due to injury. If Romo is healthy again to start 2016, there's little reason to think he can't be an elite producer again with Dez Bryant at his disposal. Week one could give him a nice break-in game, too, as he's at home against a Giants defense he's torched for the majority of his career. He's too cheap for the upside he brings in this matchup.
RG3 is a mighty drop down and it's never easy to trust Browns players, but let's look at the obvious: he's the cheapest passer on the slate, he offers upside with his running ability and Philly had one of the worst defenses in the league last year by the numbers. It won't take much for RG3 to meet value in week one, and possibly even crush it.

Running Backs
Devonta Freeman – Falcons ($6.9k)
Doug Martin – Buccaneers ($6.2k)
Matt Forte – Jets ($6.1k)
Latavius Murray – Raiders ($5.6k)
Jeremy Hill – Bengals ($4.6k)
If we're to believe the studs from 2015 can be studs again, I'm not sure why guys like Freeman, Martin and Forte are so cheap. Freeman is still a tad pricey, but he's a major value if he's the same guy that dominated last year. The possible inclusion of Tevin Coleman is the lone reason we won't use Freeman in week one? That can't be.
Martin is on the opposite side of that matchup, and while running backs who land big contracts tend to tail off, there is still value and upside to get 2016 going. The Muscle Hamster is explosive, versatile and a supreme value when you look at his role and price. He wasn't bad against the Falcons in 2015, either, rushing for 75+ yards in both meetings and adding a score.
Forte is the first guy you pause at here, as he's in a new situation with the Jets and has been banged up in training camp. He's going to be healthy for week one, though, and last we checked this is one of the most versatile and explosive backs in the entire league. He's also insanely reliable. In 13 appearances last year, the guy topped 10 fantasy points 11 times. Yeah, we'll take Forte for $6.1k, Alex.
Murray and Hill are worthwhile throw-ins here based on price and upside, as many are high on Murray as he prepares for his second season as the main man in Oakland. Facing a bad Saints defense in week one could give him a nice opportunity to thrive, too, so at under $6k we can't just ignore him.
The same goes for Hill, who does share the rock with Giovani Bernard and gets a tough road matchup with the Jets, but the guy scores touchdowns and usually touches the ball 15+ times per game. He ended last year hot, too, putting up 11+ fantasy points in six of his last 8 contests.

Wide Receivers
Brandon Marshall – Jets ($7.8k)
Doug Baldwin – Seahawks ($6.6k)
Larry Fitzgerald – Cardinals ($6.3k)
Marvin Jones – Lions ($4.6k)
Brandon Marshall is a total stud, yet DK is pricing him like an intermediate option here. Marshall was a flat out elite receiver last year, piling on 1,500+ receiving yards and 14 scores on 109 receptions. He was also remarkably consistent, getting DFS users that chose him at least 10 fantasy points in every single game last year. That's insane, and it's unlikely that nasty streak ends in a week one home date with the Bengals.
As must-have as Marshall is in week one, what about Baldwin and Fitz? These are two more guys who literally dropped in career years last season, yet are way under $7k to get 2016 going. The lack of respect is astonishing, and we're left to wonder what DK sees that we don't.
If Baldwin is Russell Wilson's top dog going up against Miami, we can't imagine him coming away with a bad performance. The same goes for Fitz, who is way too cheap in a winnable matchup with the Pats at home.
We're also into Marvin Jones, who is at worst Detroit's #2 guy in the passing game, while some suggest he could overtake the top spot the retired Calvin Johnson has left behind. His exact role is beside the point, however, as he has a solid role and is a red-zone monster at $4.6k. He needs to be in your lineup in week one.

Tight Ends
Coby Fleener – Saints ($4.9k)
Gary Barnidge – Browns ($4.7k)
Jimmy Graham – Seahawks ($3.8k)
Julius Thomas – Jaguars ($3.8k)
There is a ton of value at the tight end position to get the 2016 fantasy football season going, and the top values look to be Fleener and Barnidge. Both of these guys have experience with big roles and red-zone dominance, and there's a lot of optimism both could thrive again in 2016.
Fleener is slated for a massive role in New Orleans, plus in week one he's at home against an Oakland defense that struggled against the position a year ago. Barnidge is still getting over a hernia surgery and is dealing with a new quarterback under center, but this guy put up big numbers with Josh McCown and Johnny Manziel throwing him passes; he can produce with anyone.
Graham and Thomas are interesting throw-ins, as they're elite talents with starting gigs and it's very possible they blow up in week one. Graham is rehabbing a brutal injury and is a lot more difficult to trust, but he still has upside if he's back in week one. Thomas is healthy and proved to be a red-zone threat for Jax last year, but gets a Packers defense that could be better than it was a year ago.

Defense
Dallas Cowboys ($2.5k)
Cleveland Browns ($2.3k)
Let's be clear, defense looks like a good spot to pay up in week one. First, you're paying for safety and upside, and also you're refraining from taking an unnecessary gamble before we start to figure out which defenses are elite, passable and pure trash.
Both of these could be the latter, but two things stand out: price and matchup. Dallas, for whatever reason, tends to own Eli Manning and they're specifically good against him at their home base. They are ravaged in terms of injuries and suspensions, but hey, for a GPP, they could be a fun try.
I certainly don't buy the Browns as a high level DFS defense, either, but they're facing Sam Bradford, who has been known to turn the ball over a bit. Cleveland is on the road here, but they do have some talent, they're under new direction and they're super cheap. They could be worth a gamble if you don't think Bradford is long for the starting job in Philly.
That does it for our look at the week one DK salaries. Be sure to check back closer to the start of the 2016 daily fantasy football season as we look over injuries and role changes in preparation for the new year!