Hide Bonus Offers
| | | | | |
| --- | --- | --- | --- | --- |
| #1 | Bovada Sports | 50% Up To $250 | Visit Site | Bovada Sports |
| #2 | BetUS | 125% Up To $2,500 | Visit Site | BetUS |
| #3 | MyBookie | 100% Up To $1,000 | Visit Site | MyBookie |
| #4 | Everygame | 100% Up To $500 | Visit Site | Everygame |
| #5 | BetOnline Sports | 60% Up To $1,000 | Visit Site | BetOnline Sports |
Does Doping Ban Tarnish Maria Sharapova's Legacy?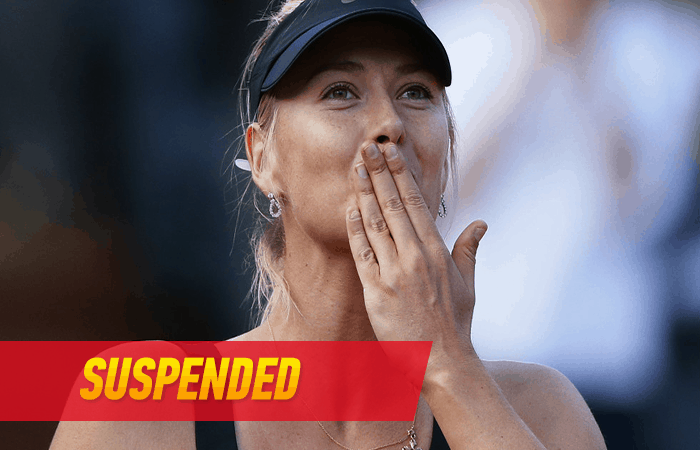 The tennis world learned of a shocking development Wednesday afternoon, when it was revealed that superstar women's tennis player Maria Sharapova would receive a ban for doping.
The International Tennis Federation was not lenient on Sharapova, who reportedly has tested positive for the banned substance meldonium.
Sharapova admitted to using the substance, but "did not intend to cheat" and took "sole responsibility", per the ITF.
While Sharapova did own up to using the substance, she was also very vocal about disagreeing with the ITF's hefty ban – a two-year absence from all tennis competitions.
Even the most casual fan of any sport would agree that a two-year ban sounds harsh, and Sharapova understandably sides with this line of thinking. Sharapova cited her complete compliance in regards to the substance abuse and did not agree with the harsh punishment, saying:
"I cannot accept an unfairly harsh two-year suspension. The tribunal, whose members were selected by the ITF, agreed that I did not do anything intentionally wrong, yet they seek to keep me from playing tennis for two years".
Sharapova is fully expected to appeal the ban, claiming she had been taking a form of the banned substance since 2006 and was unaware it was made illegal on January 1st of this year.
Loss of an Elite
This is a massive loss for tennis, as Sharapova was currently ranked 26th in the world and has been annually reaching at least one major final – doing so in each of the last five years.
The ban presents a huge loss especially for the women's game, which clearly has not had much of answer for the usually unbeatable Serena Williams. Sharapova herself has had her own struggles with Williams, posting a meager 2-19 run against the 34-year old face of tennis.
As sad as it sounds, Sharapova is still one of Serena's stiffest threats for tourney titles, however, as their showdowns always produce hype and excitement in the tennis community. The two have already clashed in four tourney finals, with Sharapova topping Williams one time in a 2004 Wimbledon triumph.
There are plenty more tennis players that have better records against Williams, but few carry the intensity that Sharapova does when facing one of her arch rivals.
No Stranger to Struggles
Sharapova is no stranger to some adversity, as she's overcome numerous shoulder issues and a mighty fall from her previous #1 overall world ranking.
In addition to her health woes, she has had issues with her form and has dealt with a free fall from the top spot in women's tennis.
We've seen Sharapova bounce back before, however, as she found a way to overcome her health woes and shaky form to reclaim the top spot in 2012. She even endured yet another shoulder issue in 2013, but was able to return to form again in 2014 and win her second French Open title.
Can Maria Sharapova overcome yet another obstacle and come back as strong as ever whenever she's allowed to play again? Only time will tell.
Impact on Legacy
The obvious takeaway is the doping accusations and hefty ban, but what is more troubling is what the accusations and suspension could do to Sharapova's legacy, as well as her career.
Arguably currently in her prime at 29 years old, Sharapova would be losing out on premium tennis years, while also missing out on opportunities to chase major titles and compete with the best women tennis pros in the world.
Sharapova has already carved out a nice spot in the women's tennis realm, claiming at least one of the four majors – U.S. Open, Wimbledon, French Open and Australian Open. The Russian Star took down Wimbledon in 2004 to claim her first major title and went on to win at the U.S. Open (2006), Australian Open (2008) and won the French Open twice (2012 and 2014).
Sharapova has done more than just win some big tournaments, as he's been one of the few dominant forces in women's tennis. Posting a record of 592-142 (over 80% winning percentage), Sharapova has time and time again shown where she stands in the tennis ranks, claiming the top overall spot in 2005 and winning 39 total tennis tournament titles.
There's no doubt that this scandal could hit Sharapova hard, but it's also possible some will see that she may not have intended to cheat. It's also possible her ban could still be reduced or wiped out, altogether. Depending on what happens with her appeal, the public's stance could change.
Unfortunately, any type of scandal affiliated with an athlete calls for an asterisk alongside many of their achievements, so one way or another, it's tough to say this won't be damaging to her career. We'll see Sharapova hit the court again most likely and she might even win big again. However, if it's a full two-year ban, it's very possible we've seen the last of Sharapova in her current form, as he's return at over 31 years of age if the current ban holds firm.