Hide Bonus Offers
| | | | | |
| --- | --- | --- | --- | --- |
| #1 | BetOnline Sports | 60% Up To $1,000 | Visit Site | BetOnline Sports |
| #2 | Bovada Sports | 50% Up To $250 | Visit Site | Bovada Sports |
| #3 | BetUS | 125% Up To $2,500 | Visit Site | BetUS |
| #4 | Everygame | 100% Up To $500 | Visit Site | Everygame |
| #5 | MyBookie | 100% Up To $1,000 | Visit Site | MyBookie |
Does Lionel Messi Make Paris Saint-Germain a Good Bet in 2021-22?

Ten domestic titles, four Champions League trophies, six Ballon d'Or awards – these are just some of the things Lionel Messi won during his two decades' long spell at Barcelona FC. Can he do something similar in the next stage of his career?
Earlier this week, Messi announced his decision to swap his boyhood club for the French powerhouse Paris Saint-Germain, citing "financial and structural obstacles" as the reason to do it. Although the Parisians are famously high-spenders, his salary over the next two years is going to be lower than it was in Spain.
At Barça, Messi was getting as much as $163 million a year from his salary and add-ons. At PSG, it's estimated he'll be getting much smaller paychecks, suggesting that the money isn't his main motivation.
Being a GOAT candidate, Messi might be looking for more accolades. That's something that hadn't been coming his way in the final few chapters of his Barcelona story.
It's been six years since Barcelona won the Champions League. The last time the Catalan team won the Spanish La Liga was two years ago, which is also when Messi won his last Ballon d'Or award.
With PSG, Messi is almost certainly guaranteed a domestic title. After all, this team won the French Ligue 1 in seven of the past nine seasons.
What this team still doesn't have in its trophy cabinet is the Champions League title. However, with Messi's signature, PSG could finally make that dream come true.
To assess his impact with his new team, let's explore Paris Saint-Germain's odds for 2021, and whether or not Messi makes them a good bet at the best real money soccer betting apps.
Paris Saint-Germain's Odds for 2021-22
PSG Odds to win the French Ligue
1.08
PSG Odds to win the Champions League
3.75
Since 2011, Paris Saint-Germain has won the French domestic title on seven occasions. Before that, they won it twice –in 1986 and 1994.
So, what happened in 2011 to turn PSG into such a dominant force? The Qatari takeover happened.
The Emir of Qatar bought the club that year for a reported price of more than $1.25 million. Over the next ten years, he invested even more into into the project.
Can PSG Win the 2021-22 French Ligue 1?
During the 2010s, we saw PSG signing such superstars as David Beckham and Zlatan Ibrahimovic, whose popularity goes beyond the world of soccer.
Those transfers did a lot for the brand, but what really pushed this club to the next level, was the record-breaking transfers of Neymar and Kylian Mbappe, which cost more than $430 million combined.
The two are still in the team, together with many other elite players, including Angel de Maria, Mauro Icardi, and many others.
Further, just before signing Messi, they made a few other transfers, bringing in the former Real Madrid captain Sergio Ramos among a few others.
Having such players on the roster would make PSG the #1 favorite for the French Ligue 1 trophy even if Lionel Messi's not around. With him in Paris, the French title seems certain.
Online sportsbooks are giving odds as low as 1.08 (-1250) on Paris Saint-Germain winning the 2021-22 Ligue 1.
Winning the domestic title for the eighth time in the 21st century, however, isn't PSG's deepest desire. What everyone involved with this club wants is the Champions League trophy.
Can PSG Win the 2021-22 Champions League?
When the Qatari took over PSG a decade ago, the newly appointed club president Nasser Al-Khelaifi pledged to win the Champions League. So far, he hasn't fulfilled his promise.
What's probably annoying him the most is that the trophy has been slipping through their hands.
Since the 2012-13 season, PSG featured in every edition of the Champions League, getting to the Playoffs each time. However, the closest they got to winning it was in 2020, when they lost to Bayern Munich in the final.
Will they have better luck next time? Oddsmakers think they might. Right now, PSG is the #1 betting favorite.
The odds-on Paris Saint-Germain winning the 2021-22 Champions League are 3.75 (+275) at most betting sites.
However, PSG wasn't the favorite until only a few days ago. In fact, before Lionel Messi announced his arrival, the French team was sitting behind Manchester City, Bayern Munich, and Chelsea.
Why Lionel Messi Puts PSG Over the Top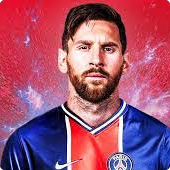 Messi might be the very best soccer player ever to walk this Earth. The Messiah has won pretty much everything there is to be won, with his list of titles being more than a hundred entries' long.
Although just 5'7, Messi is an all-around player, capable of scoring any type of goal from almost any position. I'm not exaggerating, the diminutive Argentine has scored 30+ goals a season each time since 2008.
His career record is 73 goals in 35 games in the 2009-10 season, which is something no one's done before (or after).
Still, his probably strongest weapon is his control of the ball. With a low center of gravity and an amazing set of dribbling skills, it's practically impossible to take the ball away from him.
Messi is fast, agile, and has superb stamina even though he's already in his mid-30s.
At the age of 34, he still has a couple of years in his legs.
Evidence of this is that he's coming to Paris after winning the 2021 Copa America with his national team, which could be the final piece of the puzzle in the GOAT discussion.
However, Messi wants more trophies, and winning the Champions League with PSG might just be the challenge he needs at this point in his life.
Why Paris Saint-Germain Could be a Bad Bet
In 2021, Paris Saint-Germain has so many superstars on the roster that one could argue there's too many of them. Is there a worry that PSG could implode?
We did see something like that happen with Real Madrid's Galácticos back in the early 2000s. That's the period when the club from the Spanish capital signed some of the biggest soccer stars of the time – David Beckham, Luis Figo, Ronaldo, Zinedine Zidane and Michael Owen.
Despite having such elite players in the squad, Real Madrid didn't do as expected. Can the same scenario happen to PSG?
It could, of course. They could end up not getting ahold of the holy grail of soccer, the Champions League trophy.
There are plenty of other teams that have the same plan on the agenda. I don't however, believe there's a French team that could snatch the Ligue 1 title from PSG's hands.
Sure, Lille did it last year, but you can think of it as a glitch in the matrix. This year, it's not happening.
Betting on Paris Saint-Germain in 2021-22
It would be crazy not to think that with Messi on the pitch, PSG isn't going to win most of the games this season. This goes especially for the domestic-league games – I wouldn't be surprised if PSG finished the season without a single defeat.
How well will this team perform on the continental stage remains a question, even though Messi's arrival has put PSG at the very top of the favorites list.
Messi, as well as all the other new signings, needs to adjust to life in Paris, which could take time. After all, he doesn't even speak French, so we might not see him perform at his best straight away.
But, keep in mind that Messi is there to stay for at least two years. If he doesn't manage to take Paris Saint-Germain to the European title, he might very well do it the following year.
So, should you bet on PSG this year?
Yes – if you're thinking about the French League. Maybe – if you're thinking about the Champions League.
Check out these other soccer related articles for more insight.