Hide Bonus Offers
| | | | | |
| --- | --- | --- | --- | --- |
| #1 | Bovada Sports | 50% Up To $250 | Visit Site | Bovada Sports |
| #2 | BetUS | 125% Up To $2,500 | Visit Site | BetUS |
| #3 | MyBookie | 100% Up To $1,000 | Visit Site | MyBookie |
| #4 | Everygame | 100% Up To $500 | Visit Site | Everygame |
| #5 | BetOnline Sports | 60% Up To $1,000 | Visit Site | BetOnline Sports |
Does LeBron James Really Want to Win as Much as the Warriors?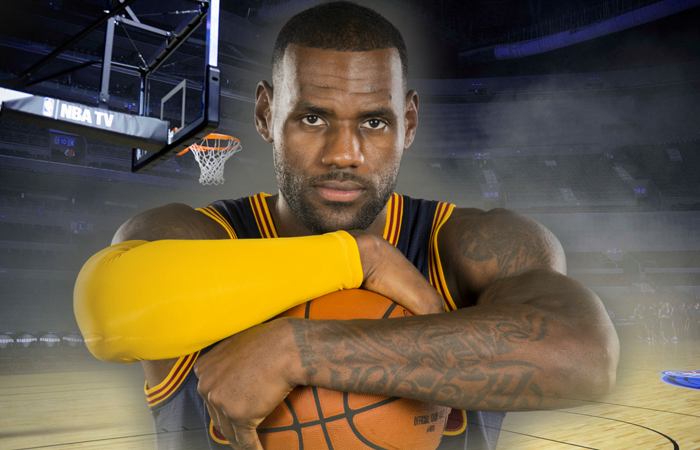 LeBron James has been a man worth keeping tabs on lately, as he's proven to have a lack of patience with the press following games.
The Cleveland Cavaliers star forward has always been fairly candid with the media, of course, and perhaps we need to give him a break, especially considering he's been asked a lot of questions while his team has struggled to a tough 0-2 hole in the 2017 NBA Finals.
Triple-Double Machine
It's always been interesting to catch James' quotes following games, however, and two stood out above all others recently. When asked if he felt he was fatigued from an intense matchup with the Dubs, James referred to his triple-double he's averaging through the first two games as evidence that he's not tired.
The onus on his statistical production is arguably flawed at best and potentially arrogant at worst. On one hand, averaging a triple-double doesn't mean much in this setting. Not only has it still not equated to a win in this series, but James also hasn't played quite as well as those gaudy numbers would lead you to believe.
Still probably the best player in the NBA, James hasn't played as well as he needs to in order to help the Cavs repeat as NBA champions. James wasn't aggressive enough in getting to the free throw line (just 5 attempts) in game two, while he was much too careless (8 turnovers) in game one. He's still ultimately produced statistically and played a huge hand in keeping both games close for the first 2.5 quarters, but Cleveland's inability to push Golden State at all late in either game has to fall on his broad shoulders.
Cavs Want It Bad
He may not be passing the buck here in any regard, but another angle to consider is just how bad James and these Cavs want this title. It's not fair to say they don't want it enough, as that's probably a misguided notion. James and the Cavs want nothing more than to repeat as NBA champions and take down a Warriors team that got borderline unbeatable by adding Kevin Durant to an already loaded roster.
James suggested as much recently, giving us a second gem of a quote to wrap our heads around. When questioned if Cleveland's struggles had something to do with Golden State going out of their way to "destroy" the Cavaliers in repayment for losing a 3-1 lead a year ago, James dodged the question:
"They're playing well…. I want to win just as bad as they do".
That's fair to say, as James can speak for himself and most of his teammates in letting everyone know that they certainly respect and appreciate where they are, and if they can control it, they obviously want to win the title again.
But if we're being honest here, LeBron James is just flat out wrong.
A dark cloud was lifted from the state of Ohio last year when a flat-out miracle happened. The Cavs went from being in this same 2-0 hole through the first two games, to sinking to a 3-1 deficit that literally no team had ever come back from in NBA Finals history.
In every possible way, storming back from that 3-1 hole vindicated James. It got the Cavs their first title in NBA history, it avenged the loss in the Finals to the Warriors the year before and it rolled up into one amazing, historic ball.
But that was last year and the welcomed chaos Cleveland's first ever title win brought with it has come and gone.
James Better Be Right
Golden State responded to the infamous collapse by going after one of the best players in the league, ditched the idea of going (again) for the best regular season record in the NBA and put a major onus on not just winning a title again, but making sure the Cavs didn't have any hopes of making more unexpected history.
History would certainly have to be made again if the Cavs found a way out of this hole, especially if they sunk to new depths with a game three loss at Quicken Loans Arena. That's no given, but the fact that the Cavs have dropped the first two games by a combined 41 points is pretty telling; as is the fact that Vegas isn't even making them the favorites (Cavs are 3-point underdogs at home) with the series shifting to their own floor.
Yes, despite the Cavs being in this exact spot a year ago and having the next two games in Cleveland, they're still bad bets to bounce back and win the title. NBA bettors could jump at that opportunity with friendly Moneylines (+650 at Bovada) for Cleveland to win the series.
It's still a bet with tons of upside because Vegas doesn't see it happening. We probably need to realize that what happened last year was an aberration and that this version of the Warriors is too good to allow another crater job to come to fruition.
While it's tough to fully gauge how bad anyone wants anything, or who wants it more, everything on the surface so far suggests James is wrong here. The Warriors have home court advantage, they went out and got KD and they were disgraced in historic fashion. The Cavs haven't come out as hungry, they haven't even put together a complete game and in every possible way, Golden State has appeared to want this more.
Maybe James has a point and Cleveland is just getting started. Maybe James and the Cavs do want this title just as bad as the Dubs. It just hasn't looked that way so far in the 2017 NBA Finals and if King James doesn't want his title series record to drop to a poor 3-5, he better hope he's right.