Divisional Round Betting Odds and Breakdown for 2022 NFL Playoffs

The Super Wild Card matchups were a success. As expected, there were a few matchups that came down to the wire.
We are two years into the new formatting of the NFL postseason with three wild card berths in each conference. The 49ers were the lone non-division winner to advance this past week.
Only one team receives a bye week and we will see how the 2022 postseason continues with Green Bay and Tennessee being in action this upcoming weekend.
Here are your latest odds and analysis for the Divisional Round Payoffs.
Early NFL Betting Odds for 2022 Divisional Round Playoffs
Rams (+3) vs. Buccaneers (-3) -110
49ers (+5) -110 vs. Packers (-5) -110
Bills (+2.5) -110 vs. Chiefs (-2.5) -110
Bengals (+3) -110 vs. Titans (-3) -110
What a weekend it was in the NFL. Wild Card weekend was bonkers, and we saw a few road teams put a scare into the home favorites.
The Cowboys were upset at home in dramatic fashion to the 49ers. San Francisco handled Dallas for three quarters, but a valiant effort by Dak Prescott came up seconds short. Buffalo and Kansas City dominated and now we will see them do battle this weekend.
The Rams will take on Tampa Bay, who continue their quest to repeat as Super Bowl champions. Meanwhile, Green Bay and Tennessee are both in action coming off their bye weeks.
The following odds above are from SportsBetting.ag. Be sure to check out their site for the rest of the postseason as the games get even more intense.
For more analysis on this week's NFL playoff betting slate, check out our NFL Divisional Round playoff predictions.
Odds for Los Angeles Rams vs. Tampa Bay Buccaneers
Rams (+3) -110
Buccaneers (-3) -110
Over 48.5 (-110)
Under 48.5 (-110)
Tampa Bay has been catching some breaks along the way similar to last season. Many had them as the three or four seed which meant hosting one game was their only chance for home field advantage early in the postseason.
After Dallas was upset, the Bucs can count their lucky stars again. Those poor Cowboys just set an NFL record for most straight playoff appearances (11) without a trip to the NFC title game.
Prior to last season Tampa had only appeared in two playoff games since 2003. Tom Brady can change things up a bunch. He flexed his muscles against the Philadelphia defense, finding his old buddy Rob Gronkowski.
Brady and Gronk connected on their 15th touchdown in postseason history, which is more than any other tandem in NFL history. The two others behind were a pair of teammates from the Green Bay Packers and San Francisco 49ers.
Most Passing Touchdowns in Playoffs (QB-Pass Catcher Duo in NFL History)
Tom Brady/Rob Gronkowski
Joe Montana/Jerry Rice
Brett Favre/Antonio Freeman
15
12
10
Tampa is playing some of its best football of the season despite injuries to a slew of vital performers. The status of Leonard Fournette (hamstring) is one starter that may not have much info be provided until later in the week.
Offensive tackle Tristan Wirfs has a bum ankle and he was seen hobbling throughout the second half against Philadelphia.
All these injuries continue to add up, but the team has been able to overcome them and still produce on both sides of the ball.
Chris Godwin (knee) and Antonio Brown (released) were two of the top targets for Brady and he seemed fine while picking up his NFL record 35th victory.
Tampa's defense was dominant against the run, limiting Jalen Hurts was impressive and it was the defense that helped lead them towards a Super Bowl victory last season.
The Bucs as home favorites ATS have gone 3-3 in the postseason. That goes back to 1997, but Brady brings a new element. Getting revenge on the Rams will be on his mind.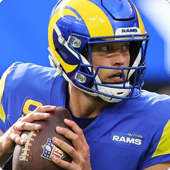 As bad as Arizona looked, and they were pathetic, the Rams were equally as impressive on both sides of the ball.
One could argue that Arizona was clueless for about three quarters, but the Rams were balanced on both sides of the football. Kudos to Matthew Stafford on his first career postseason victory.
Stafford didn't need to throw much, but he avoided the costly ill-advised throws and did a fantastic job at finding the open target.
We saw the Rams dominate the Bucs back in Week 3, 34-24. So much has changed since September football and this matchup could come down to experience.
Brady, Gronk, and Evans against Stafford, Kupp, and Beckham Jr. will be a fun matchup. So will the coaches with Bruce Arians and Sean McVay. Expect a slugfest that likely comes down to the wire.
San Francisco 49ers vs. Green Bay Packers Odds
49ers (+5) -110
Packers (-5) -110
Over 47.5 (-110)
Under 47.5 (-110)
Two of the top franchises in NFC history will square in a potential thriller at Lambeau Field. Saturday night will be rocking in Green Bay, and we have seen these two quite a bit over the years.
In fact, this marks the ninth team in postseason history that these two will meet. That is tied for the most meetings between two teams in NFL postseason history!
The Cowboys and Rams have met nine times over the years and now these two will square off for a ninth time with an NFC Championship appearance at stake.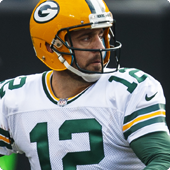 We all love and miss the 1990s, but five of the six most frequent playoff matchups have either involved the Packers, 49ers, or Cowboys.
Aaron Rodgers will look to continue his MVP season with an opportunity at becoming the first player since Kurt Warner in 1999 to win the Super Bowl while being named the NFL MVP.
While he lost the NFC title game two years ago to the 49ers, he did have the last laugh earlier in the season. He managed to expose the Niners secondary in under 40 seconds to crush their hearts in September.
The struggles from the NFC Championship debacle in 2020 still haunts Rodgers a bit, but he was dropping it in a bucket to Adams. Is there a better tandem in the NFL?
Day 59 of @AaronRodgers12 NON TD throws that blew my mind ?

Rodgers releases this ball at his own 4, it hits Davante Adams right in the chest on the 49ers 45-yard line.

That's a 51-yard throw that he made look like backyard catch…

12 doin 12 things ?‍♂️#GoPackGo #GOAT pic.twitter.com/Z0OOrovuCG

— Eli Berkovits (@BookOfEli_NFL) July 4, 2020
Jimmy Garoppolo has been inconsistent for most of the year, but the 49ers wouldn't be here without some of his play. Yes, he has had the turnover bug strike at unfortunate times and yet the team continues to find ways to win.
We saw the Rams and Cowboys able to turn him over, but the defense was able to pick up any struggles.
The other quarterback has higher expectations. Aaron Rodgers has plenty of history against the 49ers. He grew up in the San Francisco Bay Area rooting for the franchise. However, he will take an 0-3 postseason record against them on Saturday night at Lambeau.
In the postseason, the 49ers had lost their past eight road games as an underdog prior to stunning the Cowboys. They were 1-7 ATS in those eight, which dated back to 1987!
The Packers in the postseason were 13-0 at Lambeau from 1921-2000. Since 2002, we have seen them go 7-6, which are the most postseason home losses.
Green Bay is under pressure, but there hasn't been a calmer and more productive quarterback these days than Aaron Rodgers. This matchup truly should be spectacular.
San Francisco is the perfect cold weather team with their style of play. Their smash-mouth style of football is a joy to watch. George Kitte, Deebo Samuel, and Trent Williams are a trio that has been able feast on the competition.
Kittle hasn't been a consistent superstar on production, but he does much more as a blocker that often goes unnoticed.
Samuel has rushed for nine touchdowns (including playoffs) and has given Elijah Mitchell and company the necessary breathers to keep the chains moving when crucial third downs have occurred.
The status of Nick Bosa (concussion) and Fred Warner (ankle) will both be updated to monitor throughout the week before placing your bet.
Not many teams have been able to avoid embarrassment defending Davante Adams, but the Niners red zone defense will need to have multiple players on him at all times or suffer the potential consequences of reservations for six.
If San Fran can control the clock and not settle for Robbie Gould kicks like they did against Dallas, they will have a great shot of pulling off the upset. For a franchise that has won their past three at Green Bay, confidence should be high.
For those already thinking ahead to betting on the Super Bowl, check out the top sites to wager for the big game below.
Odds for Buffalo Bills vs. Kansas City Chiefs
Bills (+2.5) -110
Chiefs (-2.5) -110
Over 53 (-105)
Under 53 (-115)
Before I dissect this matchup, there are a few betting nuggets that need to be discussed. Buffalo has lost eight of their past nine postseason meetings as the road underdog.
1993 in Pittsburgh was their last road victory as the underdog, but the Bills have gone a lowly 2-7 ATS in those past nine.
Kansas City as a home favorite under Patrick Mahomes, has gone 6-2 ATS as home favorite. The Chiefs are 7-1 as the home favorite straight up when Mahomes is under center.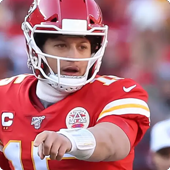 Mahomes has gone 14-4 ATS as a 3-point favorite or shorter in his career. While we haven't seen him as a dog yet in the postseason, there have been a few occasions in the regular season.
Coming off over 400 yards passing, and five touchdowns has given them the production and more importantly the confidence that is needed to hang with an explosive squad like Buffalo.
This AFC title matchup looks like the top matchup of the weekend, on paper. Some believe these are the two best teams in football and that the winner is going to win it all.
Current odds have these two as the favorites to win the AFC. Meaning, the winner of this game will be favored to win at Tennessee or while hosting Cincinnati.
Josh Allen and Patrick Mahomes have insane talent with a bevy of weapons around them. What more could a gambler want than to back one of these signal-callers? There can only be one winner and these juggernaut offenses are the real deal.
Buffalo was the lone team this season to rank top five in yards allowed and offensive yards gained. They have been such a joy to watch, but getting over Kansas City hump at Arrowhead will be a tall task.
It was last season where the Bills led 9-0 in the AFC Championship, but things quickly unraveled.
Kansas City rattled off 21 unanswered points and they couldn't keep up with the high-powered offensive machine that the Chiefs have been for the past three seasons.
The good news for the Bills is that they should do a better job at defending Byron Pringle than the Steelers did to end their season. The two played at Arrowhead twice in the final month of the season.
Pringle was a solid player out of Kansas State, but he completely dominated the Pittsburgh defense and was nearly unstoppable on the gridiron. He exposed Pittsburgh and ran simple double moves and slants all night in their Wild Card bout.
Byron Pringle vs Pittsburgh Steelers 2021-2022

-11 receptions
-112 yards
– 4 TD

He is HIM!

pic.twitter.com/un8OtMokGf

— ?️yron (@ChiefsBetta) January 17, 2022
The current line suggests that Buffalo would be favored if the game was played in Orchard Park and perhaps even a neutral-site matchup would be a slight nod to the Bills as well.
While Pringle is the x-factor for Kansas City, Buffalo has a few weapons that Allen has been targeting in the red zone the past two seasons. Gabriel Davis has been a machine, but tight end Dawson Knox is coming off perhaps the best performance of his career.
If Knox has help from Allen in the pocket, the Chief secondary will need to play their top game of the year.
New England had no answer for him towards the goal-line and there was nothing they could do. Both quarterbacks in this matchup can extend plays with their feet and it makes life impossible to defend the pass for nearly ten seconds.
Ultimately, this is a riveting matchup that should have plenty of points flowing similar to last year. It was this past October that had a weather delay where we saw Buffalo throttle Kansas City. Will the Bills be able to knock them off twice in one season?
I believe this comes down to which quarterback can take care of the ball and connect with their role players in the red zone. Passing on touchdowns and settling for kicks in the red area will lose you an opportunity at competing for the Super Bowl.
Be sure to check out my colleague's predictions for head coach vacancies.
Cincinnati Bengals vs. Tennessee Titans Odds
Bengals (+3) -110
Titans (-3) -110
Over 47.5 (-110)
Under 47.5 (-110)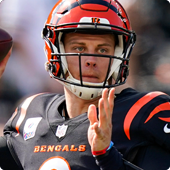 The Titans and Bengals is a Divisional matchup that nobody outside of Nashville and Cincinnati had occurring in 2022. What a postseason slate we have been given and Joe Burrow against Ryan Tannehill is an underrated matchup.
The offensive weapons that Zac Taylor and Brian Callahan have put together this season on the field is nothing short of a miracle.
The Bengals are coming off their first playoff victory since 1991, long before Burrow, Ja'Marr Chase, Joe Mixon, or Tee Higgins were even born.
Cincinnati was 0-7-1 ATS in their past eight playoff games prior to the victor and cover over the Raiders. The Titans aren't much better with a 3-5 record ATS, which goes back to 2008.
The ability to matriculate the ball down the field with consistency is what makes this team so challenging to defend. A great offense can hit you with the chunk plays, which separates the good to great teams.
Joe Burrow has been remarkable this season, a year after tearing up his left knee/leg and becoming a superstar this year.
Burrow has been one of the hotter signal-callers in the league this season. He is instrumental to the success of the franchise. To think this was a squad had five losing seasons in a row before turning the tide this past season.
The arm strength and ability to take command of a locker room can often dictate how the future unfolds. The AFC North champs look like they will be here for the long haul.
The production is off the charts these past three weeks, which gives the Bengals enough momentum to upset the Titans.
| | | | |
| --- | --- | --- | --- |
| Joe Burrow Down the Stretch | Wild Card | Week 18 | Week 17 |
| Passing TD | 244 | 446 | 525 |
| Passing Yards | 2 | 4 | 4 |
Derrick Henry is expected to return and he could be effective with the latest injury to defensive tackle Larry Ogunjobi. The Bengals top run-stuffer suffered a foot injury against the Raiders and there could be room to run for the Tennessee offense.
Henry has been able to practice the past few weeks and seems cleared for action to start in this pivotal Divisional matchup.
A look at the variety of things Derrick Henry did at #Titans    practice today. Seemed like he ramped the pace up from last week. pic.twitter.com/FKjfl48A4p

— TURRON DAVENPORT (@TDavenport_NFL) January 12, 2022
Ryan Tannehill hasn't put together an All-Pro season by the numbers or production, but is there a more underrated signal-caller that has been able to put together victories this season?
Grabbing the top spot in the AFC despite nagging injuries to Henry, Julio Jones, and A.J. Brown is remarkable. They were able to sneak past a slew of teams that ended up as victories that most teams would have found ways to lose.
Week 8 at Indianapolis: Won 34-31 (overtime)
Week 10 vs. New Orleans: Won 23-21
Week 16 vs. San Francisco: Won 20-17
Week 18 vs. Houston: Won 28-25
Any four of those victories would have cost them the top spot in the AFC and who knows if they would even be playing in the Divisional Round.
Tannehill has the chance to continue the momentum of a season in which nobody saw coming. After a disappointing loss to Baltimore last year, Tennessee can put that all behind them this postseason.
Tannehill has shown the ability to extend plays with his feet and those RPO's often involve the quarterback finding extra yardage with his elusive ability.
The return of Henry would solidify a potent backfield with D'Onta Foreman having success against opposing front sevens.
While Brown and Jones will garner plenty of attention, this is a game that likely comes down to which secondary makes a crucial play defending uber-talented passing attacks.
Betting on the 2022 NFL Divisional Round Playoffs
The second week of the postseason is almost here, so check out the top NFL betting sites before making your selections. The postseason is flying by and you will want to get some final winners before the season is over.
One strategy option and some advice to use is to wait until later in the week and preferably close to kickoff. Don't make a bet on a game early in the week when news is often changing.
Injury reports have been changing on a daily basis and there are some players that don't get ruled out until 90 minutes before kickoff. Understanding the betting sides that the general public is on with will also help.
The general public often sides with the favorites, but you will want to be patient and wait until the weekend for those to be revealed. This could help from a value perspective.
Need some extra help preparing to bet on the 2022 Divisional Round? Check out the NFL playoff strategy guide below.
Betting Strategy for NFL Playoffs