Hide Bonus Offers
| | | | | |
| --- | --- | --- | --- | --- |
| #1 | Bovada Sports | 50% Up To $250 | Visit Site | Bovada Sports |
| #2 | BetUS | 125% Up To $2,500 | Visit Site | BetUS |
| #3 | MyBookie | 100% Up To $1,000 | Visit Site | MyBookie |
| #4 | Everygame | 100% Up To $500 | Visit Site | Everygame |
| #5 | BetOnline Sports | 60% Up To $1,000 | Visit Site | BetOnline Sports |
DFS Picks and Recommended Lineup for the 2021 NASCAR Ally 400

So, I guess Kyle Larson is never going to lose again. Is that how this goes? Fine.
I am mostly joking, but quite clearly, no matter what I say here, if you plan on betting on who will win the 2021 Ally 400, your process needs to start with that dude.
If you want a bit more insight than that, feel free to head over to our NASCAR betting picks section.
Larson is again in play, but I'm not banking on someone winning a third consecutive race. I do have some drivers I'm already eyeing for the 2021 Ally 400, however.
For my main core and top lineup, check out this week's NASCAR DFS picks.
Ryan Blaney ($8.7k)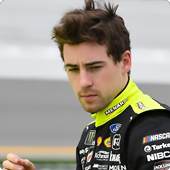 This is the second cheapest price Blaney has been listed at all year. He has a win under his belt, along with nine top-10 finishes. He's also in good form, having come in 5th last week, and cracked the top-15 in four of his last five events.
Considering this is a debut event at a track NASCAR hasn't visited since 1984, I am absolutely considering prioritizing elite drivers at discounted rates.
Kyle Larson is the obvious play once again, but guess who projects just as well as him this week? That's right, it's Blaney, who also comes in second in points per dollar average going into the weekend.
Chase Elliott ($10.7k)
I also am high on Chase Elliott this week. I know, I know, I said I was prioritizing elite drivers at good salaries, but hey, he is $1.1k cheaper than Larson.
Elliott has also been on fire lately. He has just one victory in 2021, but he's finished inside the top-10 13 different times, and he's been a top-three guy in each of his last five races.
I get the sense that Elliott is getting ever so closer to a big win. He isn't one of the top drivers in terms of raw projections, but given the presence of Larson and his price, it's also possible he'll be fairly contrarian.
Oh, and if you factor NASCAR odds into your lineup building process, it's worth noting that Elliott owns the second-best odds (+650) at BetOnline.
A stud driver with amazing form, a reasonable price, with good betting odds and he might be low owned? That's the kind of driver I don't mind paying up for.
Ryan Newman ($6.8k)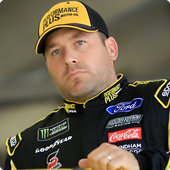 Do I feel amazing about Ryan Newman? Almost never. However, he projects pretty well for this race, and he has the top points per dollar projection at the moment, too.
Newman is a savvy veteran, and this Nashville track compares to Darlington in terms of length. If we are to listen to that, we should note that Newman has fared well at Darlington, finishing 15th or better in his last four tries.
There obviously isn't a ton to go on here, but Newman is cheap, experienced, and has fared well under similar circumstances. That's enough for me to save a little cash.
Top NASCAR DFS Lineup for the 2021 Ally 400
Ryan Blaney ($8.7k)
Chase Elliott ($10.7k)
Ryan Newman ($6.8k)
Erik Jones ($6.9k)
Austin Dillon ($8.1k)
Tyler Reddick ($8.6k)
Blaney is too cheap, Elliott is a stud, and Newman looks like solid value. That's a fine core to start with if you're looking for quality NASCAR DFS picks, but you also probably want a sample lineup to get the party started.
I try to pump out a lineup that is safe in some spots, but takes enough risk that – if things break right – you have a real shot to climb the ladder in GPPs.
Ownership is tough to peg as I write this on a Thursday, but Elliott could be contrarian as a leverage play against Larson, Blaney could go overlooked, and I'm not sure if everyone will flock to Newman.
Maybe they'll all be chalky, too. Nobody knows. I can try to continue with some more interesting plays that could offer upside, and one guy that stands out is Erik Jones.
He remains too cheap for his talent level, and he's actually been solid lately. He fell back to 21st last week, but had finished 16th or better in his previous three races. Those events saw him generate 38+ fantasy points each time out, too, and that kind of production would be a massive win.
Jones has also thrived at Darlington. Look at his results in seven runs there.
| | | |
| --- | --- | --- |
| Year | Start | Finish |
| 2021 | 26th | 18th |
| 2020 | 30th | 4th |
| 2020 | 13th | 5th |
| 2020 | 20th | 8th |
| 2019 | 15th | 1st |
| 2018 | 7th | 8th |
| 2017 | 10th | 5th |
This could obviously mean nothing, but if this Nashville track plays the same way, he could be a fantastic value play for your NASCAR DFS lineups.
Two other guys I like – that are both nice prices – are Tyler Reddick and Austin Dillon. Both drivers have had solid success at a similar venue in Darlington Raceway, and they've also been highly competitive so far in 2021.
Dillon has a win to his name this year, and he's finished inside the top-20 in every race this season. He's a good bet to at least stay in the mix, and I wouldn't put it past him to sneak inside the top-10 for an eighth time.
Reddick projects better and is presently the 13th best driver in that regard. He's in solid form, has nine top-10 runs, and hasn't finished worse than 20th on the year.
He has also positively smashed at Darlington (2nd, 3rd, and 16th), which could be useful when trying to project drivers at Nashville.
Of course, past events, results, similar tracks and all of that seemingly noisy data could also be utterly useless. Whether you're betting on the 2021 Ally 400 or putting together a DFS lineup, be sure to think a little outside the box.
While there isn't much that is concrete to go off of, most of my NASCAR DFS picks this week offer two things: value and upside.
Ideally, the lineup is also fairly contrarian, which should help you move up in tourneys if things can go our way a bit.
2021 Ally 400 Betting Advice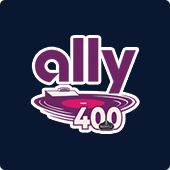 This isn't an easy race to piece together NASCAR DFS picks for, I'll admit that pretty openly. The Cup Series hasn't been at this venue before, NASCAR in general hasn't been here since 1984, and there is just very little to work with in terms of projecting.
I think that puts a pretty big onus on 2021 Ally 400 betting odds, and it may make sense to align your daily fantasy NASCAR picks with how you bet, or vice versa.
Not totally comfortable with putting big money on a string of drivers in NASCAR DFS? I understand completely. Instead, it may make sense to just prioritize one or two at your favorite NASCAR betting sites.
I'd definitely hit up Adam Haynes' 2021 Ally 400 betting preview before making the final call, but if you're with me on any of the guys above, you could be in good shape.
Kyle Larson is on fire, so he is obviously worth a look at +260. However, winning streaks like this are abnormal. Chase Elliott (+650) is one heck of a pivot, and I also think Blaney (+1200) stands out as an elite betting value.
I would not really go hard at the other drivers listed above, though, as they're more geared toward DFS than betting.
Whatever you do, hopefully this 2021 Ally 400 DFS preview helps in some manner, and ideally you can transition some of my advice into some successful wagers, as well.