DFS Picks and Recommended Lineup for the 2021 NASCAR All-Star Race

The best drivers in NASCAR race for an alluring prize this weekend, with a fat $1 million on the line.
All anyone cares for this 100-lap endeavor is finishing first. That should give way to some nasty crashes, and a lot of volatility. Perhaps that makes betting on this race a bit more appealing, too.
If you are down for that, check out this week's odds and predictions at our NASCAR betting picks page. I have you covered from a fantasy perspective, as I'll break down my favorite NASCAR DFS picks and top lineup for the 2021 NASCAR All-Star Race.
Chase Elliott ($8.5k)
Elliott is too cheap as the reigning champ. To be fair, he won the last All-Star Race at Bristol, and this one moves to Texas Motor Speedway.
Still, he took home the top spot last year, and he must be seen as a threat to do so again.
The change of venue could be a hiccup for you, but Elliott is an elite value, he's won this event before, and he's been in terrific form.
The 25-year-old has one win in 2021 already, and he's been on fire with top-7 finishes in each of his last six races.
Elliott has historically been competitive at this track, boasting an average finish of 12, and cracking the top-10 in five different events.
Kyle Busch ($8.2k)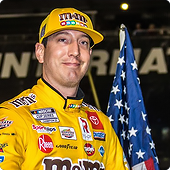 You're getting even better value with Kyle Busch, who is $500 less, and has also won this event before. Busch took home top honors in 2017, and he's been looking strong so far in 2021.
Busch has two wins under his belt this season, as well as 12 placements inside the top-10. He's held solid form as of late, too, cracking the top-5 in four of his last six events.
This isn't the usual race (for many reasons), but Busch has a stellar history at this track. He got a win at his last stop here in 2020, and he's averaged a finish of 10.97 throughout his career.
Busch already stands out as an elite value for NASCAR DFS lineups, but the top NASCAR betting sites recognize his staying power, too. He slides in right behind top favorite Kyle Larson for the second-best odds (+650) to win this event.
Joey Logano ($7.5k)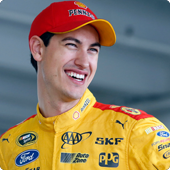 Logano is another big name that has won this race before, and he's also had a solid 2021 so far.
He has one win on his resume this season, and the recent form is good with top-5 runs in three of his last four events.
Logano is also just insanely cheap here. He isn't one of the top drivers in terms of betting odds, but perhaps he should be.
His history at this track isn't as good as the two guys above, but he has an average finish of about 13, and he has been quite competitive in recent trips.
Over his last 10 appearances at Texas Motor Speedway, Logano has finished inside the top-10 nine times.
Top NASCAR DFS Lineup for the 2021 NASCAR All-Star Race
Chase Elliott ($8.5k)
Kyle Busch ($8.2k)
Joey Logano ($7.5k)
My daily fantasy NASCAR strategy this week is to just load up on elite drivers. Literally everyone in this race has either won this very event, won a race last year, or has won this year.
Sure, Kyle Larson is the favorite and is on fire, but paying for him in a volatile setting feels silly. That is especially the case if he's at all going to be chalky.
Only time will tell if that is the case, but I love the idea of starting things off with Elliott, Busch, and Logano as my core NASCAR DFS picks for Sunday.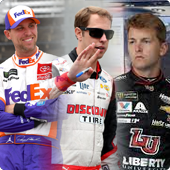 From there, I'll tack on Brad Keselowski, William Byron, and Denny Hamlin.
As noted, I am making a calculated fade by not rostering Larson. He's still a great play, but if everyone will be on him, I'll gladly look to get different.
Am I losing anything by rostering a full team of stud drivers? I don't think so, while this second trio of drivers nets me another former winner in Hamlin.
Hamlin is still on the hunt for his first win of 2021, and it's quite possible he gets it here. He hasn't been great here as a whole recently, but he does have three wins at this track, and his recent form is strong.
Keselowski and Byron are two more guys who are simply too cheap. Keselowski has failed me lately, but I just love the price. Byron will have his work cut out for him here, but the guy has held firm in just about every race lately, finishing inside the top-10 in 12 of his last 14 events.
2021 NASCAR All-Star Race Betting Advice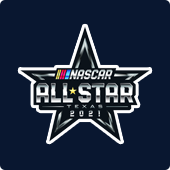 As always, betting on NASCAR tends to be different than simply building quality NASCAR DFS lineups.
For instance, Kyle Larson is a fantastic bet here, and his +375 odds offer plenty of value. However, for daily fantasy NASCAR, he could be a brilliant fade.
As the top-priced option (and potentially a popular one), Larson has to win to pay off. He also needs to win to convert your bet, but you get the point.
You can bet on Larson (and use him in DFS), but I am pulling the full fade this week. He's won two races in a row and doing it for a third straight time is a tall order.
That, and this field is just so loaded. You are getting awesome betting value with everyone after Larson, and they're all fully capable of crossing the finish line first.
Any of the drivers I have in this week's top lineup are viable bets, while even Michael McDowell (+10000!) isn't out of the running. This is a race where there will probably be a crash or two, so taking a few shots you normally wouldn't isn't a terrible idea.