DFS Picks for the NASCAR 2021 Toyota Owners 400

NASCAR returns to Sunday on April 18th, where the best drivers in the world will try to corral Richmond Raceway to win the 2021 Toyota Owners 400.
The 400-lap race wasn't held in 2020, so technically will welcome back Martin Truex Jr. to defend his title from 2019.
Kyle Busch and Joey Logano also stand in as recent winners, while those two drivers have reached the checkered flag first on multiple occasions.
Busch has dominated here, racking up an insane six wins dating back to 2019. He'll be a name to watch, and it shouldn't be too shocking to learn the best sites for betting on NASCAR have him inside the top-10 (+1000) in terms of odds.
Does that mean Busch has to be in your daily fantasy NASCAR lineups, though?
Let's find out as I break down the best NASCAR DFS picks for the 2021 Toyota Owners 400, and also hand out my favorite lineup for this event.
Kyle Busch ($10k)
You do not have to join me here, but I am going all in with Busch. Martin Truex Jr. is getting all the attention right now, and for me, that's the perfect time to pivot.
Busch is a whopping $2k cheaper than Brad Keselowski, and $1.4k cheaper than the favored Truex. This, despite scoring a win and cracking the top-10 six different times in 2021.
Oh, and let's not just sweep his success at this event under the carpet. Seriously, check out his last 10 runs there.
| | |
| --- | --- |
| Year | Result |
| 2019 | 8th |
| 2018 | 1st |
| 2017 | 16th |
| 2016 | 2nd |
| 2015 | N/A |
| 2014 | 3rd |
| 2013 | 24th |
| 2012 | 1st |
| 2011 | 1st |
| 2010 | 1st |
The results cut off at 10th because that is just a nice number to stop stuffing your face with stats at, but Busch enjoyed another win in 2009, and cracked the top-5 in the four trips to Richmond prior to that.
Any driver will stumble here and there, but the success at this event is staggering.
Busch remains one of the best drivers on the circuit, and he is coming in at a sizable discount when you consider his talent, his solid form, and his amazing event history.
Ricky Stenhouse Jr. ($6.2k)
Price play! I don't have a ton of confidence Stenhouse actually threatens to win this weekend's race, but his event history isn't bad here, and he's been really competitive in 2021.
Stenhouse has only cracked the top-10 twice, but he's hovered right around that range (no worse than 18th) in every single race.
Here, the guy is just too cheap. He's starting pretty close up at 14th, but he's responded well with that type of assignment this season.
Just look at how he's fared when placed inside the top-20 in regard to pole position in 2021.
| | |
| --- | --- |
| Start | Finish |
| 6th | 15th |
| 13th | 2nd |
| 12th | 12th |
| 11th | 12th |
| 17th | 11th |
| 15th | 13th |
| 16th | 18th |
| 3rd | 11th |
There is nothing ground-breaking here, but Stenhouse has shown he can stand his ground when fighting with the big boys up front.
Provided he can avoid a catastrophic crash, I don't mind his chances to at least be competitive. A solid 30 fantasy points might do the trick here, and his salary allows us to go get another stud.
Brad Keselowski ($12k)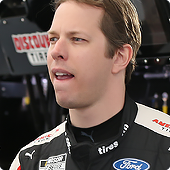 I really hope the price tag and recent form lower Keselowski's ownership, but the fact that he's starting 20th might negate that.
The risk is obvious, as Keselowski is starting fairly far back, hasn't won yet in 2021, and honestly just hasn't gotten it down with finishes of 33rd, 11th, and 28th in his last three races.
That's where recency bias could chime in, of course, and not everyone will want to pay the fat $12k price tag just because he's elite and starting so far back.
I know I talked up Busch as an elite play underneath him, but I really like the idea of just pairing them, and then fading the hopefully popular Truex Jr.
Keselowski is so due, it's not even funny. The recent form is understandably a bit concerning, but he's otherwise been plenty sharp on the year with three finishes inside the top-5, including second at the Pennzoil 400.
Oh, and Keselowski has feasted at this track. In his last six runs at the Toyota Owners 400, he's finished 7th, 8th, 2nd, 11th, 17th, and 4th.
That first win has obviously been elusive, but he's starting 20th, which gives him an insane amount of wiggle room.
Top NASCAR DFS Lineup for April 18th
Kyle Busch ($10k)
Ricky Stenhouse Jr. ($6.2k)
Brad Keselowski ($12k)
Ryan Preece ($5.6k)
Kyle Larson ($10.3k)
Michael McDowell ($5.8k)
Busch and Keselowski are self-explanatory, and Stenhouse is a fine value play that projects well. Usually, I do not love the idea of just going stud heavy, but for this race, I do.
That leads me to taking dives with Preece and McDowell, and that gets me one more big name that I'm high on in Kyle Larson.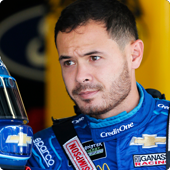 Larson has just been amazing in 2021. It's been quite the redemption tour, as he has a win and has finished inside the top-10 in seven events on the season.
He even finished 5th last week in a setting where most would assume he'd have struggled. The guy is on fire right now, and he's had a little success at Richmond in the past (7th, 14th, 15th, 12th, and 16th).
I'm conveniently leaving out his 37th place run in 2019, but hey, he's an elite driver, he's coming in at a discount, and right now he projects for the second-most fantasy points on this slate.
To get Larson with Busch and Keselowski, I'll roll out two more punts in Preece and McDowell.
Preece finished 20th at this event in 2019, saves me money, has three top-10 runs in 2021, and he starts from the 25th slot. I think he easily pays off his salary and helps prop up this stacked lineup.
McDowell is admittedly more of a throw-in, so feel free to consider a pivot. Still, he's been really competitive in 2021, with a win and four top-10 finishes. His event history isn't good, but I'll trust his 2021 success and the fact that he's also starting pretty far back.
Betting Advice for the 2021 Toyota Owners 400
Martin Truex Jr. is the defending champion here, and BetOnline has him coming in as the favorite. He also won his last race, and got the #1 spot for this race, so the buzz around him is absurd.
That kind of feels like the perfect time to hop off of him and look elsewhere, though.
I don't really love eating the betting chalk in big fields like NASCAR and golf, so I suggest thinking outside the box a bit.
Kyle Busch has terrific event history and is an elite betting value at +1000, and you're also getting really nice bang for your buck with a lot of talented drivers this weekend.
Consider using some drivers from my NASCAR DFS picks above, or just hunt for some value.
Yes, Truex Jr. is a fine play, and he could win again, but he has the worst price on the board if you're looking for upside.
For a little more insight, as well as the latest odds and picks for NASCAR races, be sure to hit up our NASCAR picks page.