Hide Bonus Offers
| | | | | |
| --- | --- | --- | --- | --- |
| #1 | Bovada Sports | 50% Up To $250 | Visit Site | Bovada Sports |
| #2 | BetUS | 125% Up To $2,500 | Visit Site | BetUS |
| #3 | MyBookie | 100% Up To $1,000 | Visit Site | MyBookie |
| #4 | Everygame | 100% Up To $500 | Visit Site | Everygame |
| #5 | BetOnline Sports | 60% Up To $1,000 | Visit Site | BetOnline Sports |
DFS Picks for the NFL Playoffs Divisional Round – Building Your Lineup at DraftKings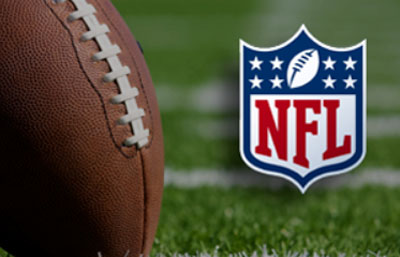 Round two of the 2019 NFL playoffs picks up this Saturday, with four more win-or-go-home scenarios playing out for pro football fans.
Last week was of the ho-hum variety, as the Dallas Cowboys (24 points) had the highest point total of anyone in a rather uneventful week.
The only game that produced any theatrics was a defensive battle between the Chicago Bears and Philadelphia Eagles.
Fans witnessed a clutch fourth-down score by Nick Foles as well as a double-doink field goal gaffe, but daily fantasy football gamers looking for upside were left wanting for more.
Trusting in the wild card round as a whole was a mistake for NFL DFS purposes, but the divisional round promises to be much more exciting.
Vegas suggests as much, as every single game comes into the week with a total of 45.5 or higher, per SportsBetting.ag.
Exactly how that translates to your NFL DFS lineup at sites like DraftKings and FanDuel, of course, is up to you.
If you're looking for a little extra help, be sure to check out my preview of the early divisional round NFL betting lines, as well as my favorite NFL DFS picks at every position over at DraftKings.
Quarterback: Tom Brady – New England Patriots ($5.6k)
This will be an unpopular take, but specifically at DraftKings, I value Brady as the best overall fantasy passer. He's $600 cheaper than Andrew Luck and $1.4k cheaper than Patrick Mahomes, so you're saving some serious coin and getting one of the best quarterbacks to ever play the game.
Brady is notoriously highly successful in playoff games, and he's also traditionally very good at home. In the regular season, he tossed the quietest 29 passing scores I've ever seen, and nobody seems to recall his huge four-score effort to close out the year in week 17.
I hear all of the cries about New England's passing game not being what it once was, but Brady still has a system that can churn out DFS production.
He also has the weapons in Rob Gronkowski, Julian Edelman, Chris Hogan, and James White to do some damage against a good but far from unbeatable Chargers defense.
Ultimately, this is a play in favor of a legend who is at home in a spot where he's thrived time and time again. Brady is simply too cheap, and the good news is everyone seems scared off of him. He'll be low-owned in tournaments and could play a huge hand in you winning serious cash.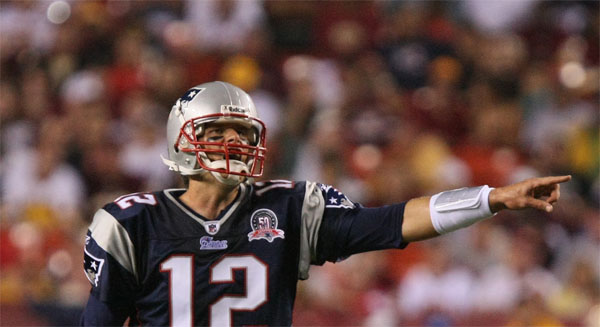 Running Back: Alvin Kamara – New Orleans Saints ($7.3k)
Most people will fight over which stud running back to choose: Todd Gurley or Ezekiel Elliott. Both could offer massive DFS ceilings, but the right call may be neither. Instead, I'm very interested in Kamara, who saves you nearly $1k as a pivot off of both of those stud rushers.
Kamara doesn't have the massive workload those guys do, but he's every bit as talented and arguably even more explosive. It's his huge role in the passing game that excites me, though, especially since he's at home against a Philadelphia Eagles defense that allowed the second-most catches to running backs on the year.
It's clear that Kamara is matchup proof at this stage of his career already, however. He's averaged an eye-popping 24.2 DraftKings points on the season, and of the available skill position plays in the DK player pool this week, only Todd Gurley (four more points per contest) has him beat.
The Saints can torch you from anywhere on the field, but I have to think their most useful offensive weapon will play a big hand in a game where they're heavily favored (-9 at SportsBetting.ag).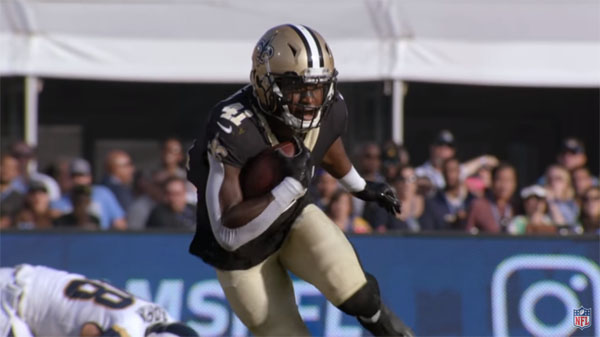 Wide Receiver: Brandin Cooks – Los Angeles Rams ($5.6k)
You can talk up the expensive receivers all day, and I can't knock you for wanting to roster T.Y. Hilton, Michael Thomas, and of course Tyreek Hill. Believe me, if I can make room for the funds, I'll be trying to litter those guys across a litany of GPPs at DraftKings this week.
But you need value with upside in some spots, and one of the best avenues to that seems to be Cooks. LA's most talented receiver gives them their best shot at torching the Cowboys deep down the field, and the fact that the Rams are favored by a full touchdown may suggest some fireworks are about to go down.
I personally think Dallas can keep this thing tight and even beat the spread, but that won't be without some points going up on the board. The Cowboys also admittedly have a very solid defense, but they did give up some big passing plays last week, and things will be different out on the road in Los Angeles.
More specifically, Cooks has been a total beast at home compared to on the road. He's averaging an incredible 10 extra fantasy points per contest when he's playing in La La Land (21 per game), and with such a huge game in front of him, I get the feeling he shows up in a big way.
Tight End: Rob Gronkowski – New England Patriots ($4.6k)
Here's to some nostalgia showing up and winning us some cash. I normally wouldn't blindly trust an aging tight end who clearly isn't what he used to be, but it's hard to beat Gronk's price and situation this week.
The Gronk has not played like he's capable of, but he's still a huge brute who can make plays on the ball and do damage in the red zone. If Brady actually peppers him with targets and/or he can find himself scoring once or twice, he has a chance to absolutely smash this pathetic $4.6k price tag.
This is not the week to get cute at tight end; I'm surely aware of that. With guys like Travis Kelce, Zach Ertz, and Eric Ebron all looking like better plays at the position, missing on Gronkowski after a very pedestrian 2018 campaign would go down as one serious gaffe.
In other words, for the majority of my teams, I'm probably not using Gronkowski. However, he's simply too talented and too cheap on DK not to use him a few times and even consider him as a core play.
I personally am not interested in betting too hard against the Patriots. When Michael Wynn and I broke down why every NFL team can win Super Bowl 53, my title game featured the Pats and the Saints. I think New England is set up to bust out at home this week, and Gronkowski just might be a big reason why.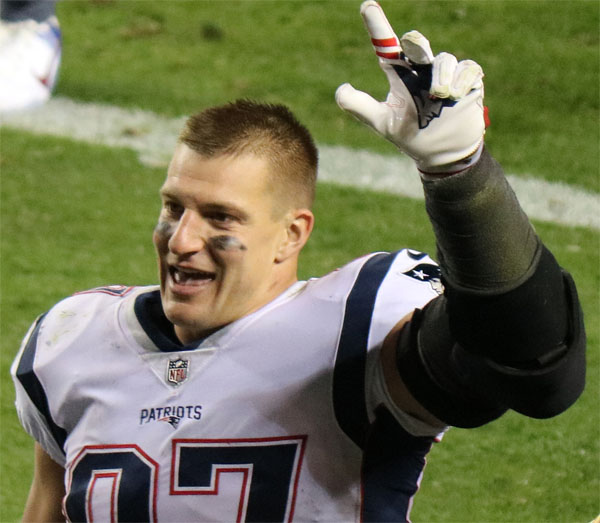 Defense: New England Patriots ($2.6k)
Oh boy, am I stacking up the Patriots here. To be frank, I'm not forcing Julian Edelman and James White into my post here, but I probably could. That isn't to say the Chargers are some trash defense that will lie down and let New England crush them, but it's possible they don't have much of a choice.
Either way, there is not much viable value at the team defense spot in round two of the NFL playoffs. The only defense that strikes me as "safe" would be the Saints, but nothing would surprise me in a matchup with the sneaky Eagles.
Instead, I am looking to save at this defense position, and if I can get a home team that is favored and in theory has a good matchup, that all sounds pretty good to me.
It's also worth noting that Philip Rivers has never beaten the Pats (0-7 lifetime), so if his horrific run against this dynasty can continue, the odds are good their defense (and your DFS squad) will benefit from it.
Top Daily Fantasy Football Sleepers
The aforementioned plays are simply my favorite overall plays at each main position this week.
That by no means suggests I don't like Todd Gurley, Tyreek Hill, and so many others. However, specific to daily fantasy football tournaments, I feel like building with a core of Patriots could end up being surprisingly sneaky.
New England could still face-plant like many are projecting. I just don't think they will, and I think their best players are way too cheap to ignore.
That being said, no matter what your NFL DFS strategy looks like, you'll probably be interested in saving some cash to land some marquee studs.
If so, consider the following NFL DFS sleepers for the divisional round of the playoffs.
Damien Williams, RB – Kansas City Chiefs
$5.1k
James White, RB – New England Patriots
$4.9k
Josh Reynolds, WR – Los Angeles Rams
$4.5k
Tre'Quan Smith, WR – New Orleans Saints
$4.2k
Hunter Henry, TE – Los Angeles Chargers
$2.8k
Brady is probably as cheap as you really need to go at quarterback. Nick Foles and Dak Prescott are there and could play well, but I much prefer Brady.
There are certainly viable options outside of the top running backs, though.
Damien Williams has been awesome for the Chiefs, putting up 29+ fantasy points in both week 15 and week 16. Spencer Ware is healthy again, but KC is at home, and their offensive upside is great enough that he could easily go nuts even in a timeshare.
Williams is too cheap given his role in the league's most explosive offense, while James White has an awesome matchup on paper. New England's backfield is crowded, though, so he actually could float under the radar despite the alluring price tag.
Reynolds and Smith are not reliable receivers, and it's worth pointing out that you definitely want receptions out of your pass-catchers. Still, both of these guys either have deep speed or some nice red-zone chops. They're also operating out of amazing systems and are favored at home.
There's also the case of Hunter Henry, who sat out all year with a torn ACL but is scheduled to finally return to the field this week. His role and upside are very shaky for this one, and the matchup isn't even necessarily that great. True, but $2.8k is $2.8k.
Summary
Most people will target the top offenses this week, and rightfully so. The game of the week for NFL DFS upside appears to be Colts vs. Chiefs (57 total at SportsBetting.ag), and it's tough to go too wrong by using Chiefs, Rams, and Saints options at their home field.
I personally love those spots as much as everyone else, but I might love the notion that the Patriots are being incredibly overlooked even more. Maybe I'm just getting lost in the past here, but New England players still offer upside and are super cheap, yet they're projected to be low-owned.
That doesn't have to be your take to win money this week, but it's mine. Hopefully, my breakdown of some of my favorite NFL DFS picks (even beyond the Pats) for DraftKings sheds some light on how you'd prefer to approach this slate.
Either way, thanks for stopping by, and hopefully it's a fun (and profitable) weekend of NFL action for you.