DFS Picks for the 2021 NASCAR Food City Dirt Race

Last week was a glorious run for my NASCAR DFS picks, and hopefully you were along for the ride.
It'd been a tough start to the season, but that's how it goes with daily fantasy NASCAR at times.
I had the winner (Ryan Blaney) in my lineup, while five of my six drivers cracked the top-10, and Daniel Suarez was an elite value play in a 17th place finish.
The logic all panned out, while low ownership helped me finish 31st in my GPP. If you went a little harder with a big money entry, it could have been a terrific weekend.
Hopefully, there is more where that came from, as we turn our sights to the 2021 Food City Dirt Race. The action heads to Bristol, where the best drivers in the sport face off in one of the better events of the season.
Brad Keselowski will look to repeat as champion, and five-time winner Kyle Busch will also hope to keep his name in the mix up front.
For my favorite NASCAR DFS picks and top lineup for the 2021 Food City Dirt Race, read on.
Kyle Larson ($12k)
I think you need to spend some big bucks here. Let's be clear; this is a volatile race, it's only 250 laps, it's on clay, and the pricing is going to really mess with our heads.
Yes, there are a slew of elite drivers that are insanely cheap (and we do want some of them), but the usual guys will not necessarily wreck in this spot. That, and this type of race is going to give way to some crashes and DQs.
If you're paying up, you want a driver who offers some combination of elite form, high-level talent, and good course/race history. Larson probably takes the case.
He is in fantastic form right now. Just look at how he's performed over his last four races.
| | | | | |
| --- | --- | --- | --- | --- |
| Event | Start | Finish | Laps Led | Fantasy Points |
| QuikTrip 500 | 6 | 2 | 269 | 160 |
| Instacart 500 | 2 | 7 | 1 | 53 |
| Pennzoil 400 | 3 | 1 | 103 | 98 |
| Dixie Vodka 400 | 17 | 4 | 5 | 62 |
Larson is on a comeback tour of sorts, and his 2021 is pure gold to this point. Maybe you don't love rooting for the guy due to his sketchy 2020, but hey, he is slaying these days.
He's the most expensive driver heading into the 2021 Food City Dirt Race, but he's also among the most experienced on dirt courses.
Larson took home the last two Chili Bowl Nationals, and he's had plenty of success on dirt courses. He feels like a fine favorite to win or finish in the front, so I'm all for spending the big bucks to get him this weekend.
He's also your best bet if you plan on betting on this race. Adam Haynes broke this event down in his 2021 Food City Dirt Race betting preview, and rightfully landed on Larson as his winner.
Kyle Busch ($8.9k)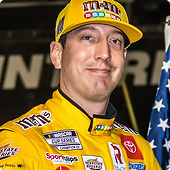 The main draw with Busch is that he's just crushed it at Bristol. He has two of the last three wins at this event, and he obviously knows this course as well as anyone.
Busch is also a nice price, and he's been very competitive all year, notching one win and cracking the top-5 in four different races.
I don't think he's the safest of plays, but he actually projects very well, and right now he comes with 13% ownership.
There are a few spots where I don't mind trusting in the talent and course history, over more experienced drivers when it comes to running on the dirt.
Erik Jones ($5.6k)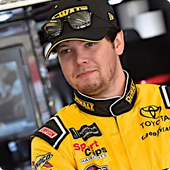 I like to include at least one elite value play in my NASCAR DFS picks, and I have no issue turning back to one of my favorites in Erik Jones.
Jones is constantly undervalued despite his solid talent and competitive racing. He only finished 24th last week, but he has two runs inside the top-10, and good things are on the horizon.
Let's not forget that Jones finished 5th at this event last year and had another 3rd place run at Bristol at the 2020 Bass Pro Shops NRA Night Race.
Jones doesn't project particularly well, but he's really cheap, and he's had success at this track recently. I'm willing to take a shot on him for some salary relief.
Top NASCAR DFS Lineup for 2021 Food City Dirt Race
Kyle Larson ($12k)
Kyle Busch ($8.9k)
Erik Jones ($5.6k)
Chase Elliott ($8.7k)
Alex Bowman ($7.7k)
William Byron ($7.1k)
Larson is going to be fairly chalky, but he's the odds-on favorite to win this thing at the best NASCAR betting sites.
There are a lot of other reasons to love him, too, and I don't mind paying for him.
I stop there, though, just because I don't want to put so much of an onus on dirt course history that we're blindly paying for guys like Ricky Stenhouse Jr., Christopher Bell, and Austin Dillon.
Those guys have the experience edge, but they're also expensive and facing a loaded field in a volatile setting.
I prefer the contrarian route. I'll keep it going with Busch and Jones. Jones gives me the money I need, and Busch is an elite, low-owned driver that always offers winning upside.
Elsewhere, I'll take a crack at a discounted Elliott. He doesn't have mounds of dirt track experience, but he did get his feet wet in the Bristol Dirt Nationals, and he finished 7th at the Chili Bowl Nationals in 2020.
Elliott is one of the top talents on the circuit, and he's remained competitive with four top-10 runs despite a less than ideal start to 2021. He's a high upside play and is another elite driver that projects well despite coming in at low ownership.
Ditto for Bowman and Byron. Bowman is a little more owned in early projections, and that has everything to do with his dominant past on dirt tracks.
He's another guy that has competed at the Chili Bowl Nationals, and he's also just a good driver that seems to be in the thick of it each week.
Bowman finished 3rd at last week's QuikTrip 500, and he's cracked the top-10 four times in 2021 already. Experience, price, talent, and recent form combine to make him one of the better plays on this slate.
Lastly, there's Byron, who has been on fire lately. Obviously, the big thing that stands out is his win at the Dixie Vodka 400.
Takeaways from Homestead: NASCAR Dixie Vodka 400 recap: William Byron delivers another surprise winner when looking at his recent 1.5-mile track results @NASCARONFOX https://t.co/MgJBxnIWWy

— Bob Pockrass (@bobpockrass) March 1, 2021
He hasn't slowed down one bit since then, finishing 8th in each of his three events since then.
Obviously, he could hit a wall here, but Byron's form and talent are what you want, he's projected to be about 9% owned, and he cracked the top-15 in his only known dirt course visit.
Overall, this is a very contrarian lineup, and that is by design. I could try to force chalkier plays, and/or drivers with way more dirt experience, and maybe that ends up being the right call.
My NASCAR DFS picks are usually about upside, though. It's just 250 laps in a volatile setting, so I want some value, and elite drivers that nobody else will be on.
Hopefully, that works, or maybe you can even translate this NASCAR DFS advice into some successful wagers.
Betting on the 2021 Food City Dirt Race
This is honestly a tough race to peg for daily fantasy NASCAR, and perhaps an even more difficult one to bet on.
Dirt courses – and races at just 250 laps – can be volatile, but you can lean on track history, and also side with drivers who either know how to stay in front once they establish a lead, and/or have had success on dirt courses.
Kyle Larson is among the best, and you can pay attention to anyone with nice experience and success on short, dirt, and road courses.
Of course, this is not your usual dirt course, so it's quite arguable nobody has a distinct edge here. You should expect crashes, and I wouldn't be surprised if an unexpected winner emerged.
That said, you have to confide in the odds and logic to some degree, so that should allow for my NASCAR DFS picks to have a shot.
I think those drivers also make solid bets at the top NASCAR mobile betting apps, as well.