Hide Bonus Offers
| | | | | |
| --- | --- | --- | --- | --- |
| #1 | Bovada Sports | 50% Up To $250 | Visit Site | Bovada Sports |
| #2 | BetUS | 125% Up To $2,500 | Visit Site | BetUS |
| #3 | MyBookie | 100% Up To $1,000 | Visit Site | MyBookie |
| #4 | Everygame | 100% Up To $500 | Visit Site | Everygame |
| #5 | BetOnline Sports | 60% Up To $1,000 | Visit Site | BetOnline Sports |
DFS Picks for the 2021 Buschy McBusch Race 400

Last week's NASCAR DFS picks didn't really deliver, but the good news is I pointed you to the winner, Brad Keselowski.
Hopefully, I can get the winner for the 2021 Buschy McBusch Race 400 right, as well.
I'm just part of the equation, per usual, as a quick jaunt over to our NASCAR betting picks section should also help you figure things out from the betting side of things.
With that, let's dive into this weekend's race as I break down my favorite NASCAR DFS picks and top lineup.
Denny Hamlin ($10.8k)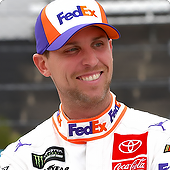 Hamlin feels like the easiest lock in my eyes. He slides all the way down to the 20th spot, so the wiggle room he offers NASCAR DFS gamers is insane.
This, despite Hamlin being the current 2021 points leader, one of the most talented drivers on the circuit, and the reigning champ at this event.
Hamlin isn't cheap – and he could end up being very chalky – but he's been on fire for weeks now, and he knows how to dominate at Kansas Speedway.
The veteran driver took home first place here in 2020 and won this event back in 2012.
With finishes of 1st, 15th, 16th, 1st, 14th, and 5th over his last six runs at this track, Hamlin feels like one of the best NASCAR DFS picks to build around this weekend.
Ross Chastain ($6.5k)
This is the type of race where we load up on studs, and I have my sights set on two of the more expensive drivers, and three elite options, overall.
To get there, you will need to roll the dice with some NASCAR DFS sleepers, and my favorite value is Chastain.
Chastain offers some upside working out of the 24th slot, and he's been really competitive lately.
Take a quick look at his last six races.
| | | | |
| --- | --- | --- | --- |
| Race | Start | Finish | Fantasy Points |
| Geico 500 | 18 | 16 | 34 |
| Toyota Owners 400 | 18 | 15 | 32 |
| Blue-Emu PR 500 | 27 | 17 | 36 |
| Food City Dirt Race | 17 | 35 | -12 |
| QuickTrip 500 | 21 | 14 | 37 |
| Instacart 500 | 22 | 19 | 27 |
Chastain obviously isn't elite, but he's held his own in most of these events and has cracked the top-20 more often than not.
This isn't a pick to come out of nowhere and win. I just need a salary saver who isn't going to endure a free fall and cost me points.
Chastain should hover right around his starting spot – if not creep up slightly – and if he can get me 30+ fantasy points, it's a massive win.
Kyle Larson ($11.3k)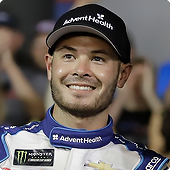 This is honestly a wide-open race, but it's one where you'll want to trust in the best drivers.
Maybe that has you targeting guys starting up front and just holding serve, but I am buying into stud drivers who can rack up easy points as they work their way through the pack.
That brings me to Larson, who is enjoying a stellar 2021 season. His redemption tour of sorts has included one win and seven finishes inside the top-10.
His luck certainly ran out in his last race, as engine failure plummeted him down the standings in a regretful finish at the Geico 500.
That is one to forget, but Larson should bounce back, and I see no reason why he can't do that this weekend.
Larson has yet to win this event, but he missed out on it last year due to his suspension and finished 8th and 9th in his two runs here in 2019.
Tack on 3rd and 4th place finishes at Kansas Speedway the year prior, and the track history is looking fairly good.
Eager to make up for two down weeks, I love Larson. Will people just dive in due to his talent, track history, and starting spot (32nd!)? Perhaps, but my hope is the price and so many other awesome options will help to keep ownership down.
Top NASCAR DFS Lineup for May 2nd
Denny Hamlin ($10.8k)
Ross Chastain ($6.5k)
Kyle Larson ($11.3k)
Daniel Suarez ($6.3k)
Chris Buescher ($6.1k)
Kyle Busch ($8.6k)
My daily fantasy NASCAR strategy is fairly simple this week; get some good drivers who offer some wiggle room in regard to their starting spot and load up on the studs.
Luckily, several of my NASCAR DFS picks meet both criteria, as I went over with my three core plays for the Buschy McBusch Race 400.
As for the other three drivers in this week's lineup, I am punting further with the likes of Suarez and Buescher.
These aren't elite drivers, but they've both run pretty well and have been competitive. Buescher has two top-10 finishes this year and has worked his way inside the top-20 seven different times.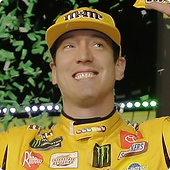 More importantly, he is cheap and is a nice middle of the road option in the 16th slot. The 28-year-old wasn't good on this track last year but enjoyed finishes of 13th, 10th, 16th, 6th, and 18th dating back to 2017.
Suarez didn't fare any better last year, but he's historically been a useful punt, and he's churned out 30+ fantasy points five times in 2021.
This is another useful value play due to his starting position (21st) and price, but Suarez's best race last season came at this track. The year prior, he notched a 14th place run here, too.
These two viable NASCAR DFS sleepers are as good as any others for this weekend, and they help me get the two aforementioned studs. I can also cram in one other pricey guy, and that ends up being the discounted Kyle Busch.
He's not priced like a stud, but Busch probably should be. He won this event back in 2016, and he's wrecked at Kansas Speedway in recent memory, finishing 5th, 11th, 3rd, 30th, 2nd, and 10th over his last six runs.
Obviously, you can throw out that 30th place finish in 2019, but the point is Busch knows this track well, and he has thrived here.
To make Busch an even more interesting play, he's discounted for a guy who has been pretty darn good (7 top-10 runs, 1 win) in 2021. He's starting in the 9th slot this weekend, but I'm willing to look past that given the value at hand.
Betting Tips for the 2021 Buschy McBusch Race 400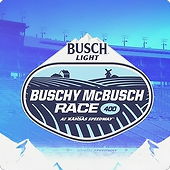 The number one tip for betting on the 2021 Buschy McBusch Race 400 is that a stud is going to win this thing.
Maybe that's pretty much true for most NASCAR races, but just looking back at the history of this event, a powerhouse name has won every single time.
That puts Hamlin, Busch, and Larson in the forefront for me, but keep in mind that I am obviously mostly on them for their value in daily fantasy NASCAR contests.
I think all three are totally viable bets if you plan on betting on this race, although I wouldn't necessarily target my DFS sleepers as legit threats.
Of course, for adding NASCAR betting insight, hit up our NASCAR picks section before heading over to the best NASCAR betting sites.