Deontay Wilder vs. Luis Ortiz 2 – The Fight That No One Asked For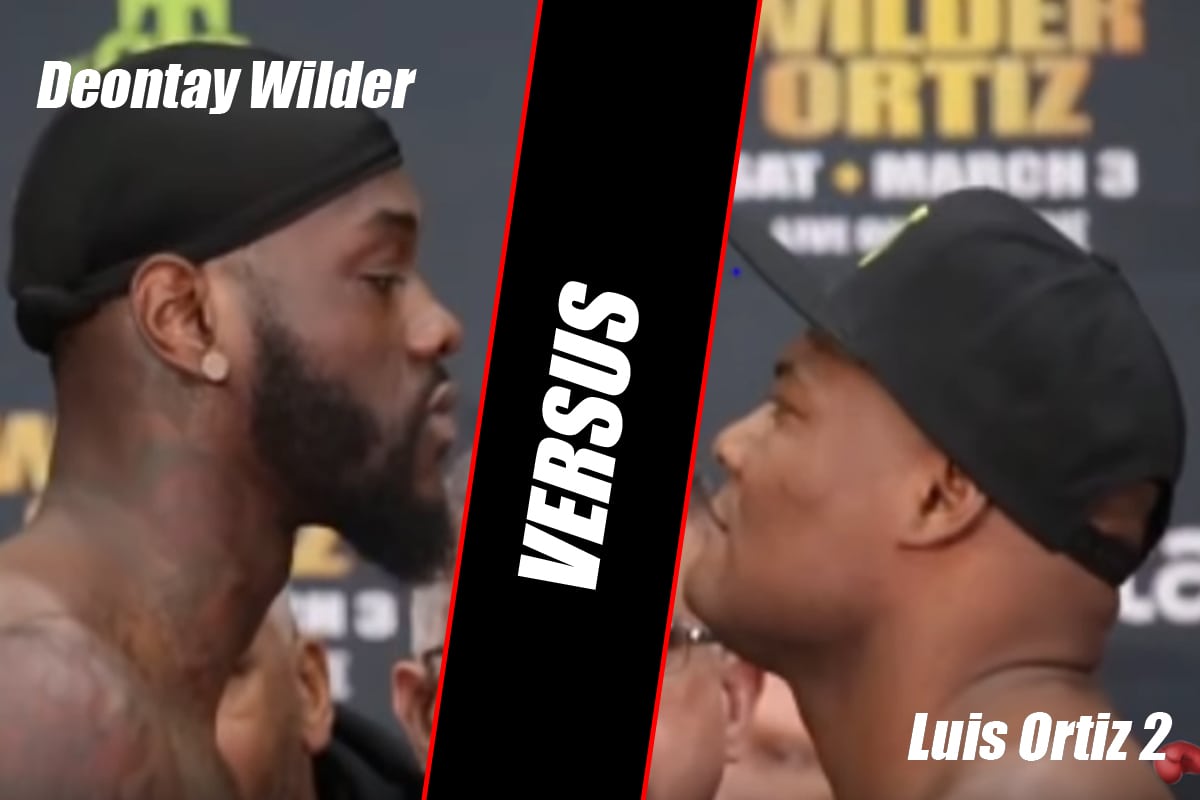 Ain't heavyweight boxing a funny old game?
I mean, you have the three kings: Deontay Wilder, Anthony Joshua, and Tyson Fury. All are vying for absolute supremacy at the top, yet we've only seen one fight featuring two of this talented trio.
Wilder vs. Fury was a classic but only ever happened because Fury was considered to be finished. Hopes of a rematch were abruptly rubbished not long after that controversial draw.
I can think of one particular word that starts with "bull" and ends with a word that rhymes with "slit" to describe this situation, but momma raised me as a classier operator than that.
At the same time, I was raised to understand politics and how the world works. When something is very valuable, it comes at a high price. That's common sense, right?
So, if something is valuable, the owner of that particular thing will want to ensure that they get the most they possibly can for it. That's, well, capitalism at its finest. Boxing, believe it or not, is a business that falls into that category.
Now, if you're wondering how the best of the best in the heavyweight division can consistently avoid each other, then join the club. To say it is frustrating would be an understatement of epic proportions.
So, have you heard the latest news in the absolute baffle land that is heavyweight boxing? Wilder has signed for a rematch with the 40-year-old Luis Ortiz, a guy that he knocked out in March 2018.
This is no grudge match, as both guys seemingly get along. It's not as though anyone wanted to see this bout, as Wilder clearly beat him. I mean, what the hell makes this a fight that anyone would happily pay a hefty premium to watch?
Any ideas?
Latest Wilder vs. Ortiz 2 Odds
Odds have yet to be released for this bout.
When they are, I'll make sure to get them to you.
However, there is a fight that could happen later in the year featuring Wilder and an opponent more exciting than Luis Ortiz. There are odds for this fight below.
Keep reading, and I will reveal all.
Wilder vs. Ortiz 2 – Why This Fight Makes Sense
Why it makes sense? Well, if you have a few minutes to spare, strap in, and I'll tell you why.
Effectively, Wilder has ruled himself out of a super fight with Anthony Joshua by opting to rematch Luiz Ortiz. Coming off a first-round KO of Dominic Breazeale in May — a fight that was seen as a tune-up for a bout with Joshua or Fury — Wilder is more popular than ever.
Rather than wait to see if Anthony Joshua beats Andy Ruiz — and potentially throw his hat in for a shot at the Brit's IBF, WBA, and WBO straps — Wilder has instead pretty much ruled out a unification fight with Joshua.
Making sense yet? I didn't think so.
Okay, so get your thinking cap on and figure out why Wilder would want to pass up the opportunity to beat Joshua. Does he have something to settle against Ortiz that a knockout can't? Does he feel as though he'd be the "B-side" of a bout with Joshua heading into negotiations? Or is he just downright afraid of AJ?
For what it's worth, I don't think Wilder fears anyone in the division. He definitely doesn't fear Ortiz, that's for sure, as he is happy to engage in another fight with the Cuban that no one has asked for!
"All my controversial fights must get dealt with," Wilder claimed when announcing the rematch with Ortiz. Funnily enough, there was about as much controversy in that fight as you would find at an Amish barn-dance.
So, Why Ortiz?
Look, it would be unfair to Ortiz to suggest that he was nothing less than a punching bag against Wilder in March 2018.
The Cuban did claim a few rounds against Wilder and was his greatest test before he faced Fury in December. As such, you can build a case to say that these two could engage in a rematch, at a push, if there was no other competition out there.
But as we know, there is better competition out there in the form of Fury and Joshua. Do fans have the right to feel a little pissed off at this announcement?
Of course they do. After all, they spend the money that goes towards the pay-per-view buys that pays these guys and lines the pockets of their money-hungry promoters.
Why Ortiz? Why not Fury or Joshua?
At some point, we have to acknowledge that things are going a little too far here. The heavyweight division has sucked a fat one for a long time.
Here we find ourselves with three exciting and watchable heavyweights for the first time since the early 2000s. And what does the boxing world want to do with them?
That's right — keep them apart from one another and allow them to fight consistently weaker opposition to give the illusion of greatness to fans.
Boxing fans are not that dumb. Greed eventually leads to disaster, and these promoters need to wise up before it blows up in their faces.
The State of Play in the Heavyweight Division
It is a crying shame that we have Wilder, Fury, and Joshua in this division, and they are being kept away from one another.
Showtime, ESPN, and DAZN all want the lion's share of any potential pay-per-view bouts between any two of these three, so there is no secret regarding why a fight has failed to materialize between them.
The concept of a "super fight" in boxing has always been a tricky one. Think Mayweather vs. Pacquiao and how long we had to wait to see it happen. Promoters want to wait it out to see the rival boxer lose a fight or two before committing to a bout, as that way, they can make more money being the "A-side" in negotiations.
Anyway, that's a discussion for another day.
For now, let's forget about the Wilder vs. Ortiz rematch for a second and stop to think about what we have been given from the supposed "top 3" in the heavyweight division so far in 2019.
In fact, let's rate the matchups out of 10.
Wilder vs. Breazeale 4/10
Dominic Breazeale is not an elite-level heavyweight.
Sure, he is a decent fighter and has sound skills, but he is nowhere near the level of the top three in this division.
Sure, Wilder looked like a killer in there when he delivered that first-round KO, but the competition was never going to be great, was it?
Wilder was a -650 favorite to win this bout.
Joshua vs. Ruiz Jr. 3/10
Sure, "Big Baby" Miller screwed up his chance at Joshua, but there is an argument that his replacement is even worse quality.
At the time of writing, Joshua has yet to fight Ruiz. Now, there is a chance that I am wrong — and Ruiz pulls off a huge upset — but I sincerely doubt it.
Joshua is far and away the better fighter and should get this one done inside the distance.
Joshua is a -3000 favorite to beat Ruiz.
Fury vs. Schwarz 3/10
And then there is this absolute mismatch.
Fury might be a different type of fighter than the other two in that he is not a knockout artist, but hell, he should not be fighting guys like this.
Sure, Schwarz is unbeaten, but he was also fighting in German hotels until this fight came around.
This is a tune-up bout that acts as the first fight of a new ESPN deal for the "Gypsy King."
Like Joshua's bout, the result of this one is not known at the time of writing.
So, What Happens Next?
Okay, so if Fury beats Schwarz and Joshua beats Ruiz Jr., all eyes will be on Wilder vs. Ortiz 2.
Now, I can't be certain about this, but I'm pretty sure that all three fighters should get the win against their respective opponents. When they do, the debate surrounding unification/lineal bouts will be deafening.
In this crazy world of modern boxing, who looks the worst between Joshua vs. Ruiz and Fury vs. Schwarz could get the nod to be Wilder's next opponent. Sounds baffling, I know, but I would love to tell you that these things don't actually matter.
But they do.
Anyway, I can see Wilder vs. Fury 2 being the next big bout in the division. The winner of that will then, naturally, hold all the cards in the division.
Whether it's Fury vs. Joshua or Wilder vs. Joshua, that particular fight will be one of the biggest bouts at heavyweight since perhaps Lewis vs. Tyson. The money that will be generated will be unprecedented, and fans will, finally, get their wish.
So, I'm taking a shot here, and I'm going to say that Wilder vs. Fury 2 will go down in December.
Sounds optimistic, right?
Sure. But just hear me out.
Early Betting on Wilder vs. Fury 2
Now, if you're anything like me, you will be interested in seeing what the betting odds would look like for Wilder vs. Fury 2.
If you're imagining that they would more than likely be pretty close, then you would be on the right lines. In fact, stop imagining, as I have the odds here.
So, say Bovada is offering opening lines on Wilder vs. Fury 2.
Wilder is the slight favorite at -125 to beat Fury. Coming in at a teeny, tiny underdog is Fury at -105 to beat Wilder.
Now, this is all speculation, of course.
Anything can happen to prevent a fight between these two, but we have to be optimistic. After all, if we are going through so many of these matchups that seem to be foregone conclusions, we have to believe that there is something good at the end of the road for our troubles.
Wilder vs. Fury 2 would definitely be that, and then some.
The first bout between the two was an absolute classic, and there is no reason to believe that the second wouldn't be the same. A perfect stylistic matchup between a power puncher and an elusive boxer is just what we need.
Come on. It will be an excellent bout if it happens. I can definitely see it coming to fruition. And when it does, it will feel like all this crap that we have been put through was for a reason.
Final Thoughts
So, maybe there is a reason for these mismatches?
I would like to believe that is the case. I am sure you would welcome it, too, unless you are the type of boxing betting fan that loves mismatches.
If you are "one of them," I have nothing to say to you. Well, nothing nice, so I would probably say nothing at all.
If you are one of the more cultured boxing betting fans on my level, there are plenty of big bouts coming up for you to get involved in. Just make sure to check out the top boxing betting sites before you place your bets.
Let's hope Wilder vs. Fury 2 happens at the end of the year and gives us something big to look forward to.
And with that, I'm out.